I love hand embroidery so much, that I've designed several free embroidery patterns for you to download. I decided to gather them all in one post, so you can easily find the patterns that I offer for free. There are more than 45 of them. So many great ones to choose from!
How Do I Download an Embroidery Pattern?
Just click the link above each of the photos, and you'll get instructions to access my free embroidery pattern library. Make sure to check out my shop for more beautiful embroidery patterns and my embroidery eBook. If you need help with any of the stitches, I have video guides on my embroidery stitches guide page.
Free Embroidery Designs
Free Christmas Deer Embroidery Pattern
Free Flower Embroidery Pattern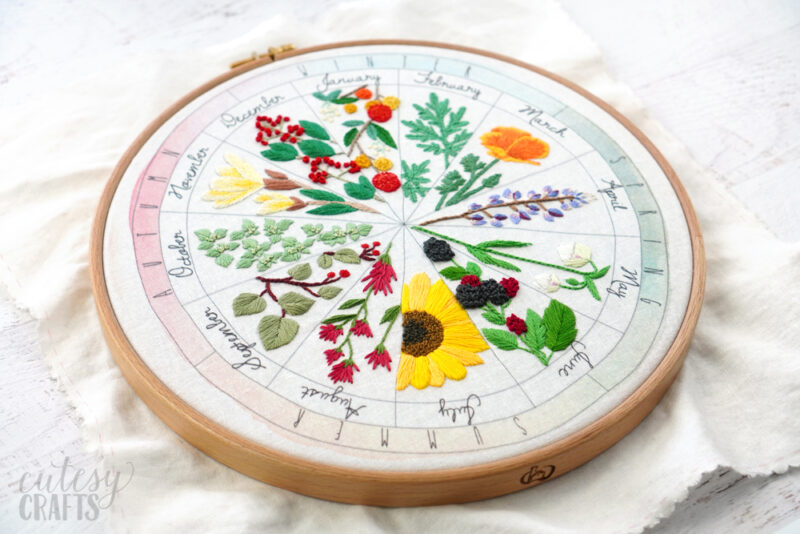 Free Floral Bird Embroidery Pattern
Floral Wreath Embroidery Pattern
Embroidered Christmas Ornament Bicycle
"You Are Enough" Hand Embroidered Quote
Christmas Embroidery Pattern Ornament
DIY Denim Jacket with Embroidery
Free Thanksgiving Embroidery Pattern
Succulent Embroidery on Canvas
Free Embroidery Sampler Pattern – Includes Video Stitch-Along
Free Hand Embroidery Necklace Patterns
Mini Embroidery Hoops with Free Patterns
Heart Flower Embroidery Design
Floral Name Embroidery Hoop Pattern – Includes Video Stitch-Along
"Without Rain" Free Hand Embroidery Design
Flamingo and Peacock Embroidery Pattern
Free Embroidery Design – "Choose to Believe"
Blue Floral Embroidery Pattern
Floral Unicorn Embroidery Pattern – Includes Video Stitch-Along
Mermaid Embroidery Hoop Pattern
Fairy Tale Hand Embroidery Designs
Embroidered Doily Dreamcatcher Tutorial
Embroidered Initial Necklace Tutorial
Butterfly Embroidery Hoop on Mesh
Bloom Hand Embroidery Pattern – Includes Video Stitch-Along
Haunted House Halloween Embroidery
DIY Magnets with Small Flower Embroidery Patterns
Home Sweet Home Trailer Embroidery Hoop
Free Embroidery Hoop Art Patterns
Shark and Fairy Embroidery Patterns
Hope you find something you like from these free embroidery patterns. I'm so happy that I get to share my love for embroidery with all of you! If you are new to embroidery, make sure to check out my How to Embroider for Beginners series. It's full of some really great tips and embroidery videos. A really great resource for anyone who likes to embroider or wants to learn how. To see all of my hand embroidery designs, click here.
Always feel free to change the colors and make them your own. I'd love to see your work, if you use one of my free embroidery patterns! Post your pics on Instagram and tag @cutesy_crafts and use hashtag #cutesycrafts.
Have leftover embroidery floss? Learn How to make Friendship Bracelets – The EASIEST way!
You might also like: