Rainbows are a frequent theme in my embroidery patterns. They are just so pretty, and I get to use all the colors! What's not to like about that? I love this quote, "Without rain there would be no rainbows." It's a nice reminder that sometimes we have to go through the hard things in life to appreciate the good. Rainbows also remind me to stop and be present and appreciate the beauty in this world. I'm giving away this one as a free hand embroidery design. Download instructions are at the bottom of this post.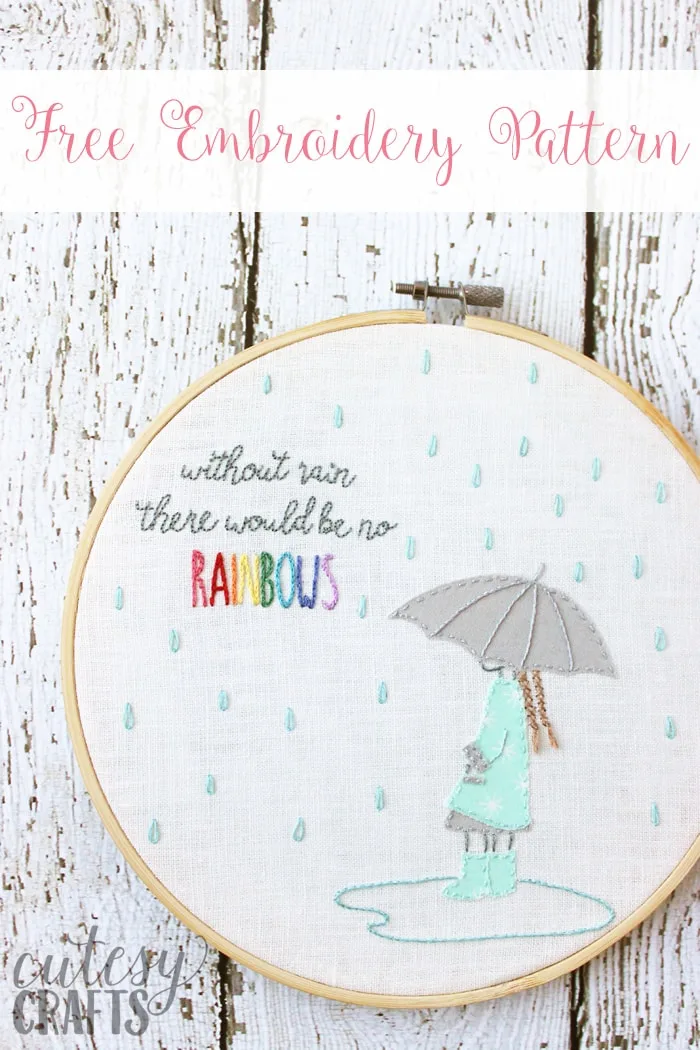 (This post may contain affiliate links, which means I may receive a commission, at no extra cost to you, if you click a link and purchase something that I have recommended.)
To make this hoop you'll need:
free hand embroidery design – Download instructions are at the bottom of this post.
8 inch embroidery hoop
white linen fabric
embroidery floss (DMC colors: 169, 598, 3833, 347, 722, 727, 3815, 807, 3807, 554, 2841, and colors to match your fabric scraps)
fabric scraps
carbon paper (optional for transferring pattern)
felt for backing (optional)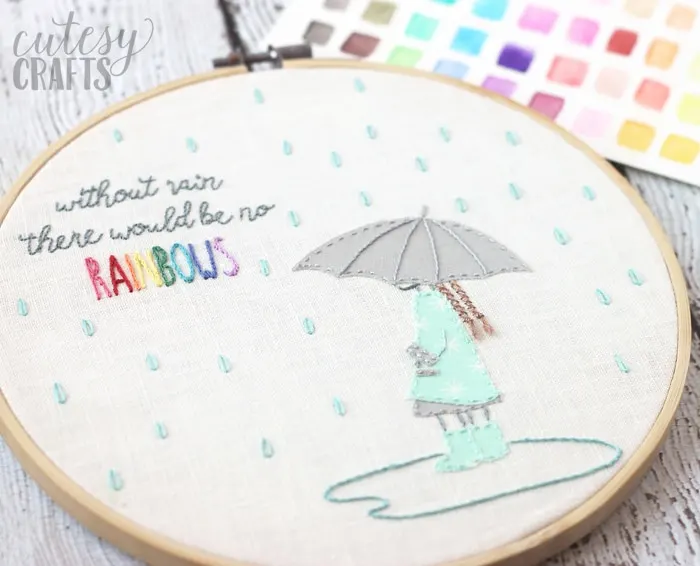 The little girl is something I've been dreaming up for a while now. When I sketched her, my husband asked if she was the Morton Salt girl. Thanks husband. Good thing I love him!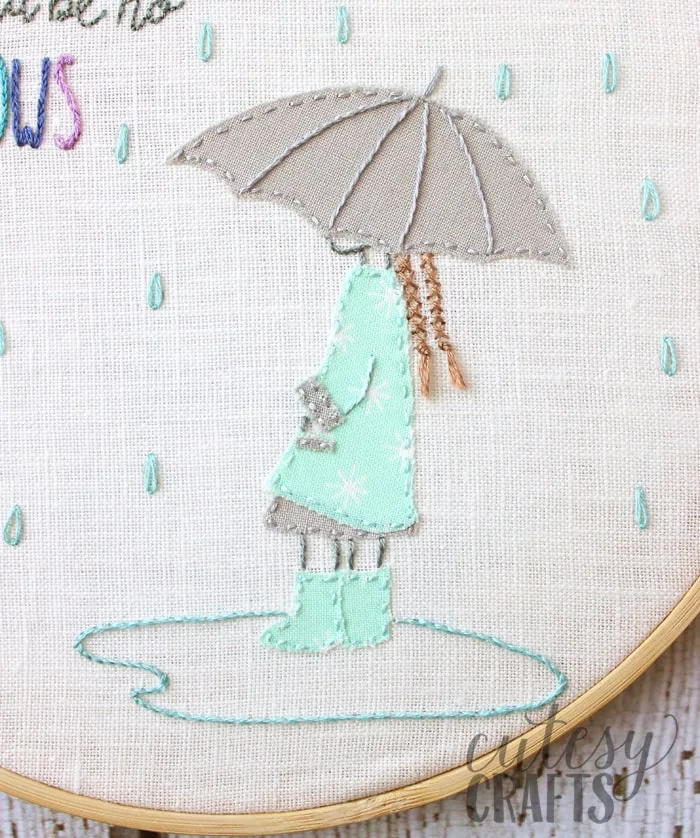 She's appliquéd with little bits of fabric, and her hair is a cute, messy cross-stitch. If you don't know how to appliqué, check out my How to Appliqué by Hand video. It can get a bit tricky with the tiny pieces. If that seems to daunting, you can also just stitch around the outside of the shapes and leave the appliqué out completely. The ends of her hair are a full strand of floss. I tied a knot in the end, pushed the needle in from front to back, and then secured my thread in the back.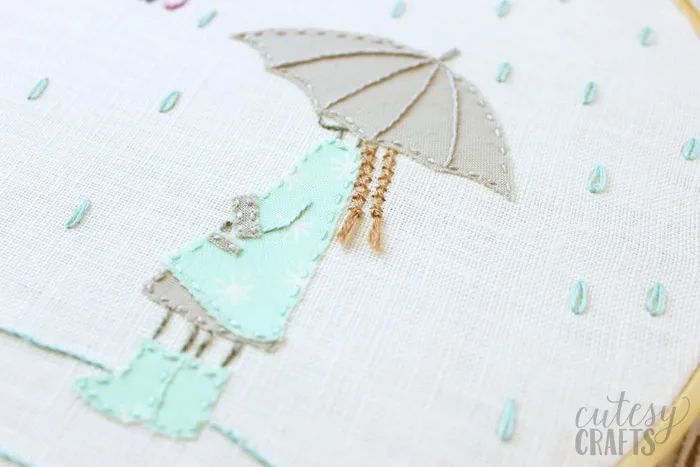 The small letters are a very short back stitch and the large letters are a split stitch. I love the colors!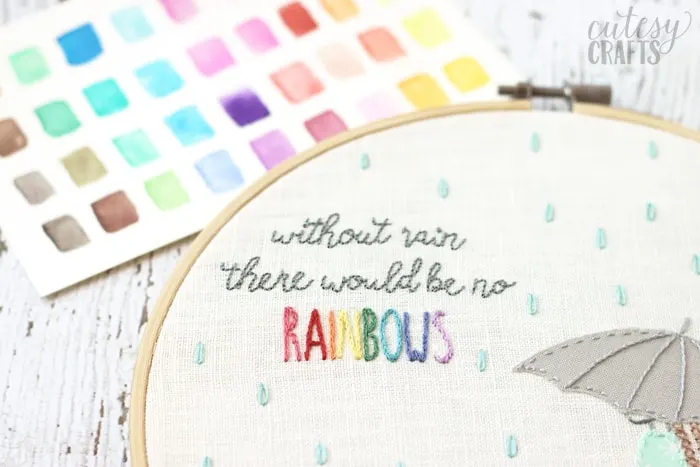 I hope you enjoy this free hand embroidery design. It's similar in design to my free embroidery hoop art patterns that you might also enjoy. Make sure you also check out my other hand embroidery designs for more inspiration. I've got lots of free embroidery patterns!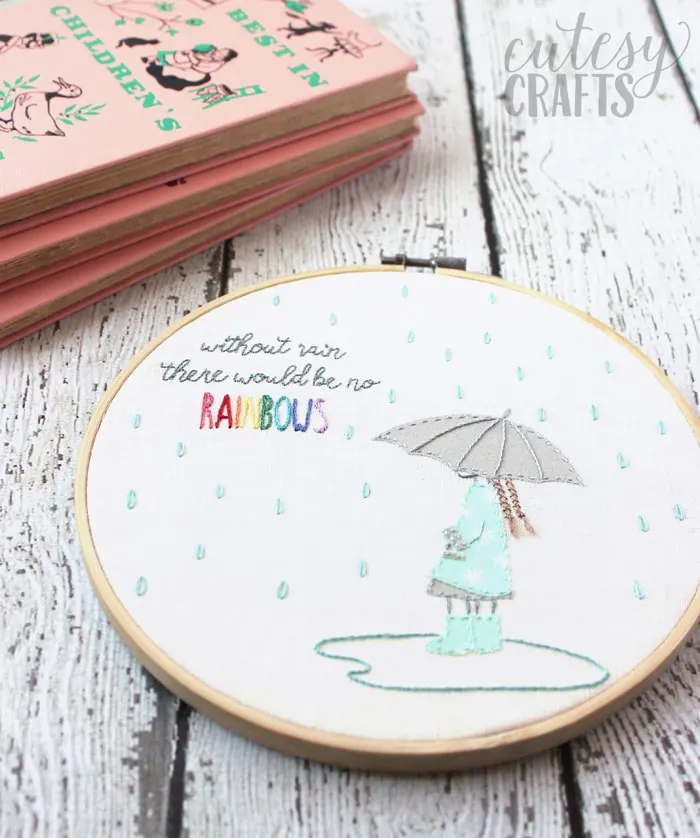 Get the free Without Rain pattern!
To get the password, enter your information in the form below to sign up for my free email newsletter.
You will get an email with the password. Already subscribed but forgot the password? No need to subscribe again! Every email newsletter I send has the password in it, so check the latest one.
Cutesy Crafts is a participant in the Amazon Services LLC Associates Program, an affiliate advertising program designed to provide a means for sites to earn advertising fees by advertising and linking to amazon.com. This post contains affiliate links.