Hand embroidery is my favorite thing to do right now.  I love having something to keep my hands busy when I am relaxing in the evening or sitting at soccer practice.  I've written up several posts on how to embroider for beginners, so I decided to compile them all into one list.  Consider this your embroidery 101 course.  Work your way through all of these posts, and you will be all set to embroider.  They are in the order that I think will be best for learning how to embroider, so start at the top of the list.  Of course, if you'd rather just skip to doing projects, I have a few stitch-along videos that will show you step-by-step how to make the final projects.  They are perfect beginner embroidery projects.  I suggest starting with my Free Embroidery Sampler Pattern or my "Bloom" Hand Embroidery Pattern.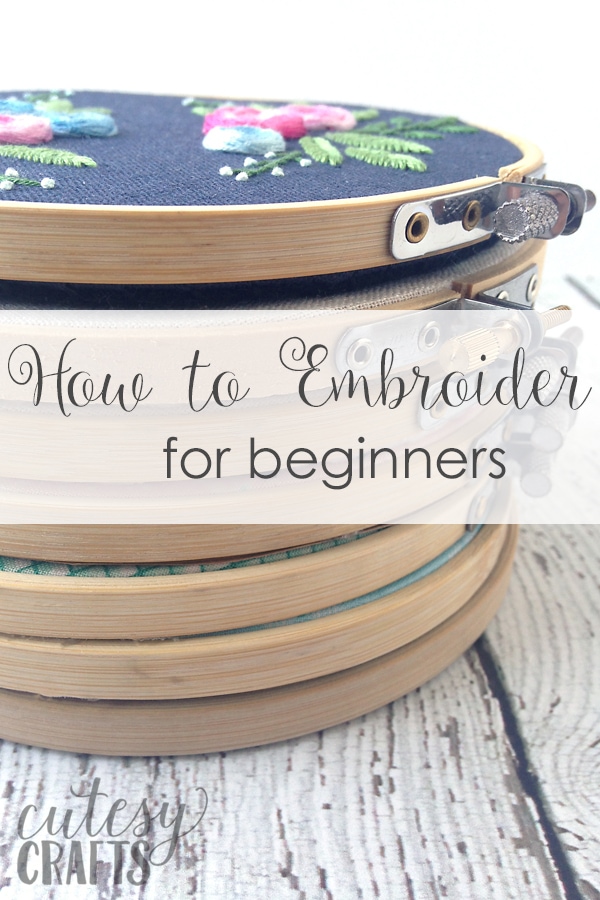 How to Embroider for Beginners
5 Essential Hand Embroidery Supplies
How to Transfer an Embroidery Pattern
Embroidery Stitches – Free Embroidery Sampler Pattern
How to Embroider Letters by Hand
How to Back an Embroidery Hoop with Felt
If you've never done hand embroidery, I suggest you jump right in and give it a try.  Your stitches don't have to be perfect.  The imperfection is what gives your piece character.  Otherwise you would get something that looks machine-made.  Don't worry about making mistakes.  The beauty of hand embroidery is that you can always take the stitches out and redo them.  Have fun and enjoy your relaxing and productive new hobby!