I've always admired knitters and crocheters, but never really took the time to learn. Actually, that's not true, there was this one time when I was pregnant with my oldest, and bored out of my mind when I went on maternity leave. I obsessively crocheted a baby blanket for him using the only stitch I knew how to do. This was before the days of blogging, so I had to figure out how to do it on my own. Anyway, when I saw this super soft loop yarn at the craft store, I was intrigued, and decided to learn how to make a loop yarn blanket. The best part about it? No knitting needles or crochet hooks required. It's really super easy! (I made some improvements and a follow-up video that you can see on my how to make a loop yarn baby blanket post.)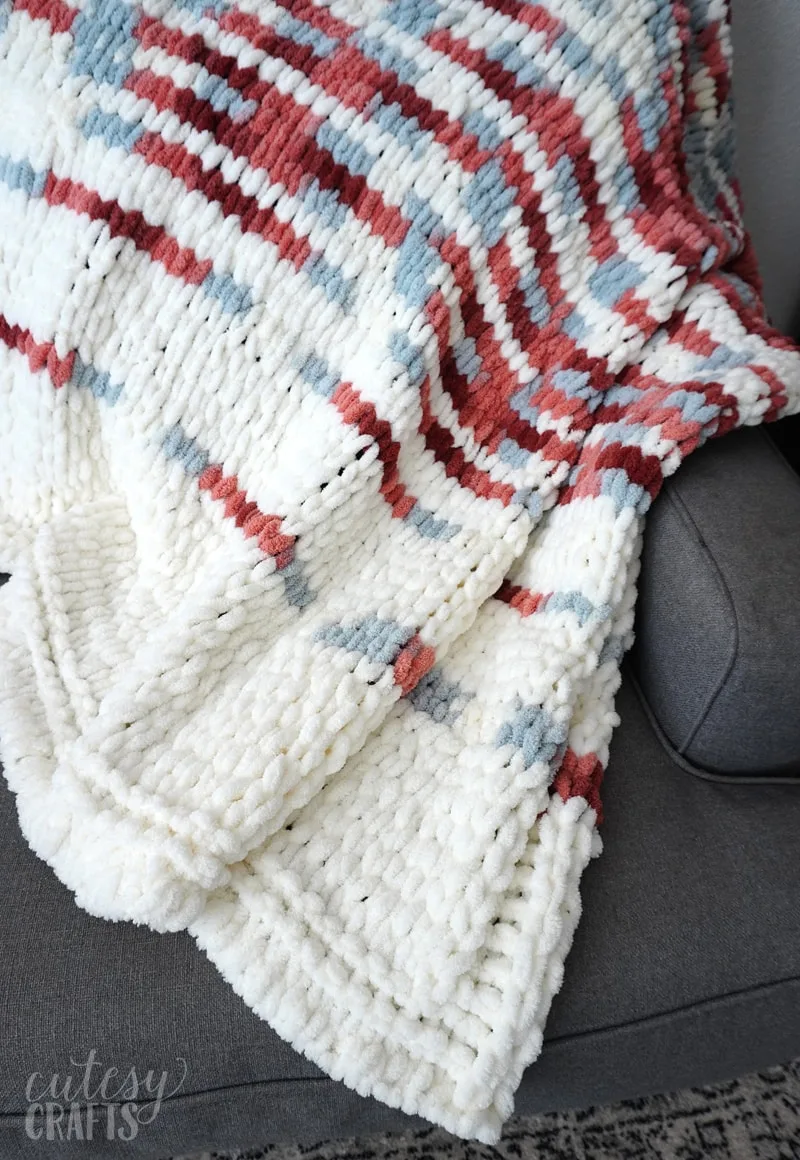 They sell the loop yarn in all kinds of pretty colors, and all of it is super soft and fluffy. They even have some really bright, fun colors for kids to try. I'm thinking my 10 year old would like to make some scarves for her friends for Christmas.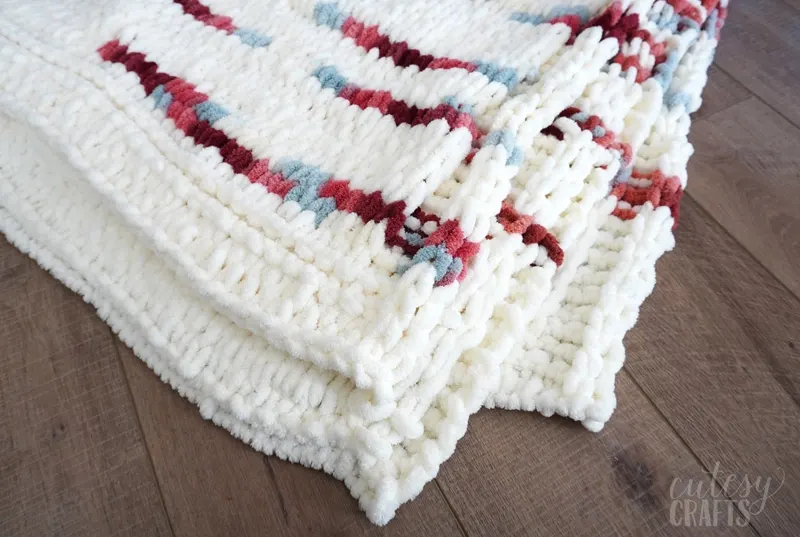 (This post may contain affiliate links, which means I may receive a commission, at no extra cost to you, if you click a link and purchase something that I have recommended.)
To make a loop yarn blanket, all you'll need is:
loop yarn – 7 skeins (18yds each) to make a 50×60 inch throw. (The loop yarn can get kinda pricey, so make sure to get it when it's on sale or use a coupon.)
scissors
A crochet hook also helps at the end to weave in the loose ends, but it's totally not necessary. I just happened to have one on hand (you know, from that baby blanket I made.)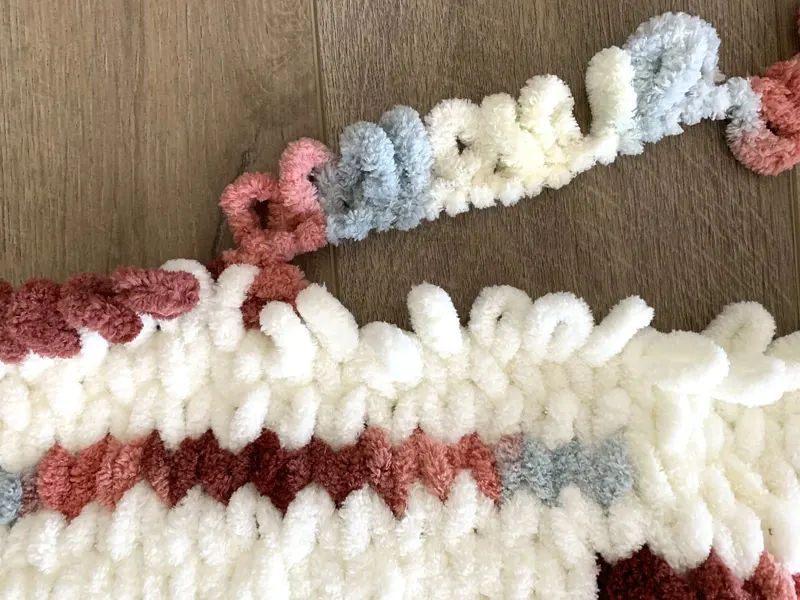 I used 4 skeins of cream and 3 skeins of the variegated pink/gray/cream color for this blanket. I faded from the cream, to the pink, and back to cream again. I didn't realize the pink variegated skeins had a little yellow in them, so I don't love that. It makes part of the blanket look stained (or like a cat peed on them according to my sister… haha!) So maybe choose a color skein that doesn't have the cream color in it. Other than that, I really love the design it made.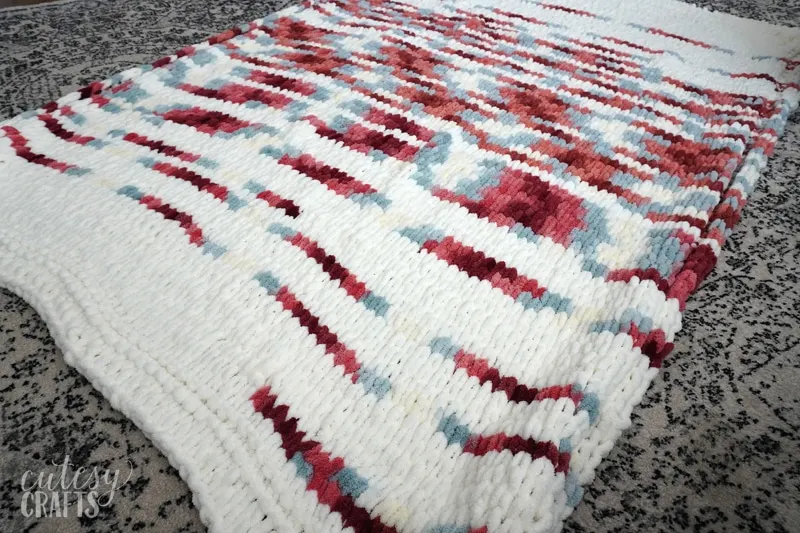 I put a border on my blanket by switching between knit and purl stitches. If you are just starting out, and find this confusing, just do the entire thing in a knit stitch. It's really easy!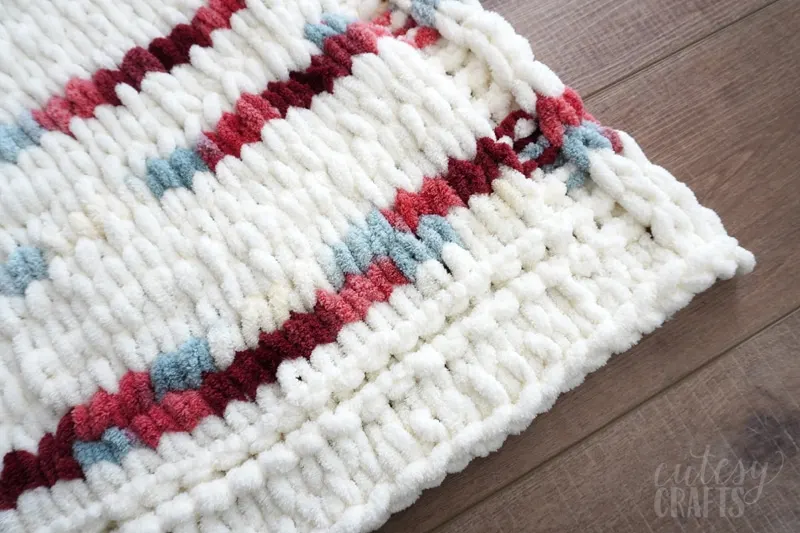 I figured the best way to teach you would be a video tutorial, so here it is. If you are using an ad blocker, you'll need to turn it off to see the video. You can also watch it on my YouTube channel here.
How to Make a Loop Yarn Blanket
I absolutely love the way this blanket turned out. I usually don't like crochet/knit blankets because I feel like the holes make them not warm enough. The fluffy yarn on these is so soft and really holds the heat in though.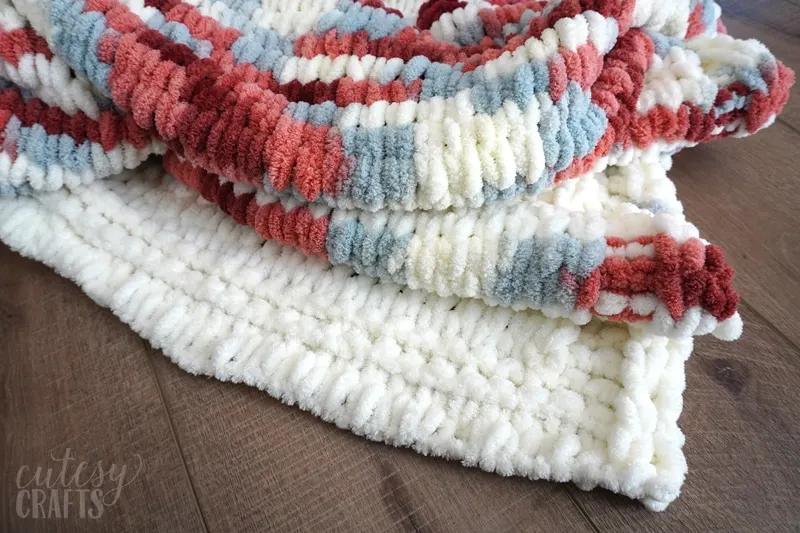 I may need to make a couple more so everyone in our family can stop fighting over it on the couch. It is just so so fluffy!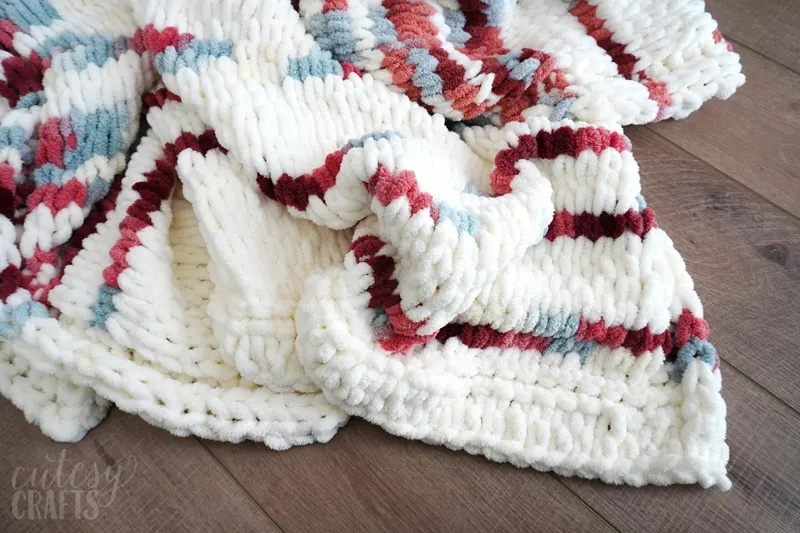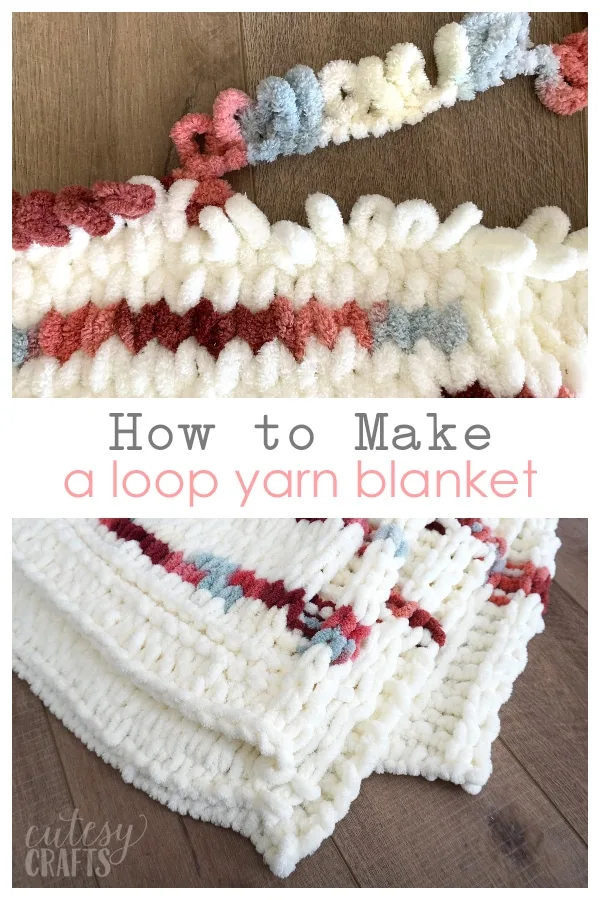 Also take a look at these other easy homemade blanket tutorials:
How to Make No-Sew Fleece Blankets with Braided Edge
How to Make a Tie Blanket from Fleece
No-Sew Fleece Mermaid Tail Blanket Pattern
How to Make a No-Sew Baby Blanket with Minky Fabric
How to Make a Blanket for a Baby
How to Make a Weighted Blanket
Cutesy Crafts is a participant in the Amazon Services LLC Associates Program, an affiliate advertising program designed to provide a means for sites to earn advertising fees by advertising and linking to amazon.com.
You'll Also Like: