"What in the world?! How do people afford to have these amazing craft rooms?" I was all excited to share my new craft room with you until I googled "craft room ideas" and a bunch of elaborate and expensive rooms popped up. Well, I decided to show you anyway because my craft room is practical, feasible, and it works! It's my happy space 🙂
Craft Room FAQs
What is a Craft Room Called?
A craft room can also be called a craft or art studio, a hobby room, art room, or sewing room.
How do you organize a craft room?
I like to organize my craft room by type of craft. All my sewing stuff goes in one box, my paper crafting things in another, jewelry making, holiday crafts, etc. My pictures and suggestions below will give you a better idea.
What Should Be Included in a Craft Room?
A craft room should include stations to execute each of your favorite crafts. (e.g. a spot to sit and sew with your sewing machine out, a spot where your Cricut or Silhouette machine is out and you can easily plug in your computer, etc.) You also want a large counter or tabletop to use as a work area for large crafts. It should also include lots of shelves, drawers, and bins for organizing all of your craft supplies.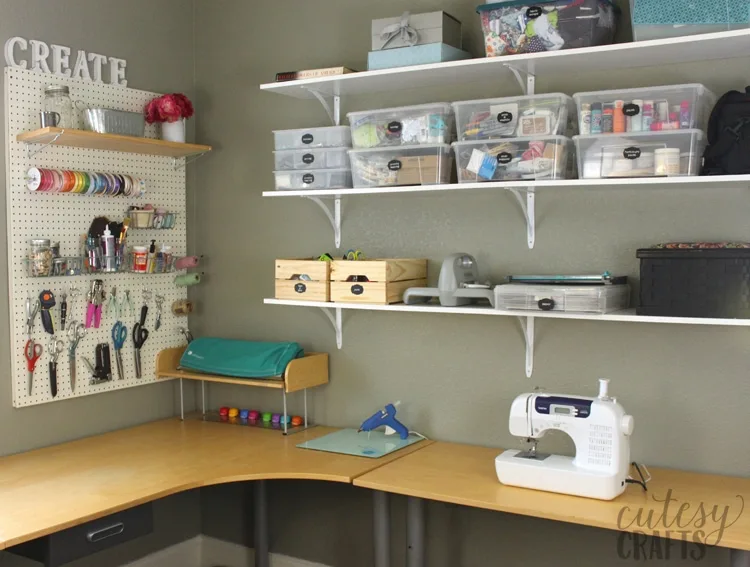 Craft Room Desk
I got this awesome L-shaped desk off craigslist. I believe it's an Ikea galant desk that is not made anymore. There's the main "L" section of the desk and two extensions. We also use the room as a homework area for the kids and office supplies, so having the desk in the corner like this saves a lot of space. So, if you're searching for a desk for your craft room, do yourself a favor and check Craigslist first.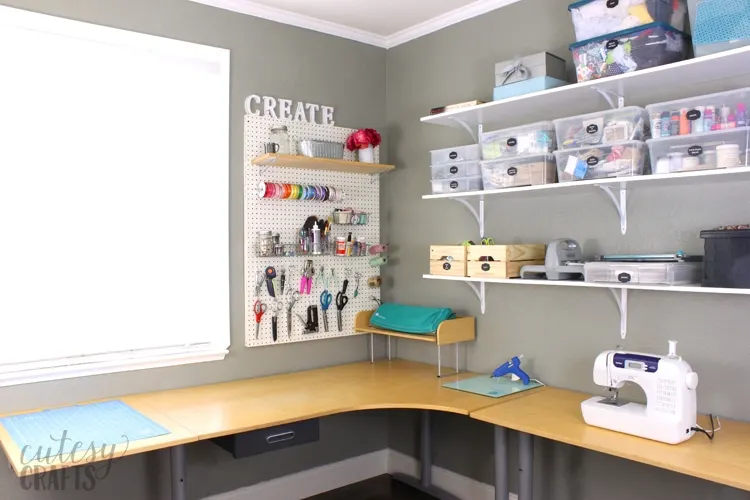 Craft Table Ideas
Here's the kid's homework and craft area. I love that they have a space to make a mess, and I don't have to worry about it! I used our old, small kitchen table and put a cube shelf on the back. It's perfect!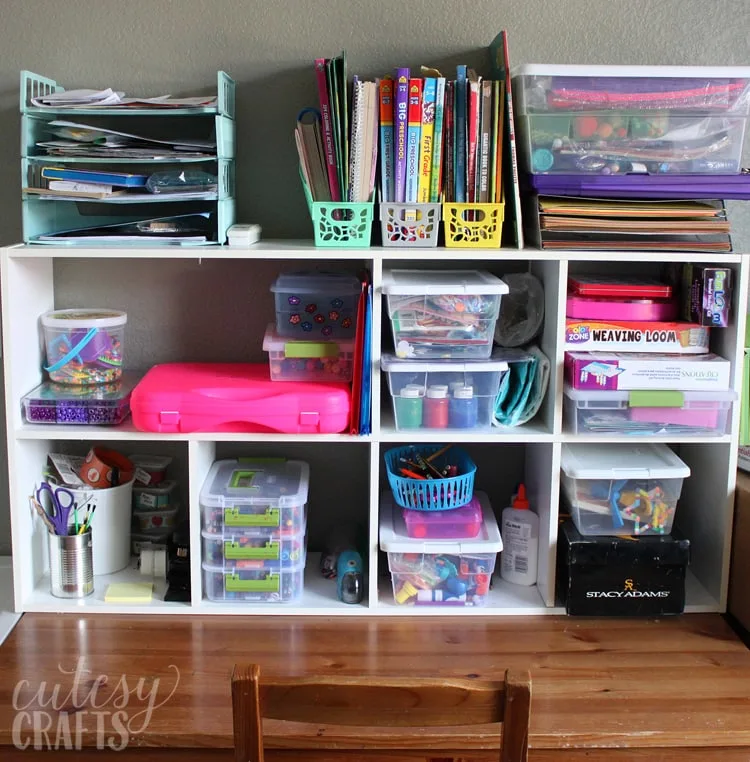 I get to have my sewing machine, hot glue gun, and my Silhouette out all the time! Dream come true!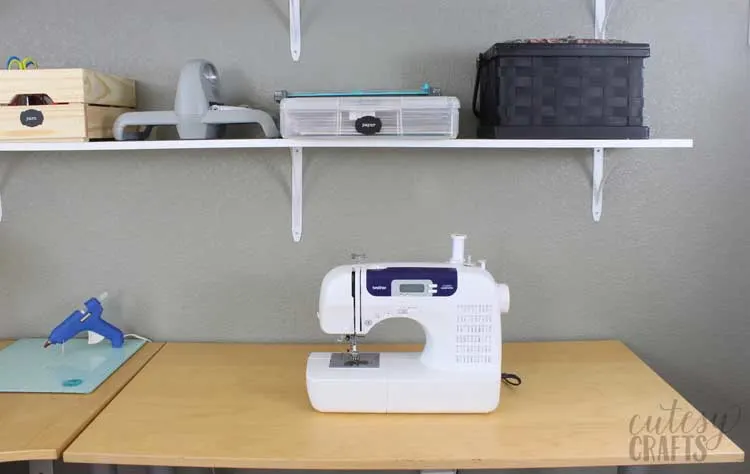 Craft Room Storage Ideas
We set up these shelves on the wall, and they are the best! Can I give you some advice about shelving? Do not buy shelves from a place like Ikea or even shelving kits from the hardware store. Instead, just go to the hardware store and buy brackets and laminate shelf boards separately. It's much much cheaper and the same amount of work. You don't even have to paint the boards because they come already painted.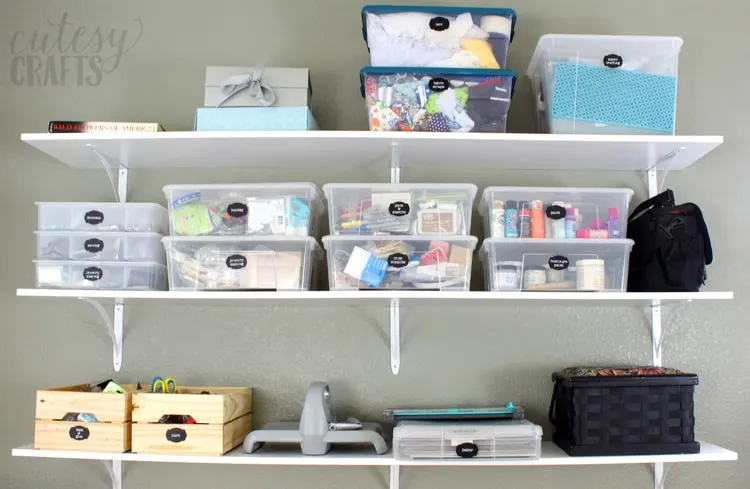 Craft Room Labels
I got a bunch of bins to organize everything and made some vinyl labels. I wanted them to sort of look like chalkboard labels, so I layered white letters on top of a black label. You can get the cut file for the labels here.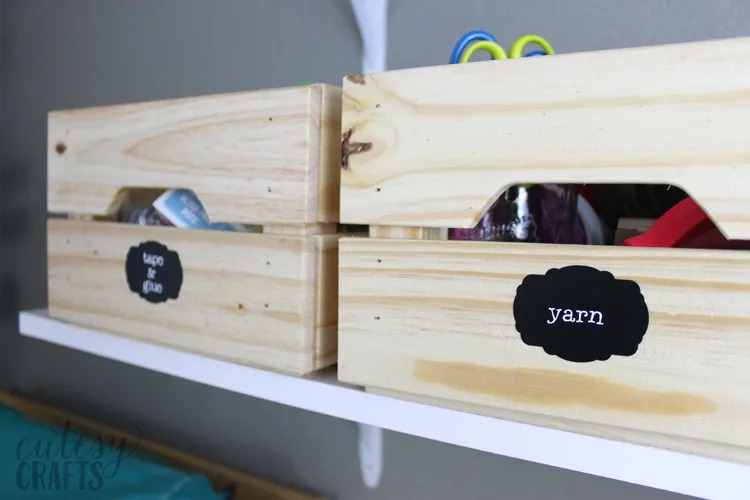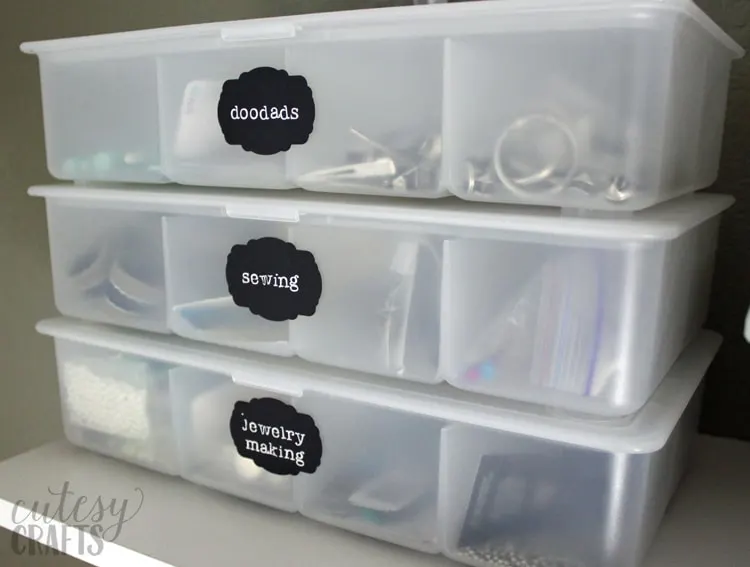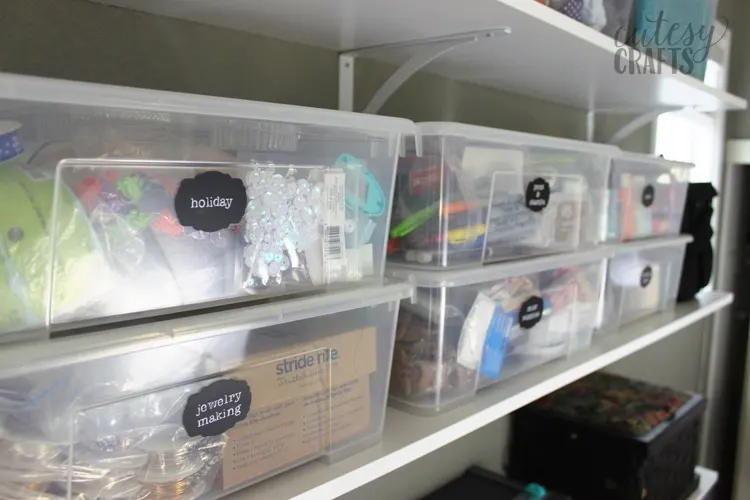 Small Craft Room Ideas
Craft Room Peg Board
My awesome hubby helped me build this peg board to put on the wall. I didn't realize that so much went in to hanging a peg board! First of all, it doesn't even come painted. You have to prime and paint the thing. Then, you have to build a frame behind it to create space between the board and the wall. We did it though, and I love it!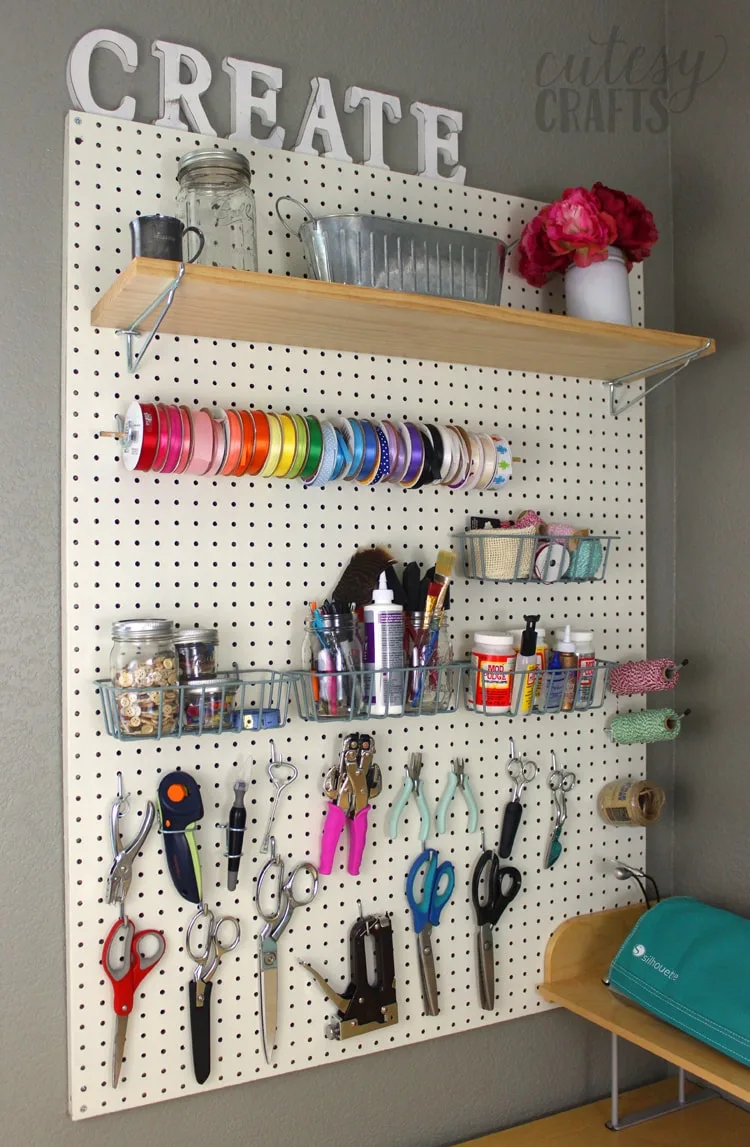 (This post may contain affiliate links, which means I may receive a commission, at no extra cost to you, if you click a link and purchase something that I have recommended.)
I was pretty ridiculously excited to hang up all of my scissors and tools. My mom bought all of the awesome fabric scissors for me for Christmas. P.S. – According to my mom, don't buy fabric scissors at the craft store. Apparently they are much cheaper on Amazon. I got all of the hooks and peg board baskets at the hardware store.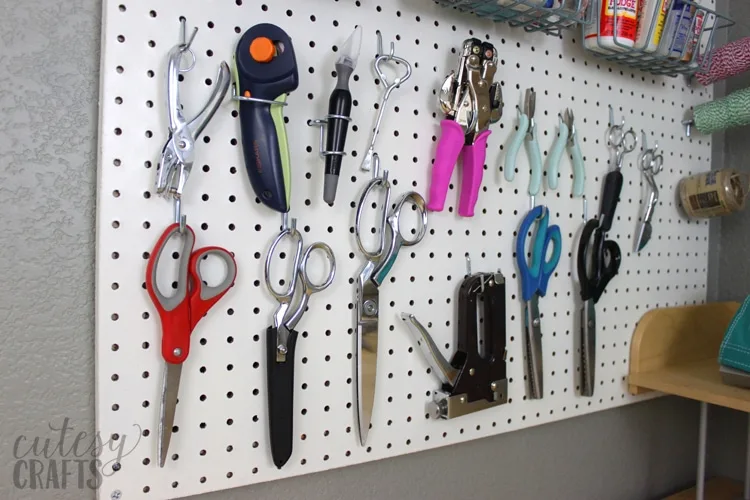 I used three of the pegboard hooks to hang a dowel for my spools of ribbon. Much better than having it all crammed in a drawer.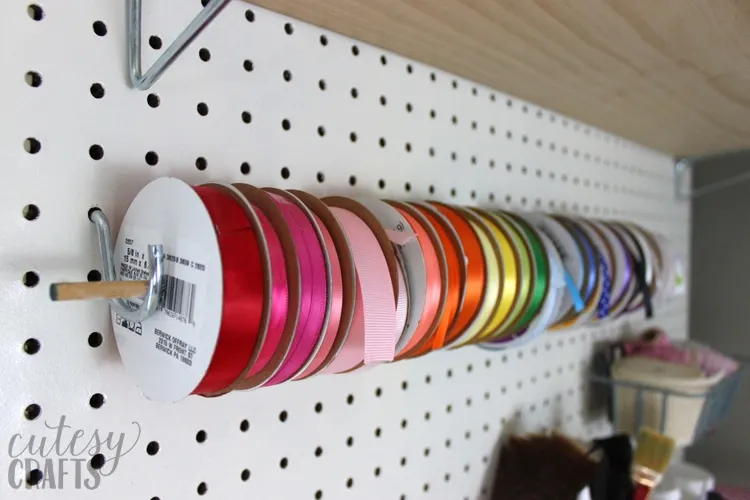 Craft Room Ideas to Maximize Space
Use the vertical space in the room. – Add shelves and other wall organization to use up the vertical space in the room.
Use the space under your desk/table. – Add drawer units under the desk/ table to create more storage space. I use these drawer units here and here.
Use a tall, skinny storage unit. – Maximize space in the corners by adding a tall, skinny storage unit. I have this locker here. Bonus that it's Cutesy Crafts pink!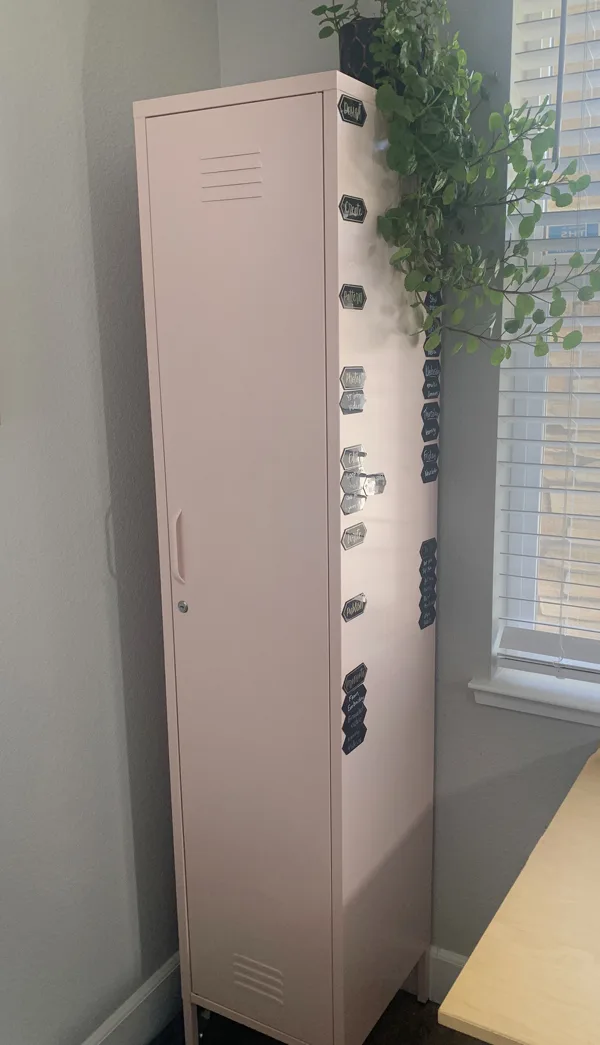 Craft Room Decorations
Use the crafts you make to decorate the room. – Decorate with whatever type of crafts you do. I do a lot of hand embroidery, so I have a whole wall of embroidery hoops. If you like to quilt, make some pretty wall quilts or bunting. If you like to use your Cricut, make some cute signs. Endless possibilities!
Find or buy vintage sewing supplies to use in the room. – I inherited some fun, vintage sewing supplies from my grandma that make great craft room decor. I have an old sewing machine, some fun thimbles, and a jar full of wooden thread spools in my craft room.
Use craft storage as decorations. – Who says your craft storage has to be boring?! Pick craft room storage that is not only functional, but also beautiful, like this sewing box I bought.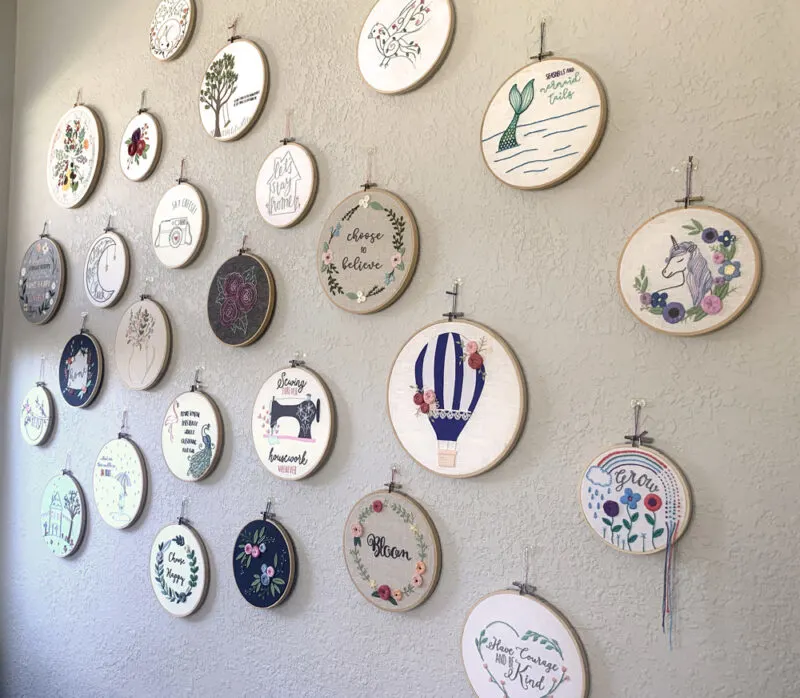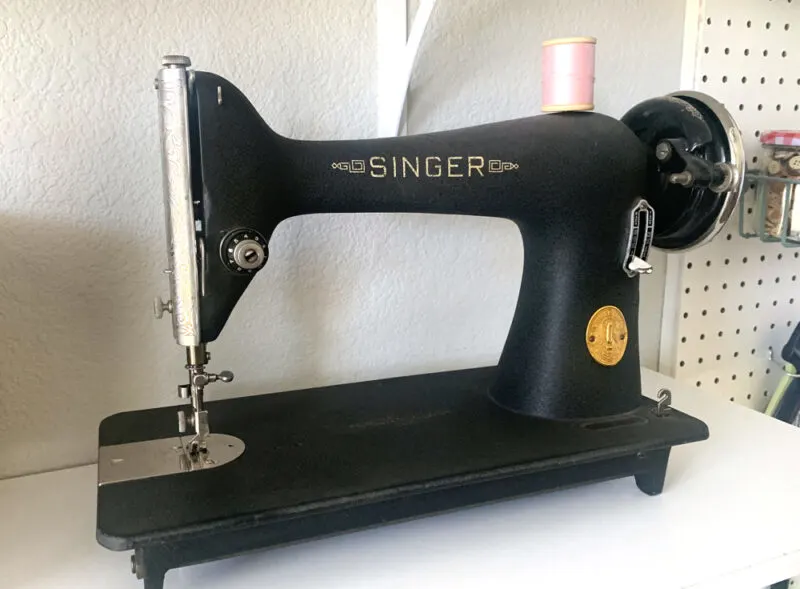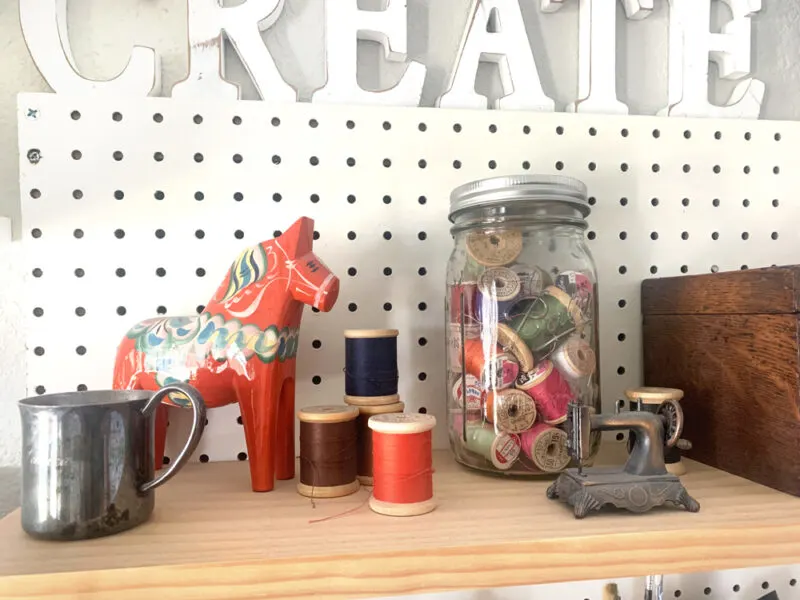 How do I decorate my craft room on a budget?
Since you're crafty, use items you create yourself or purchase vintage craft supplies from the thrift store to use as decor.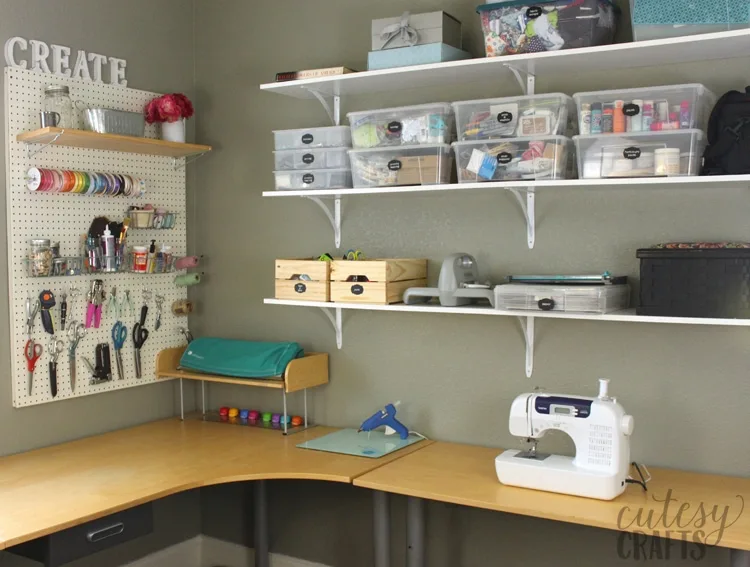 That's pretty much it. I've also got a couple of bins and rolling carts in the closet, but that doesn't look very pretty. Oh, and who decided that everyone needed some kind of "create" sign in their craft room? I mean, I totally bought into it, but I wonder who the first person was that did it. Hmmm…
Do you have a space for your crafts? I've still got some fabric and things that need organizing. I'd love to know what craft room ideas you have used.
Cutesy Crafts is a participant in the Amazon Services LLC Associates Program, an affiliate advertising program designed to provide a means for sites to earn advertising fees by advertising and linking to amazon.com. This post contains affiliate links.
You'll Also Like: