You can't learn to embroider without knowing how to embroider letters by hand. Printed letters are fairly easy to figure out, but I like to use a lot of script lettering in my embroidery patterns. I filmed a couple videos that will show you two of my favorite ways to embroider letters. If you like this post, make sure to check out all of my How to Embroider for Beginners series.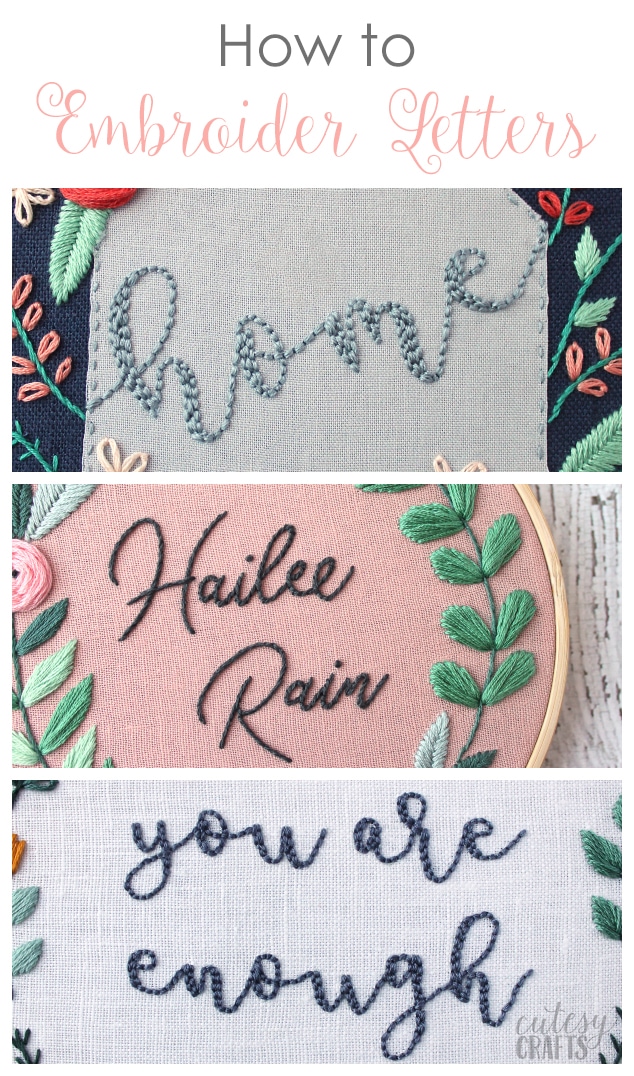 How to Embroider Letters, Method One – Backstitch:
The first method that I like to use is a backstitch. This is a great method for script fonts that have thicker and thinner parts. I outline the thicker parts with a backstitch and fill them in with another row of backstitch. For this style, I usually use 6 strands of floss for large letters and 3 strands for smaller ones. To makes things super easy for you, I made a video. If you are using an ad blocker, you may have to turn it off to see the video.
How to Embroider Letters, Method Two – Stem Stitch:
The other method that I like to use is a stem stitch. I use a stem stitch for monoline fonts, aka fonts made of a single line. You can use any line stitch for fonts like this, but I prefer the look of a stem stitch. It makes the letters look like one, consistent line, rather than multiple stitches. I usually use 2 or 3 strands of floss when I embroider letters with a stem stitch. And, of course, I made a video for this one too. Watch it below, and make sure to turn off your ad blocker to see it.
I hope you were able to learn something new from those videos. I know that embroidering letters can be a bit of a challenge. I get so frustrated trying to make them look perfect! Just remember that you can always take your stitches back out. Take your time and make your stitches very short around those tight curves. Happy stitching!
I have lots of hand embroidery patterns. Take a look at my free embroidery patterns page!