If you're in the market for new flooring, you've discovered that the question is a bit more complicated than laminate or hardwood these days. There are so many choices! In our search for new flooring, we automatically ex-nayed hardwood due to costs and were left looking at laminate, wood-look tile, and Luxury Vinyl Tile aka Luxury Vinyl Plank (LVP). After doing lots of research, we finally settled with Luxury Vinyl Plank. Since there isn't a lot of information out there yet, I thought I would give you my unbiased Luxury Vinyl Plank flooring review to help make your decision easier. This is just my experience with the flooring. Please do your own research and come to your own conclusions. I am not liable for any decisions that you make for your floor or home. Make sure to also read my post about Things you'll need to care for your Luxury Vinyl Plank Flooring and read my Vinyl Plank Floor Review – Two Years Later to see how it's holding up. Also, we just moved to a new house, and I'm choosing new floor. Read my posts on how to choose the best vinyl plank flooring and my Provenza vinyl flooring review.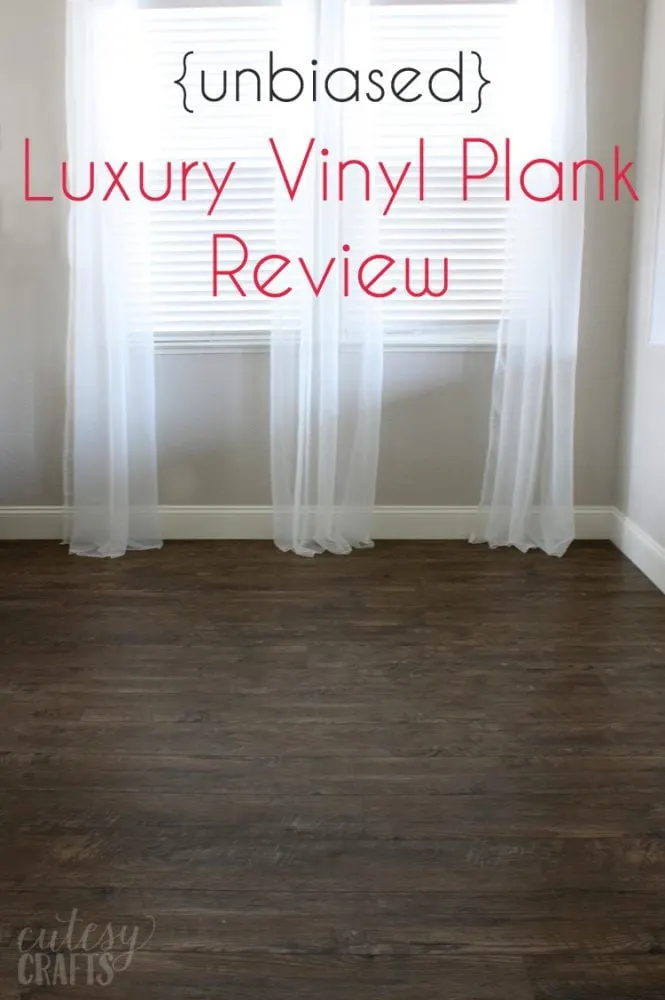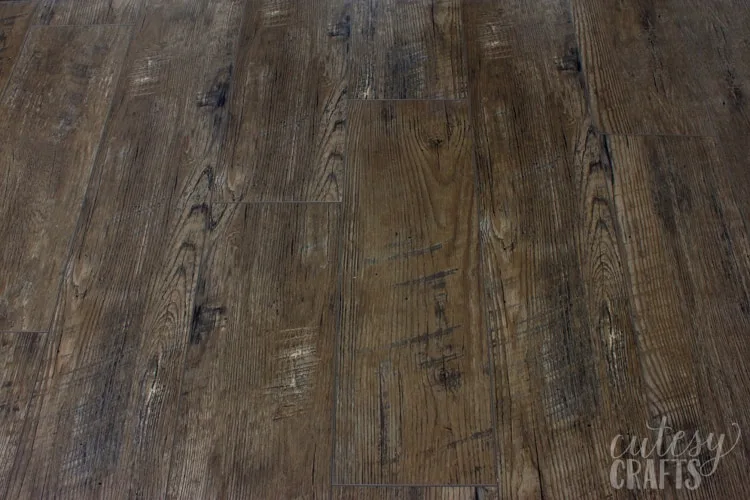 Luxury Vinyl Plank Flooring Review
The Good
waterproof – Unlike laminate, LVP is completely waterproof. You don't have to worry about a dishwasher leaking, kids spilling, or pet accidents. As a mom of four, a waterproof floor in the kitchen is very important to me. My kids are constantly spilling water, and I don't find it until I step in it a couple hours later. I didn't want a floor that I would have to worry about all the time.
cushion – We lived with the concrete foundation as our floor for two months, trying to figure out what to do about some issues we had. Standing and walking around on the concrete really started to do a number on my feet and joints. I know, I sound like an old lady, but it's true! I am so glad that we didn't end up getting tile because I would have been dealing with that all the time. My LVP was installed with a nice, cushy underlayment. It's also a LOT warmer than tile would have been. That makes a big difference in the winter.
ease of installation – Since LVP clicks together like laminate, the installation process is fairly simple. If you are an ambitious DIY-er, it's something that you can do yourself. We opted to have ours professionally installed. Since it's easy to install, that also helped keep professional installation costs down. On average, the installation quotes that I got for LVP were $2.00/sf and wood-look tile was upwards of $6.00/sf. That makes a HUGE difference when you are talking 1200 sf of flooring.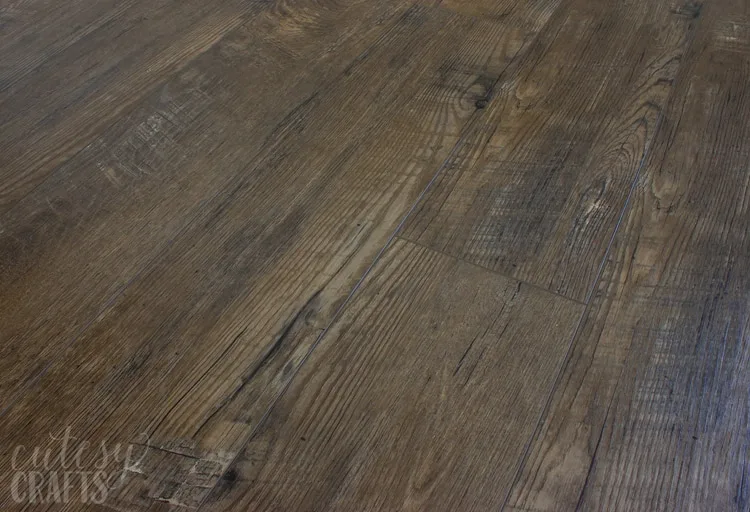 ease of UN-installation – I know it's not something that you want to think about when you are spending so much money on new flooring, but someday it's going to be out of style. That's just the way things are. When we bought our house, there was dark slate tile all throughout the kitchen and other places downstairs. It was a huge pain to demo all of it! We got quotes for $3.00/sf just to get it taken out. Wood-look tile might be a hot trend right now, but how long is that really going to last? I can't image what demoing an entire first floor of tile would have been like.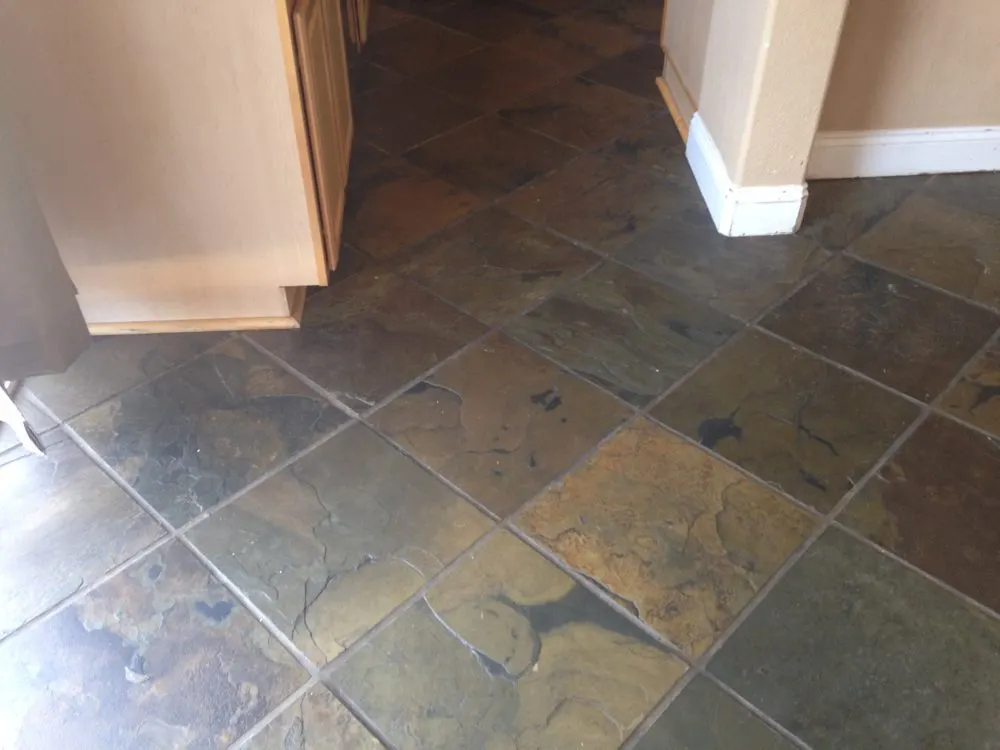 Here's a nice "before" picture for you. What a difference some paint and new flooring can make!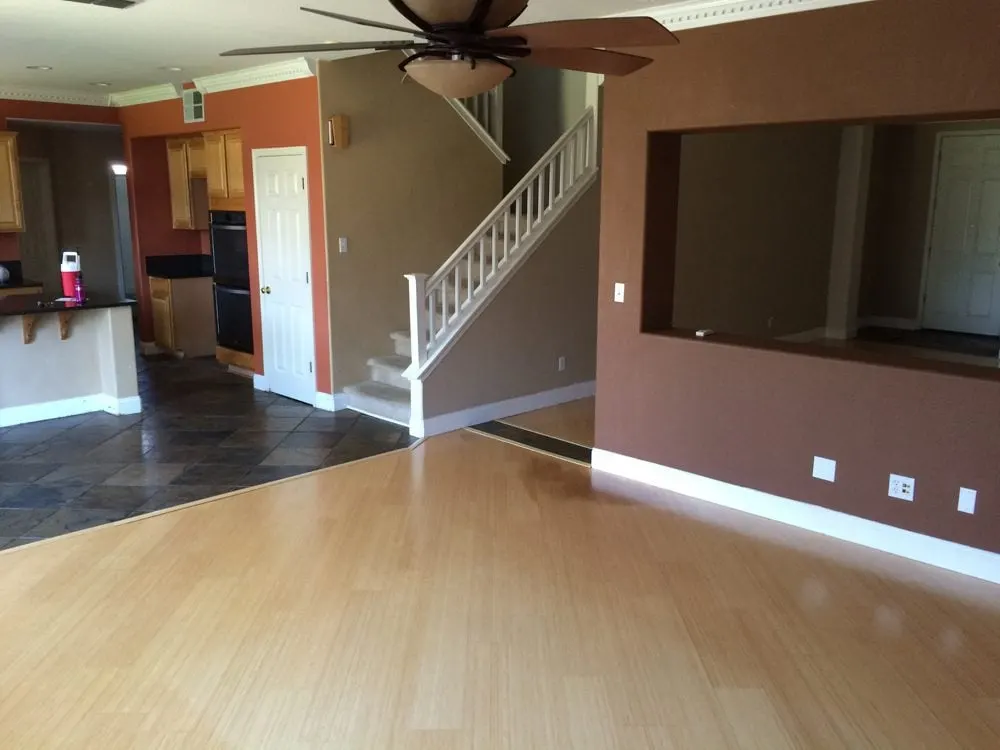 scratch resistance – I brought home lots of different flooring samples before choosing one. When comparing the laminate and LVP samples, I took a screw driver and attempted to scratch the surface of both. The laminate that I tested was a good quality, water resistant laminate, but it scratched a lot easier than the LVP. Not all LVP is the same though, so make sure to do your research. The stuff we chose is commercial grade and has a high wear layer. I did have some scratches appear from my son's ride-on car, so it's not completely scratch proof. You'll still need to put pads on your furniture and stuff. We ended up cutting socks and putting them on the wheels of my little one's car.
high moisture tolerance – The original plan in our house was to go with laminate flooring throughout the first floor, but with the high levels of moisture, we had to consider other options. The LVP that we chose can handle up to 9 lbs/1000 sf of moisture in the foundation, whereas traditional laminate can only handle up to about 4 lbs/1000 sf. This also means that it's a good option for things like basements and finished garages, where moisture levels might not be ideal.
The Bad
not as realistic – Luxury Vinyl Plank is a far cry from sheet vinyl, however it still doesn't look and feel as real as laminate flooring. I chose a very high quality LVP that has a nice wood grain texture and separations between the boards. Most people that come to my house aren't really sure what it is and ask if it is tile. They are shocked to learn that it is actually vinyl. When you look at it from a certain angle and light, the wood grain texture does look a little fake, but no more fake than the wood-look tile that is super popular right now. Edit: Things have changed a bit since I got this flooring, and new products have been developed. Read my post on how to choose the best vinyl plank flooring to see the floors I chose for our new house.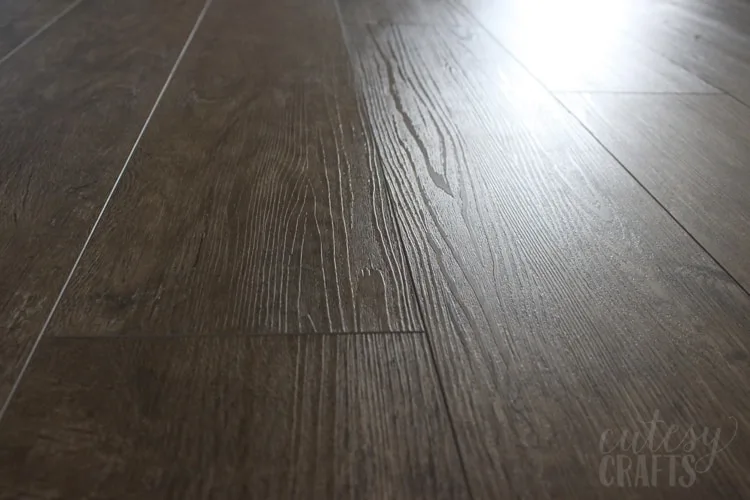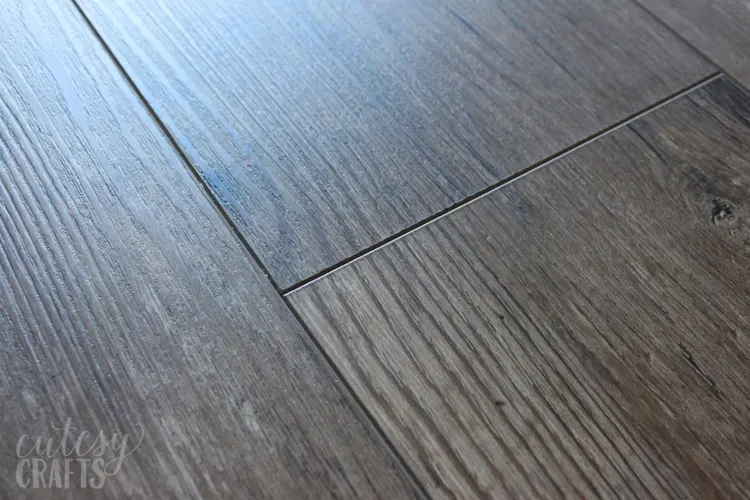 cost – Depending on what kind you get, LVP does cost a bit more than laminate. The laminate we were looking at cost about $2.00/sf, whereas the LVP was more like $4.00-$5.00/sf. That was the main reason we originally chose laminate flooring, but the moisture levels in our foundation stopped us from going this route.
In the end, I'm so glad we went with this flooring, and I hope this Luxury Vinyl Plank flooring review was helpful. Not having to worry about scratches and spilled drinks makes it all worth it! It may not look and feel as realistic as laminate, but when it comes down to it, no one is going to be looking at your floor that closely. The overall look is beautiful, and the contractors were even commenting on what a wonderful, high-quality product I had chosen.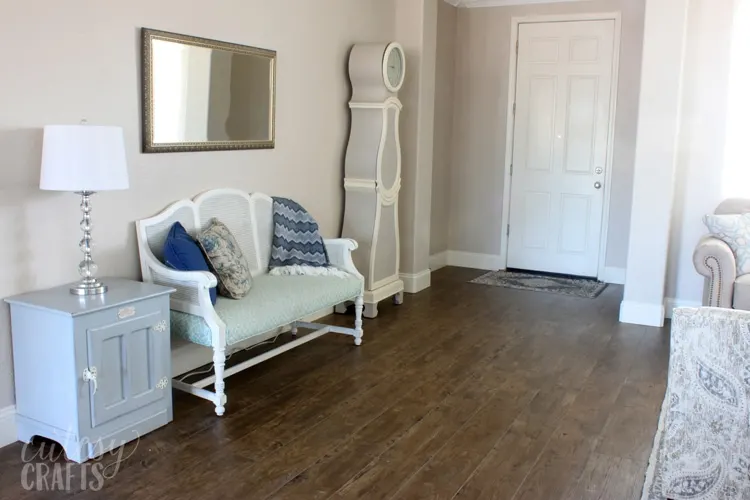 The brand of flooring we chose was Paradigm, style: Longboard, color: Mavericks. I haven't researched all of the LVP options out there, but I also looked at what seemed to be nice quality ones from COREtec at RC Willy. I recommend getting samples of several brands. Bring them home, test them out, and really get a feel for which one you like. Paradigm doesn't really have a way to contact them, and now their retailer list is gone off their site. That's a little concerning to me, so make sure to do your research.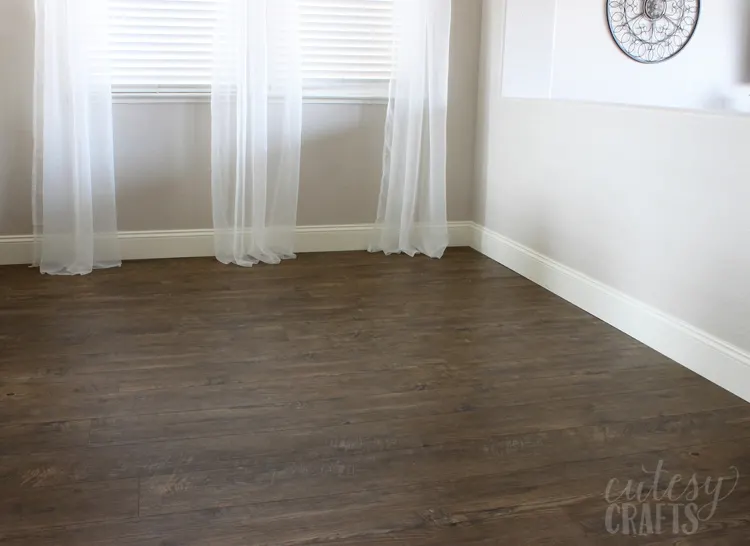 Oh, and if you're wondering about the high moisture levels in the concrete foundation, we finally found out what was causing them when we had our first rain of the season. Turns out the yard has horrible drainage issues and becomes a lake every time it rains. The one corner of the house that had the highest level of moisture was right where the water was pooled next to the foundation.
If you are curious to see how my floor is holding up, take a look at my updated Vinyl Plank Floor Review – Two Years Later. If you end up getting LVP or other hard flooring installed, check out my other post about Things you'll need for your Luxury Vinyl Plank.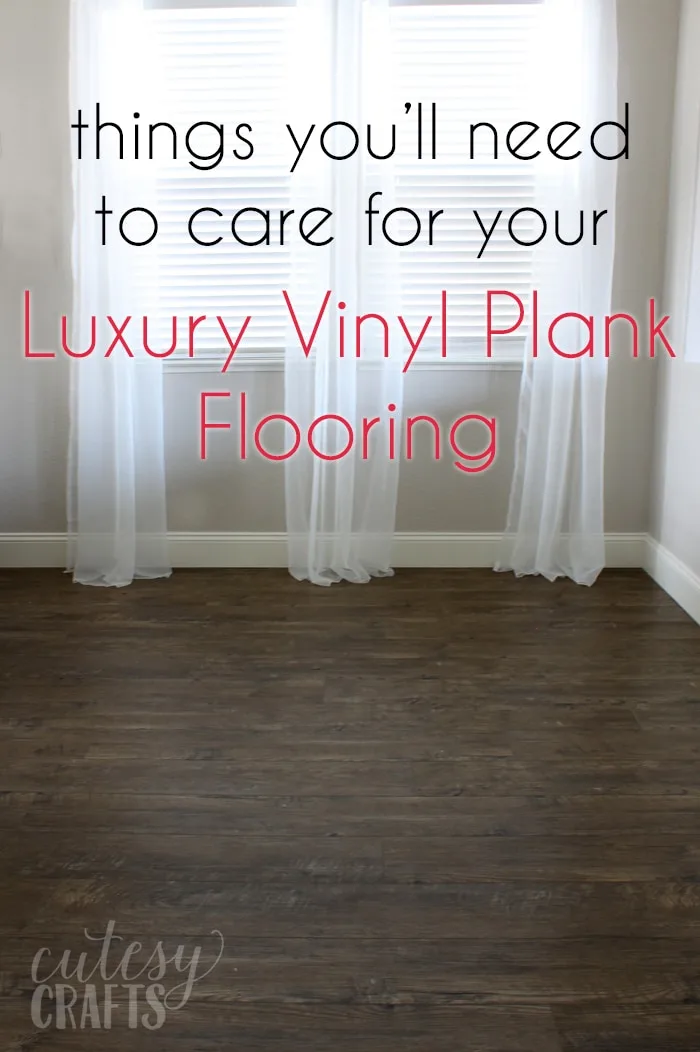 You'll Also Like: