One of the first things I learned when figuring out how to embroider was how to do a lazy daisy stitch. I really wanted to make some cute flowers, and this was an easy way to do it.
When I use the Lazy Daisy Stitch
This embroidery stitch is great for making anything with a teardrop shape. Use a lazy daisy stitch when you want to make small, daisy-like flowers. You can also use it to make raindrops or small leaves. It's sometimes referred to as a detached chain stitch when it's not made into a flower shape. After a couple of tries, you'll be a pro at the lazy daisy stitch!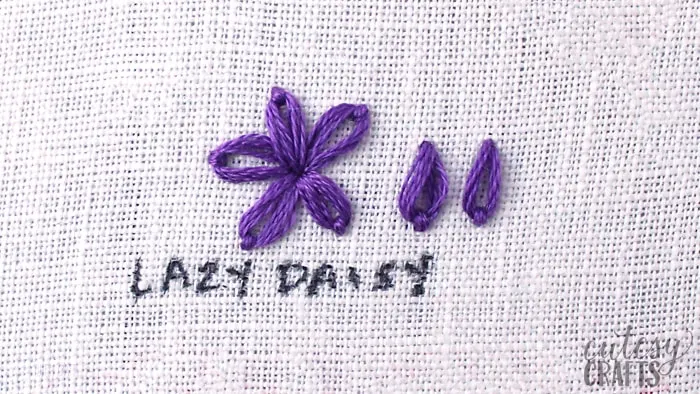 It's a pretty easy one to do. You just bring your needle from the back to the front of your work, push it down through the same hole again, but leave a loop on the top. Bring your needle back up through the end of your petal and through the middle of the loop. Give it a little tug and stitch one itty bitty stitch over the end of the loop to secure it.
Embroidery Lazy Daisy Stitch Supplies
Fabric

Embroidery Floss

2 Embroidery Needles

Scissors
How to do a Lazy Daisy Stitch
Bring needle up and back down at 1, leaving a loop.
Bring needle up at 2, through the middle of the loop.
Pull slightly on the thread to tighten.
Bring needle over the top of the loop and down at 3, making a very small stitch to hold the top of the loop in place.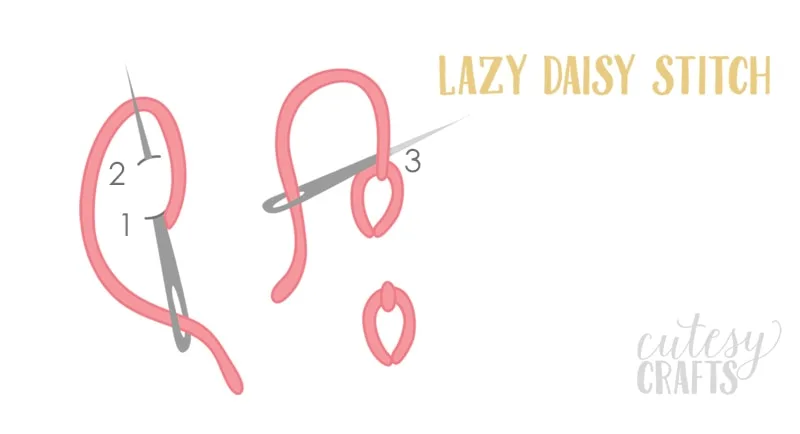 Lazy Daisy Embroidery Stitch Video Tutorial
You can also learn how to do a lazy daisy stitch by watching my video below or heading over to my YouTube channel. If you are using an ad blocker, you may need to disable it to see the video.
Learn all of these other embroidery stitches by making this stitch guide sampler with me. It's a great way to practice and a nice reference to have while you are reading other embroidery patterns.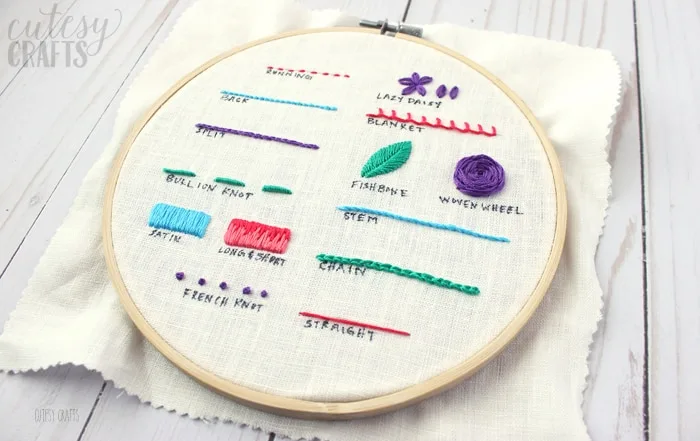 Free Lazy Daisy Stitch Embroidery Pattern Download
To download this free pattern, enter your information in the form below or click here to subscribe to my newsletter. It's free, and I'll keep your email address safe. You can also unsubscribe at any time.

To watch all of the videos in this series, including some basic embroidery tips, go to my YouTube channel here. I'll walk you through the entire process and make it super easy for you.
Embroidery Stitches Lazy Daisy FAQ
What is a Lazy Daisy stitch used for?
Use a lazy daisy stitch in embroidery to make small flowers, raindrops, or small leaves.
What kind of embroidery needle is used in Lazy Daisy stitch?
Use any embroidery needle for a Lazy Daisy stitch. If you're using more thread, use a larger size needle, and if you're using less, use a smaller needle.
How many threads are in a Lazy Daisy stitch?
Use anywhere from 2-6 strands of embroidery floss for a Lazy Daisy stitch depending on how thick you want the petals to be. I prefer to use 2 or 3 strands and only use 6 if it's a larger flower.
What is the difference between chain stitch and Lazy Daisy stitch?
A Lazy Daisy stitch is a detached chain stitch, meaning the chain pieces don't link together like they do in a chain stitch. It's created the same way, just each "link" in the chain is its own, separate piece that you can use to make a flower shape.
More to See