There are few things in this world worse than spending time and effort on a beautiful hand-embroidered design, just to have it fall apart in the wash or while in use. So how do you prevent embroidery on clothing from coming undone when you wear it or feeling scratchy against your skin? The answer is to find the best backing for embroidery. Take a look at just about any wearable embroidery – hats, polo shirts, tote bags – and you'll notice a small piece of material on the inside, just behind the embroidered design. Not to be confused with interfacing that you iron on before you stitch, a backing is ironed on the back of your design after you are finished.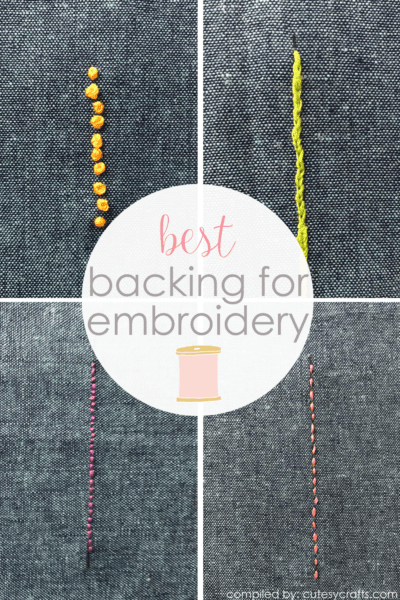 (This post may contain affiliate links, which means I may receive a commission, at no extra cost to you, if you click a link and purchase something that I have recommended. As an Amazon Associate I earn from qualifying purchases.)
Best Backing for Embroidery
For this post, I wanted to test out several types to see what is the best backing for embroidery. Among the candidates were Sulky Tender Touch Stabilizer, Cloud Cover Stitch, Pellon SF 101 Shape-Flex, and Pellon 931TD Fusible Midweight. The first two are embroidery backings that I found after doing some online research, the second two (Pellon) were a result of going to the fabric store and feeling the different iron on interfacing. For each of these reviews, I tested how easily the backings ironed on over an embroidered line, and how they endured two wash and dry cycles. Let's see how they fared!
Sulky Tender Touch Stabilizer
Sulky Tender Touch is considered a permanent lightweight backing and can be used as a "cover-a-stitch" or stabilizer.
For Sulky Tender Touch, all you need to do is cut a piece slightly larger than your embroidery, then iron it onto the "wrong" side of your fabric using the steam setting.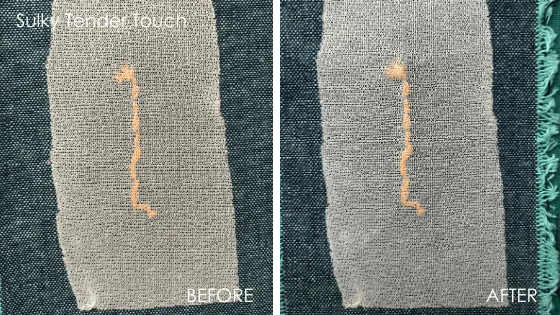 Results: I loved how easily the Sulky Tender Touch ironed on: the fusible web side took almost no time at all to adhere to my fabric, and it stayed so soft, not stiff. After washing the fabric, I was happy to see that the backing stayed put and didn't roll up or wrinkle after drying. This would be great for thin fabric that you don't want to change the density of.
Cloud Cover Stitch Stabilizer
Cloud Cover is super soft and sheer and is used to protect sensitive skin from any scratchy embroidery stitches on clothing – think baby clothing. It's an iron-on backing used to cover the stitches after the design has been stitched.
To apply the Cloud Cover, turn the fabric inside out so that you see the back of the stitches. Lay the Cloud Cover scratchy side down on the fabric. Next, set the iron to a setting without steam and press it onto the Cloud Cover and fabric in 10-second intervals, making sure to get every bit.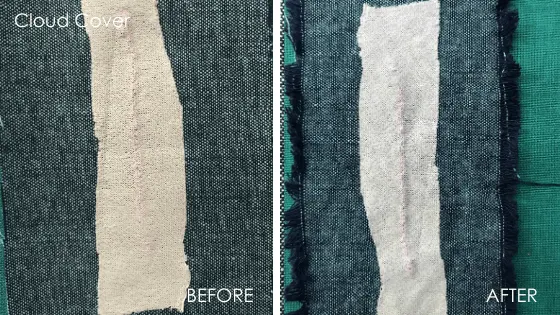 Results: While the Cloud Cover ironed on beautifully and is very soft to the touch, it does not have lasting power. After only one wash and dry, the backing peeled right off. Unfortunately, I did not get a photo of the peeling, but I don't recommend this for things that will be washed. Maybe it could work on a hat or something?
Pellon SF 101
Pellon SF 101, or Pellon Shape-Flex, is permanent, all-purpose woven fusible interfacing for light-to-medium woven or knit fabrics. The "crisp" stability of this embroidery backing is really something. It doesn't distort the shape of the fabric, though, so is great for supporting embroidery on cuffs, collars, pockets, and other super fine detail areas.
To apply the Pellon SF 101 embroidery backing, lay the fusible side of the backing on the wrong side of your fabric. Lay your press cloth on top, spray it a little with water to dampen slightly, then iron for 10 seconds at a time, moving along the fabric. Make sure to get every corner and edge.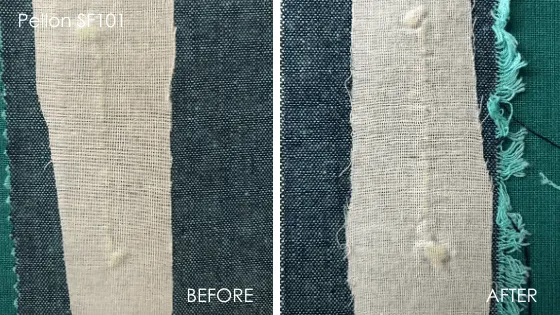 Results: I like that the Pellon SF 101 feels the most like fabric. It's what I use on this DIY denim jacket with embroidery because I liked the way it felt so much. It stayed put so well even after two wash and dry cycles. I even scratched at the corners a little to see if it would lift, but it wouldn't budge!
Pellon 931TD
Pellon 931TD Fusible Midweight is a permanent, non-woven fusible interfacing for medium-to-heavyweight fabrics. Its firm support makes a great embroidery backing for activewear, tote bags, pillowcases, curtains, and on heavier materials like corduroy and chino.
To apply the Pellon 931TD embroidery backing, lay the fusible side of the backing down on the wrong side of your fabric in the area where your embroidery will go. Lay a damp or dry press cloth over that, then press and hold iron for 10 seconds at a time, moving along the fabric.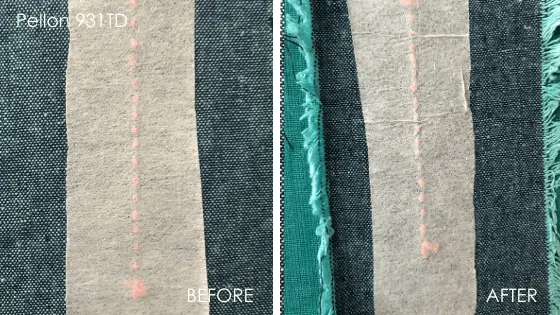 Results: After washing and drying the fabric several times, I'm happy to report that the embroidery backing still adhered to the fabric. It also didn't change the shape or hand of the fabric, despite its weight. Another win for Pellon!
Final Thoughts
So what's the best backing for embroidery? Well, that all depends on what you're working on. If your finished item is something lightweight and/or flow-y, you might want to go with the lighter, Sulky Tender Touch. If your fabric is thicker or you want to add more stability to the garment, I'd go with either the Pellon SF 101 or Pellon 931TD Fusible Midweight.
It's worth noting that any of these could also be used as an embroidery stabilizer to use before you stitch, like when you are using a thin or stretchy fabric (think t-shirt fabric). Hopefully I'll be able to do another post on that later. In the meantime, be sure to check out my How to Embroider for Beginners series to answer a lot of frequently asked embroidery questions.
You'll Also Like: