Tea towels have been a favorite thing for embroidery artists to stitch on for a long time. Growing up, I remember seeing day-of-the-week towels that my great grandma embroidered in our kitchen. They had such cute, vintage motifs! I thought I'd give it a go, and decorate some towels for my own kitchen. A common question that I see in embroidery forums is how to embroider tea towels so the back still looks nice. Well, hopefully I can answer that question today.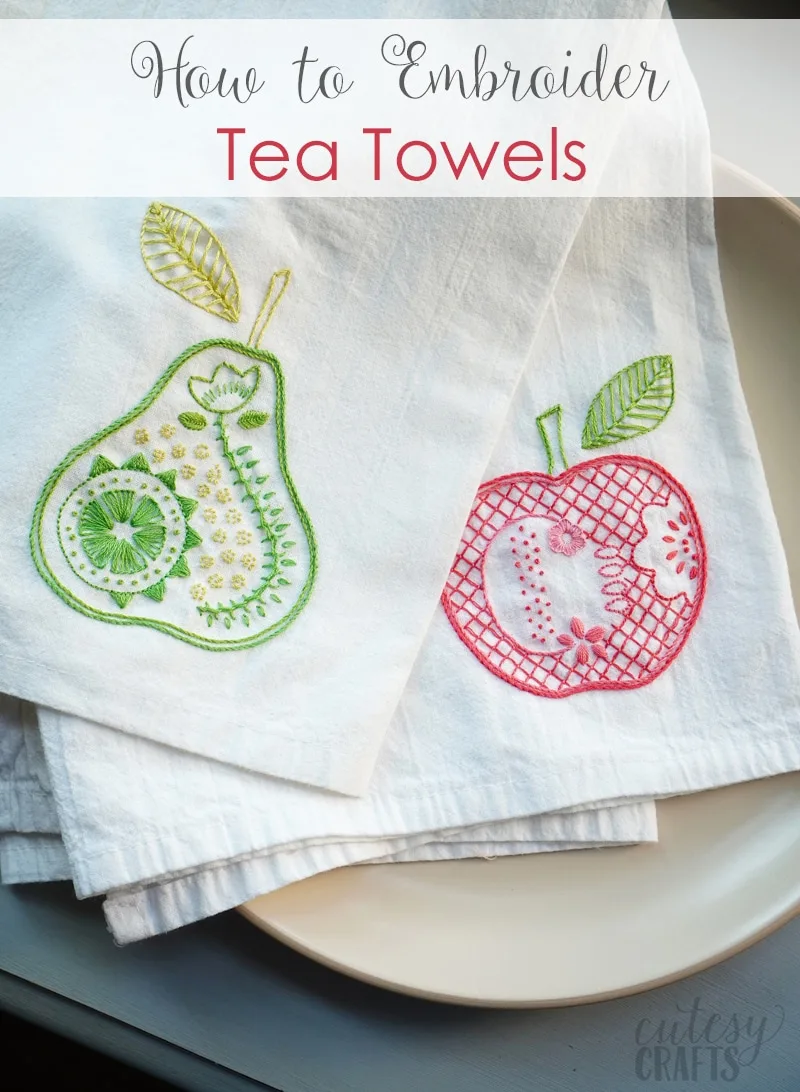 (This post may contain affiliate links, which means I may receive a commission, at no extra cost to you, if you click a link and purchase something that I have recommended. As an Amazon Associate I earn from qualifying purchases.)
To make these hand embroidered tea towels, you'll need: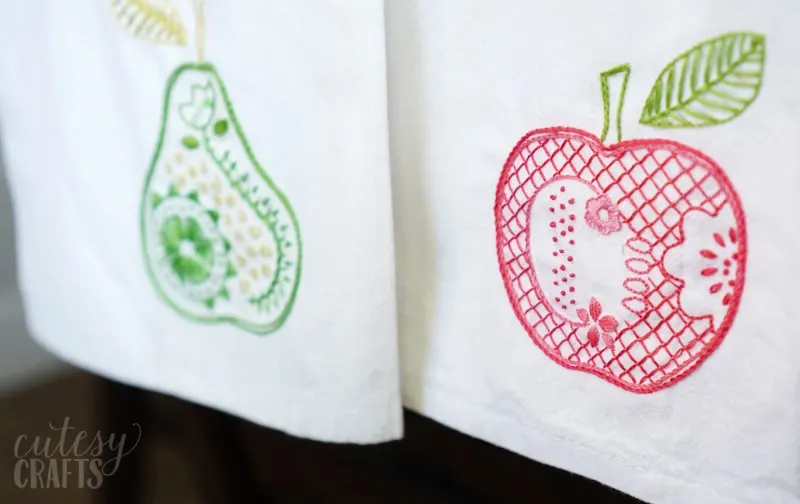 How to Embroider Tea Towels
First thing you need to do is choose a pattern. Any time you stitch something that will be washed, you need to make sure it doesn't have any dimensional stitches like woven wheel flowers, that would get distorted in the wash. I originally started to design my own fruit patterns for the towels, but when I saw these patterns from KF Needlework, I fell in love with her modern designs. All of her designs have so many fun stitches to practice, and the way she stitches is so beautiful! This is the Scandi Fruit embroidery pattern. I wanted to put one fruit on each towel, so I made the pattern a little larger before printing.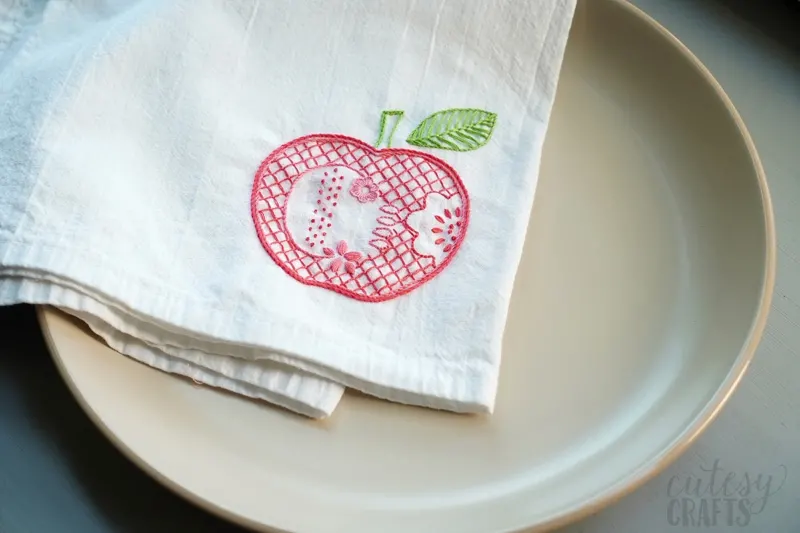 Next, you need to pre-wash and dry your towels, transfer your embroidery pattern, and get stitching! Whenever the back of your embroidery is going to show, you want to make it as neat as possible. That means using as little knots as possible. They still aren't perfect, but much neater than my normal work. Since these will hopefully be used (and washed), you'll still want the thread to be very secure. Below is a video that shows several different no-knots methods that I used on these tea towels. (If you are using an ad blocker, you may need to disable it to see the video.)
I washed and dried them on normal cycles, just to be sure they would hold up. So far so good, and I hope they stay that way! In addition to using less knots, you also want to try and keep most of the thread on the back, covered by thread in the front. (You don't want to stitch in one area and then move to another area, leaving a big line of thread in the back.) You can see I knotted off each of the knots on the back of the apple. I don't think that was necessary with the short distances between them, and would probably just string my thread across to each knot if I had to do it over again.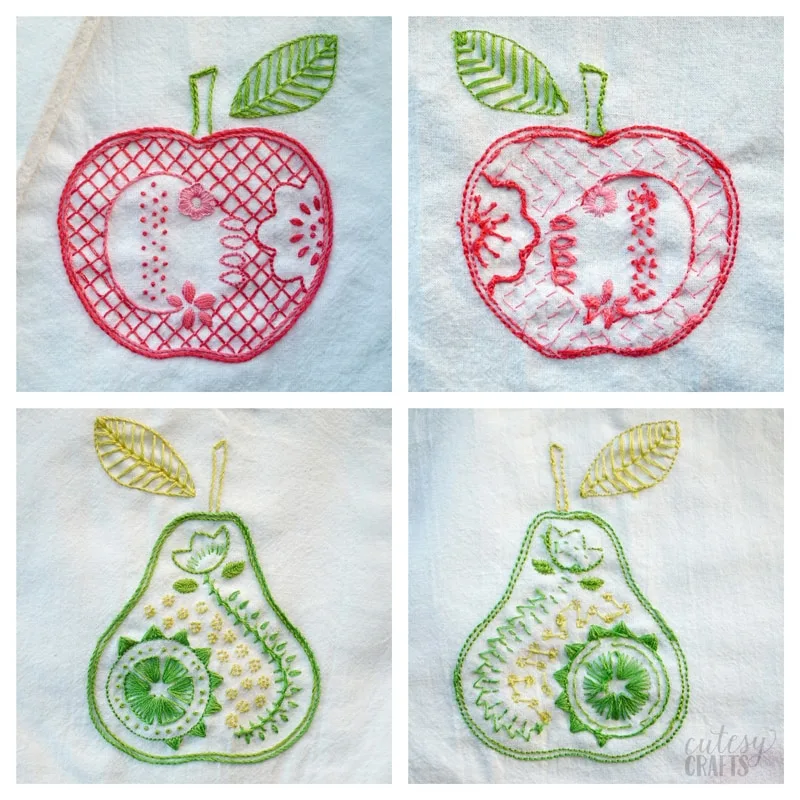 I love how they turned out though, and I learned a few new stitches along the way.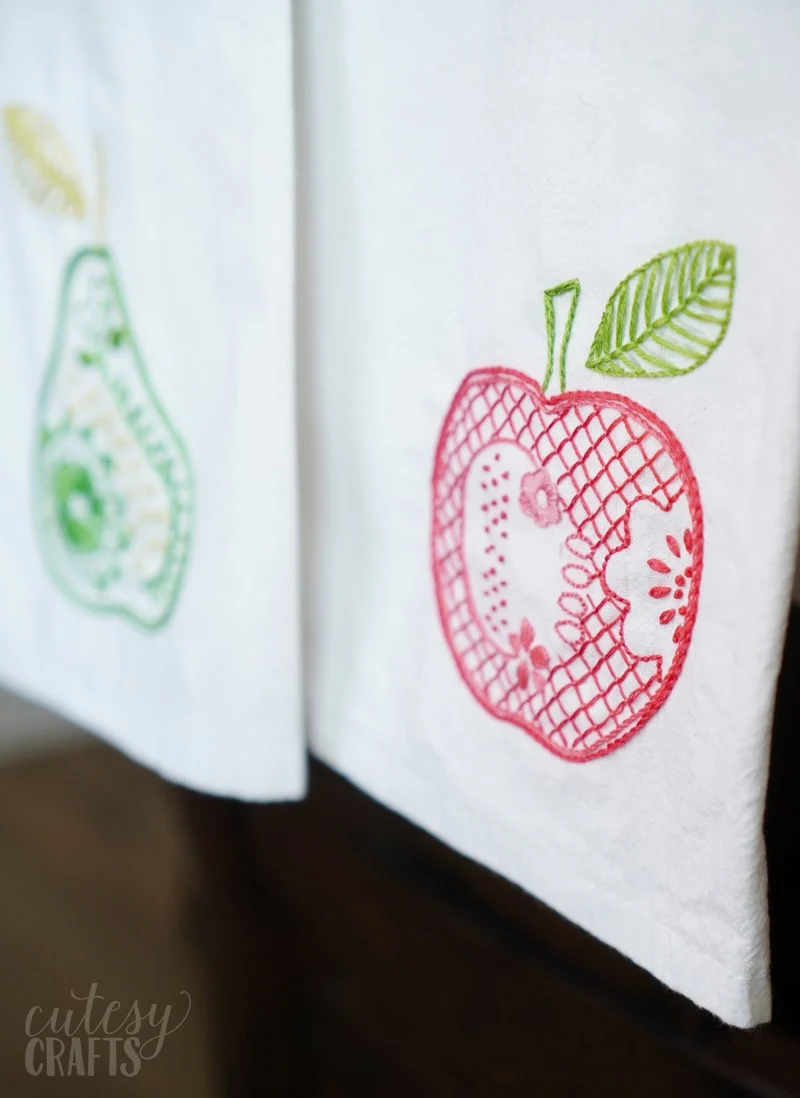 Aren't they pretty?! I feel like they're a modern twist on classic, vintage tea towels. Maybe my great grandchildren will have them in their kitchen one day.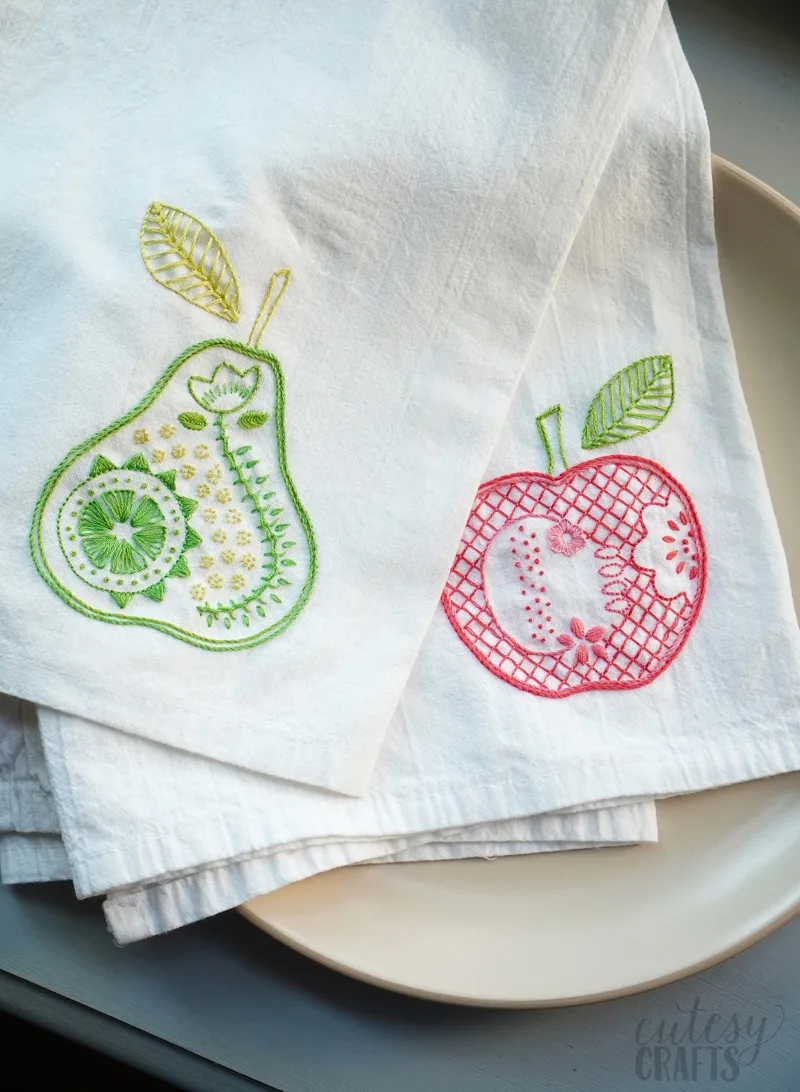 Make sure you check out my How to Embroider for Beginners page for more easy tutorials and subscribe to my newsletter for access to all of my free embroidery patterns.