This is a sponsored post for Provenza Floors about the best vinyl plank flooring. All opinions are my own.
When shopping for luxury vinyl plank flooring (LVP), there are lots of confusing options to choose from. We've gone through the process of shopping for LVP twice now, and over 80,000 people have come to this post to learn how to choose the best luxury vinyl plank flooring. I'll teach you the 4 main things you need to look for so you get exactly the flooring you need.
We had luxury vinyl plank (LVP) in our last house, and I LOVED it! It can be used in any room, including the kitchen and bathroom because it's waterproof and scratch resistant. It's been three years since we purchased flooring for our last house, and back then we didn't have many options. There are so many different kinds to choose from now, so I had to do some research on how to choose the best vinyl plank flooring. I thought I'd share my findings with you and show you the brand we chose.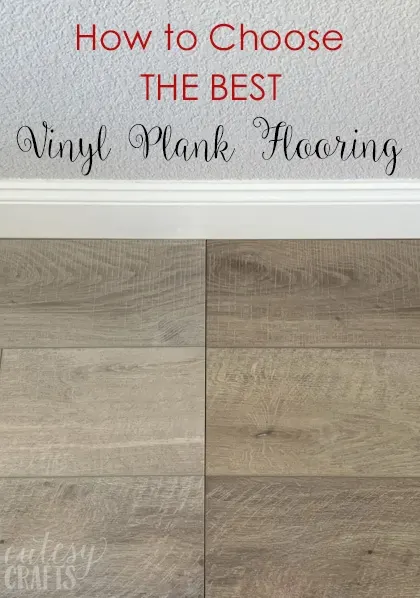 First, here are some fun "before" pictures. I don't understand what the deal is with that random patch of hardwood in the entry, and the carpet was really dirty! We are thinking about doing the first step and bottom landing in vinyl plank as well. It's the first thing you see when you walk in the front door, so I want it to look nice.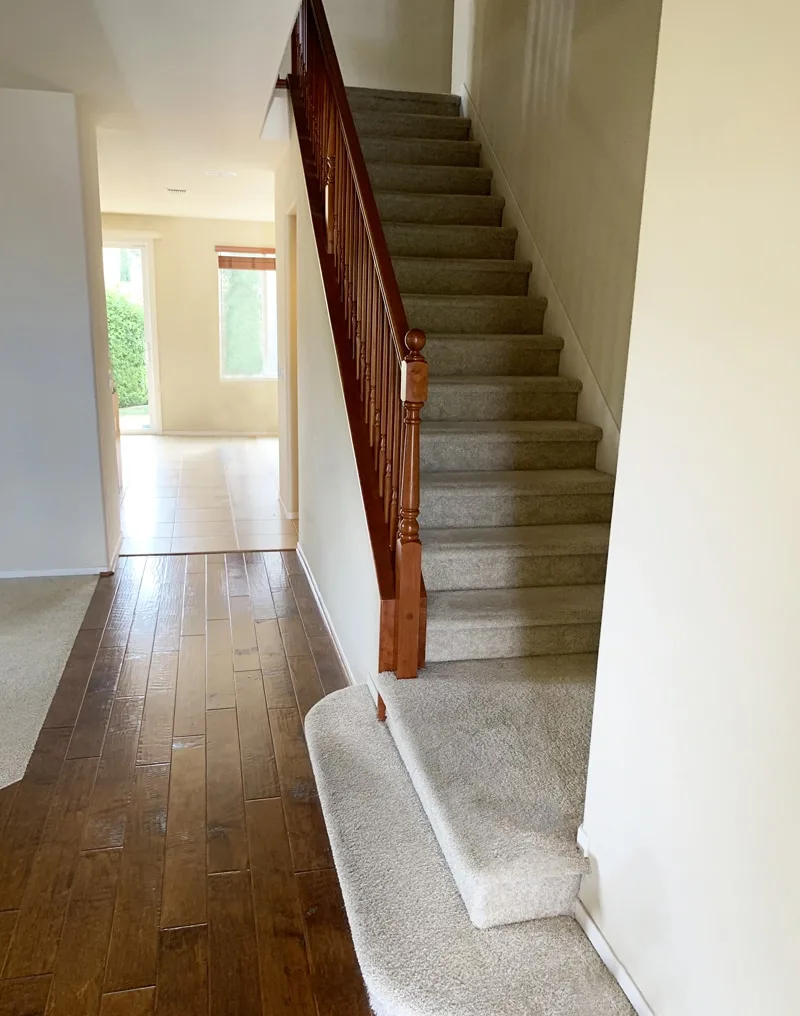 This is my craft room, off the main entry.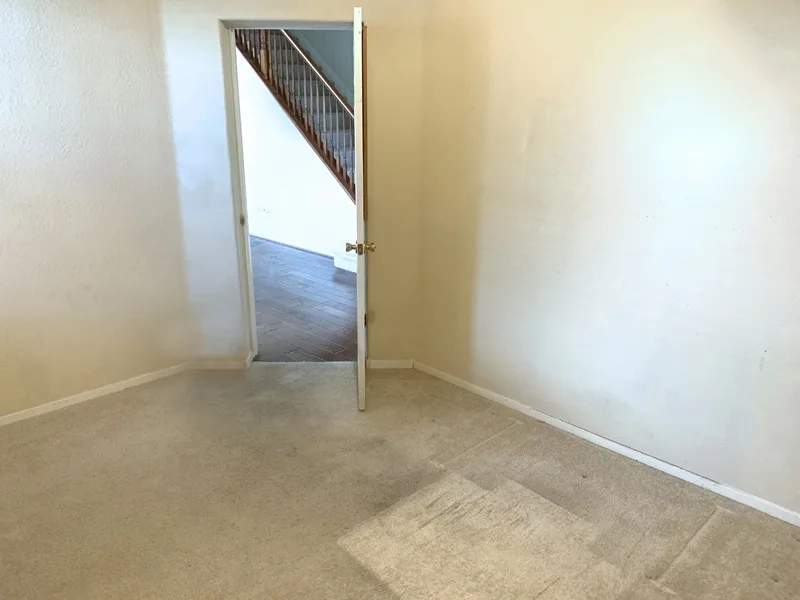 The dining room is just to your left from the entry. It's carpeted.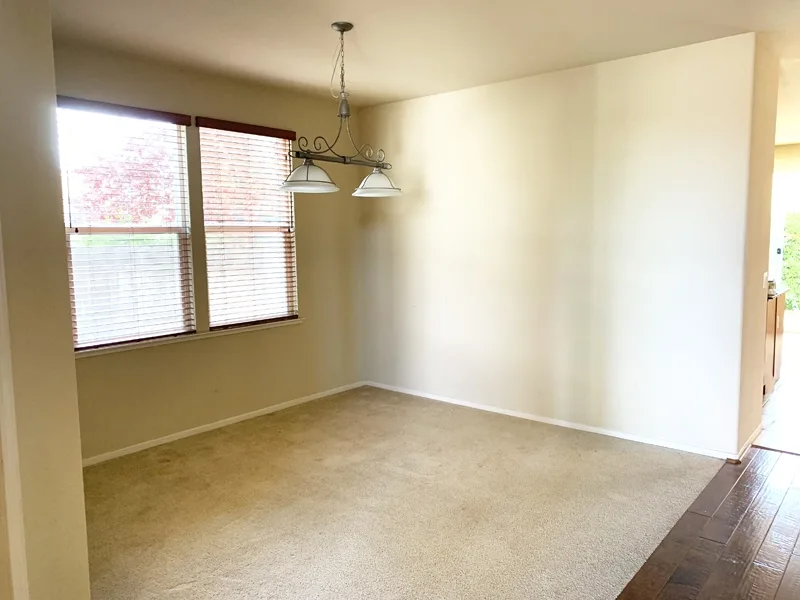 Here's the kitchen with large tile flooring.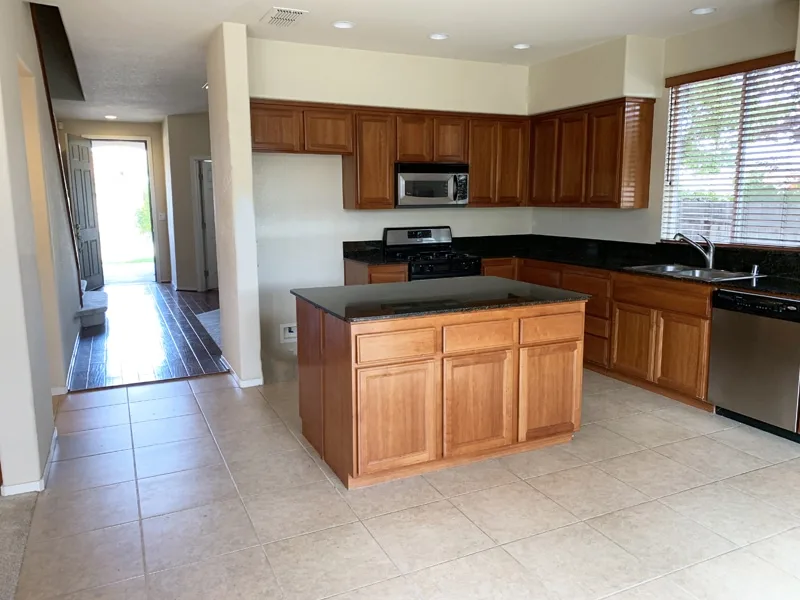 The tile continues down the hallway, into the bathroom. The door on the right goes to a closet with more carpet.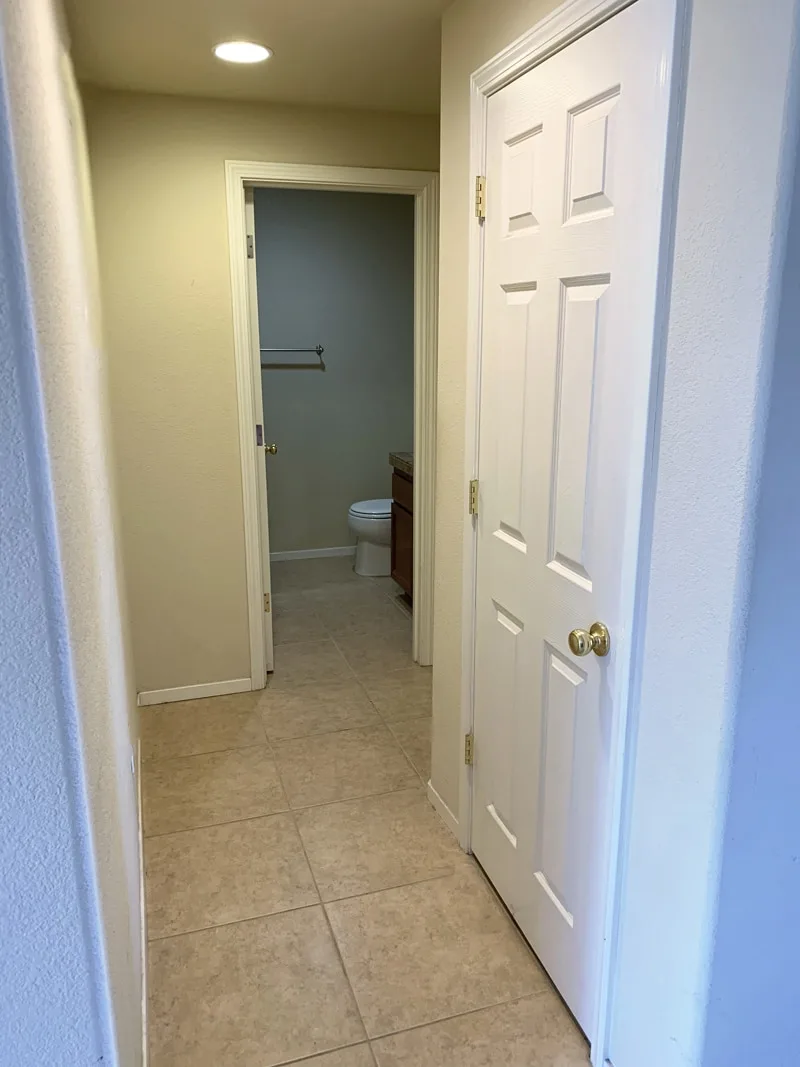 And then finally the family room with carpet. And yes, the blinds match the wood flooring in the entryway and the kitchen cabinets. A nice orangey-brown. Don't worry, those are coming down ASAP. The tiles on the right are a gas fireplace hearth. Those are getting torn out too.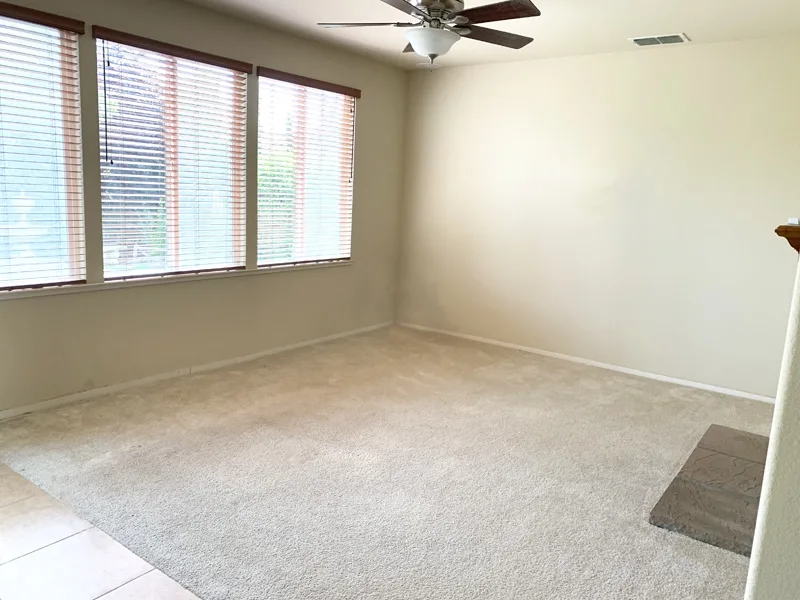 See what I mean about the patchy flooring? So many transition strips! I can't wait to have one flooring throughout.
How to Choose Vinyl Plank Flooring
When choosing vinyl plank flooring there are a few components that should play into your decision.
Vinyl Plank Flooring Material
You will find that there are two common types of LVP: wood plastic composite (WPC) and stone plastic composite (SPC). This tells you what makes up the core of the flooring. SPC is more rigid where WPC is a little softer and quieter underfoot. Both are durable and waterproof, so there's really no right or wrong here. We ended up with a WPC flooring, which is nice because my feet tend to hurt walking around on hard floors all day.
What is the best Vinyl Plank Flooring thickness?
The thickness of LVP tells you how thick the actual board is. This usually varies anywhere from 4-8 mm. Very thin planks are not going to be good quality. So how thick should LVP be? Anything over 5 mm is going to be your best bet for quality and durability.
Is thicker vinyl plank better?
Yes, but only to a point. As long as the board is at least 5mm thick, you should be good to go. It's the wear layer that matters the most for longevity.
LVP Wear Layer
The wear layer on LVP is exactly what it sounds like. It's a layer on top of the board that protects it from wear and scratches. Shopping around, I noticed that most LVP on the market comes in two wear layer thicknesses: 15 and 20 mil. The best vinyl plank flooring comes with a 20 mil wear layer. With 4 kids and high traffic areas, wear layer is something that is very important to me. I want something that is going to resist scratching, so I didn't look at anything less than 20 mil.
Best Luxury Vinyl Plank Flooring Installation Method
Luxury Vinyl Plank can be made as a glue down or click lock, floating floor. We didn't even come across any glue down vinyl when we are shopping, so I think most people are floating theirs. There are pros and cons to both, but we didn't really consider gluing it down. Floating floor is easier to install, so it can be more cost effective. It's much easier to remove when the time comes to do so someday, and you can even float it over some types of existing flooring.
Do you need a moisture barrier under vinyl plank flooring?
If you are installing flooring over a concrete foundation, a moisture barrier will usually be recommended. While the moisture won't necessarily damage the flooring itself, it can build up and cause the flooring to buckle and lift. Always read the installation instructions from the flooring manufacturer as different flooring will have different requirements.
What is the best LVP flooring brand?
After taking all of these things into consideration, we finally chose a brand of flooring. We found that Provenza MaxCore Waterproof LVP meets all of our requirements, and has SO MANY beautiful colors and styles to choose from! It has micro and painted bevels and variations between planks that make it look like real wood. With a waterproof WPC core, an underlayment pad attached, a 7-8 mm thickness, and a 20 mil wear layer, it was the perfect choice for our home. We looked at so many different brands, and I absolutely LOVE this flooring! I would choose it again and again.

Vinyl Plank Flooring Style / Color
Last but certainly not least, you need to choose a color. This has been the thing I agonized over the most. I feel like when choosing finishes for a remodel, you should choose flooring first, and all other choices should revolve around that. Such a big decision! I love Provenza's Moda Living collection, so I found a retailer that had samples of First Crush, Soul Mate, Soft Whisper, Finally Mine, and Sweet Talker.
After seeing the samples in my house, I narrowed it down to First Crush and Finally Mine. They both have the same pattern, and it's just what I wanted; something that looks natural but not with too many knot holes. First Crush (left) is more gray, but still has a little warmth. Finally Mine (right) is warmer, but still a little gray, not too yellow or honey colored. I love them both! (To see our final flooring decision check out my Provenza Vinyl Flooring Review.)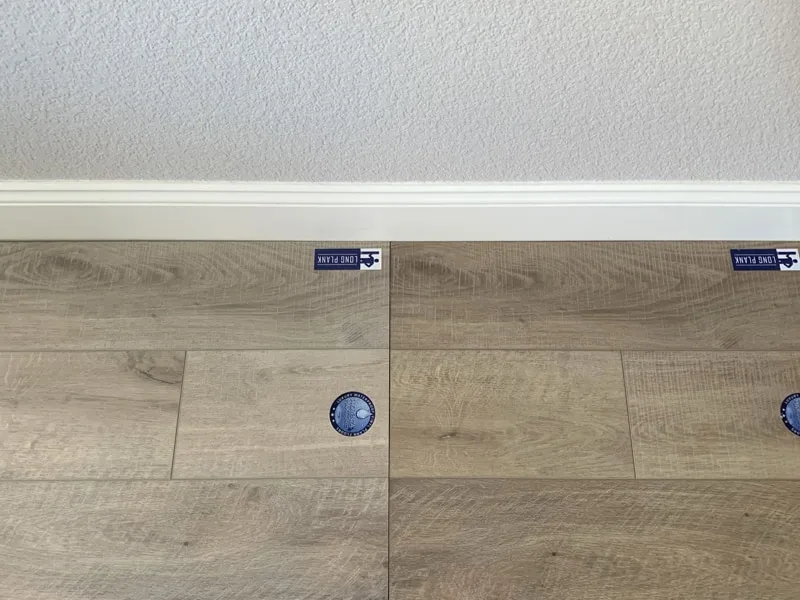 So now I need your help! Which one do I choose? We are painting the walls a very light gray, and the kitchen cabinets have already been painted white. Our countertops are currently a very dark, almost black granite, but I might switch those out eventually. Leave me a comment and help me pick one. I'm horrible at making decisions, so I need all of the help I can get!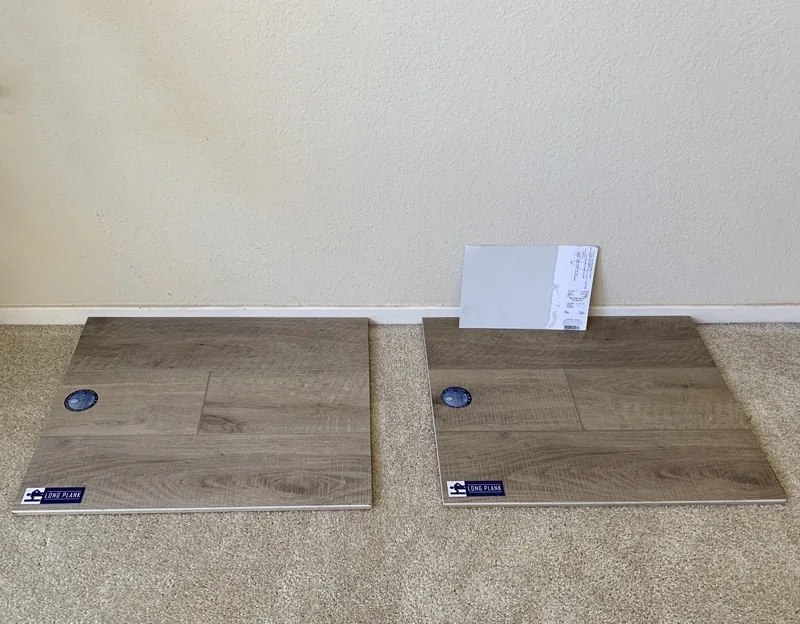 Click here to take a look at at all of all of the beautiful flooring options that Provenza Floors has to offer, and check them out on Houzz to see some beautiful photos and flooring inspiration.
Vinyl Plank Flooring (LVP) FAQs
What type of flooring adds the most value to a home?
Hardwood flooring adds the most value to a home. It's a classic staple, but also continues to be one of the most expensive flooring treatments you can choose. When we sold our last home that had LVP, the appraiser did not add any value to our home for having it. LVP was a newer thing at the time, so hopefully things have changed since then.
What are some disadvantages of vinyl planks?
1. While vinyl plank flooring is beautiful, you still don't get the exact look and feel that hardwood flooring gives. Basically, you can tell it's not real hardwood, but it's no more fake than laminate flooring would be.
2. Vinyl plank can discolor with non-slip rug use. If you've ever had sheet vinyl turn yellow from a bathroom rug, you know what I'm talking about here. You must use rugs that don't have a backing or say they are non-yellowing to be safe.
3. Vinyl plank can discolor with UV damage, so it's best it doesn't get exposed to direct sunlight daily.
What is the difference between luxury vinyl tile and luxury vinyl planks?
They are basically the same thing, but luxury vinyl plank looks like a wooden plank, and luxury vinyl tile looks like a tile.
What is the difference between luxury vinyl plank and rigid vinyl plank?
Rigid vinyl plank is a type of luxury vinyl plank (LVP). There are two types of LVP: flexible and rigid. Flexible LVP is usually a glue-down product and is more flexible. Because of this, your subfloor must be very level so the imperfections don't show on the surface. Rigid LVP normally clicks together like laminate and is installed by floating over the subfloor. It's rigid, thicker, more durable, and easier to install than flexible LVP.
You'll Also Like: