This is a sponsored post for Provenza Floors. All opinions are my own.
Thank you for your help choosing the best vinyl plank flooring for our house. After lots and lots (and lots) of thought, we decided to warm up the house a bit with Provenza MaxCore Waterproof LVP in the color Finally Mine. It's finally installed and I'm SO excited to show it to you. It has made such a huge difference in our house, and I hope you enjoy this Provenza vinyl flooring review. To see a video of what the house looks like, check out my post on How to Clean Vinyl Plank Flooring. No more patchy floors and weird transitions! To give you a little reminder, this is what my entryway looked like before. You were greeted with a big, ugly carpet stair landing as soon as you walked in the front door.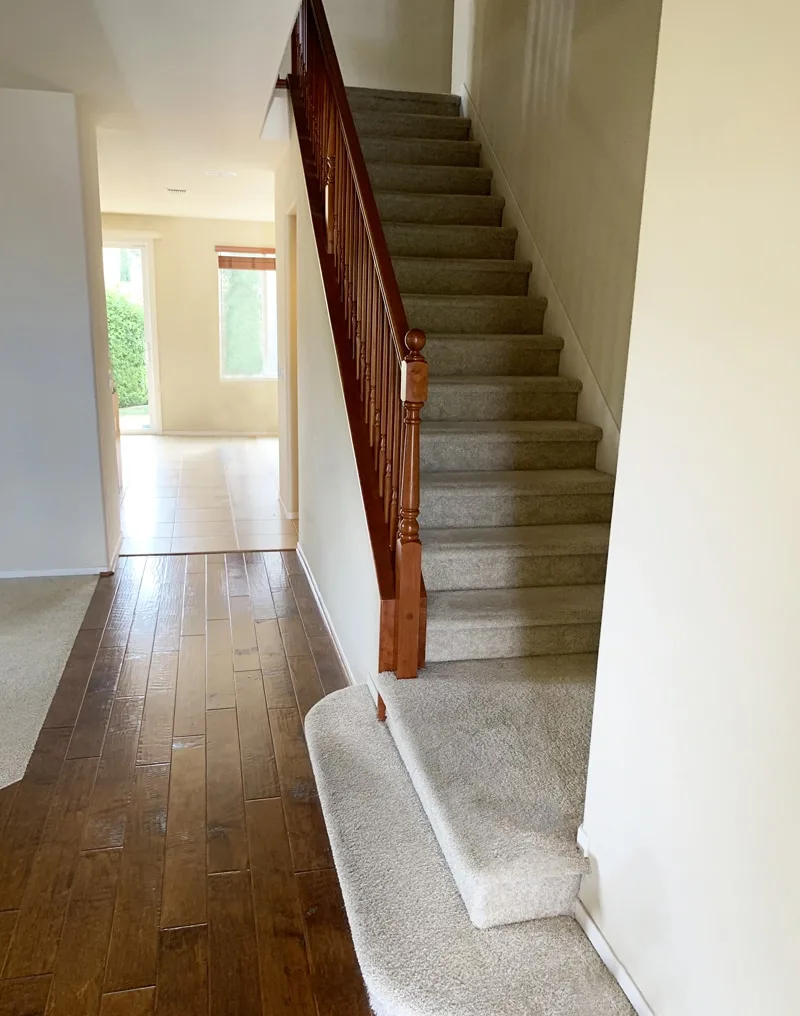 A little paint and new vinyl flooring made such a big impact. My photos don't even do the flooring justice, it's so beautiful! When the contractor helpers showed up, one of them remarked, "Oh, I didn't know we were installing hardwood today." He was shocked to find out it was vinyl, and kept talking about what good quality it was.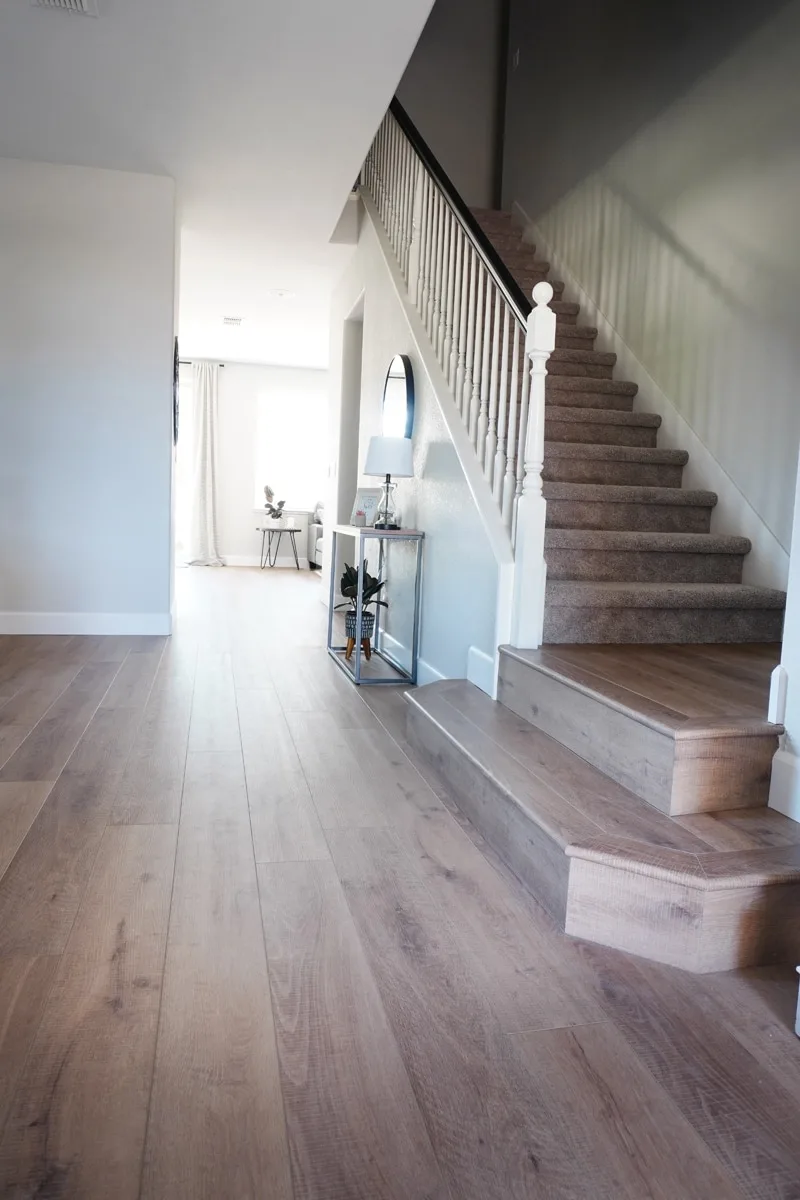 We went back and forth on what to do with that bottom step and landing. To save on costs (and to save my children from hurting themselves on the stairs), we knew we wanted carpet for the majority of the steps. I wasn't sure if it would look funny to have vinyl only on that bottom part, but I love how it turned out. It looks so much better, and I know it's going to stay a lot cleaner this way.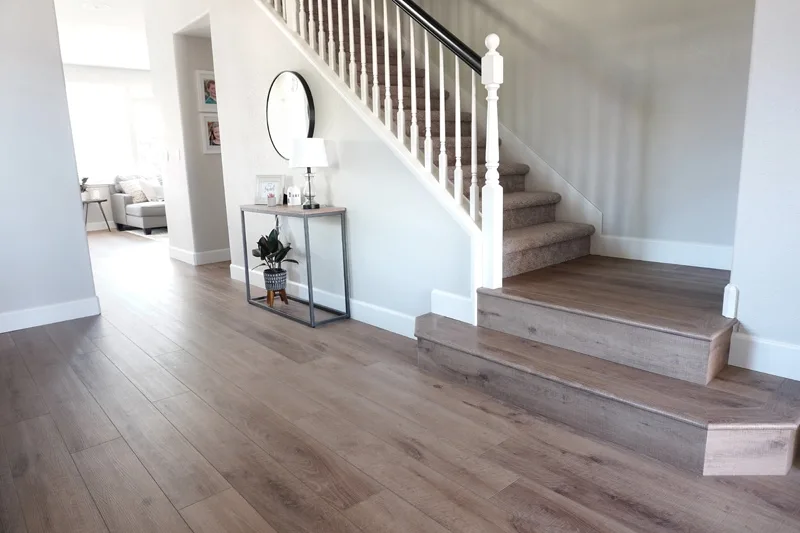 My contractor suggested angled corners instead of square to keep the kids from getting hurt on sharp corners. That was definitely a good call.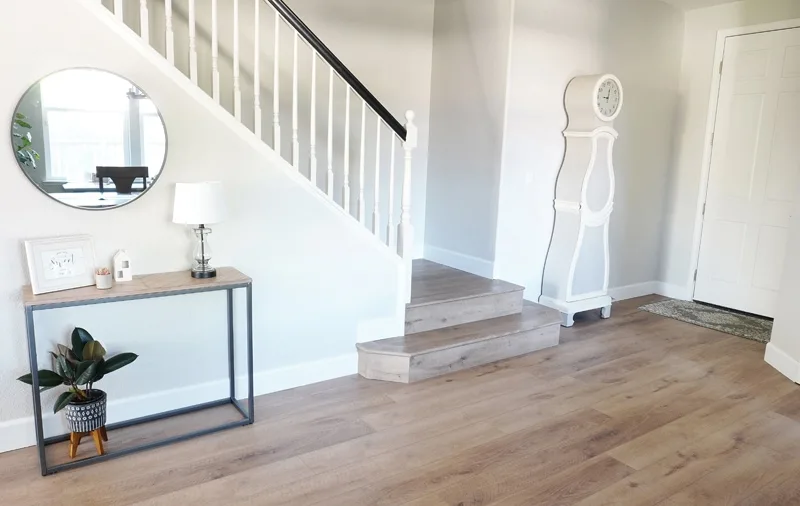 Here's what the dining room, to the left, looked like before.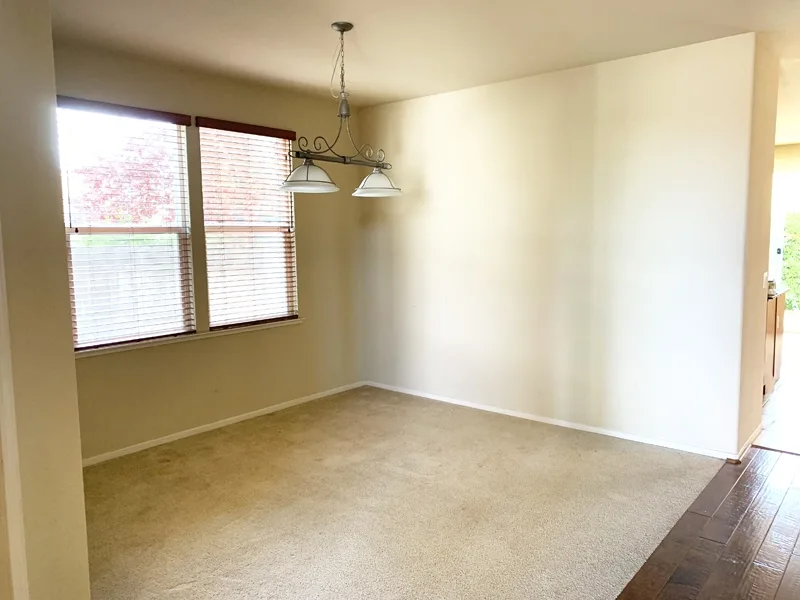 It looks so much better with a single type of flooring in the space.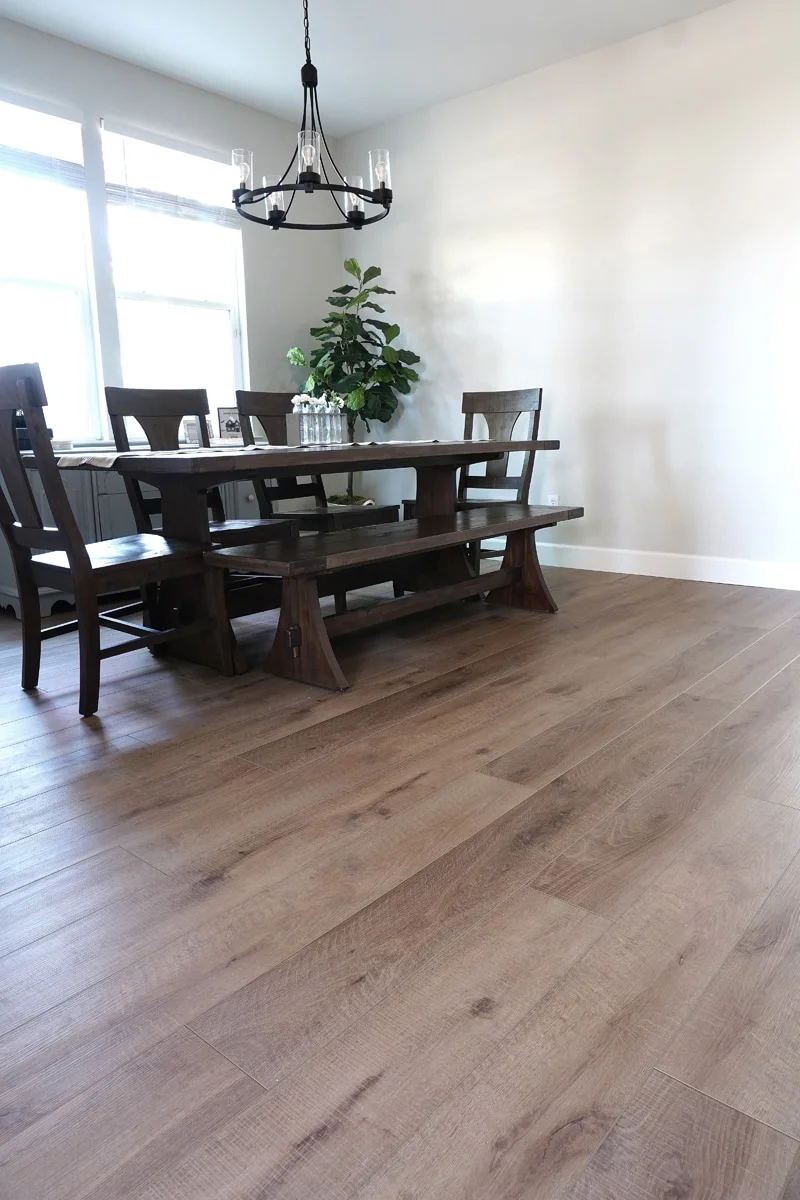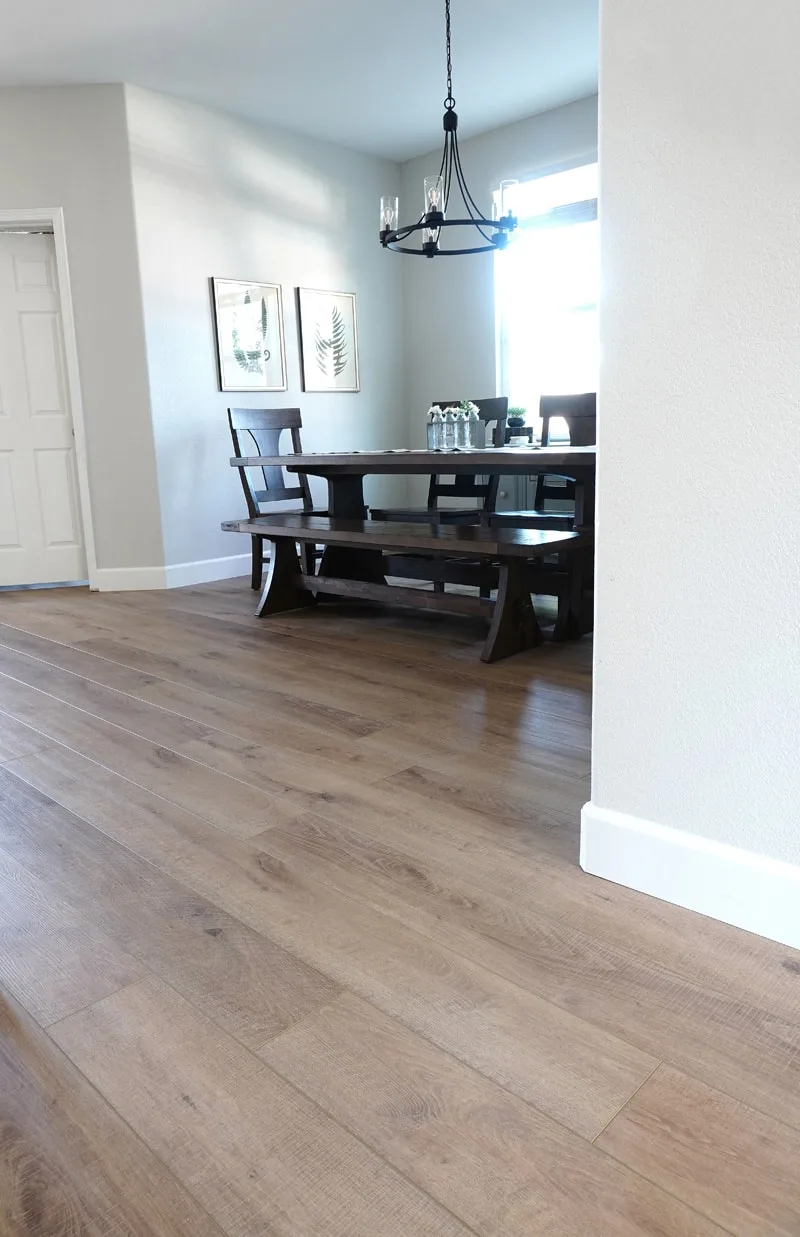 One of the best things about Provenza MaxCore Waterproof LVP is that you can use it in any room. Since it's waterproof, I don't have to worry about it getting ruined in the bathroom. It's much easier to install than tile, which also helped cut down on installation costs. I still need to get a new vanity top in here, but that's a project for another day.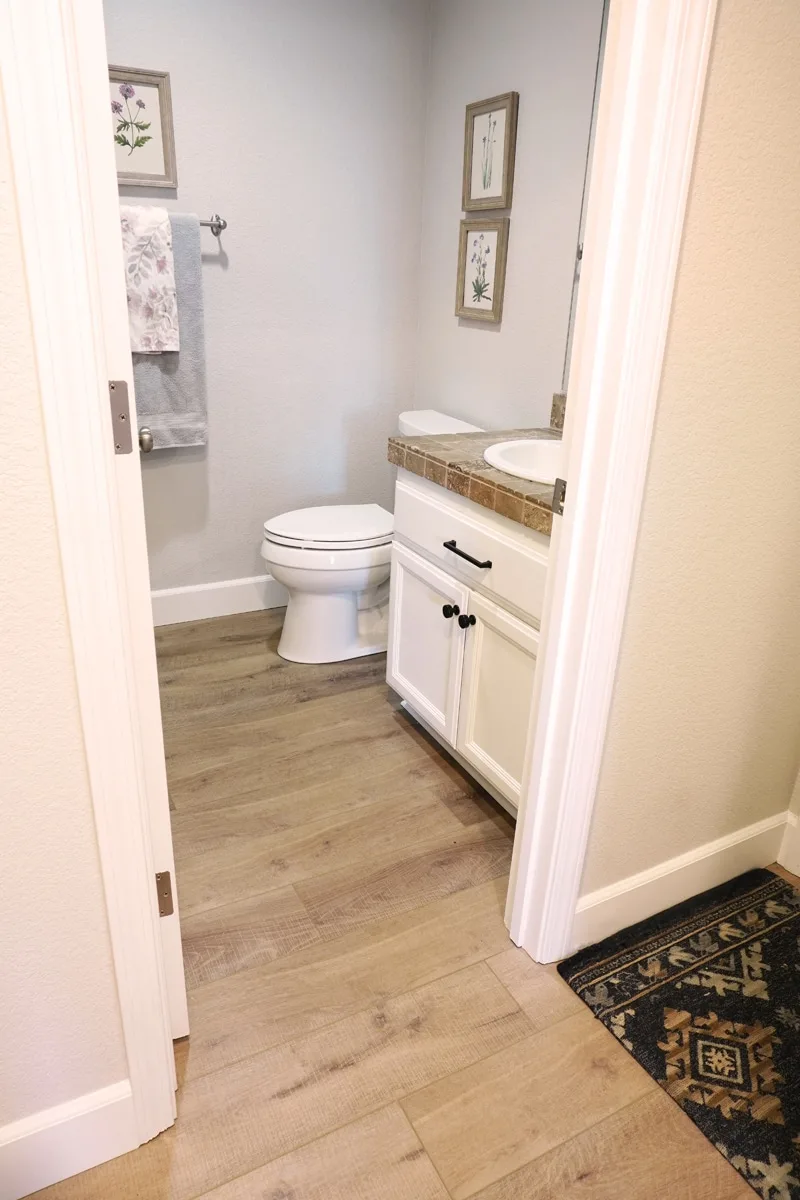 Here's the hallway that comes in from the garage, by the bathroom. It used to be tile.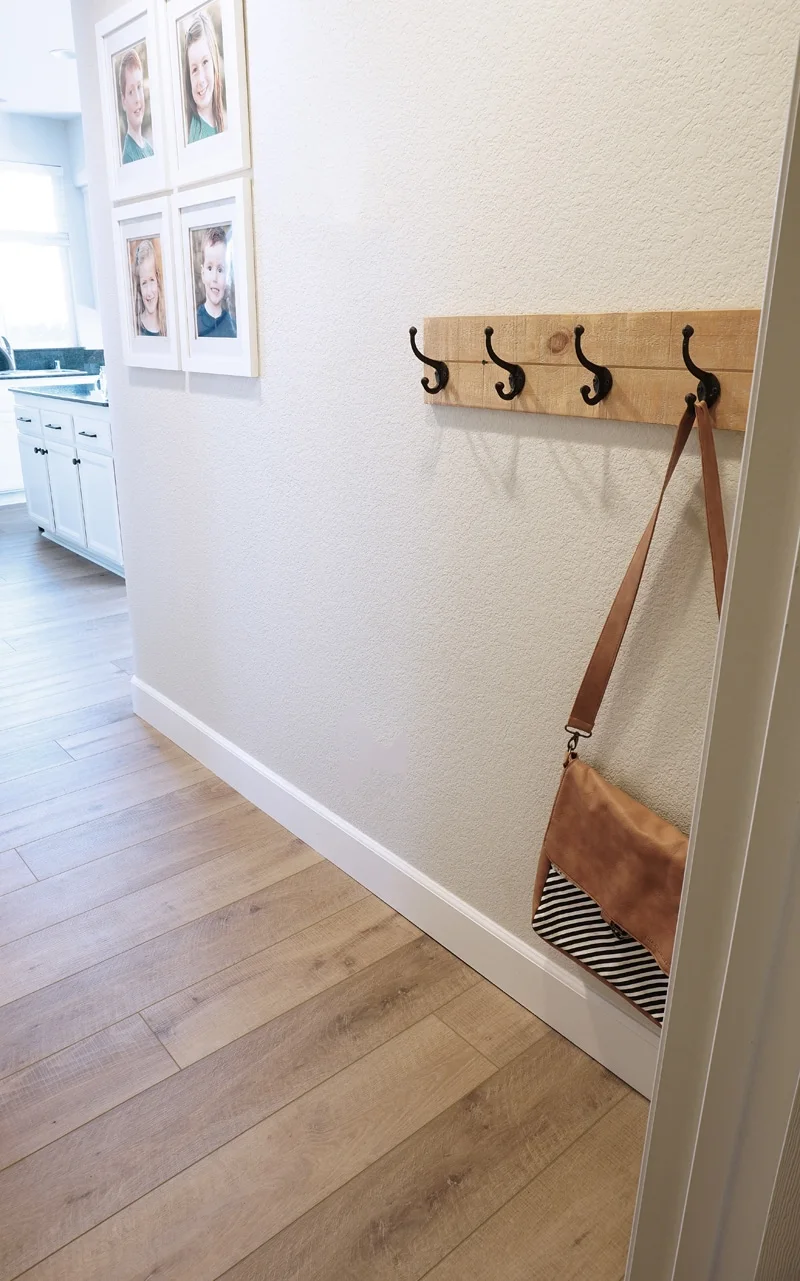 And here's what my kitchen looked like before. Notice the three different floors in one photo.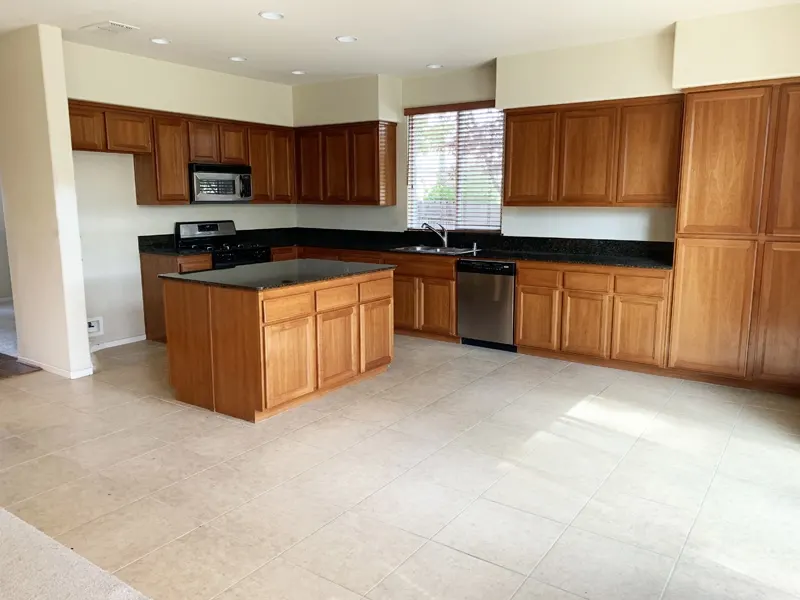 New paint, flooring and hardware made my kitchen look completely different!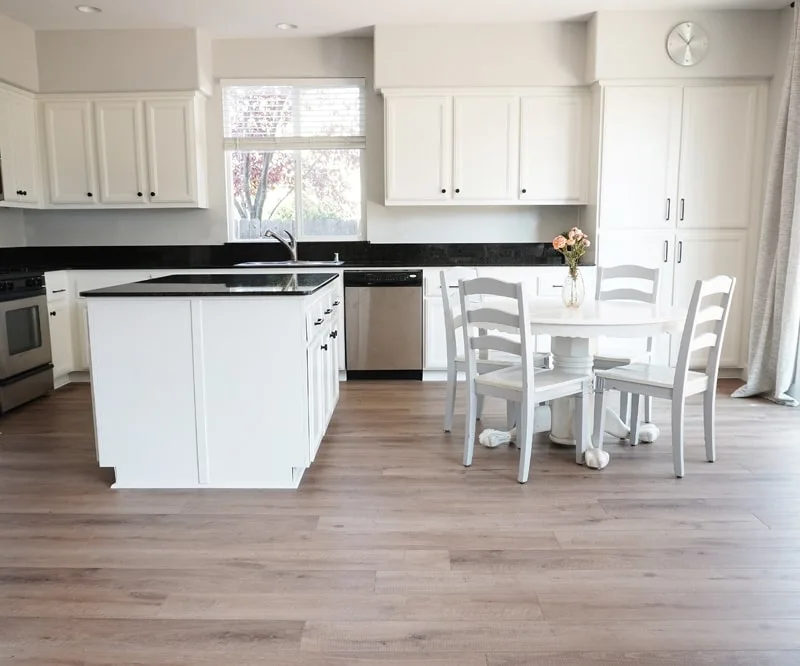 My kids can spill as much as they want, my dishwasher can spring a leak, and I know that my Provenza MaxCore Waterproof LVP flooring will be just fine!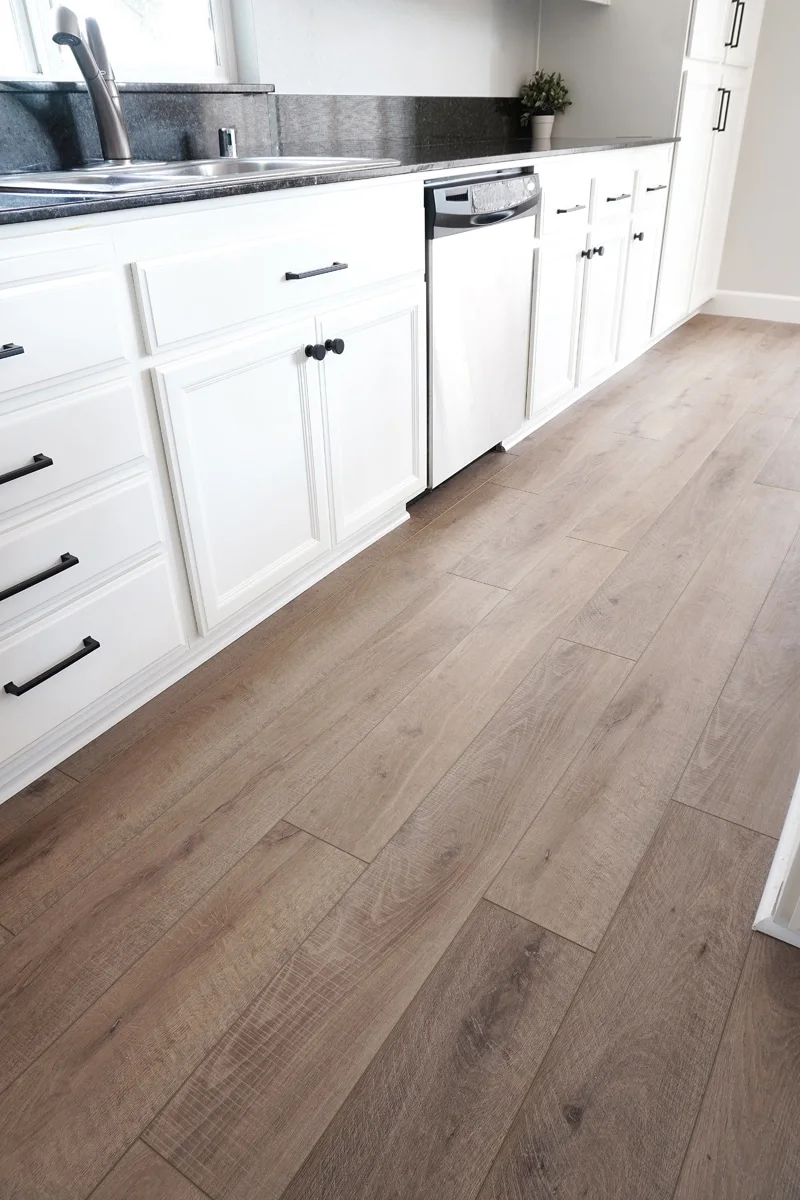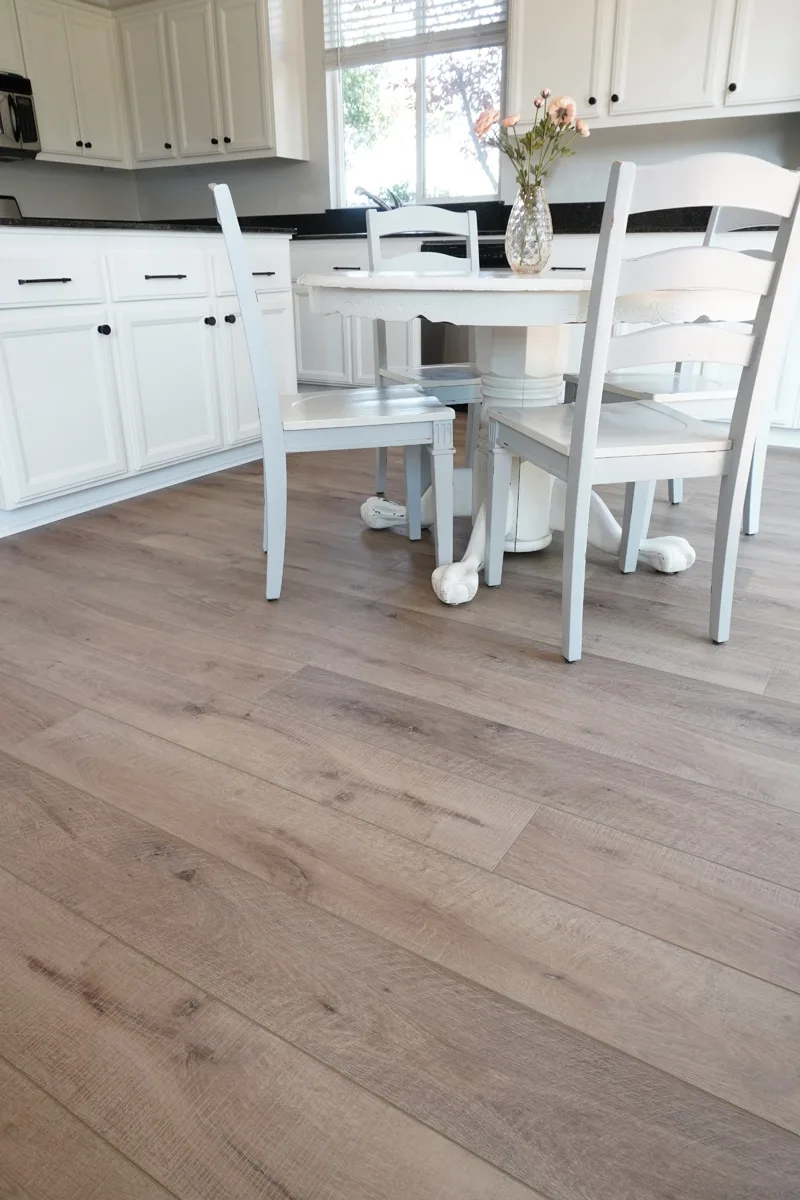 And finally, here's a before and after of the family room.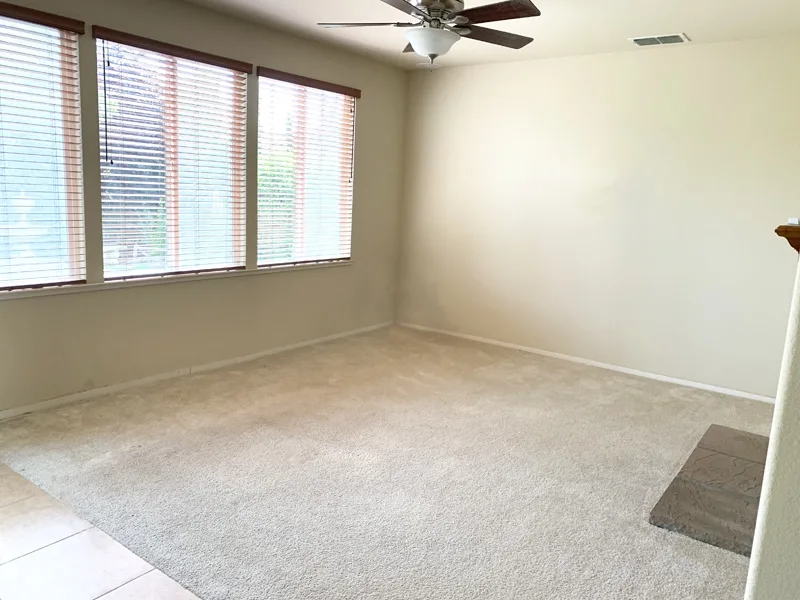 My whole house looks so much bigger and brighter with a solid flooring throughout, and I'm so happy with the choice that we made.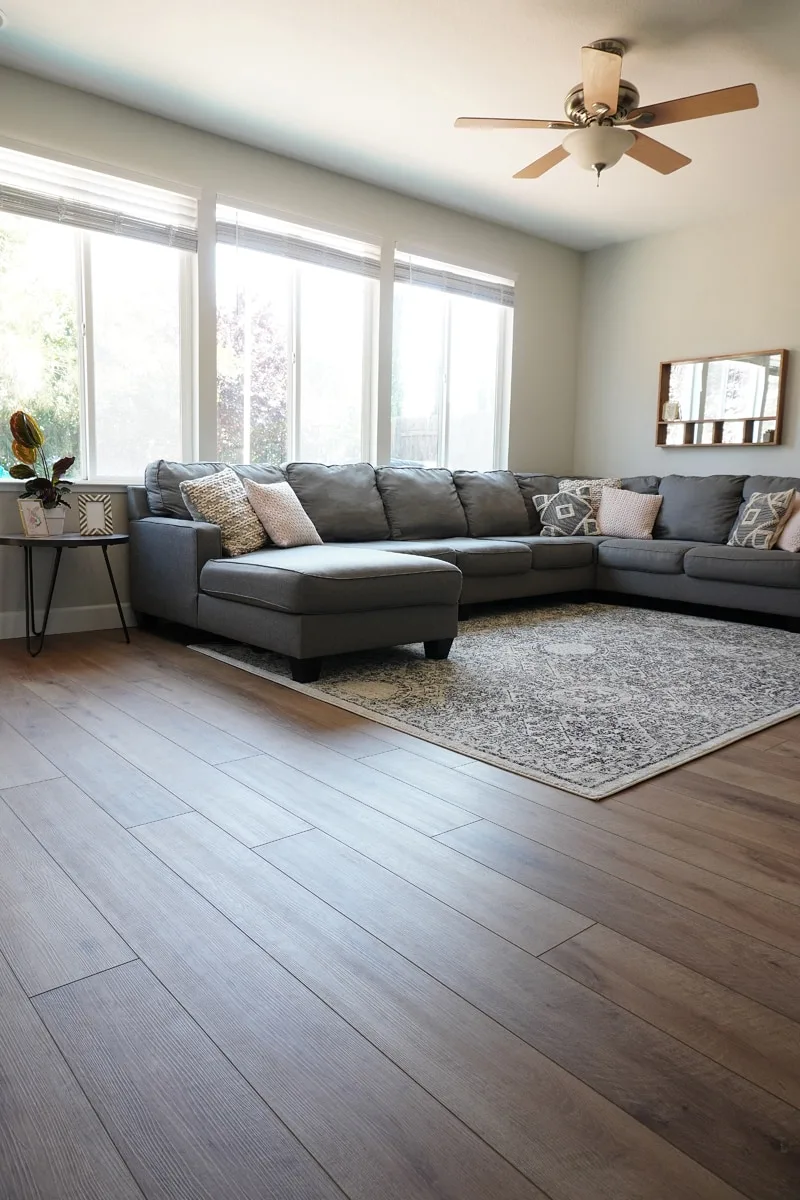 For more information and see a room scene video of Finally Mine, scan the QR code below. Did you know you don't have to have an app to scan them anymore? It's SO cool! Just open the camera on your phone and point it at the code. On some phones/readers, you have to press a button to snap a picture. On others, a link will appear. Provenza Floors will be rolling out QR Codes for all their floor collections in 2020.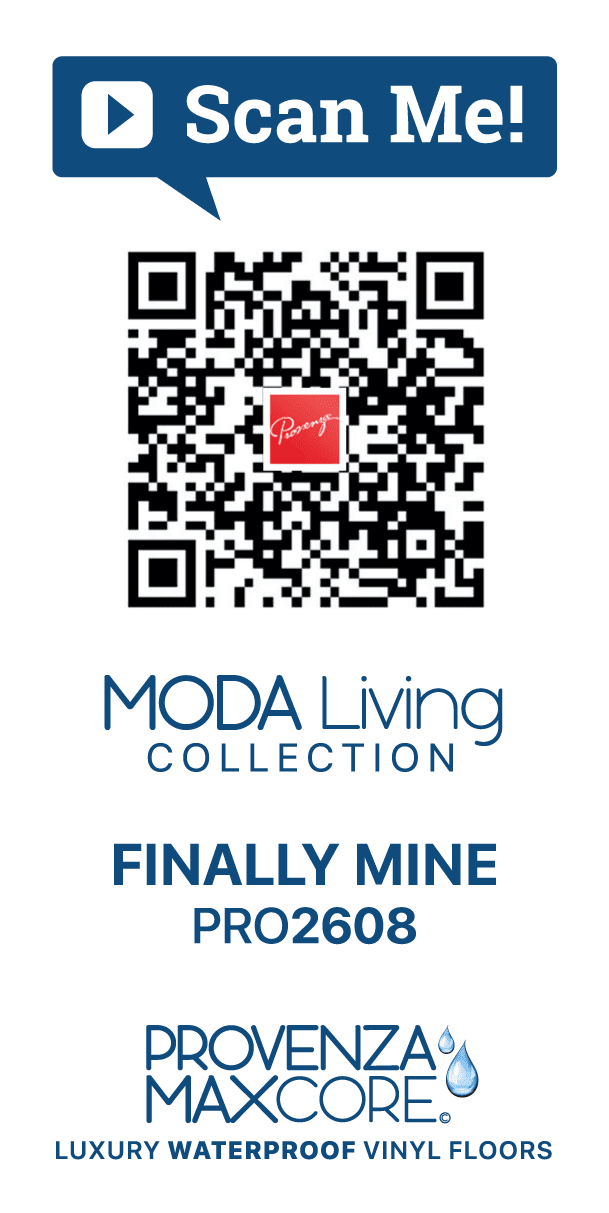 Click here to take a look at at all of all of the beautiful flooring options that Provenza Floors has to offer, and check them out on Houzz to see some beautiful photos and flooring inspiration outside of this Provenza vinyl flooring review.