Every year I make some new homemade Christmas ornaments for our tree. Since I've been doing a lot of embroidery lately, I decided that my tree needed a little embroidery hoop ornament. I came up with this simple Christmas embroidery pattern and framed it in a three inch hoop. The perfect size for a Christmas ornament!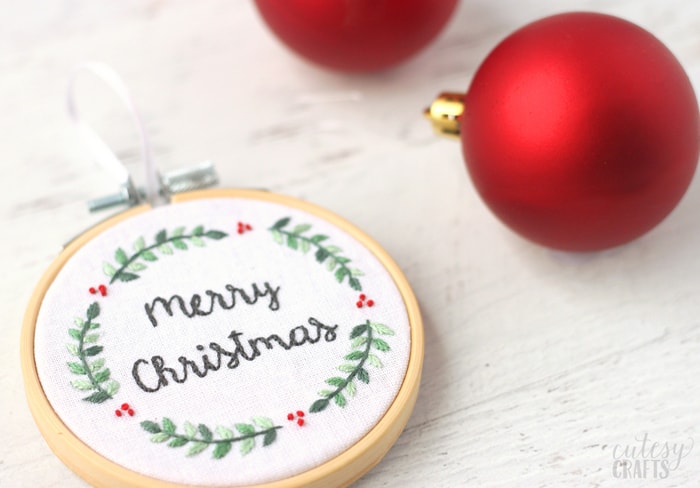 (This post may contain affiliate links, which means I may receive a commission, at no extra cost to you, if you click a link and purchase something that I have recommended.)
To make this embroidered Christmas ornament, you'll need:
free Christmas embroidery pattern (instructions to download at the bottom of this post)
embroidery floss (colors listed on pattern)
felt for backing
small ribbon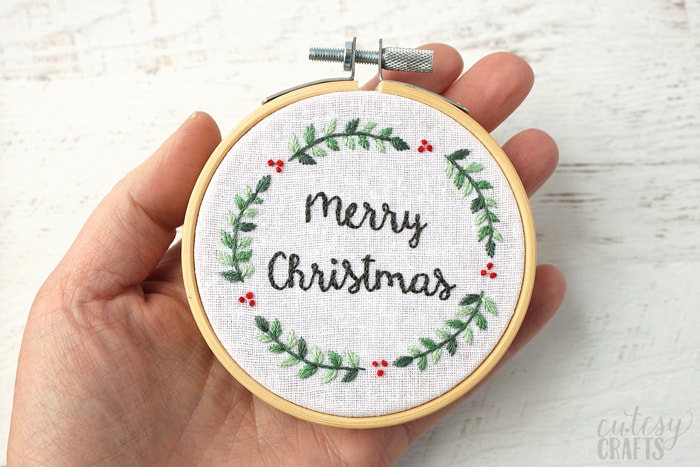 This pattern is pretty easy to stitch up. It's a tiny hoop, so you just need to make your stitches nice and small. The small leaves are a mix between a fishbone stitch and satin stitch. You can see how I make them in this video. The lettering is a back stitch. I did two rows of back stitch for the thicker parts and a single row for the thinner parts. Take a look at my video on how to embroider letters by hand. The little berries are French knots.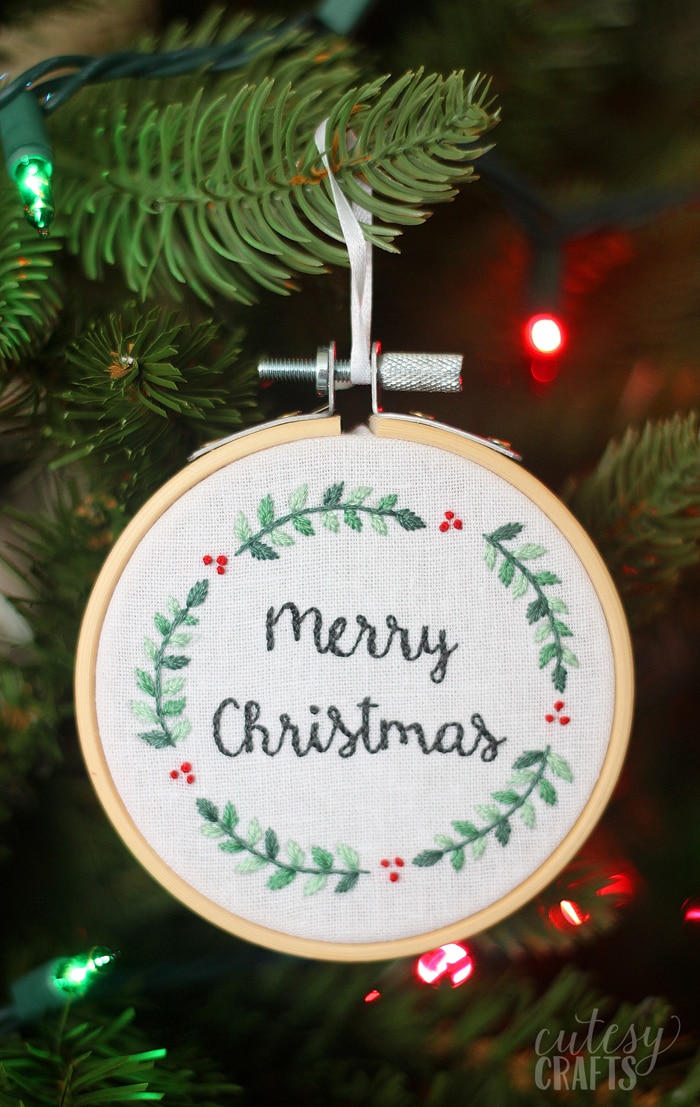 When you finish, you'll want to back your hoop with a round piece of felt, so the back of your stitches doesn't show. You can stitch the felt on or use hot glue. If you use glue, just make sure none of it gets on the back of your embroidered fabric. If you'd like to stitch it on, check out my post on how to back and embroidery hoop with felt. Tie a small ribbon around the top to hang your ornament. Melt the ends of the ribbon with a lighter or use a product to keep them from fraying, and you're done!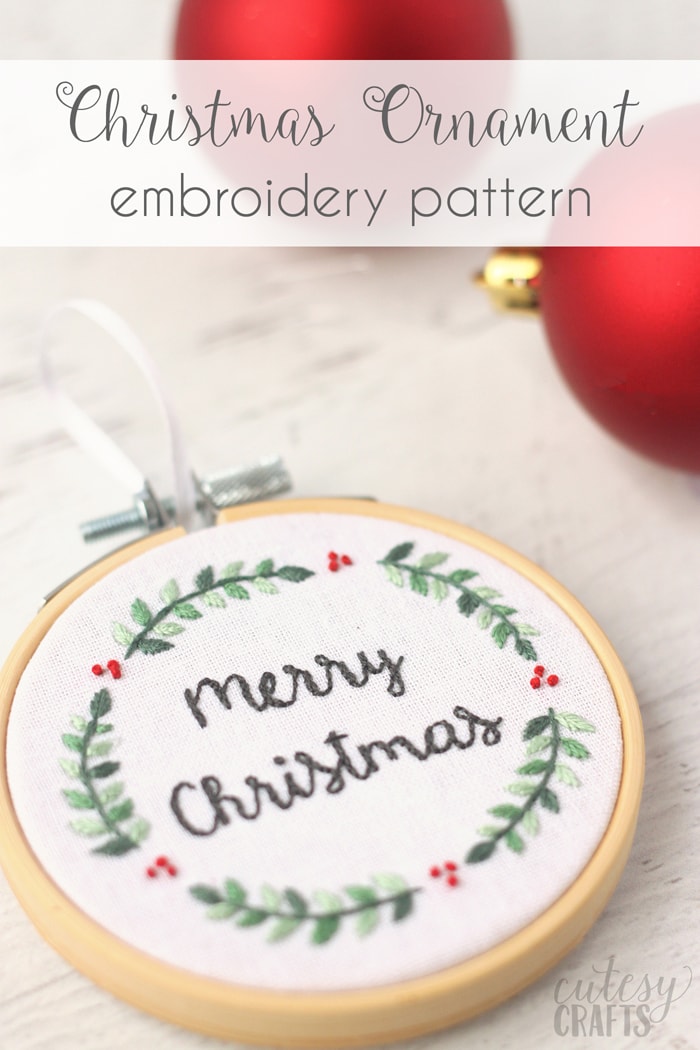 I hope you enjoy making this embroidery hoop Christmas ornament. I can't decide if I want to give it away as a gift or keep it for myself! I'm leaning towards keeping it. Have a wonderful Christmas!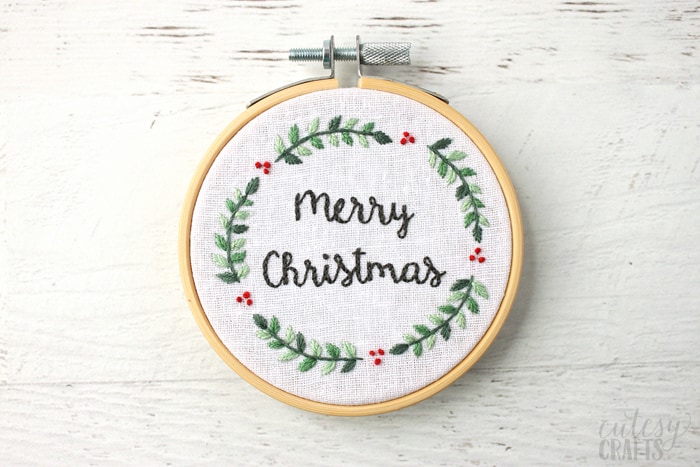 Get the free Christmas embroidery pattern!
Click here for the free patterns on my exclusive subscriber downloads page. The page is password protected, so you'll need to enter the super secret password first. To get the password, enter your information in the form below to sign up for my free email newsletter. You will get an email with the password. Already subscribed but forgot the password? No need to subscribe again! Every email newsletter I send has the password in it, so check the latest one.
Cutesy Crafts is a participant in the Amazon Services LLC Associates Program, an affiliate advertising program designed to provide a means for sites to earn advertising fees by advertising and linking to amazon.com.