I'm currently working on a project that requires the use of stiffened felt. You can buy it already stiffened at the craft store, but then you are limited to the colors and sizes that they carry. Also, if you know me, you know I am particular about what kind of felt I use. It was surprisingly easy and cheap to stiffen the felt myself. There are lots of different methods out there, but for my purposes, I found using regular old white school glue worked great! So here you go, here's how to stiffen felt with school glue.
To stiffen felt, you will need:
felt
white school glue
warm water
old container
wax paper
iron and ironing board
How to Stiffen Felt with Glue
Mix approximately one part school glue to three parts warm water. I am too lazy to measure when it comes to this sort of thing, so really I just dumped some glue into my bowl and added some warm water. Make sure to mix it until it's mostly smooth. You don't want the chunks of glue sticking to your felt.
Cut your pieces of felt slightly larger than you need them to be. The felt will shrink up a bit and warp as it dries. For this reason I also recommend cutting out any shapes AFTER stiffening. Submerge your felt in the mixture and make sure the whole piece gets nice and soaked. If you are doing multiple colors, start with the lightest, as the dyes will bleed.
Remove your felt and gently wring it out over your bowl. Don't twist or pull it. A nice squeeze to get out the extra moisture is all you need. It will still be a little wet, but you want to get out as much water as you can to speed up the drying process.
Lay your felt on wax paper and smooth it out flat. Don't worry that it's wrinkled from wringing it out, we will fix that later. Let it dry completely. We have lovely 100 degree weather right now, so I took mine outside to dry faster. At least the heat is good for something! Drying will take probably a day or two depending on how warm the environment is.
Once your felt has dried completely, it should be nice and stiff. Now is that part where we take care of the wrinkles. Just sandwich it between two cloths and iron. It will come out perfect and ready for your craft project! (If you are using acrylic or polyester felt, just try not to leave the iron on there too long. That stuff is made out of plastic.)
Stiffened felt will show every hole that you put in it with a pin. I recommend taping any patterns that you use instead of pinning. Hope you enjoyed learning how to stiffen felt! Click here to see what I made with it and check out all of my felt crafts for more inspiration.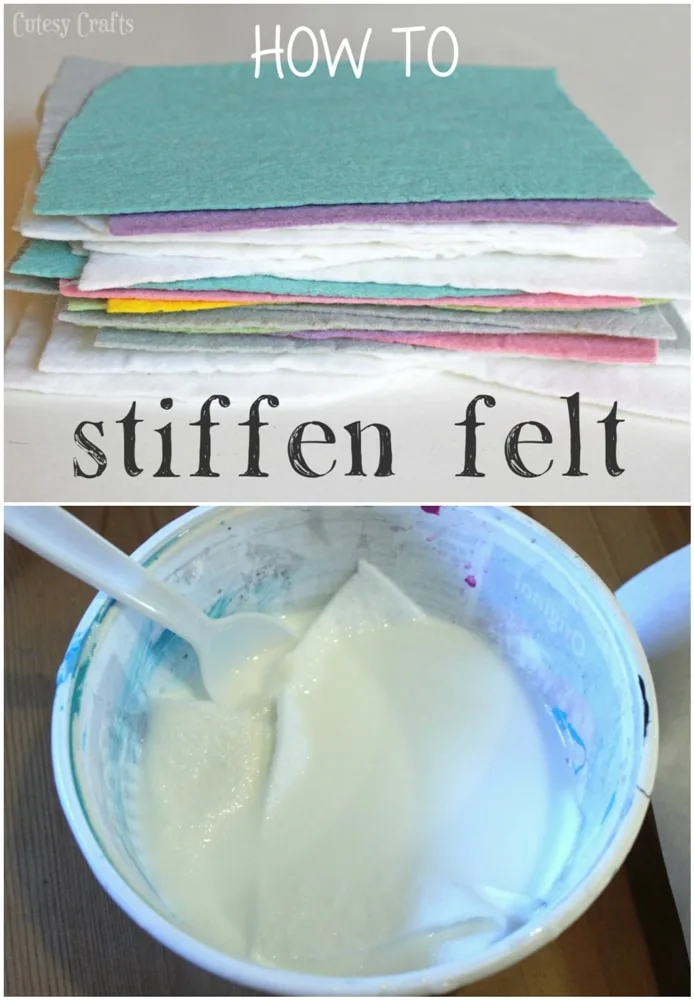 You'll Also Like: