Trying to figure out embroidery fabric is something that makes my head spin. As someone who is self-taught (and still learning), it has been difficult to find straight answers on what the best embroidery fabric is. I don't know if I can tell you what the best embroidery fabric is, but I can tell you what I like to use. Here are the fabrics I have tried, in order of my favorite to my least favorite. If you find this post useful, make sure to take a look at my How to Embroider for Beginners series.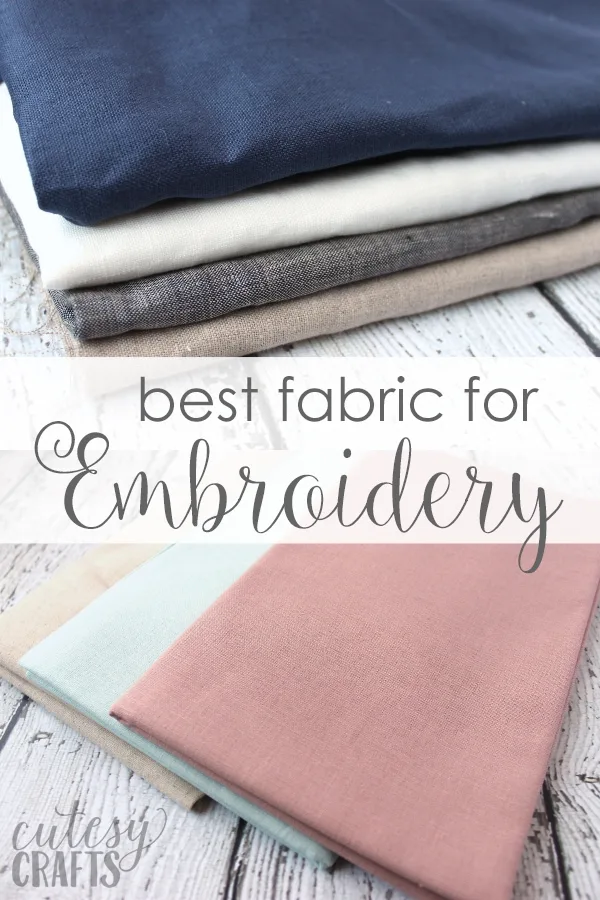 (This post may contain affiliate links, which means I may receive a commission, at no extra cost to you, if you click a link and purchase something that I have recommended.)
Embroidery on Linen and Cotton Blend
I really love using a linen/cotton blend the most. The one I use is called Essex Linen and you can purchase it in all kinds of colors from Fat Quarter Shop. It's a little bit tougher to stitch through than my 100% linen, but I like that I don't have to worry about my threads showing in the back as much. I love the color choices, and I love how soft it is. This is definitely my favorite fabric to embroider on right now.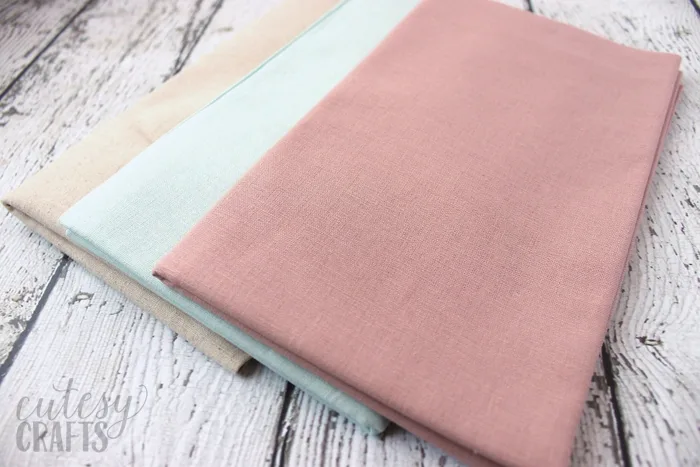 Linen For Embroidery
My first embroidery project ever was on 100% linen, and it continues to be one of my favorite fabrics to embroider on. There are different thread counts for linen, but I just like to keep things simple and get mine from my local fabric store. Maybe there's something out there that is better quality, but I have made plenty of projects with it and had no problems. It is a bit thinner and can tend to bunch a little if you pull too tight, so just be aware of that.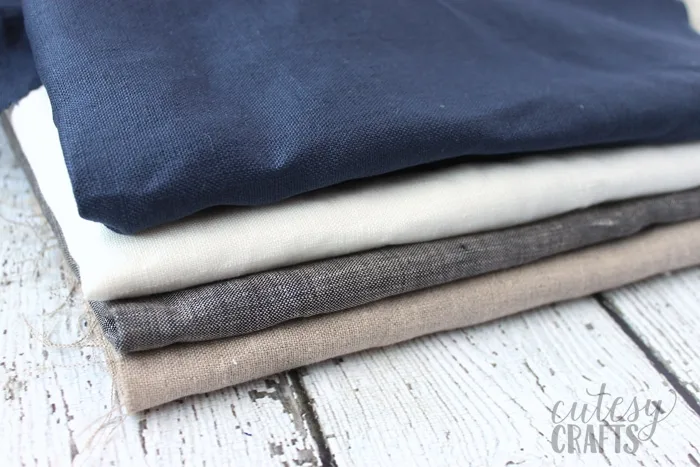 Flour Sack Towels
Flour sack towels are made from a fabric that is traditionally stitched on. My mom still has some towels that my great grandmother made back in the day. The blank towels are sold near the embroidery floss at the fabric store, and I love to stitch on them. I really like how smoothly my needle goes through and how soft the fabric is. I've never stitched an actual towel. I just like to cut up the fabric and use piece of it to stitch on. I don't even know what kind of fabric the towels are made of, but if anyone knows where to buy it by the yard, please let me know. The only downside to this is you only get one color, white. I suppose you could start dying them, but I definitely don't have time for that.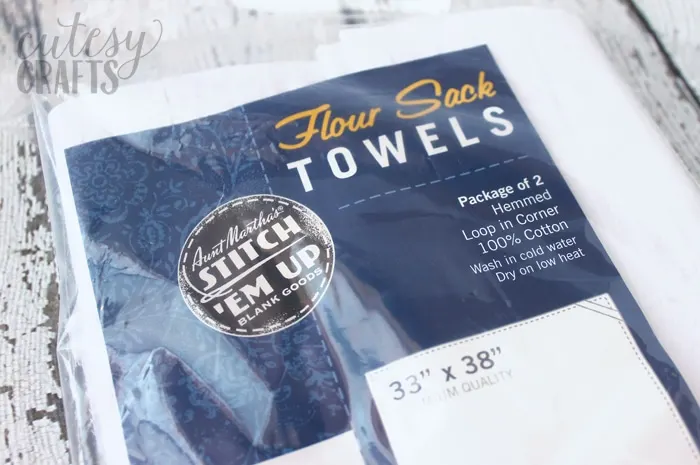 100% Cotton Embroidery Fabric
If you want to stitch on a patterned fabric, 100% cotton is a good option. When I say 100% cotton think about the biggest section of fabric in the store that quilters usually use. Try to get a heavier feeling cotton if you can. It's not my favorite thing to stitch on since I feel like my stitches pucker more easily, but it can yield some pretty results. If you do use regular cotton, I recommend using some kind of interfacing to hold your fabric steady.
Other Embroidery Fabric to Try
Don't be afraid to try different things. You can also embroider on jeans, t-shirts (with some iron-on stabilizer), and even canvas shoes! I have successfully embroidered on canvas bags, although my fingers did hurt a little after. If you aren't sure if it will work, you can always do some test stitches to try it out. Have fun with it!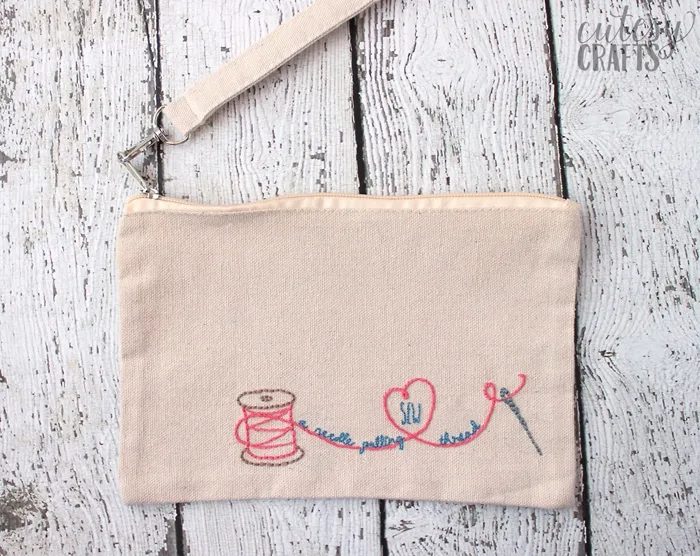 Types of Fabric to Avoid
Avoid fabrics that are very thin or fine. While you can certainly still try to embroider on them, the results will not be ideal.
Aida Embroidery Cloth
I actually don't like to embroider on Aida cloth at all. I include this on this list because I have been asked about it before. Aida cloth is meant for counted cross-stitch patterns, not the kind of hand embroidery that I usually do. If you are cross-stitching, then you can certainly use it. It has a grid of holes that are perfect for cross-stitching. Sometimes you can add other stitches to your cross-stitch pattern, but only use Aida cloth if cross-stitch is the main stitch you are using. (Cross stitch pattern from Climbing Goat Designs.)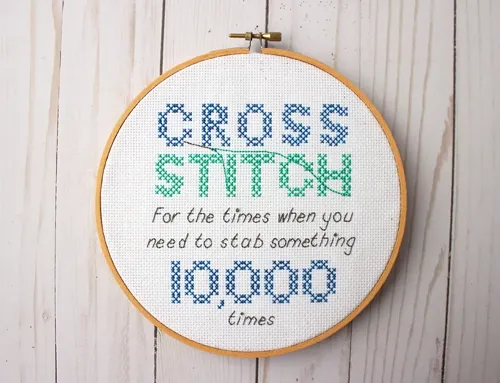 Best Fabric for Embroidery FAQ
Which thread count is best for hand embroidery?
The higher the thread count, the tighter the weave on the fabric. Choose a fabric with a thread count of 28 or higher.
Is polyester good for embroidery?
Polyester isn't the best for embroidery but can be used. You'll need to use a good stabilizer to prevent stretching and a ball point needle to stop snags.
What is "embroidery fabric" called?
There is no official name for embroidery fabric, as most fabrics can be embroidered on. The easiest fabrics to embroider on are linen and a linen/cotton blend. Many people use Aida cloth for counted cross stitch (which is a type of embroidery stitch) but Aida is not suitable for other types of embroidery.
Final Tips
One last little bit of advice for those who are new to fabric shopping. If you aren't sure what a fabric is made of, look at the top of the bolt, and it should be printed there. You can purchase as little or as much as you want. I usually in buy in quarter, half, or whole yards. And if you'd like to skip the fabric shopping altogether, check out my post on the Best Embroidery Kits for Beginners. I'd love to try something new! What do you find is the best embroidery fabric? Comment below.
Cutesy Crafts is a participant in the Amazon Services LLC Associates Program, an affiliate advertising program designed to provide a means for sites to earn advertising fees by advertising and linking to amazon.com.
You'll Also Like: