Flooring is a big investment, and you want to make sure to care for it properly. Before we purchased this house, we had old carpet and linoleum flooring, so we didn't have to worry as much about such things. When we purchased our Luxury Vinyl Plank (LVP), we had to make a few other purchases to make sure we didn't do anything to damage it. I thought I'd share my list of things you need for your Luxury Vinyl Plank flooring. Hopefully it will make finding everything that you need for your floor easier. Also make sure you read my post on how to choose the best vinyl plank flooring.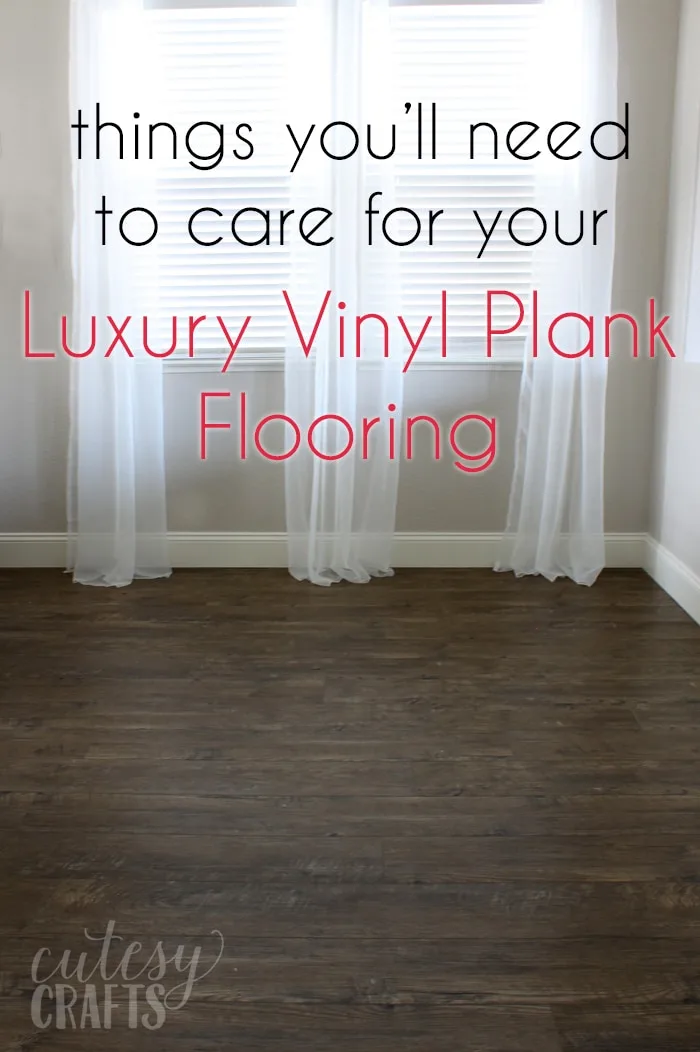 This is what I found works for the flooring we installed. Read the care instructions that are specific to your flooring to figure out what is best for you. I am not responsible for any damage caused to your flooring.
(This post may contain affiliate links, which means I may receive a commission, at no extra cost to you, if you click a link and purchase something that I have recommended.)
Furniture Pads
Chair Pads – One of the first things we did after we got the new floor was put felt pads on the bottom of all of the chairs. I knew from experience that sticky pads would not stay put for long, so I looked around for something better. I found these highly rated pads on Amazon that you easily nail into the legs of your chairs. I've been using them for over a year now, and they are the best!
Sticky Felt Pads – It probably wasn't 100% necessary, but I still felt the need to put felt pads under all of the furniture even if it didn't get moved around a lot. I bought these large pads and then just cut them smaller to fit my needs. They will definitely come off any furniture that gets moved (chairs), so I don't recommend them for that.
Anti-Slip Pads – This might not pertain to you, but we have a sectional sofa that doesn't have a wall behind one part. It slips and slides apart on the hard flooring, and it was driving me insane. I bought these little pads to put under each of the legs on the sofa, and they work surprisingly well! It will still move if the kids jump on it with a lot of force, but for the most part, my sofa is now stable. Such an easy solution to stop my sofa from sliding!

Rug Pads
Have you ever used a rubber-backed rug on bathroom or kitchen linoleum and had a yellow spot appear underneath? No matter what cleaner you use, the yellow spot won't go away! That's actually caused by a reaction between the linoleum and the backing on the rug. Apparently the same thing can sometimes happen with LVP. Rather than buying rugs with a backing already attached, I bought rug pads to go underneath. Make sure to get ones that say they are safe for vinyl flooring or say something about non-yellowing. I have to be honest here. I don't remember where I found mine. Possibly Bed Bath and Beyond? It was difficult to find anything that specifically said it was safe to use. Leave a comment if you have suggestions. (PS – A reader left a comment that walking on her asphalt driveway and then onto their floor caused a similar reaction. Definitely something to be aware of!)
Vacuum
I hate sweeping. With four kids running around, someone is always leaving crumbs somewhere, so it can't be avoided. In my old house, I used this electric Swivel Sweeper that I absolutely loved! In fact, all of my friends bought one because they loved it too. Haha! With the LVP, you aren't supposed to have anything that has a beater bar on it though. I bought this vacuum that has an option to use it without the beater bar turned on, and it's just okay. We have to use this thing to unclog it sometimes. My sister has a Dyson that she loves for her hardwood floors, but I can't quite come to terms with the price tag on those babies.
Cleaner
The care instructions for my LVP say to use a neutral cleaner. Being extra cautious, I've been using Bona Tile and Laminate Floor Cleaner with a damp mop. The guy that installed my floor said I could just use a mixture of vinegar and water, but I have yet to try that out. I'll probably go that route once I go through my bottle of Bona. One of the great things about my floor is that you can't really tell when it's dirty, so it doesn't get mopped much. Four kids… remember. Haha!
Mop
You don't want to use anything that will scratch your floor, so something soft is good. I use something like this mop to clean mine. I get it a little damp, spray the Bona floor cleaner on the floor, and then wipe it away. So far so good.
Caster Cups
This may not apply to you, but one of my biggest fears with the Luxury Vinyl Plank was moving my giant piano in without damaging the floor. We put boards across the floor and very carefully (with 4 people) moved it into the house. I bought caster cups that distribute the weight of the casters (wheels), and we haven't had a problem. Of course, I have yet to move the piano again to see what the floor looks like.
Something Under the Fridge
When I originally wrote this post, we hadn't moved our fridge since getting the new flooring. Well, the fridge sprung a leak, and we had to move it to fix it. I'm so grateful that we had vinyl so the floor didn't get ruined from water! However, I did notice there are dents in the flooring where the front wheels have been sitting. That's okay for now since we just put it back in the same spot, but what about when we need to replace the fridge someday? I'm not really sure what the solution is here. Maybe some kind of caster cup like the piano ones? Not sure how you would get those under a heavy refrigerator though. If you're reading this and have any bright ideas, please let me know! My internet search hasn't turned up any results.
Toy Car Socks

One last thing that I need to throw in there. My son is obsessed with his ride-on fire truck and spends a large part of the day driving it around the house. I started to notice small scratches in the clear coat of the floor, so I cut up a pair of old socks to put on the wheels. I found this YouTube video that explains how. You can also buy some covers like these.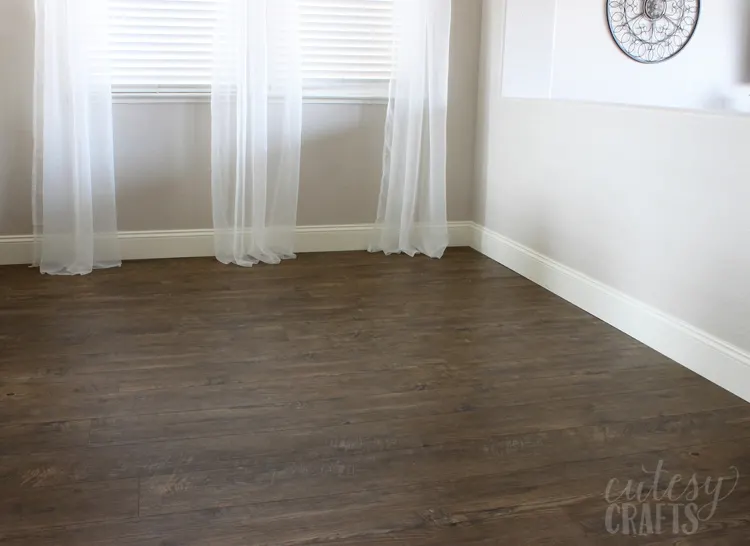 Well, that's all I've got for you. Hopefully this was was a helpful post. If you are curious about my flooring, you can find more on my Unbiased Luxury Vinyl Plank Review. You can also see how my floor is holding up by reading Vinyl Plank Floor Review – Two Years Later. If you have any other suggestions, feel free to leave them in the comment section below.
Cutesy Crafts is a participant in the Amazon Services LLC Associates Program, an affiliate advertising program designed to provide a means for sites to earn advertising fees by advertising and linking to amazon.com. This post contains affiliate links.
You'll Also Like: