It's been a couple years since we had our vinyl plank flooring installed, and I thought I'd give you a little update on how it's holding up. So here's my vinyl plank floor review, two years later. I've gotten quite a few questions, and I thought I would also take some time to answer some of the frequently asked ones here. To read more about our flooring, check out my original Unbiased Luxury Vinyl Plank Review. If you don't, this probably won't make sense. 🙂 Also, we've since moved into a new house and are getting new vinyl plank floor. Make sure to read my post on how to choose the best vinyl plank flooring to see what we chose.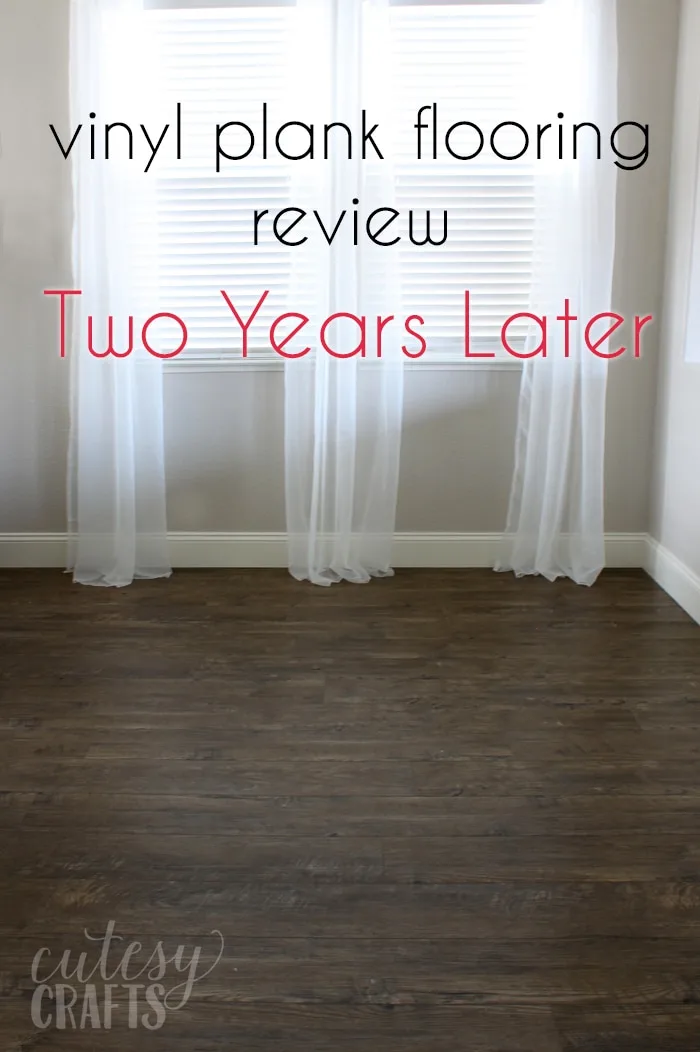 Are you still loving your vinyl plank flooring? – Let me just start off this vinyl plank floor review by saying, YES! I absolutely love everything about it! In fact, we have been toying with the idea of moving to be closer to the kids' school, and the floor is the one thing I don't want to leave! Haha! I love that it's so maintenance free, and I don't have to worry about it getting ruined by the kids. If we ever need to get flooring in a future house, it will 100% be vinyl plank.
Do the separations between the boards get dirty? – I was a little worried about this at first too. Yes, the separations get food in them in the kitchen. However, I use a vacuum instead of a broom to clean the floor. It sucks everything out, and it really hasn't been an issue. Anything else gets cleanup up when I mop. Read a little more on my Things you'll need for your Luxury Vinyl Plank Flooring post.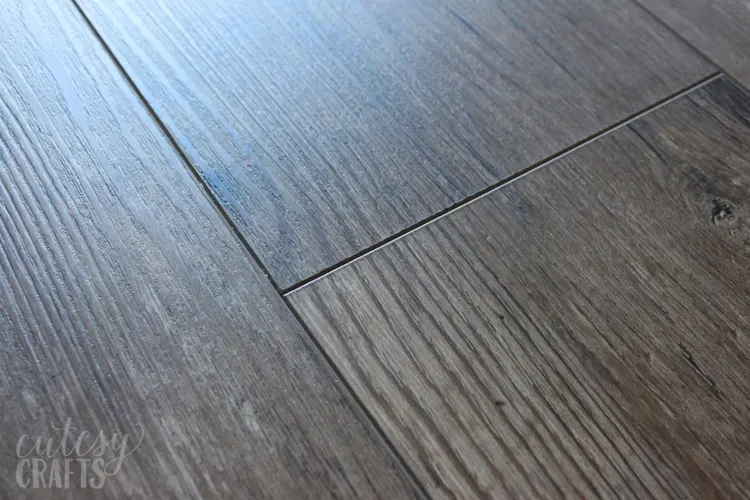 Does the vinyl plank flooring show dust or footprints? – Not at all! I think the combination of the lighter color and texture make it hard to see any dirt or footprints. I'm ashamed to say that I can probably count on one hand the amount of times I have mopped since we got the floor installed two years ago. I promise my house is clean, I just hate to mop. I have heard from other people that their vinyl plank gets streaky, so make sure to test out some samples before you make a decision. To see what I use to clean my floor, take a look at my Things you'll need for your Luxury Vinyl Plank Flooring post.
Is the floor easily damaged or scratched? – So we did get a little bit of scratches in the clear coat when I let my son drive his ride-on car around the house like a maniac. We also got some from a couple of stools that I neglected to put felt on the bottom of. I rubbed the scratches with my fingernail, and was actually able to buff them out of the clear coat. Yay! Now my little guy has socks on the bottom of his car, and every chair has pads. You can read about that more on my post about Things you'll need for your Luxury Vinyl Plank Flooring. We also noticed two dents in the floor from the refrigerator wheels when it sprung a leak, and we had to move it. I'm not really sure what the solution is there, and I'm kind of disappointed. If the floor had been wood or laminate, it would have gotten ruined from the water, so that could have been much worse. (A reader also left a comment that walking on her asphalt driveway and then onto their floor caused a similar reaction. Definitely something to be aware of!)
Do people notice that it is fake? – Well, they don't think it's vinyl and are shocked if I tell them. Most people think that it's wood-look tile. I get compliments on it all the time though, so whatever they think it is, they like it. You can only really tell that something is up if you look at it from a certain angle/lighting or get on the floor and tap it with your fingernails. Most people that come into your home aren't going to be doing that. Here's a photo from my original vinyl plank floor review.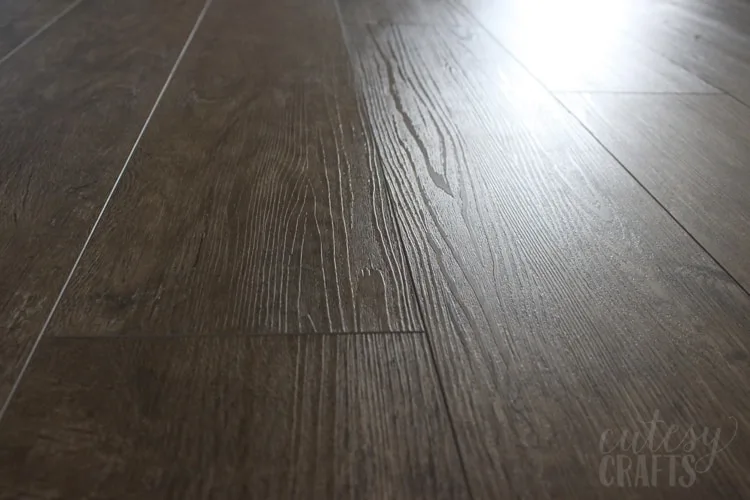 Is the vinyl plank flooring toxic? – The vinyl plank flooring that we purchased is says that it is FloorScore certified. I don't know what that all entails, but it's supposed to mean that it's in compliance with indoor air quality emission requirements in California. If you are worried, I recommend doing a little more research on the standards for FloorScore certification. If you are purchasing a different brand, definitely look into what it's made out and what emissions certifications it has. Healthy families are way more important than a pretty floor!
Would you buy the same brand again? – This is a tough question. While I love this product, I don't know that I trust the company/brand. There is absolutely no easy way to contact them. How is a company that can't even provide contact information going to deal with warranty issues? I was actually able to scour the web and find a phone number. When I called, the man that answered was unable to give me any information or even provide a list of retailers. It's still such a great product though, so it would be a tough decision. If they were to change things and get some better customer service, my answer would be 100% yes! Have I mentioned that I love my floor?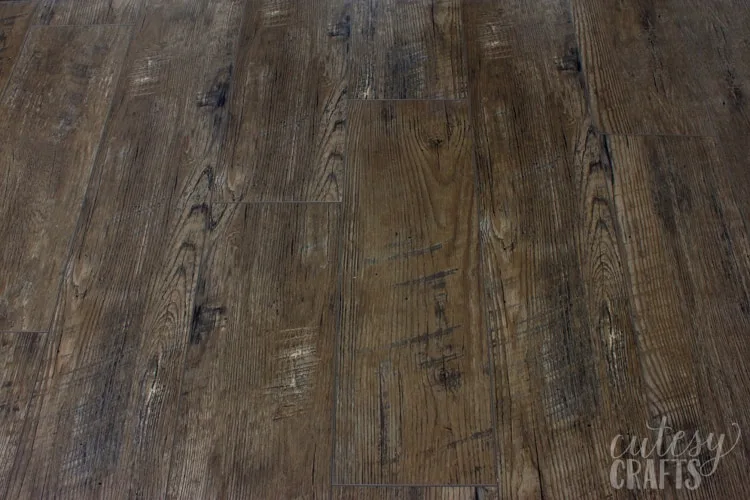 I hope my vinyl plank floor review is helpful to you. I know it's always nice to see how things are going a couple years later. If we are still living here in a few more years, maybe I'll come back and do a five year review.
You'll Also Like: