"Announcements, announcements, announcements! A terrible death to die, terrible death to die, A terrible death to be talked to death, A terrible death to die!" Am I the only one who sang that at camp? ANYWAY…
I've got a few things to tell you about. First, round one of So You Think You're Crafty is up. The theme this week was "paint". Go check it out. Bet you can't tell which project is mine!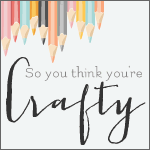 Also,
my Etsy shop
is back up and running! I took a little sanity break, (it can get really boring making the same thing over and over again) but I'm back in business now. If you're in the market for a birthday crown, go check mine out.
And finally, are you following along? I'm on all of these social media sites, and I'd LOVE to see you there!