This is a sponsored post for Darice. All opinions are my own.
I love making handmade Christmas ornaments every year. When I saw these cute fabric gift tags from Darice, I knew they would be really fun to embroider and embellish. Add them to the top of a gift and then hang them in the tree as cute fabric Christmas ornaments after.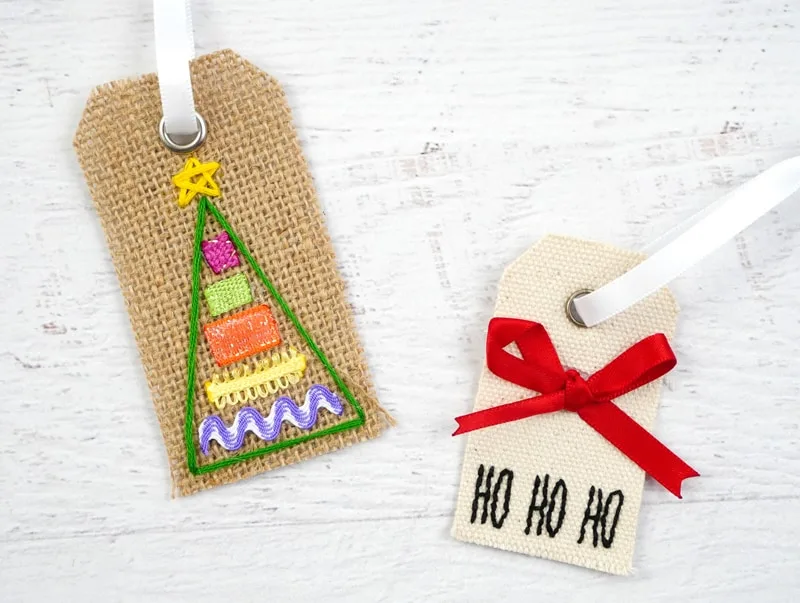 I filled these little jars with some Christmas candy, added some pom-pom trim, and added the tag. This makes such a great co-worker or neighbor Christmas gift!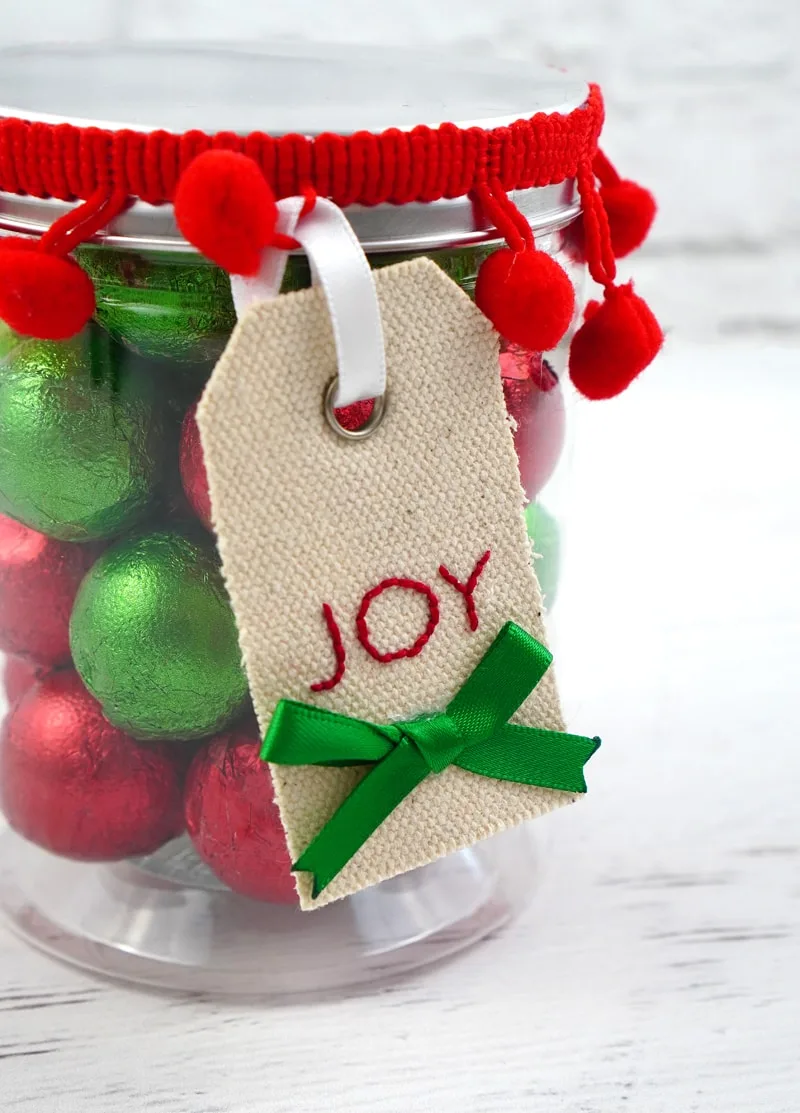 It looks so cute hanging in the tree as a fabric Christmas ornament too.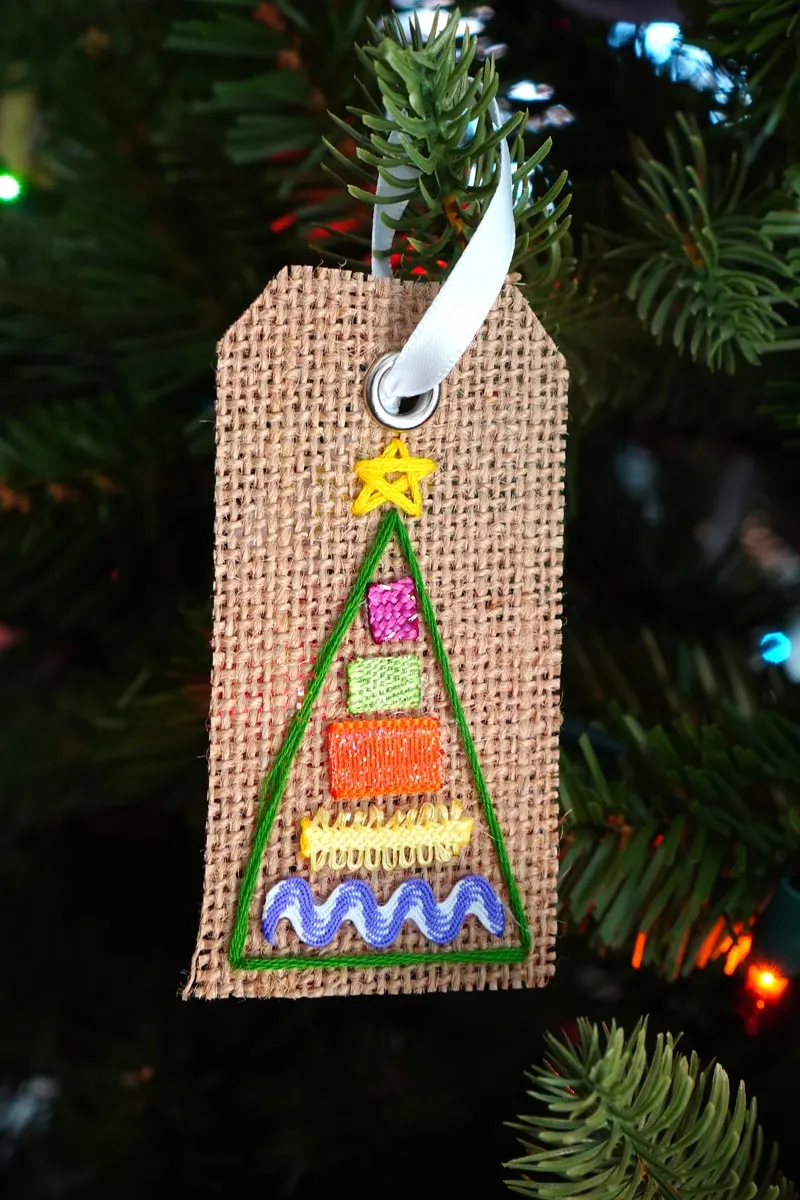 All of the great products used in this project are made by Darice. I went to ConsumerCrafts.com to shop for supplies. They have such a great selection! Wholesale customers can purchase from Darice.com.
To make these fabric Christmas ornaments, you'll need:
Hot Glue Gun and Glue Sticks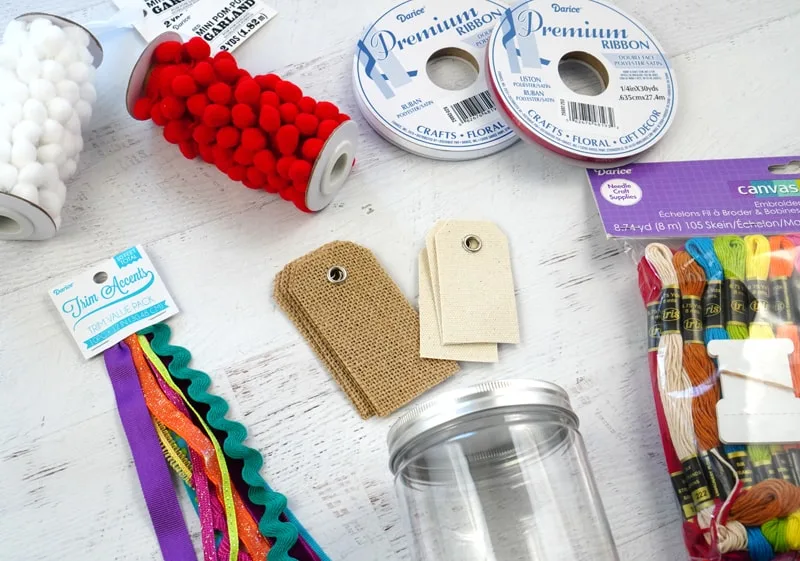 I embroidered the canvas gift tags with simple words. They are a little thick, so it would be hard to get too detailed. You could also embroider a name or simple animal shape. Make sure to keep the back tidy since you'll be able to see both sides.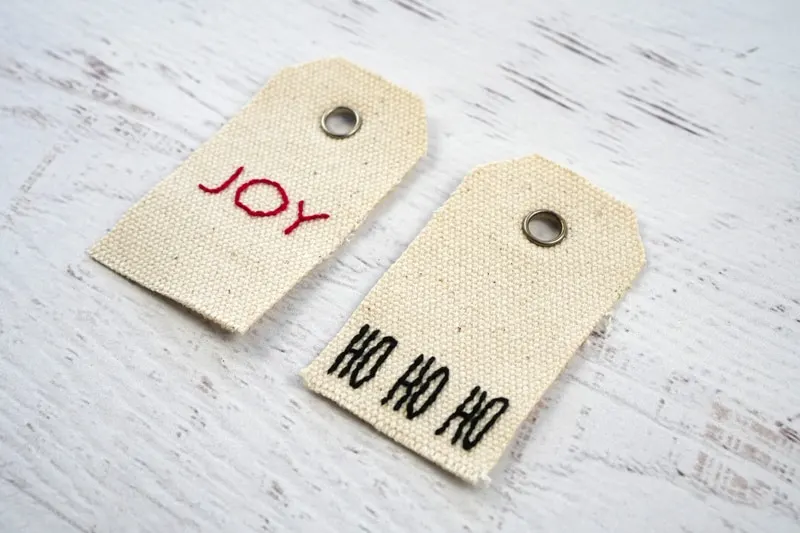 Next, I cut a small piece of red or green ribbon to tie a bow. Use a lighter to slightly melt the ends and keep them from fraying. Hot glue the bow on, add another piece of white ribbon for hanging, and you're done!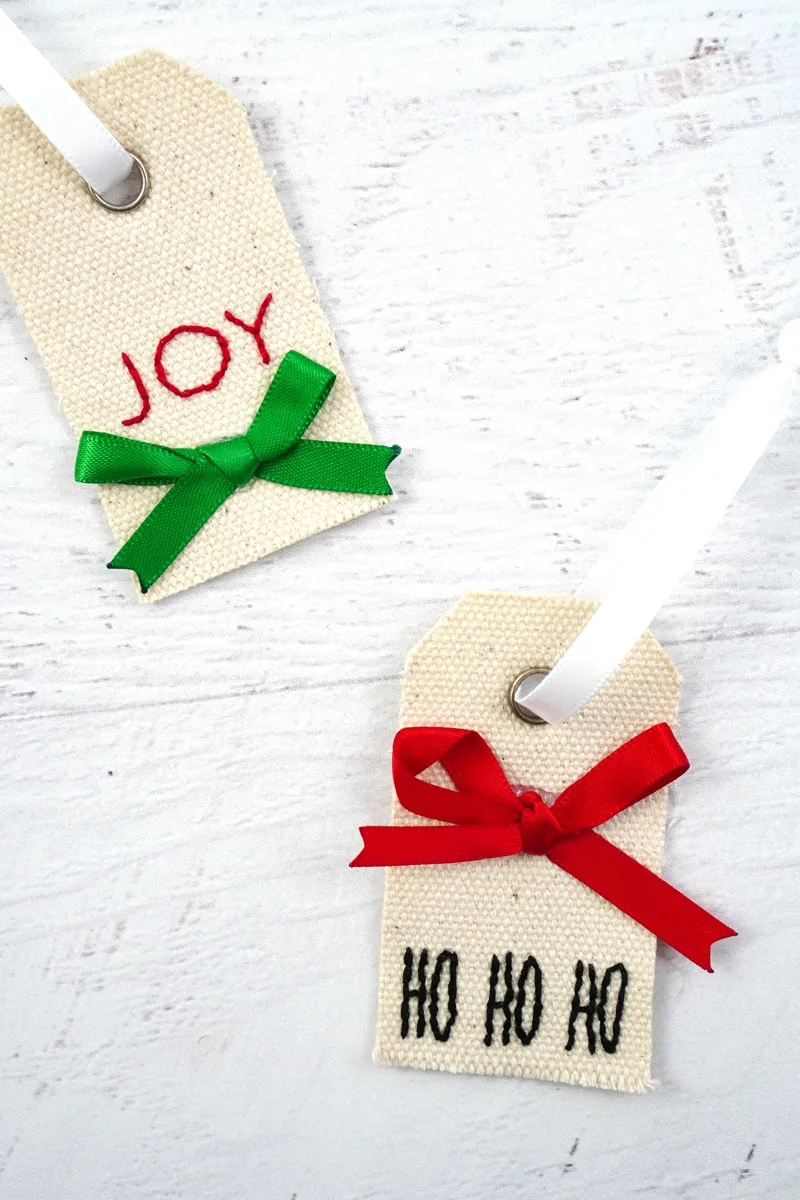 The burlap tags were a little easier to stitch through. For these, I decided to make some fun geometric Christmas shapes. Burlap is also fun to cross-stitch on, which would be adorable on these tags!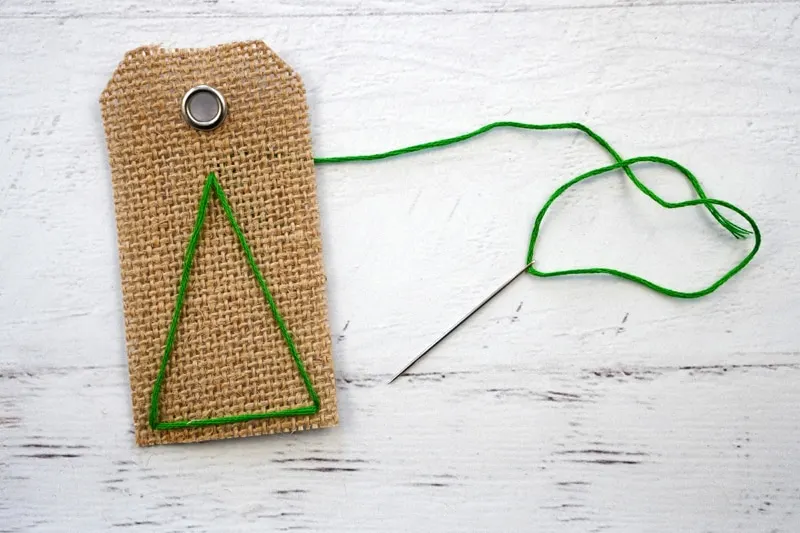 After stitching, I hot glued on some bits of this decorative trim. I love that this package comes with all different kinds of trim. Perfect for when you want to use different colors/patterns of ribbon, but don't want to buy whole spools. Make sure to melt the ends with a lighter to prevent fraying.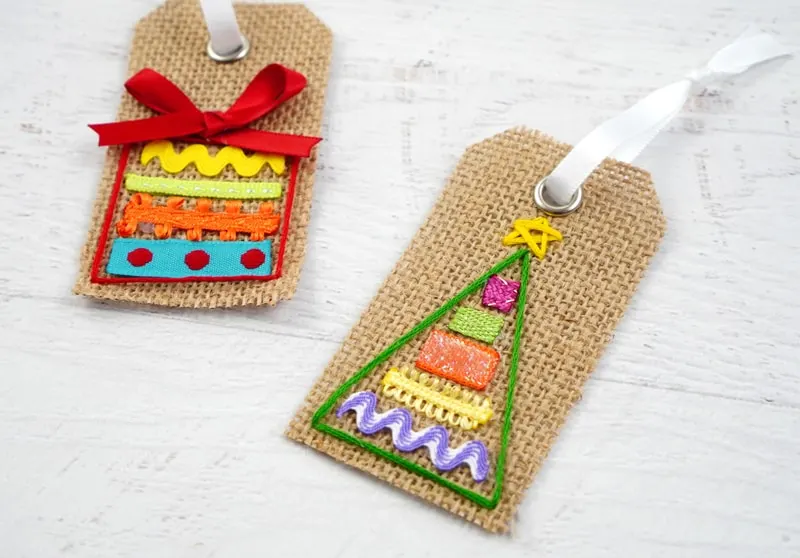 Hot glue some pom-pom trim around the rim of the storage container lids to dress them up a bit.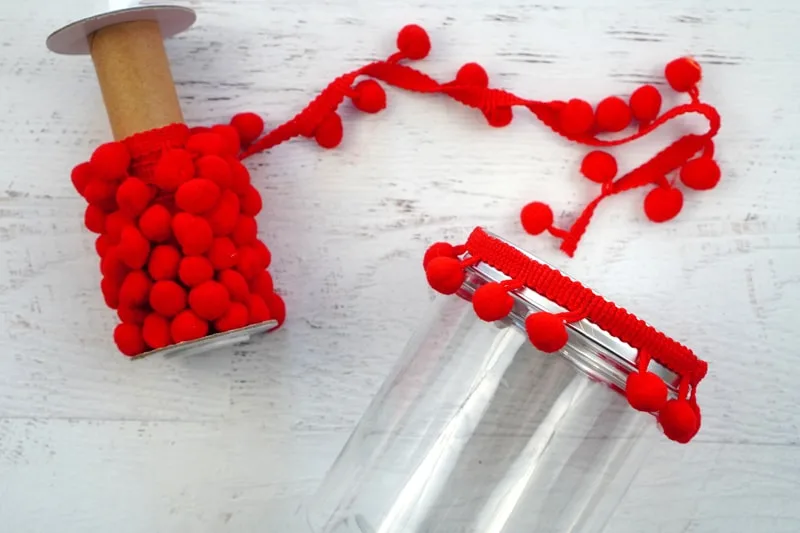 Slide the gift tag through one of the strings on the pom-pom trim to hold it in place.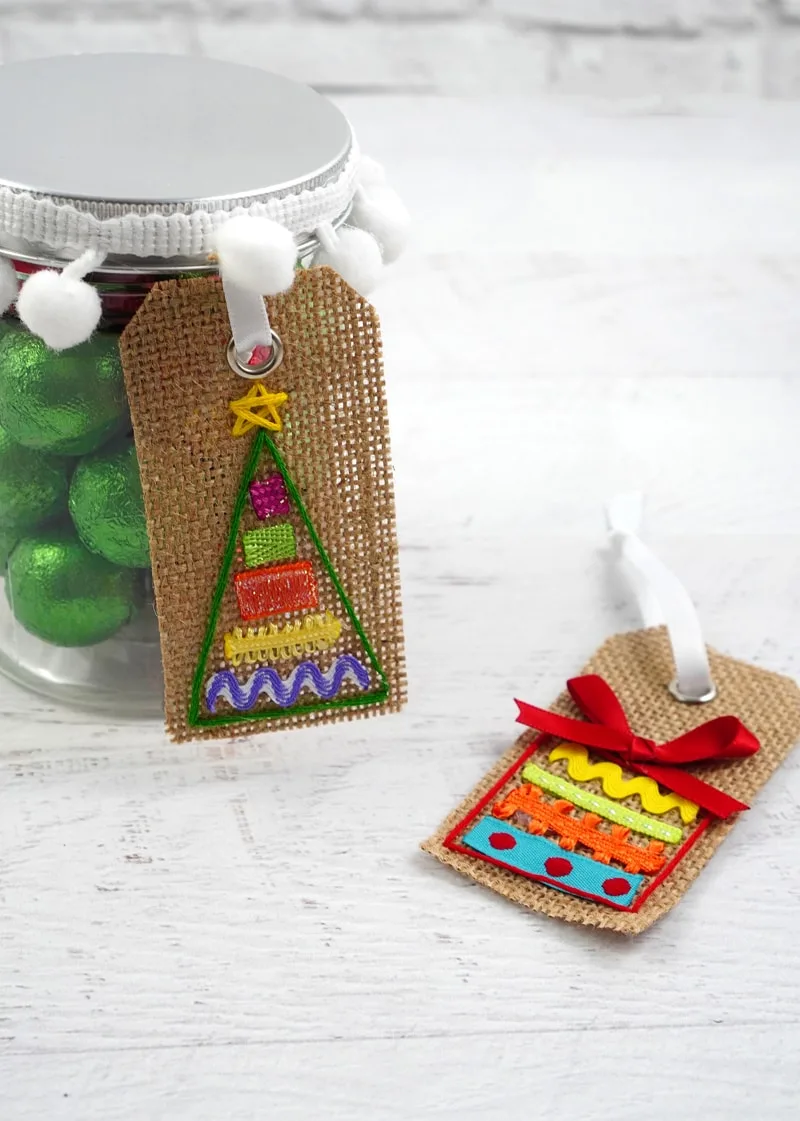 Such a cute way to dress up a gift for Christmas!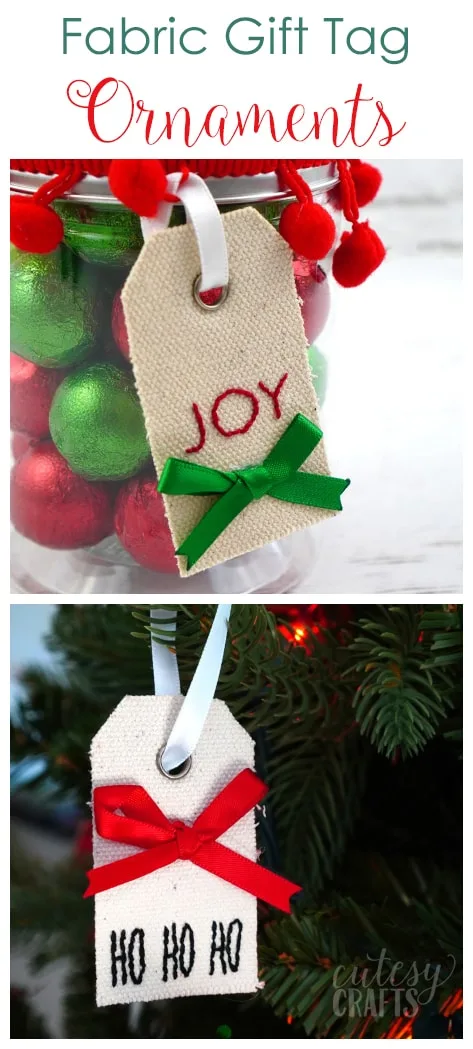 Make sure to check out all of the great craft supplies from Darice on ConsumerCrafts.com and Darice.com, and have a great Christmas! Also make sure to take a look at all of my other homemade Christmas ornament tutorials!