After I wrote my post on how to make no-sew fleece blankets, it got me thinking about what other fabrics I could use to make baby blankets. I've always loved the look and feel of minky fabric for babies, and I discovered that it is also a type of fabric that doesn't fray. Perfect for making a no-sew baby blanket! The minky fabric is so soft and warm. I love it! Be aware that it will shed a lot when you cut it. I recommend giving it a good shake after you do all of your cutting. Aren't the elephants cute?!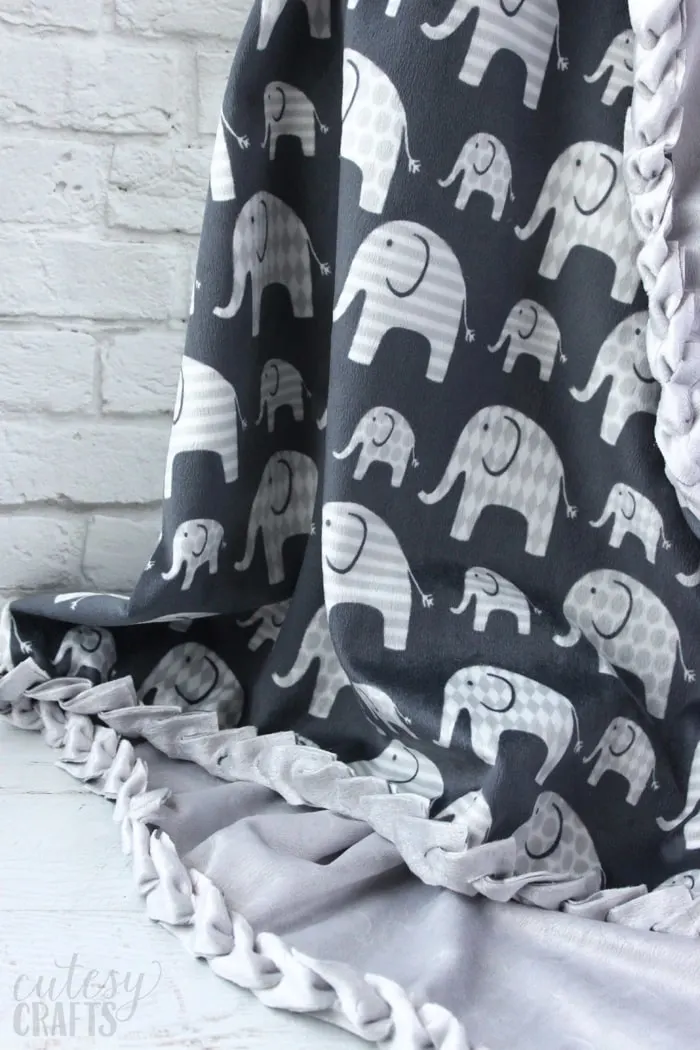 To make a no sew baby blanket, you'll need:
2 yards of minky fabric (1 yard of each color)
sharp scissors
ruler or yard stick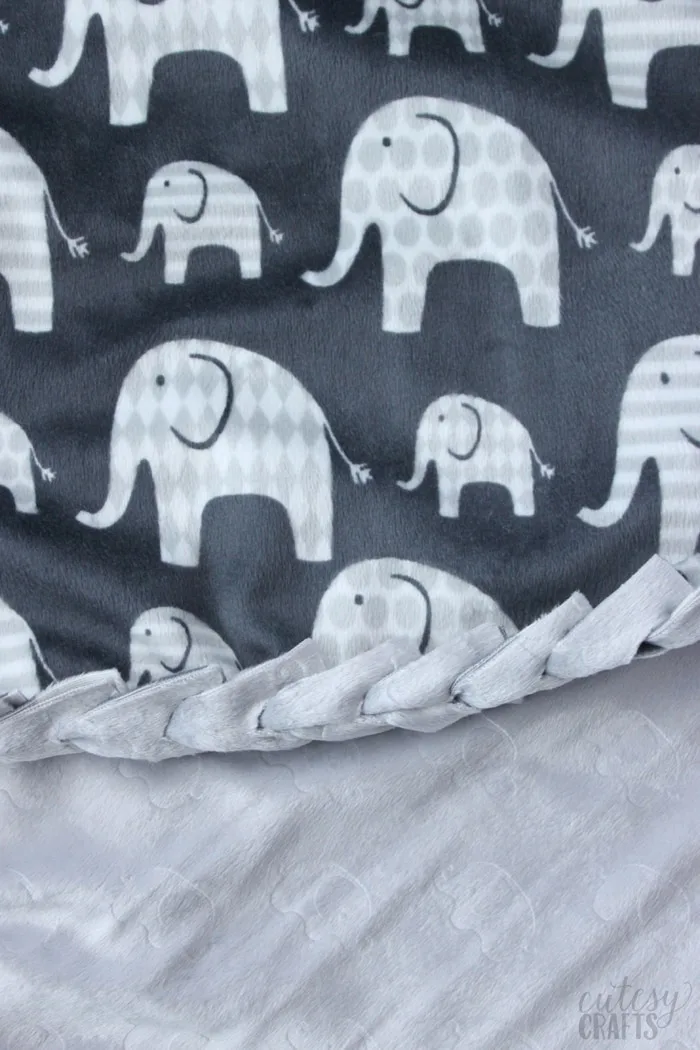 These are all the same steps I used in my post on how to make no-sew fleece blankets with a braided edge. I created a video that you can watch below. If you are using an ad blocker, you may need to turn it off to watch it. In the video I cut the slits more in the middle of the tabs. You'll want to cut closer to the end of each tab. See my instructions below.
So the blankets don't end up too long and skinny, I cut each piece of fabric to be about 48 inches x 36 inches. Lay both pieces that you are using on top of each other, wrong sides together, and make sure they line up. Next cut a 2 x 2 inch inch square out of each corner.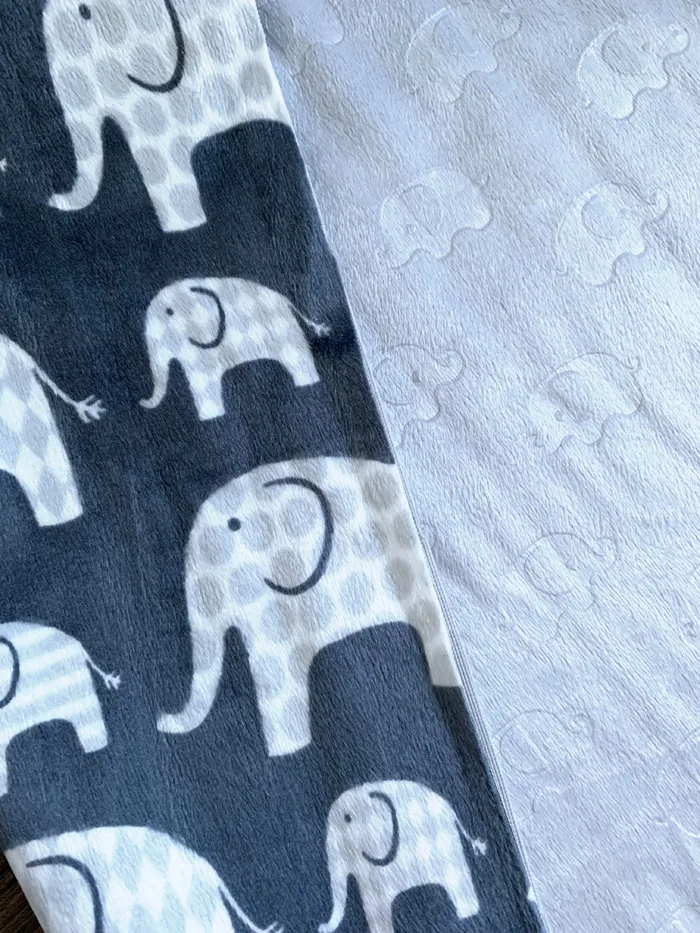 Now you want to cut two inch long slits that are one inch apart, like the photo below. It helps to have a long yardstick for this part. Do this on all four sides of the blanket.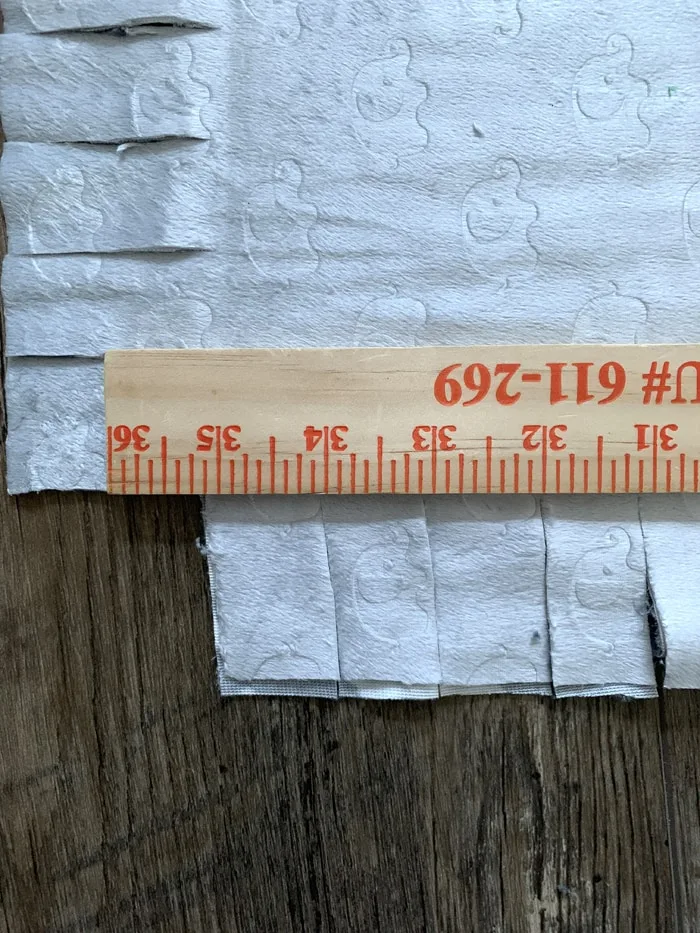 Fold each of the fringe pieces up about 1/4 of the way, and cut a small slit in the middle. Don't get too close to the end of the tab.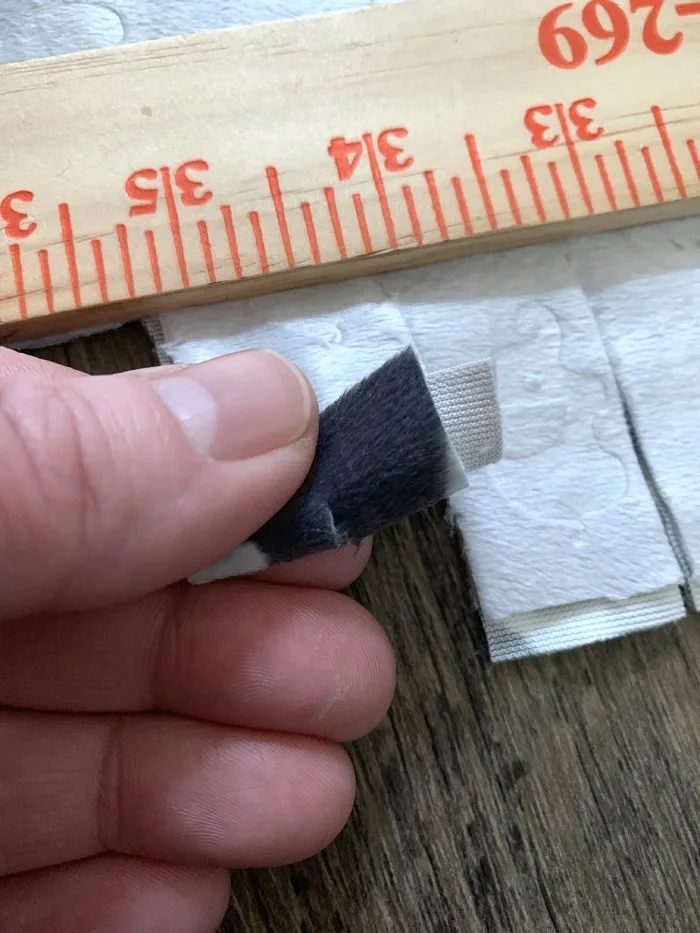 Now for the "braiding" part. It's not really braiding, more like crocheting, and it's pretty simple once you get the hang of it. Basically you want to take the fringe piece to the left and put it through the hole on the fringe piece to the right. Pull it though, and that becomes the next hole that you use. Make sure you grab both layers of the blanket and treat them as one. If this is confusing at all, watch the video.
When you get to the end, separate the two layers of the last piece of fringe. Put one of the layers through the starting hole.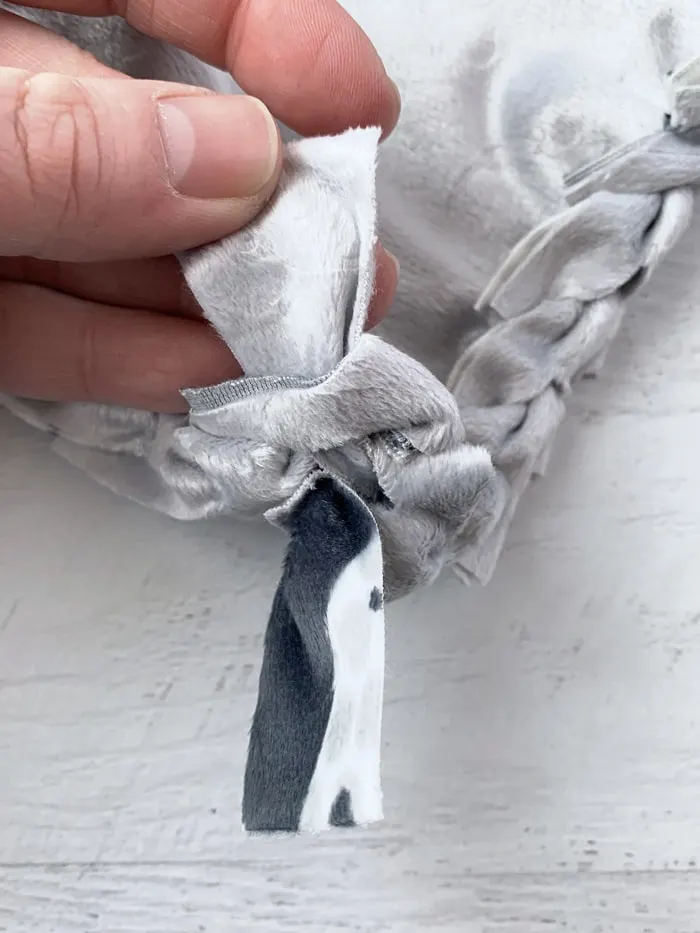 Use the two layers of fringe to tie a double knot and then tuck it into the inside of the blanket.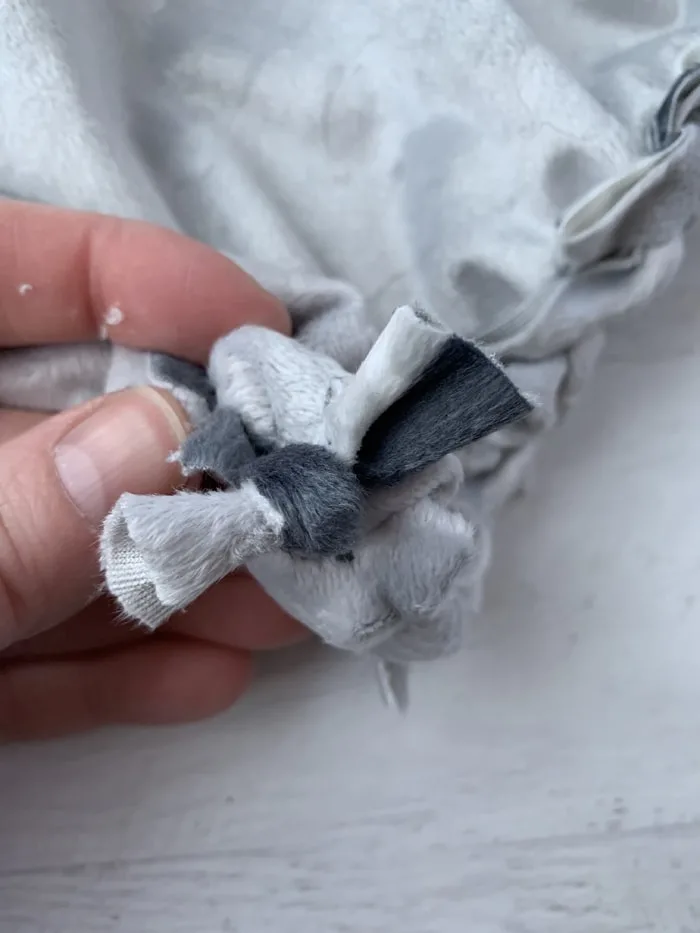 And you've got yourself a nice no-sew baby blanket made from minky fabric! These would make such wonderful DIY baby gifts!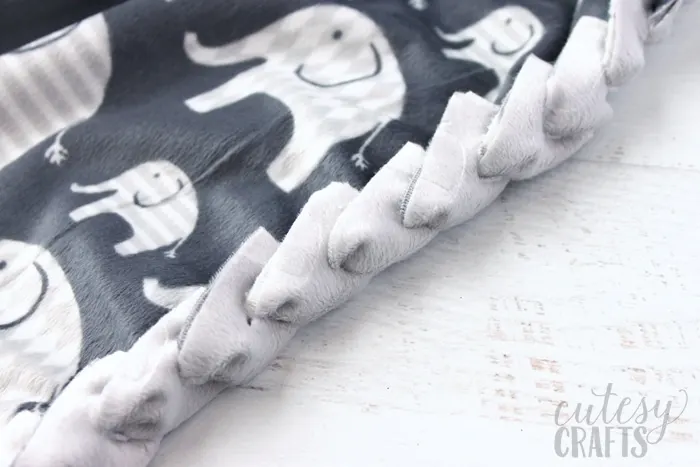 I hope you enjoyed learning how to make a no-sew baby blanket with minky fabric. Check out all of my other baby crafts. If you can sew, you'll also want to take a look at my post on how to make a baby blanket from flannel. Also take a look at these other easy homemade blanket tutorials.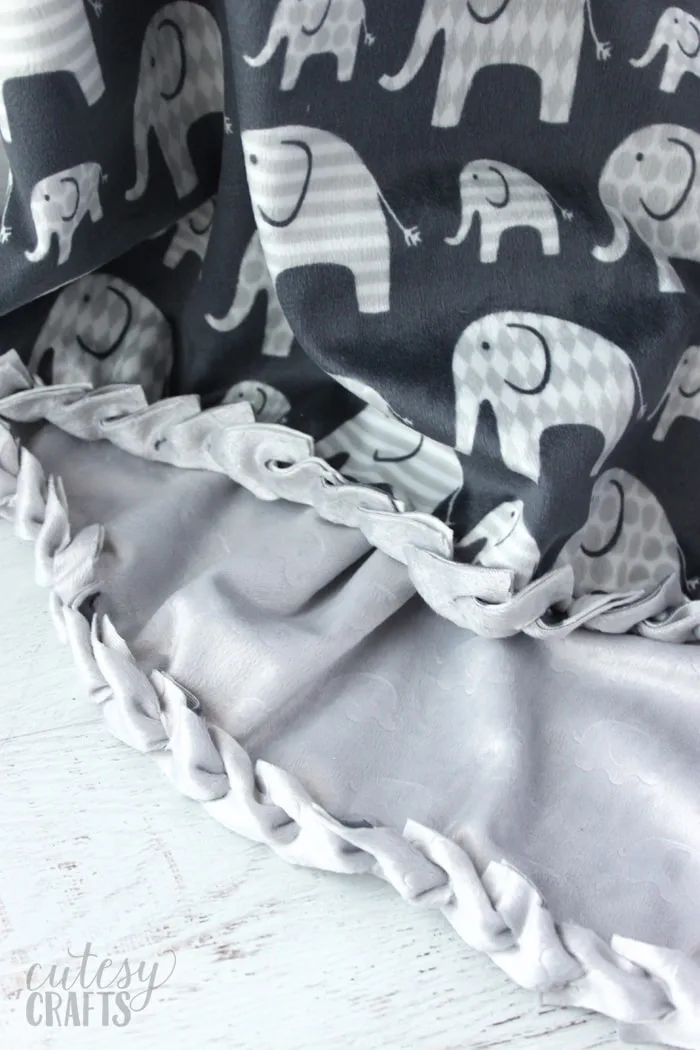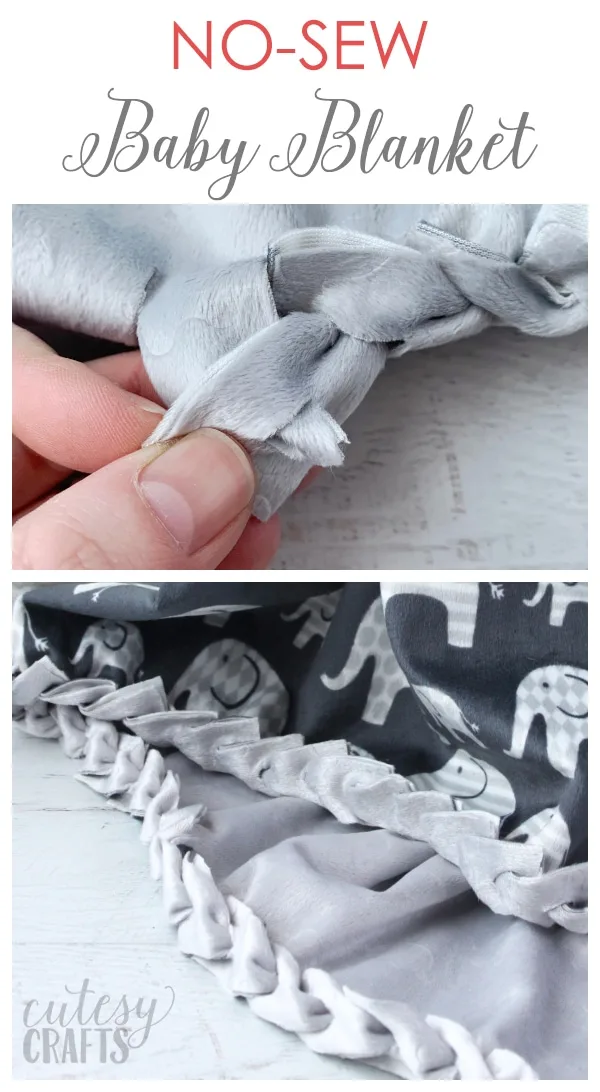 Check out these other posts:
How to Make No-Sew Fleece Blankets with a Braided Edge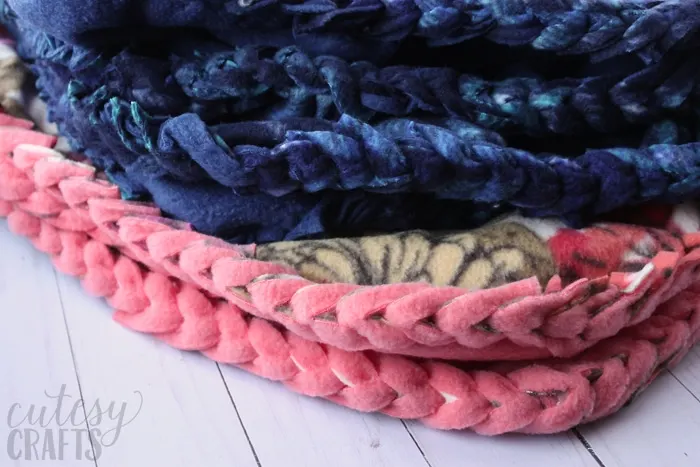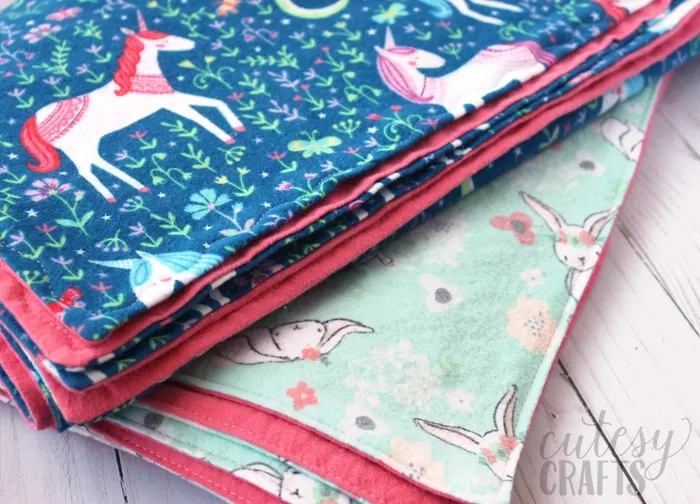 Easy Baby Quilt from Receiving Blankets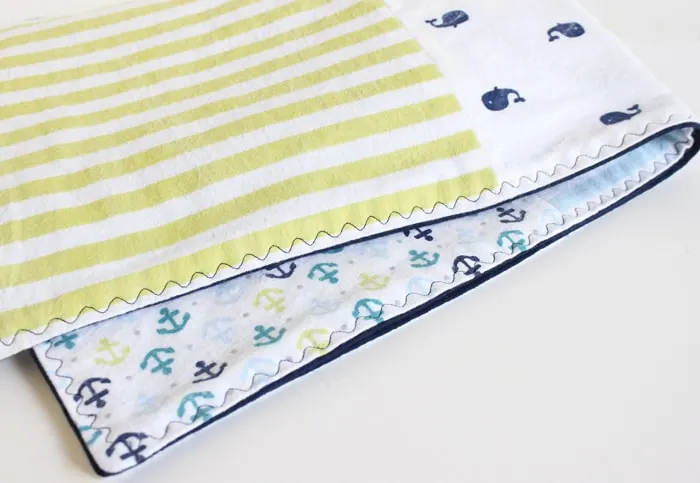 You'll Also Like: