If you've ever felt like a sloth might be your spirit animal, then this embroidery pattern is for you. I made this cute little sloth embroidery hoop that I'm sharing free today. It's a very easy embroidery pattern since most of it is lines. Perfect beginner embroidery project!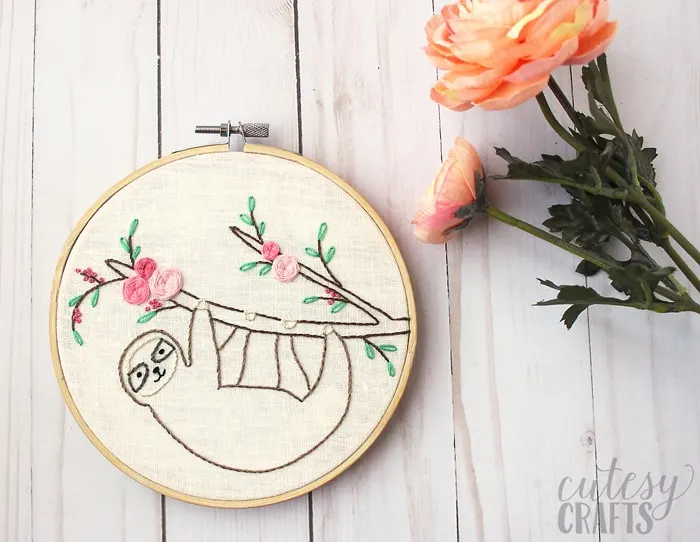 I was tempted to add the word "meh" to it somewhere, but thought I would leave it without words this time. There's an idea for you in case you are feeling extra "meh" when you stitch this one though. Isn't he cute?!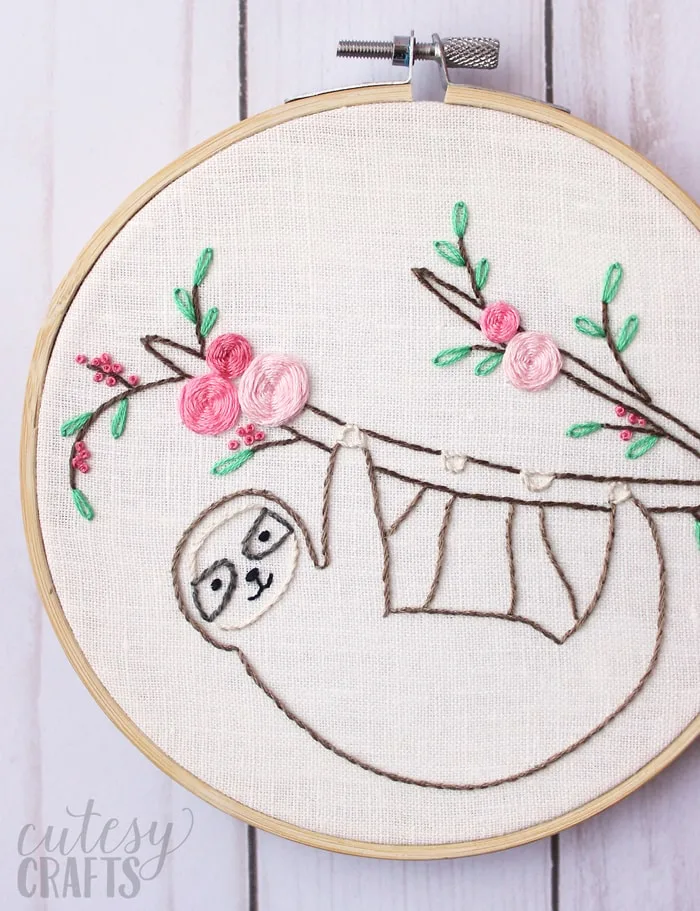 To stitch this sloth embroidery pattern, you'll need: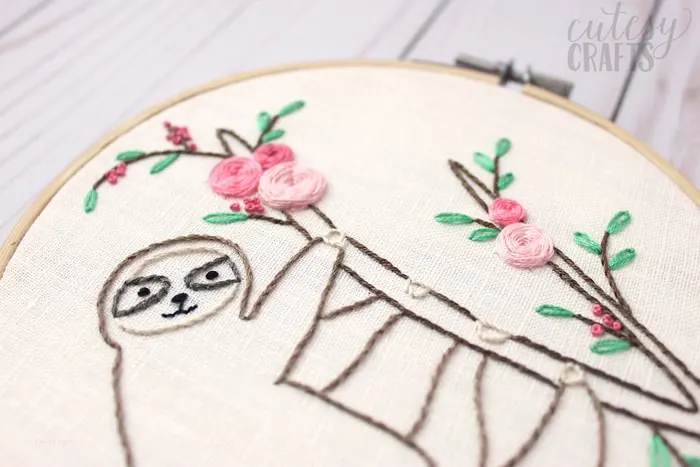 Mr. Sloth is hanging from a branch with flowers and berries. The flowers are made using my favorite woven wheel stitch, and the berries are french knots. The leaves are lazy daisy stitches. I don't know what kind of tree would really have these big flowers on it, but it sure looks pretty!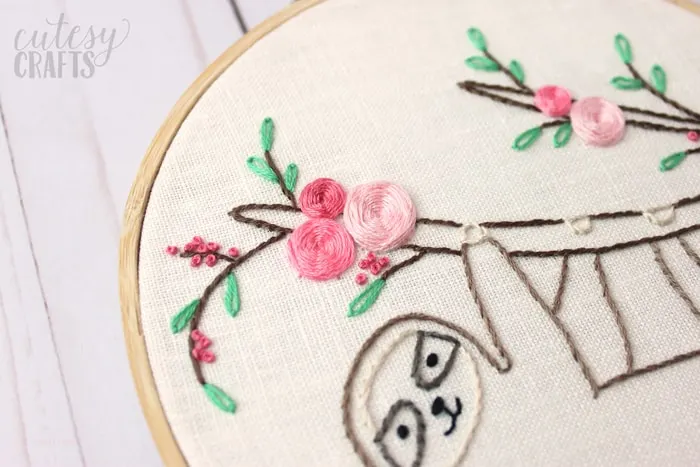 The sloth itself, is all outlined in a stem stitch, but you can use your favorite outline stitch. I prefer a stem stitch since it looks like one, consistent line. You could even fill him in with a long and short stitch if you wanted to go for a different look. Of course, that would make this a bit more of an advanced project. It would be so cute though!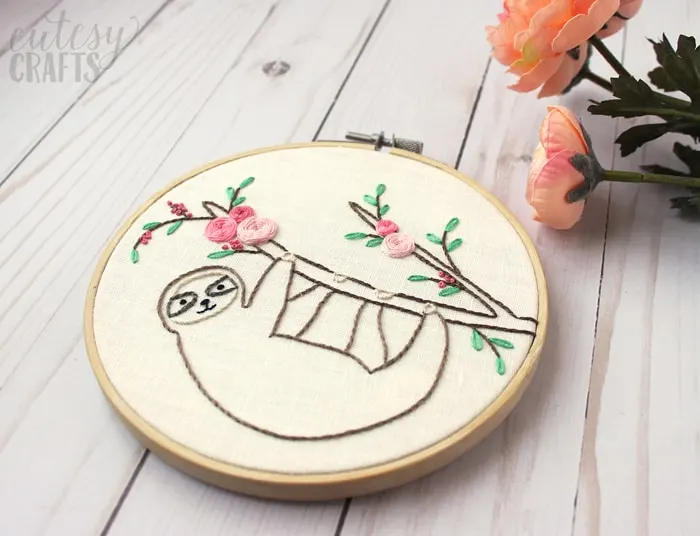 I hope you have lots of fun stitching this easy embroidery pattern. It's one that a beginner can manage but can easily be modified to make it more of a challenge. Do I have any other sloth lovers out there? I don't know how you can't be after seeing this cutie!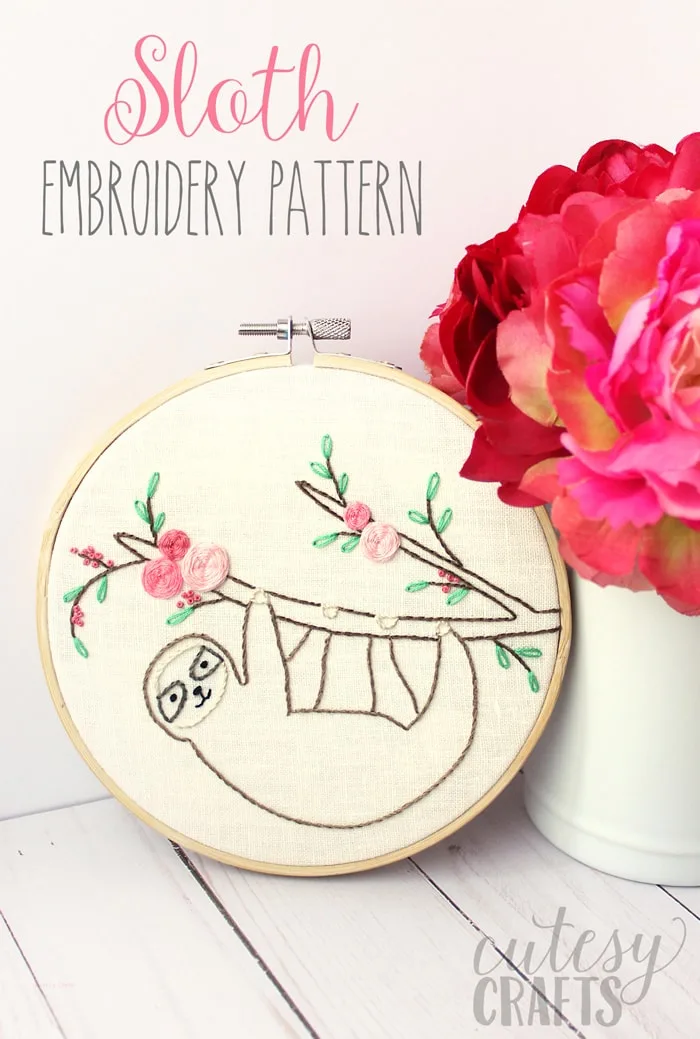 Make sure you take a look at all of my free embroidery patterns. If you are new to embroidery, you'll love my How to Embroider for Beginners series.
Get the free sloth embroidery pattern!
To get the password, enter your information in the form below to sign up for my free email newsletter.
You will get an email with the password. Already subscribed but forgot the password? No need to subscribe again! Every email newsletter I send has the password in it, so check the latest one.