One of the reasons I love embroidery is that it doesn't require many supplies. Anyone can get started with just a few essential embroidery supplies and not have to spend a lot of money. I thought I'd write up a little post so you'll know exactly what hand embroidery supplies you need, plus some extras that are nice to have. If you find this post useful, make sure to take a look at my How to Embroider for Beginners series.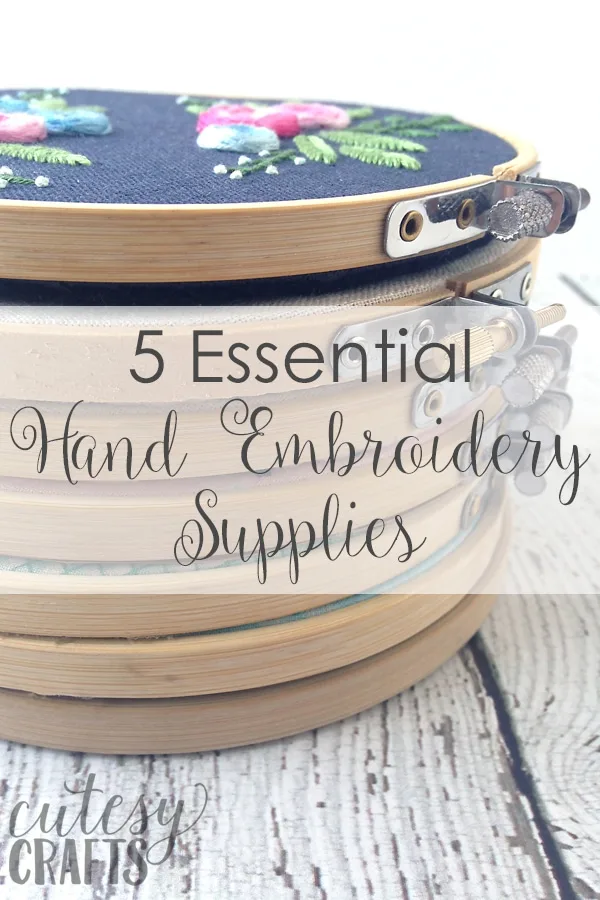 (This post may contain affiliate links, which means I may receive a commission, at no extra cost to you, if you click a link and purchase something that I have recommended.)

Essential Hand Embroidery Supplies
Fabric – The first of the hand embroidery supplies you'll need is something to embroider on. Talking fabric can get a bit complex, so I actually have an entire post on it. Head over to my post about the best embroidery fabric so you can get started with some hand embroidery.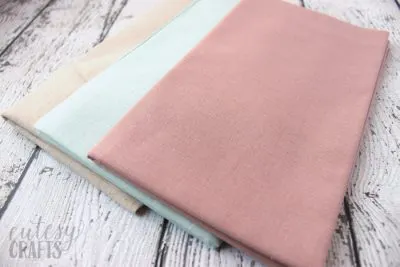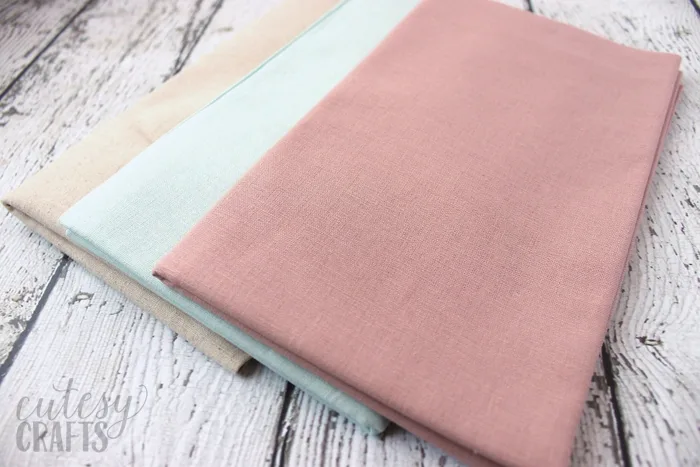 Embroidery Hoop – Embroidery hoops come in all kinds of materials, shapes, and sizes. I like to keep things simple and just use the wooden ones that you can get at any craft store. They are inexpensive, and you can use them to frame your project when you finish. Most of my hand embroidery designs give a final hoop size for framing. When I am stitching, I like to use one size up from that to make sure the hoop doesn't get in the way of my stitches. I move it to the smaller hoop when I am done.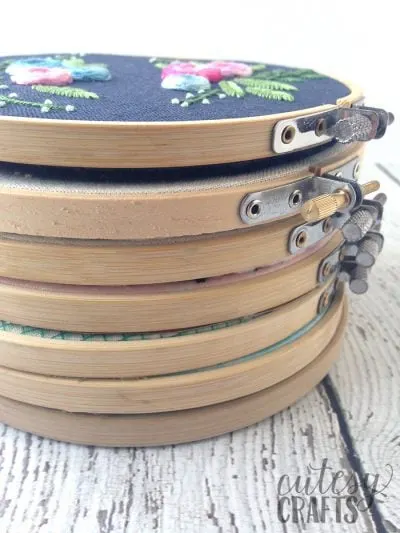 Embroidery Floss – When it comes to embroidery floss, DMC is the gold standard that most people use. Most of my hand embroidery designs will include a list of the DMC colors that I use. Feel free to experiment and try new colors though! I always love seeing how creative people get with my patterns.
Embroidery Needles – Embroidery needles come in all different sizes. This is somewhere that preferences start to play a role. The goal in choosing a needle size is to make a hole that is big enough for your thread to glide through easily, but not so big that you see the hole when the project is done. The size needle you use will be determined by the amount of floss you are using. I usually just use my size 3 needle for six strands and my size 8 needle for everything else. A smaller number equals a bigger needle. The following embroidery needle sizes are recommended: one strand=size 10 needle, two strands=size 9 needle, three strands=size 8 needle, 6 strands=size 3 needle. So a package of sizes 3-9 would be a good option.
Tracing Supplies – Tracing is another thing that can get a bit complicated to explain. You will need some supplies for this, and I explain all of them in my post on how to trace an embroidery pattern.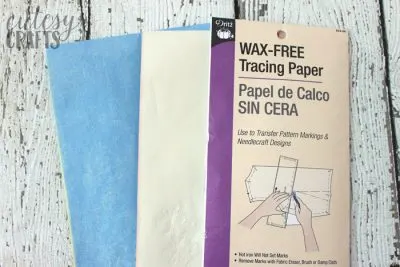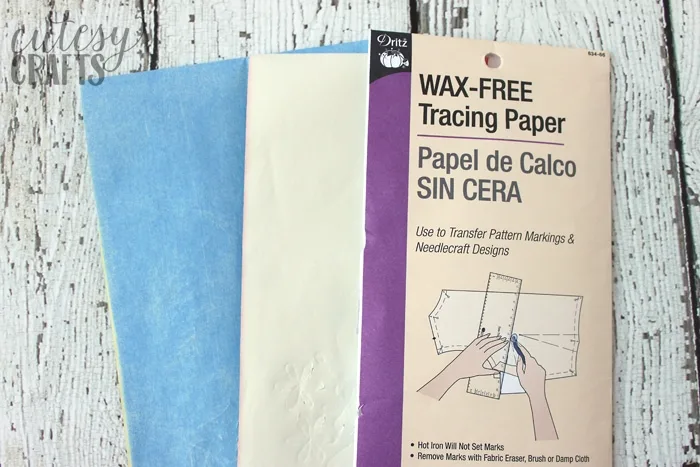 Other Optional Hand Embroidery Supplies
Embroidery Scissors – Embroidery scissors aren't something that are 100% necessary, but I really like to have them. They help you get in there and clip off the ends of your threads. Also, it's nice to not have a giant pair of scissors sitting around.
Needle Threader – I haven't had a lot of luck with needle threaders. The wire ones that I have tried always tend to break after the first few times using them. If you have poor eyesight or shaky hands, it might be worth some time to find a needle threader that works for you. Let me know in the comments if you have one that you love.
Needle Minder – I just got my very first needle minder, and I am in love! I am constantly dropping my needle and loosing it in the couch. Not a good thing, especially with little ones running around. My needle minder has been a game changer. It's got two magnets that stick together to hold onto your project. Drop your needle on it when you aren't using it, and it stays there until you are ready to stitch again. Of course, you can always just push the needle through some of the excess fabric to keep it secure, but I like the magnet so much more.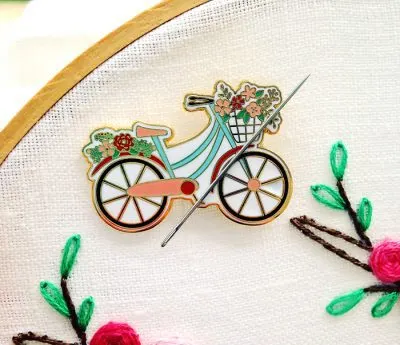 Needle Book – I like to have a place to keep all of my needles. My friend made me a really cute needle book out of felt and ribbon, and I love it. You can make your own or find really cute ones that other people made on Etsy.
Floss Organizers – Once you have a good amount of floss, you're going to want some way to organize all of it. If you use floss as it comes (on a skein), it can get tangled pretty easily. I like to wind my floss on floss bobbins to keep that from happening. From there you can put the bobbins on rings or put them in cases like this one. Just make sure you write the number of the color on each bobbin for future reference. I use an ultra fine tip Sharpie on the plastic ones.
Light Table – A light table like this one that I have helps with tracing patterns. You can also just tape the pattern in a sunny window, but that makes my arm really tired. A light table is much easier to use, so you'll want to get one if you find yourself tracing a lot of patterns using light. Read more in my post on how to trace an embroidery pattern.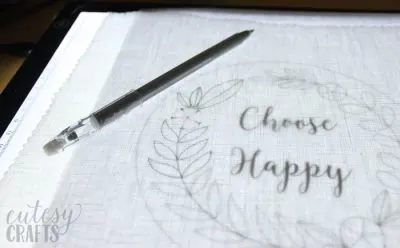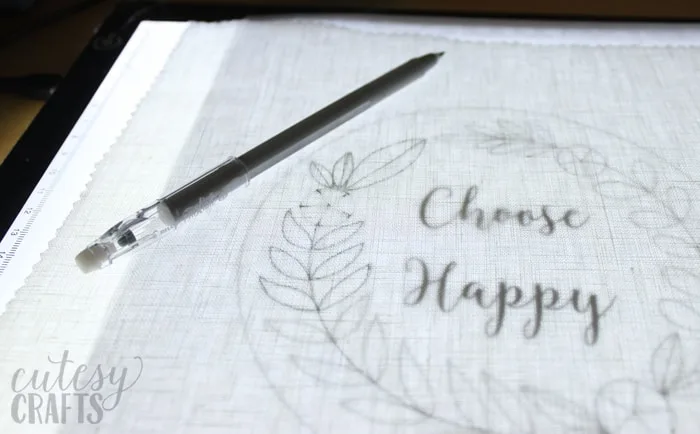 Lamp – The best lighting for embroidery is always going to be daylight. There are times when I like to work on my projects at night, and my lamp helps a little. Even with the really nice crafting floor lamp that I have, it's still pretty hard to see. I usually try to just wait it out, but the light helps in a pinch. I have a really "nice" light that I paid a lot of money for, but the base of it actually disintegrated after using it sparingly for only a year an a half. They were unwilling to do anything about it, so I can't recommend their products. Leave a comment if you have a light that you love, as I'm searching for a new one.
Embroidery Stand – I prefer to hold my embroidery hoop and just use my stand to hold my work steady for videos. If your hands get tired or shaky, you might find it helpful to use an embroidery stand.
Those are all of the hand embroidery supplies that I like to use. Let me know in the comments if you use something that makes embroidery easier for you.
Cutesy Crafts is a participant in the Amazon Services LLC Associates Program, an affiliate advertising program designed to provide a means for sites to earn advertising fees by advertising and linking to amazon.com.