I've always loved seeing other people's hand embroidery. It's like art with a needle. I knew that I wanted to create something special to go on the wall of my little girls' room, so I drew some scenes to make some embroidery hoop art patterns. Everything was hand-stitched by me onto 100% linen fabric. I absolutely love how they turned out, and I'm planning a whole room themed around them. Click here and here to see some other elements that I made for the room. If you need help with any of the stitches, I have video guides on my embroidery stitches guide page.
The best part about hand embroidery is always the little details! French knots make great curls, and for the braids, I used a cross stitch. The rainbow is a large running stitch and more french knots for the dandelions. Do you see the lazy daisy stitched bows and the ends of the braids? Details! 🙂 The two girls are supposed to represent my two daughters. Leah's hair isn't quite that red or that curly, but it still works.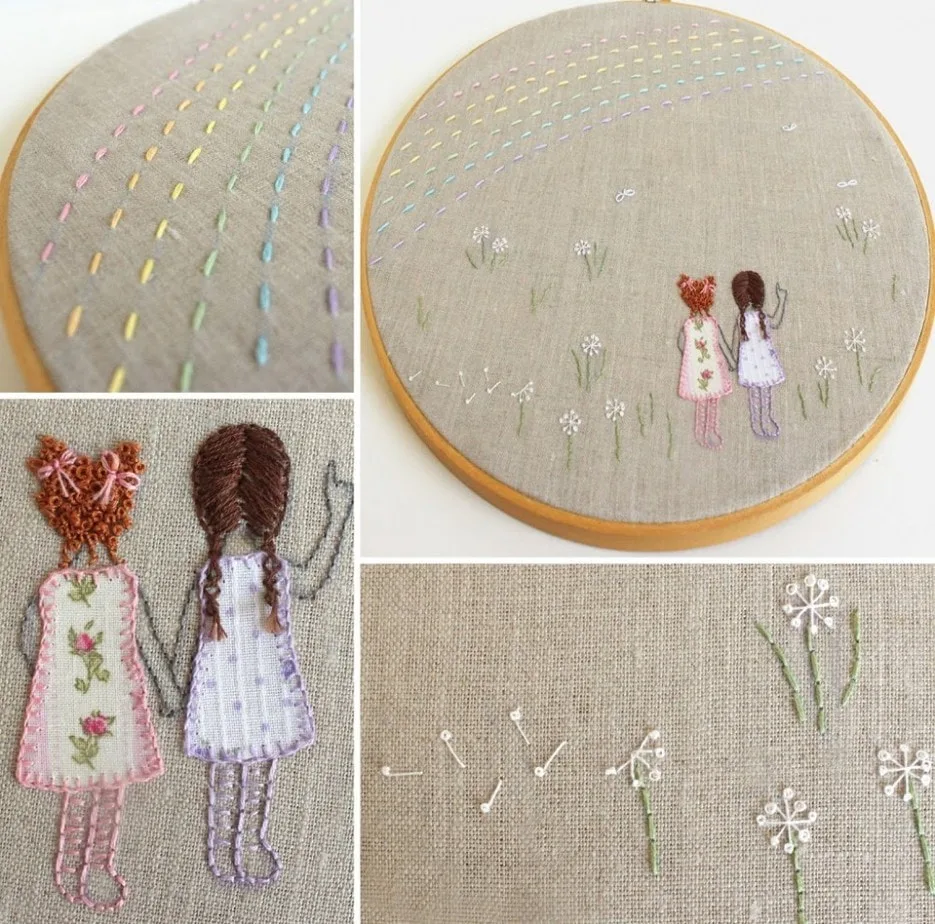 There is a different color fabric on the appliques to match each color in the rainbow. I went for muted colors instead of bright. Most of the fabrics were from my grandma's stash that she let me dig through. I tried to make it so all of them had a sort of vintage feel. The hot air balloon is stuffed a little to make it pop out, and the pinwheel is 3D also. The raindrops are lazy daisy stitches again because I think they are so cute!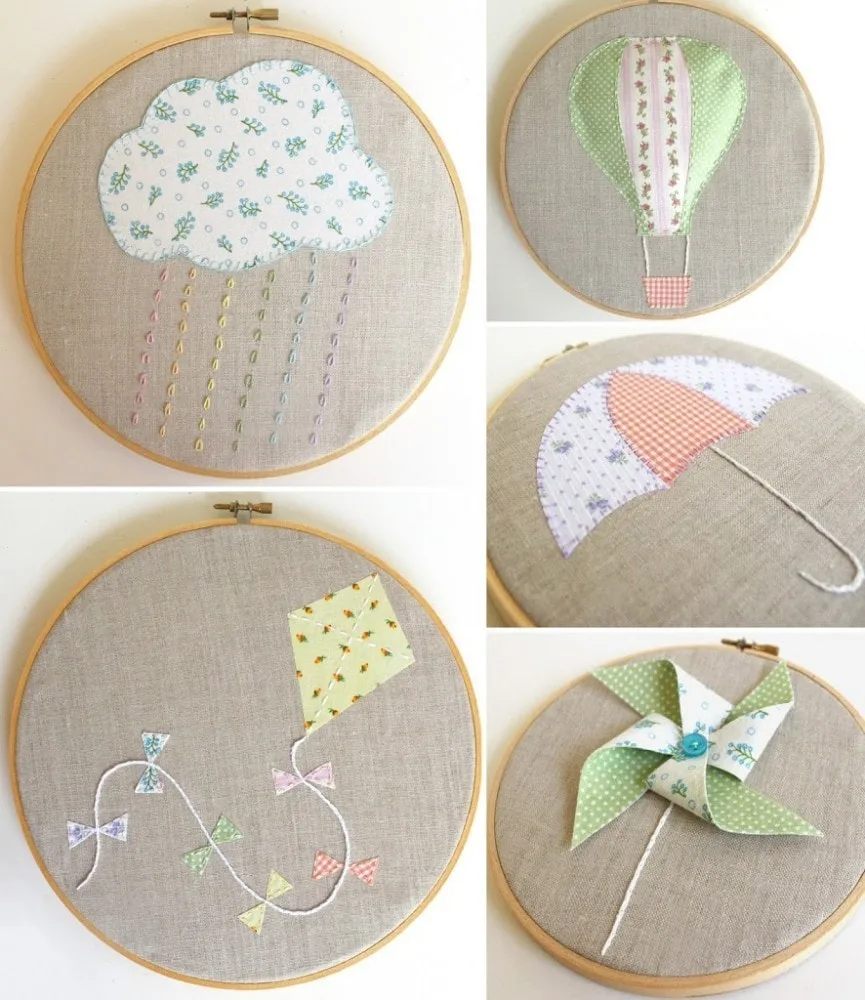 Supplies needed:
free embroidery patterns – The larger ones will need to be printed as a "poster" and taped together. The size of each hoop is noted on the pattern. The pattern is password protected, so you'll need to enter the super secret password first. To get the password, enter your information in the form below to sign up for my free email newsletter. You will get an email with the password. Already subscribed but forgot the password? No need to subscribe again! Every email newsletter I send has the password in it, so check the latest one.

linen fabric
fabric scraps in colors of the rainbow (or lighter colors like I chose)
embroidery floss in colors of the rainbow, white, hair colors, and dark gray
wooden embroidery hoops in the following sizes: 6″, 7″, two 8″, 9″, and 12″
a button
fiberfill (stuffing)
fusible, paper-backed interfacing (Wonder Under or Heat 'n Bond)
I didn't take any photos of the process, but I thought I would show you some larger photos of the final project so you can replicate them. For all of the appliques, I ironed fusible interfacing to the fabric, cut them out, peeled off the paper backing, and ironed them onto the linen. This is a standard applique process. To see my "How to Applique By Hand" video, go here. To transfer the embroidery designs, I like to use dressmaker's carbon paper. Just spritz with water when you are done and it should disappear. The background fabric is 100% linen.
There you go! Let me know if you have any questions. I am always happy to help!
You might also like these other projects: