I always thought it would be cool to have a clock that would tell you when it was time to do things. The kids are constantly asking me things like "When is it snack time?" or "Why do I have to do my homework now?" With this working DIY clock for kids that I created, they can see for themselves when it's time to do some of their daily activities. And because our schedule changes sometimes, all of the pieces are attached with velcro to be interchangeable.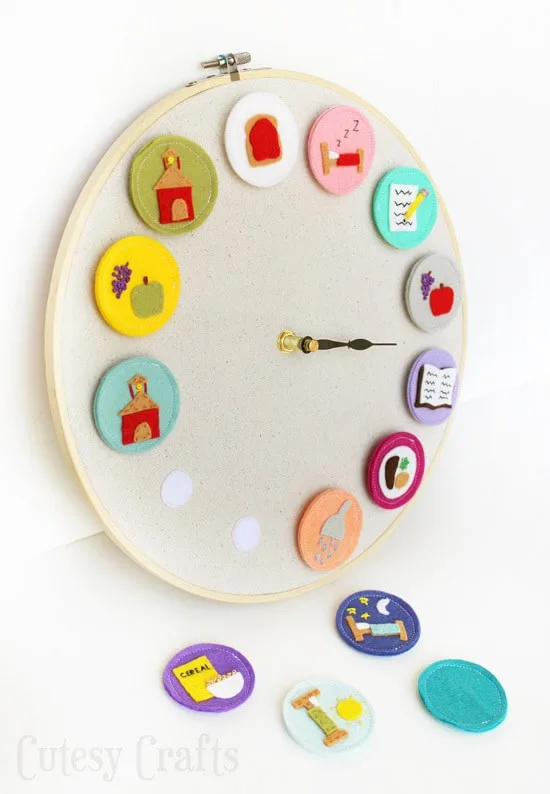 This is going to be perfect for getting us back on a schedule when school starts. Notice I've got two different school drop offs now. Let the craziness begin! I also made some blank circles for when there is nothing planned. You can make whatever you want. A soccer ball, ballet shoes, a tree at the park, etc.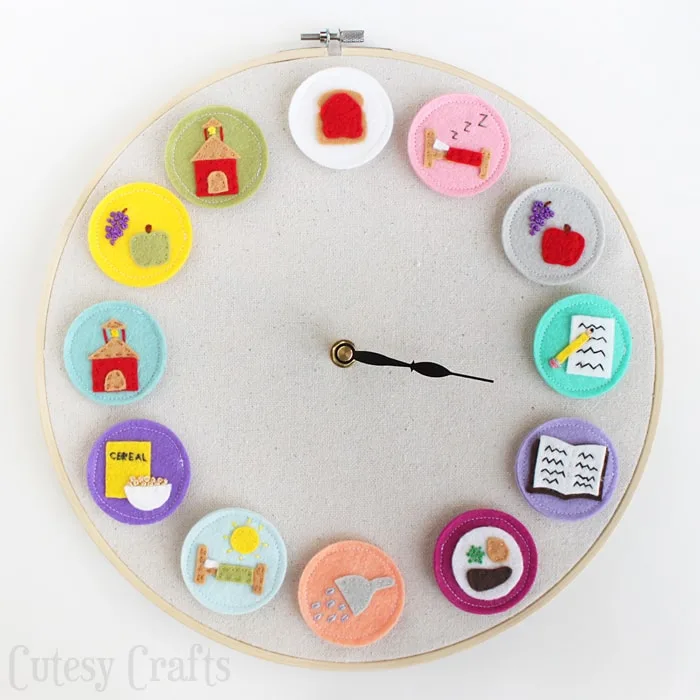 Supplies:
canvas drop cloth or other thick fabric
disappearing pen or pencil
12-inch embroidery hoop
clock kit (from the craft store)
sewable velcro cut into circles (I like to use a penny as a template)
felt (these beautiful colors are all National Nonwovens felt that I love)
embroidery floss
sewing machine and thread
cardboard
glue gun
I used a piece of a canvas drop cloth to make the clock. You can just buy a piece of canvas fabric or duck cloth. Trace the innermost part of your embroidery hoop with your disappearing ink pen or washable pencil. Measure out equal parts like I did below. I used the 60° angles on my ruler to make the marks.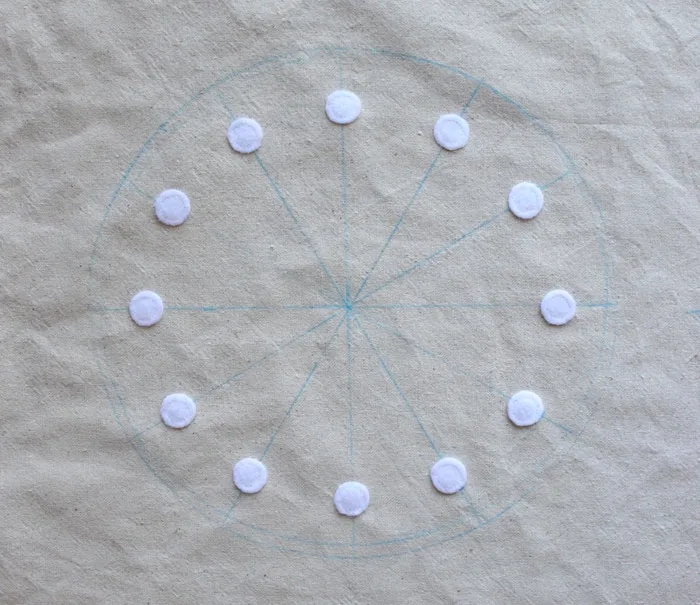 Sew a piece of velcro (soft side) onto each line, one inch away from the side of the circle.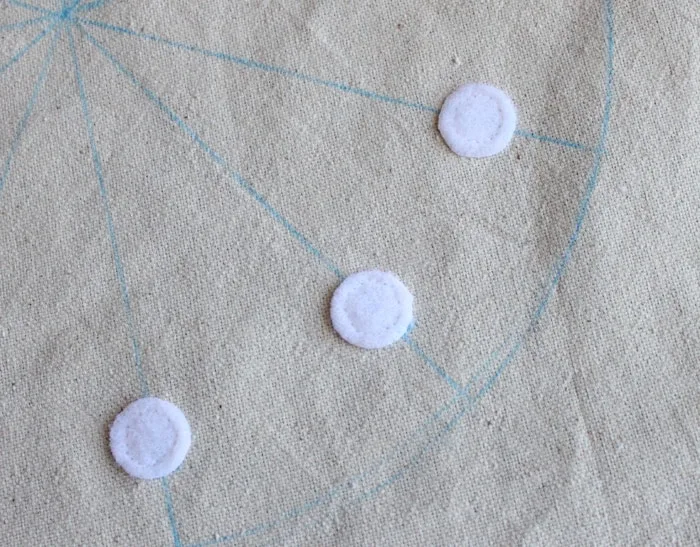 Spritz the fabric with water to get rid of the lines. If your lines are really stubborn, you can even throw it in the wash on a gentle cycle and lay flat to dry. Put the fabric in your embroidery hoop and make sure to get it really tight and stretched across the frame.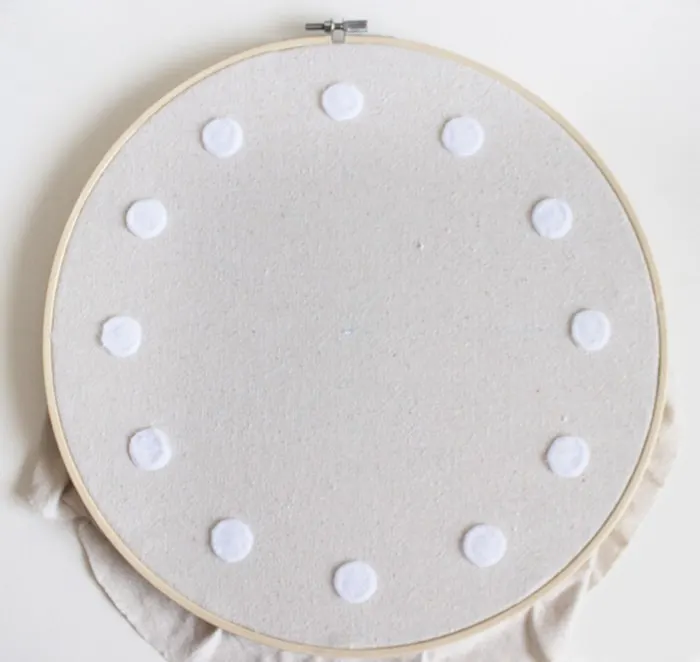 Cut a piece of cardboard to fit inside the hoop. Turn the hoop over and tuck the edges of your fabric under the cardboard. Use some hot glue to secure everything.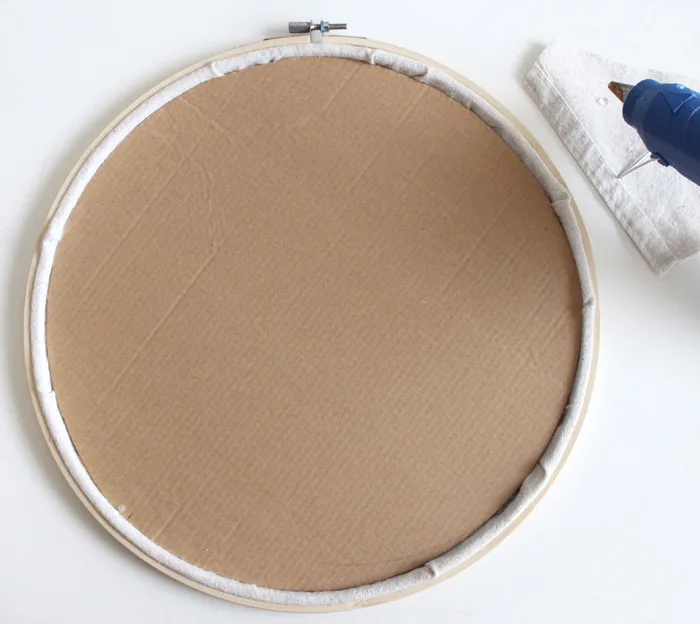 The clock kit that I bought looked like this. I broke the pin off the second hand and left the minute hand out altogether. That way there is only one hand for the kids to look at on the clock. Less confusing for them.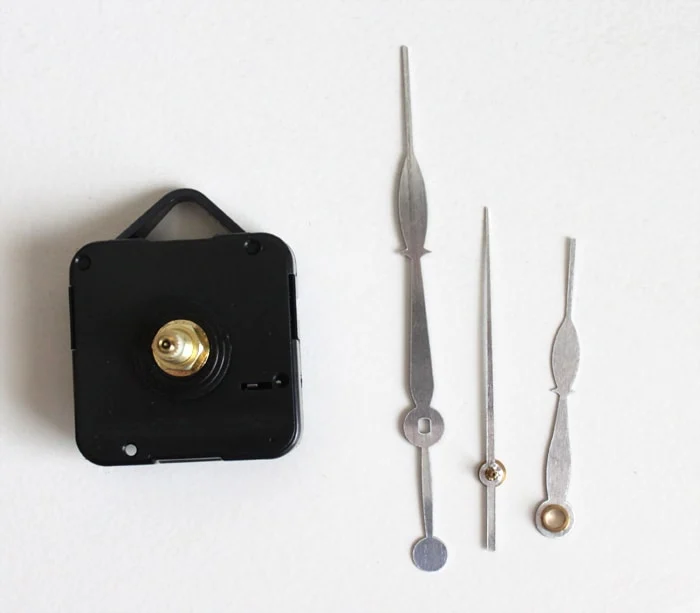 Poke a large hole through the cardboard and fabric, and follow the instructions on you clock kit to put it together.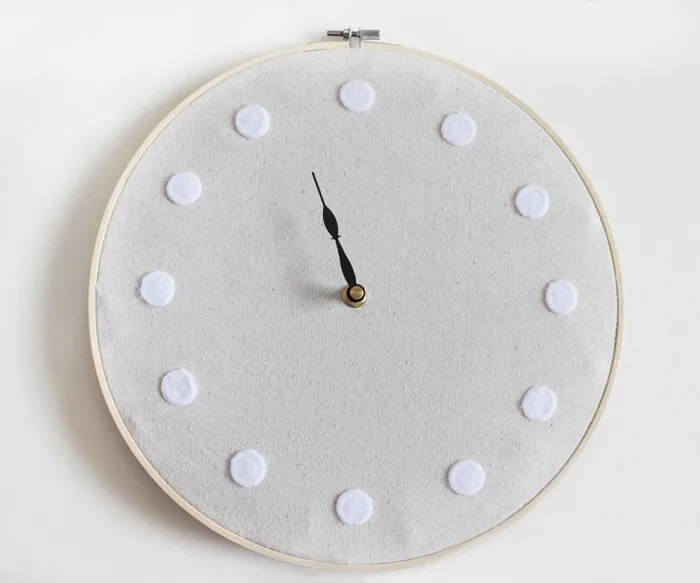 Cut two circles of felt for each of the clock icons that you want to make. Embroider and applique your design onto one circle, and sew a circle of the scratchy side of velcro onto the other. If you need help with any of the stitches, I have video guides on my embroidery stitches guide page.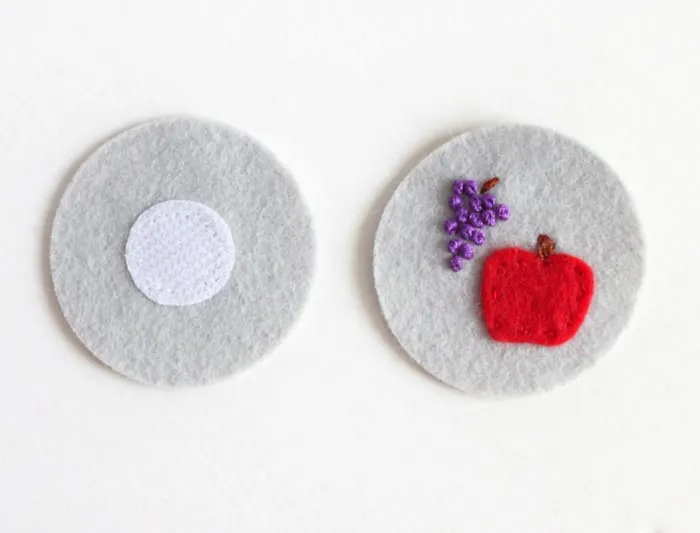 Sew the two pieces together with your sewing machine or by hand.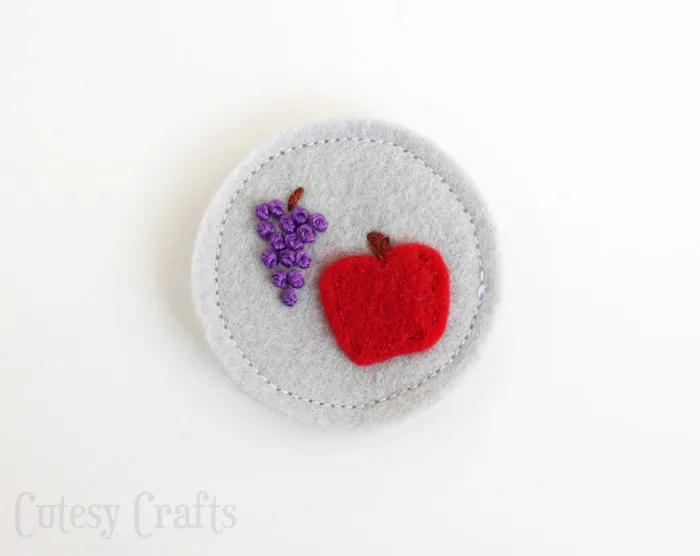 The little beds are for wake up, nap and bed times.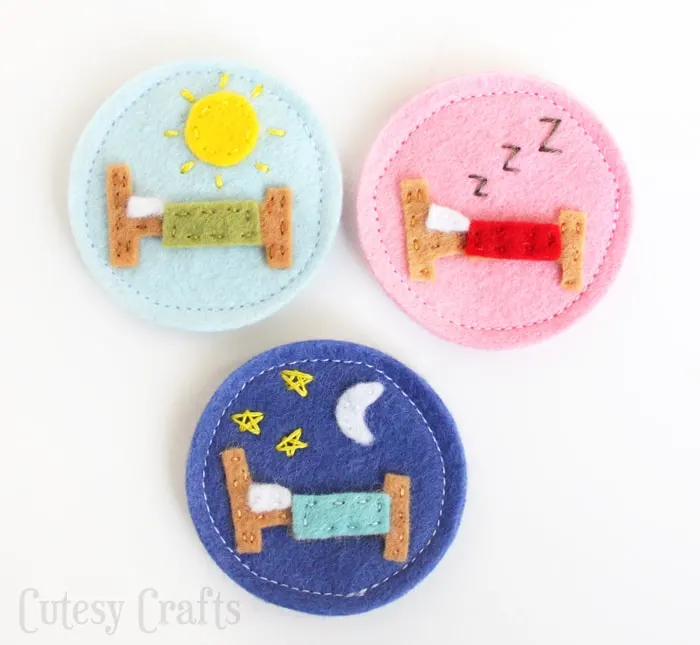 I think my favorite is the cereal bowl with the little french knots. I love french knots!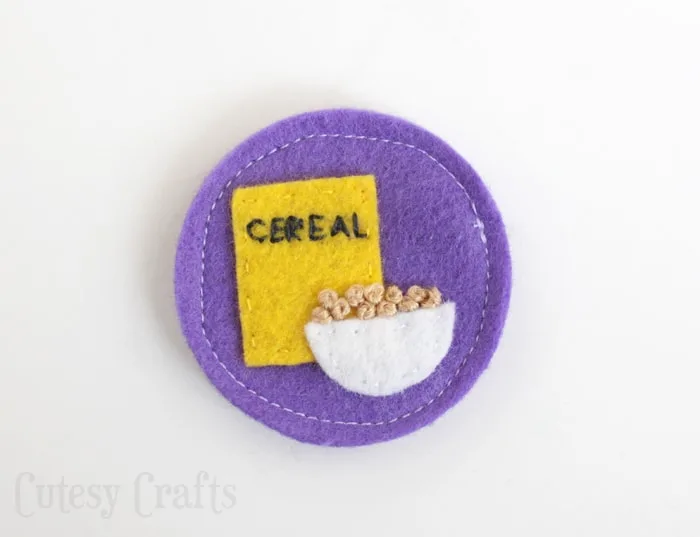 And the shower head with lazy daisy stitch water drops.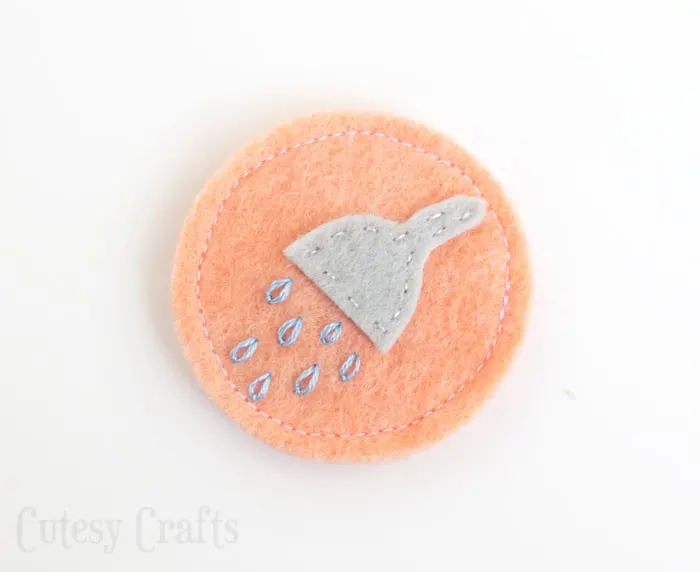 Here are some more close-ups so you can see the embroidery. The bell on the school is a french knot and a straight stitch and the tip and eraser on the pencil are both stitched. The peas are also french knots.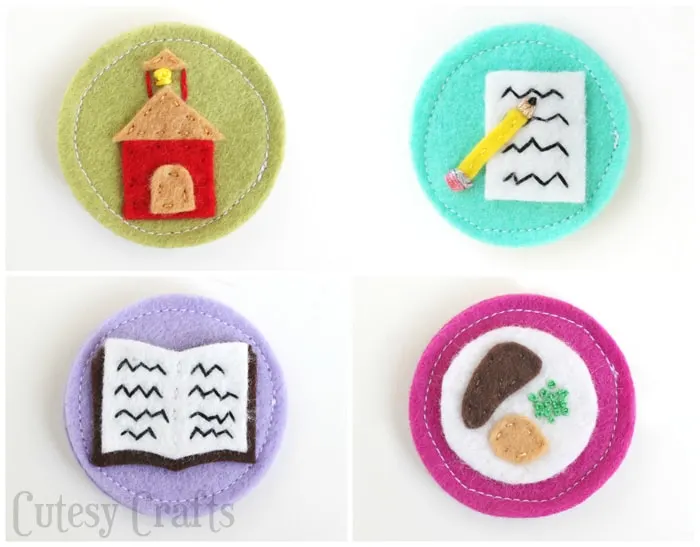 My kids LOVE it! They are amazed that I could make a clock out of fabric that really works! They have already stopped asking me about meal times as often, and when they do, I just tell them to look at the clock.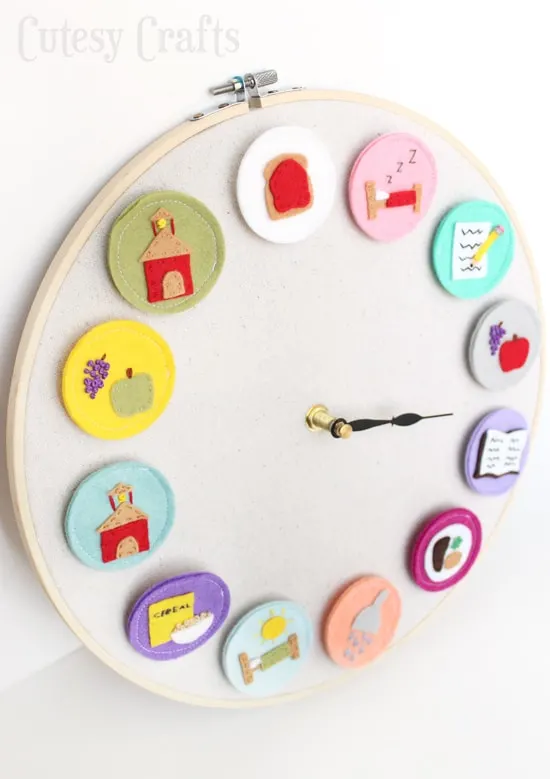 And here are a couple more great back-to-school ideas from my blogging buddies!
Glittery Scissors Upgrade Plus Teacher Gift Printable by Persia Lou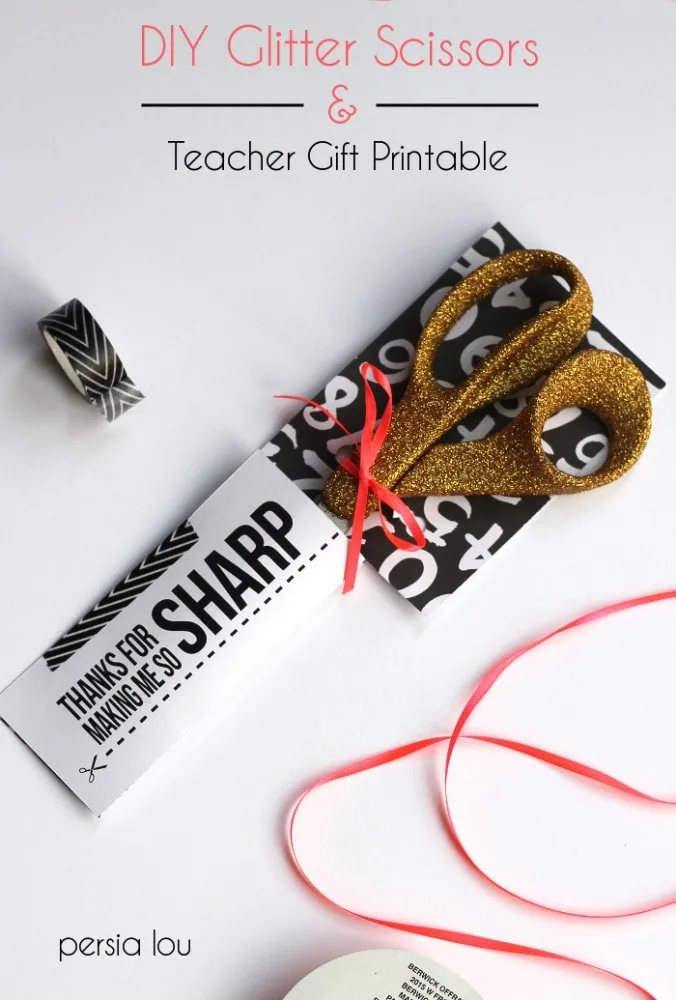 Lunchbox Squeezable Chia Pouches by Homemade Ginger