The song "The Rainbow Connection" is special to us for lots of reasons, but mainly because it's the song that I sing them to sleep with when they are babies. I love the lyrics because they are all about wishing, finding the end of rainbows, and childhood wonder. I decided to make some DIY rainbow nursery art with my kids to hang in their room. The art that we made has the lyrics of the first verse.
It looks great next to the felt hot air balloons that I made a couple weeks ago, and it's going in the same room as my embroidery hoop art.
So you are probably wondering, how is this a "kids can do" project? They made this, I promise, with just a little bit of help from mommy and some vinyl lettering. First thing I did was take a 22″ x 28″ canvas and mark out equal sections. The kids got to paint a rainbow with acrylic paint. I told the kids to stop each color somewhere around the mark. It wasn't supposed to be perfect, so we didn't even wash the brushes between colors. Funny, they had no problem that the red in the rainbow was actually pink, but they were appalled that there was no indigo in the rainbow.
After you have placed all of the vinyl on your canvas, you want to seal the edges to prevent paint leakage. Do this by painting a light coat of paint over all of the vinyl with the color that that is underneath it. That way if any paint leaks under the edges, it's the same color that's already there. Don't worry if some parts of the vinyl are on more than one color, just pick the closest one. It's not really going to show.
Once that is all dry, let the kids go at it again with white paint. "Yes, kids, it's ok to paint over all of it!"
Again, it's not supposed to be perfect. Blotchy and uneven is good! You want the color to peek through a little bit.
Let that dry and then comes the part that was fun for me! Pick and peel off the vinyl! Anyone else like to pick at things? It helps to use an x-acto knife to pull up the edges. The kids, especially Evan, liked helping with this part too.
I just LOVE the way some of the letters transition from one color to the next and how the background looks like a rainbow peeking through the clouds! You could, of course, do this project with different lyrics ("Somewhere Over the Rainbow" would be cute).
That's the end of the tutorial, but thought you might like to know the reason behind the song. If you are unfamiliar with it, it's a song that Kermit sings in The Muppet Movie. Ok, I know what you are thinking. Muppets? Really? It's actually a pretty good song. Go watch it on YouTube or something. When Joe and I were dating, he sang it to me in a Kermit voice. So hot right? Haha… we were are so weird! Anyway, that was the night that we first kissed. Don't worry, it wasn't because of the song… it was because I love Kermit… TOTALLY joking!!! Kermit's just all right. 🙂 Anyway, I made the song my ringtone for him, and it quickly became "our" song.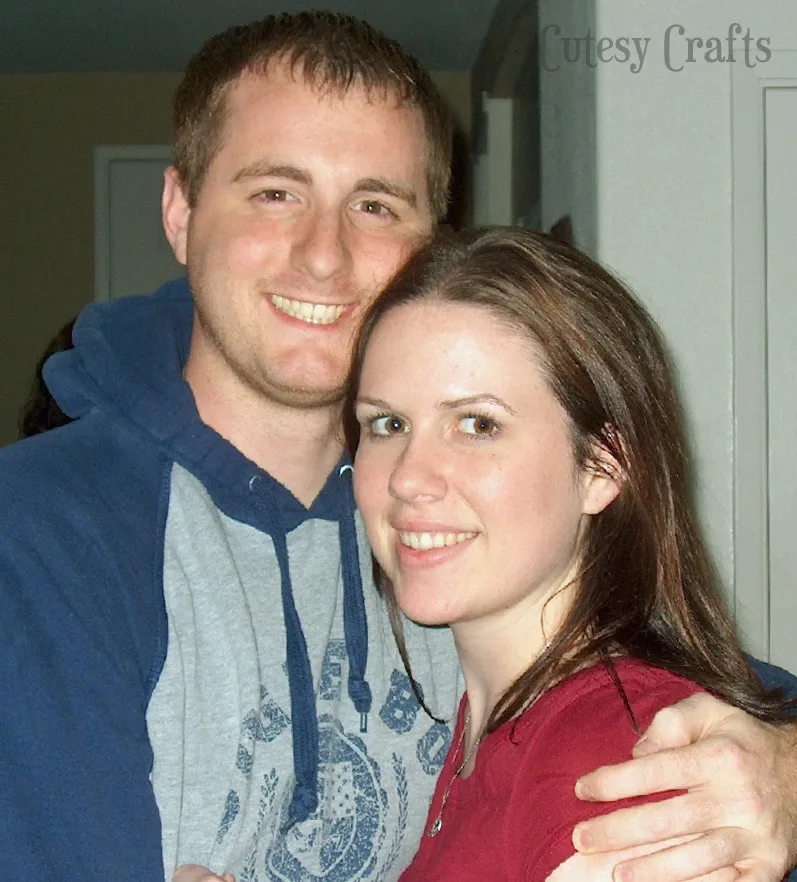 Look how young and skinny we were!
We danced to the Sarah McLachlan version of it at our wedding. Yes, weird again, but at least it wasn't the Kermit version!
Fast forward to a couple years later when our first child, Evan, was a baby. He HATED being in his car seat, but for some reason, when we played "The Rainbow Connection," he would stop crying. For this reason, it became the lullaby that I used to sing him to sleep.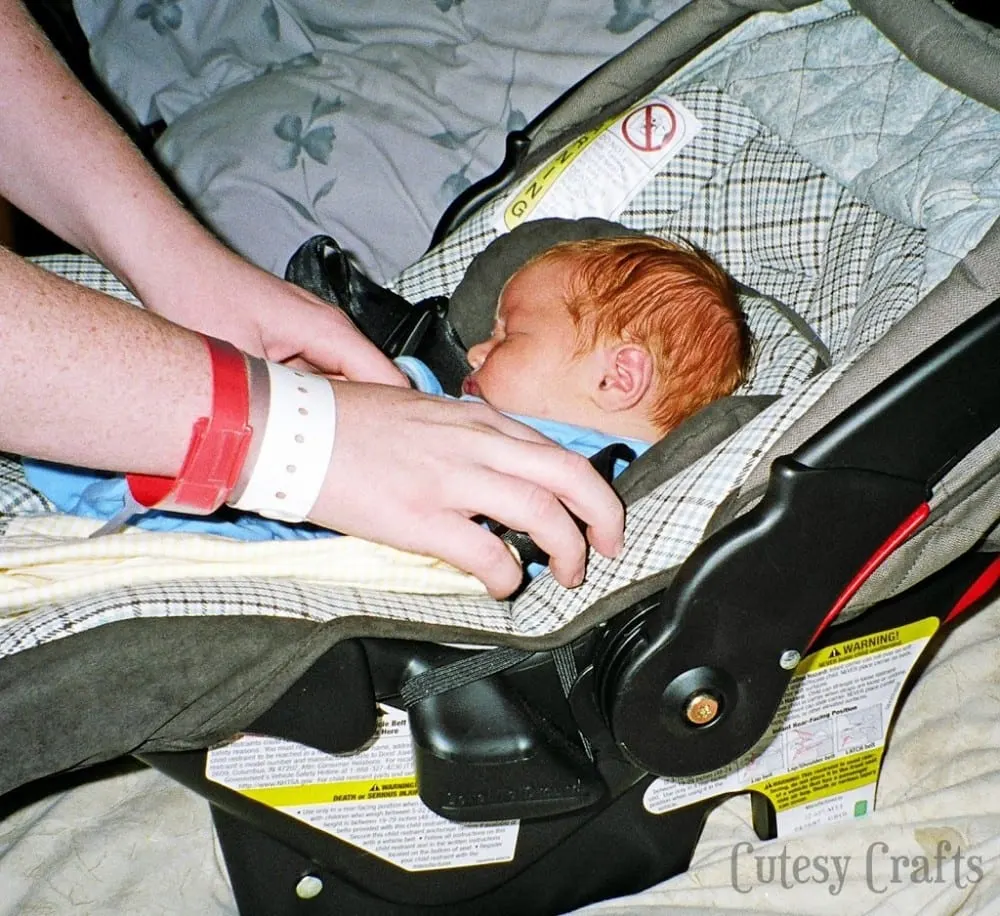 This is when we brought him home from the hospital. So little!
I sang it to Audrey as a baby, and I sing it to Leah now. It will always be a special song for us.
Cutesy Crafts is a participant in the Amazon Services LLC Associates Program, an affiliate advertising program designed to provide a means for sites to earn advertising fees by advertising and linking to amazon.com. This post contains affiliate links.