Our women's group at church just participated in a little service project for the local children's home. When the kids leave the children's home, they get a drawstring bag with a blanket, a stuffed animal, a book, and a hygiene kit. We got together about a week ago to sew the bags and some blankets. One of the women from church makes and sells fleece blankets, so she donated a huge bag of scraps for us to use. My challenge: figure out how to make fleece blankets from just the scraps. So if you've got a bunch of fleece scraps laying around, here's something that you can do with it! Also take a look at these easy homemade blanket tutorials.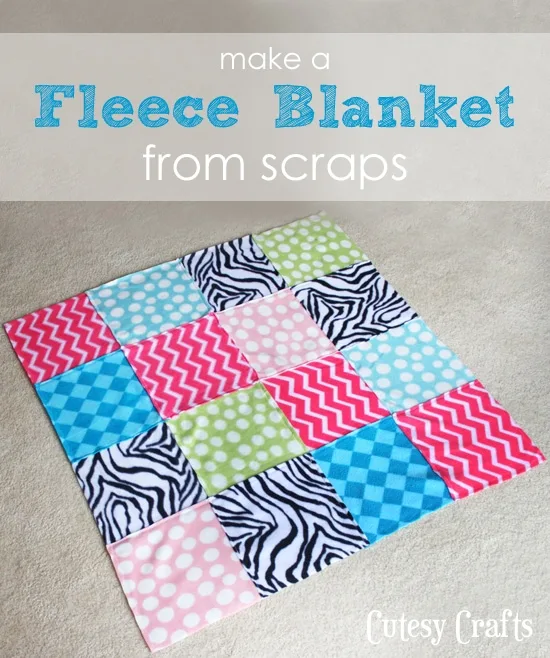 Cut the fleece into 16 10 x 10 inch squares. You can make them any size you want, you'll just end up with a different size blanket or need to cut more or less squares. This makes a blanket that would be a good size for a baby or toddler. Just cut more if you want it to be bigger. Lay the squares out in an arrangement that looks nice. I'm a little OCD, so I always try to make a pattern. I've already done some of the pinning here, but you get the idea.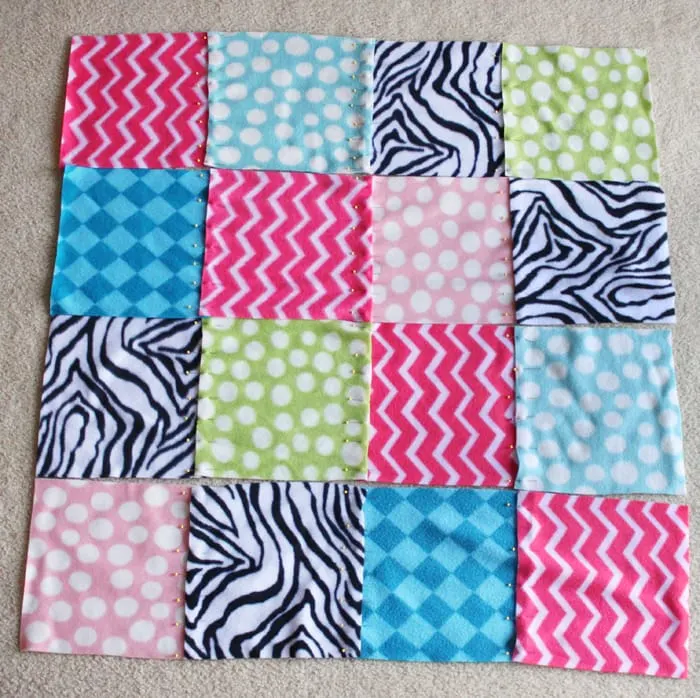 We didn't have any pieces that were big enough for a backing, and I didn't want to have to piece together a front AND back of each blanket. I could have sewn the pieces together like to you would a quilt, but then you would have a pretty front and an ugly back. Instead, I decided to overlap the pieces about 1/2-inch and zig-zag stitch down the middle. Keep reading to see what I mean.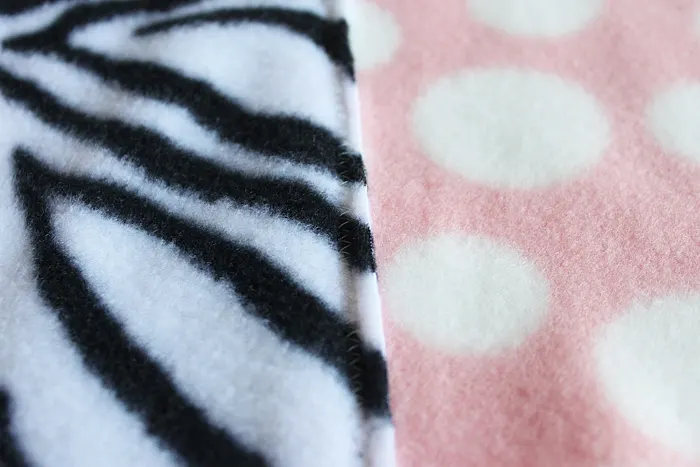 Start by pinning and sewing each of the rows together first.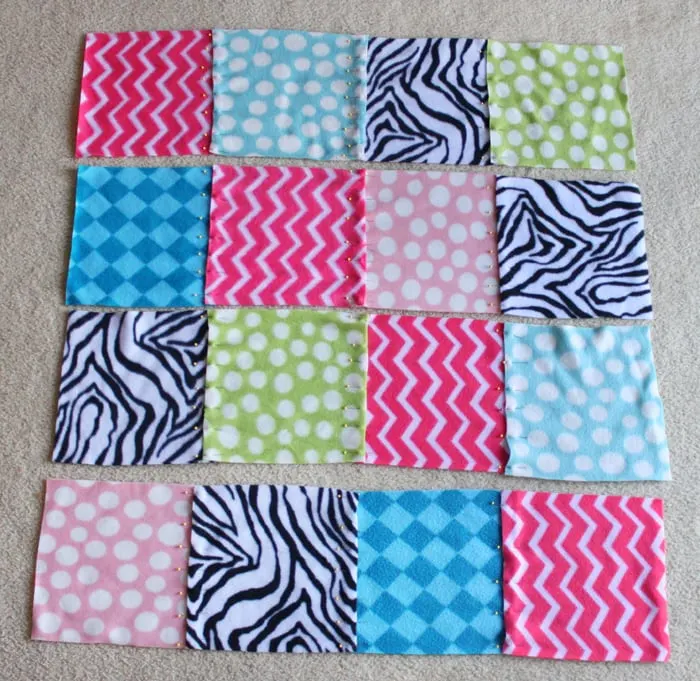 I did the overlapping in a pattern so that one square was on the bottom, and the next square was on top. Take a look at the photos to see what I mean. I didn't really even measure. Just try to be consistent and overlap about 1/2-inch each time.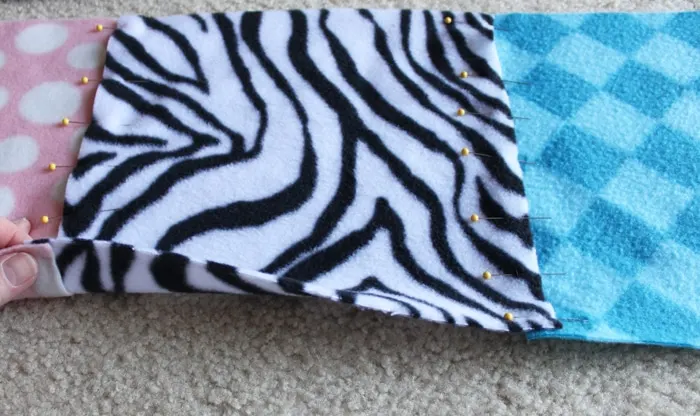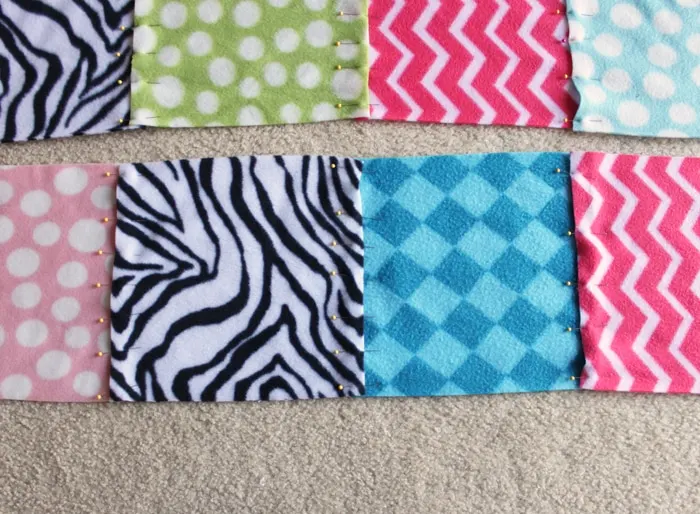 I find it very helpful to use a walking presser foot if you have one. It helps the thick, stretchy fabric get through the machine more evenly. After all of the rows are done, you can pin and sew the rows to each other.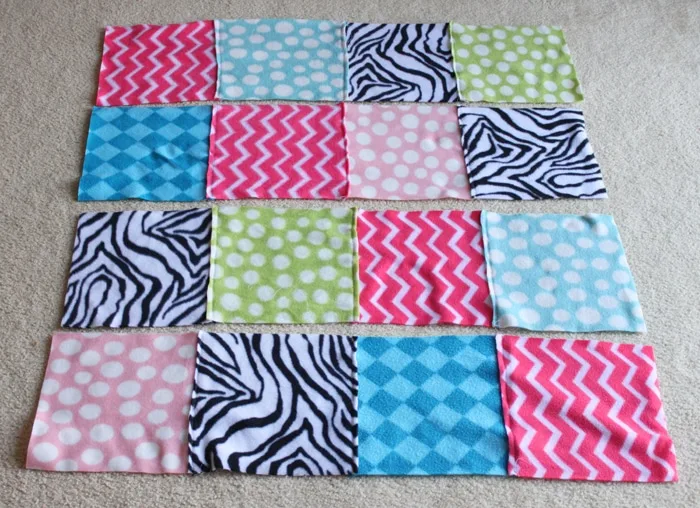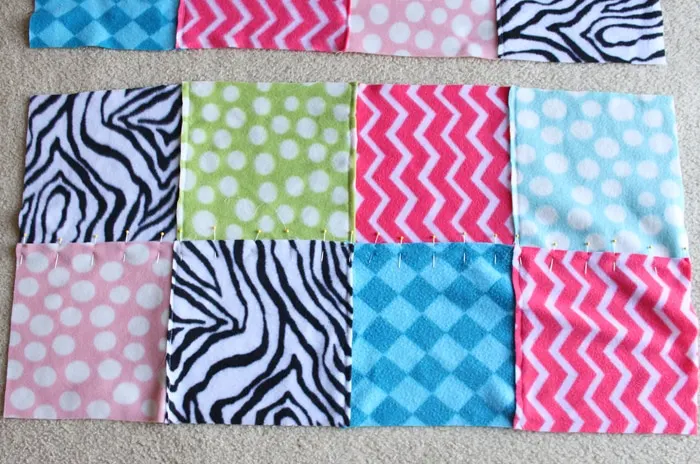 Make sure that the seams from all of the squares line up with each other. The nice thing about the fleece being stretchy is that you can make the seams line up by giving the fabric a little tug before pinning. Again, just a zig-zag stitch here, and I used the same pattern of overlapping that I did with the squares.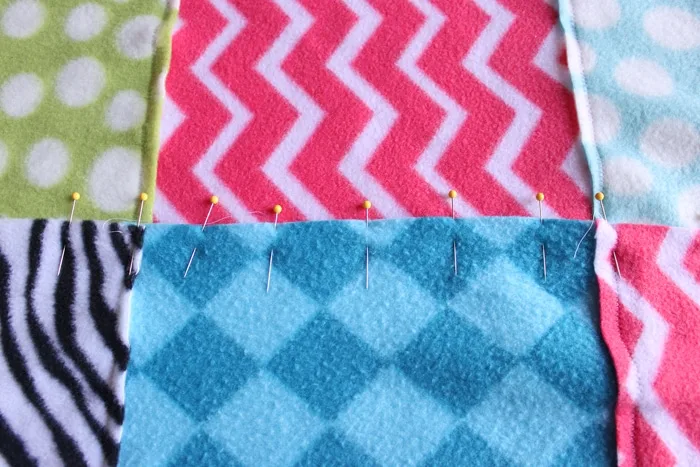 When all of the rows are sewn together, you've got your blanket. The edges seemed to be lacking something, so I went around the outside with this curvy, decorative stitch. You could also put some kind of binding on it. Fleece doesn't fray, so you could just leave it as-is if you want.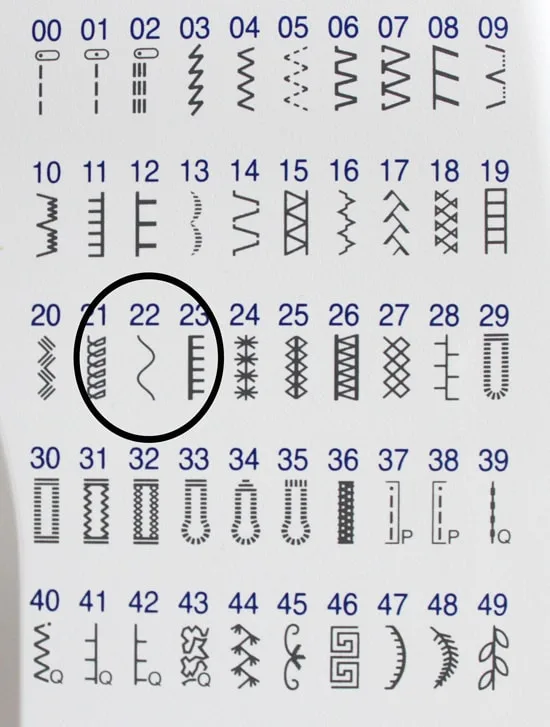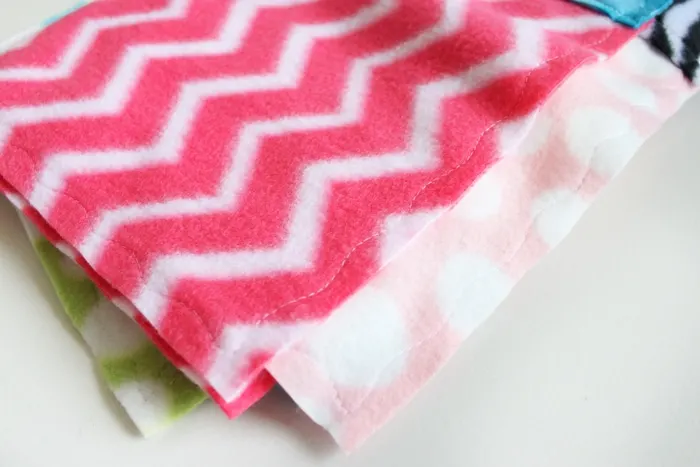 I was a little worried how my "method" would work out, but I think the blankets we made turned out really cute. What do you think?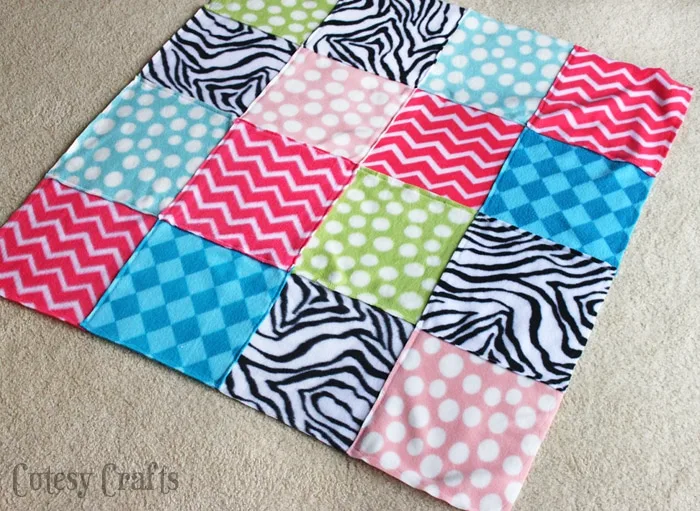 Need more things to makewith fleece scraps? Check out this post: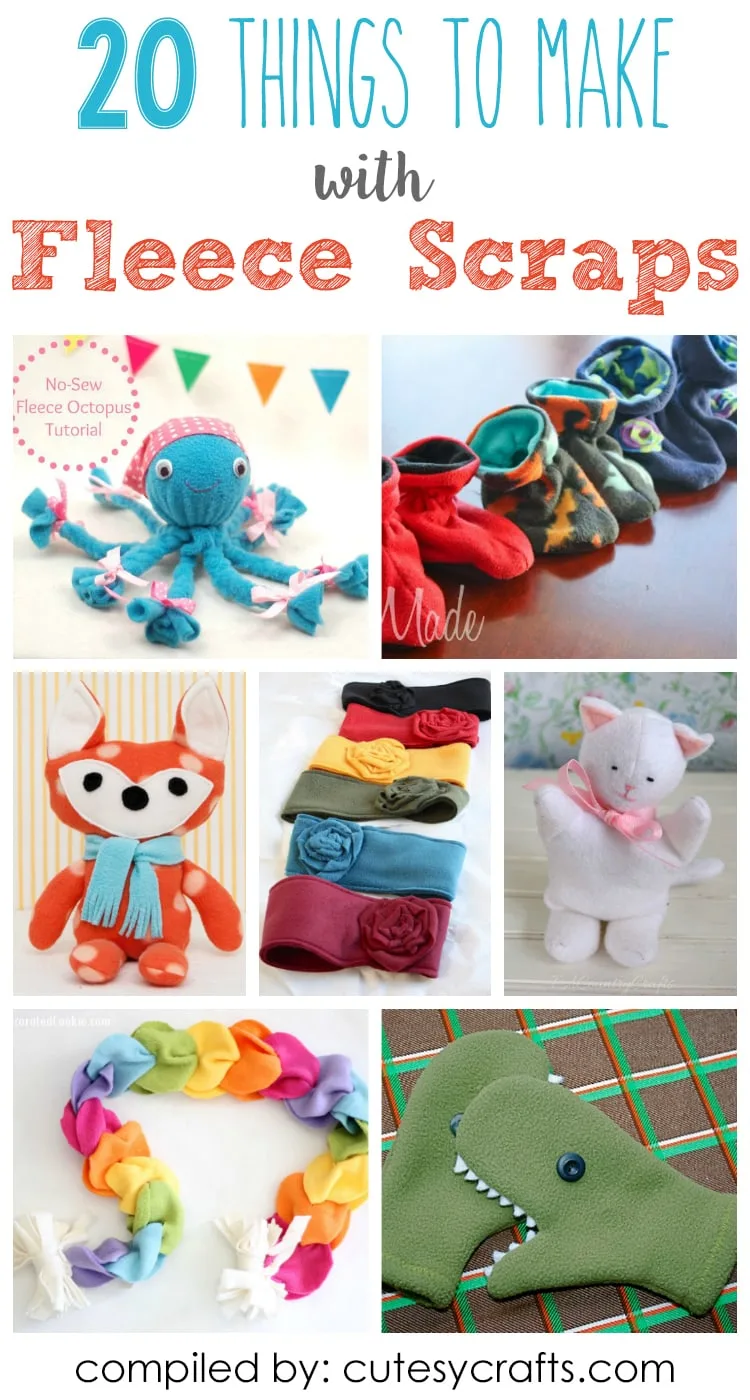 Also learn how to make no-sew fleece blankets with a braided edge.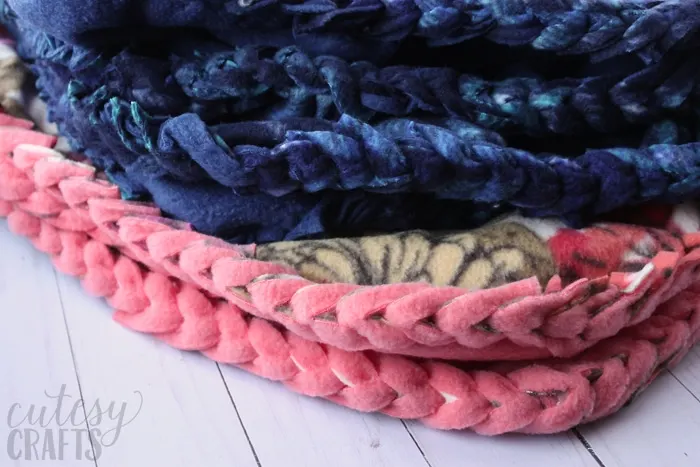 Also take a look at How to Make a Blanket for a Baby.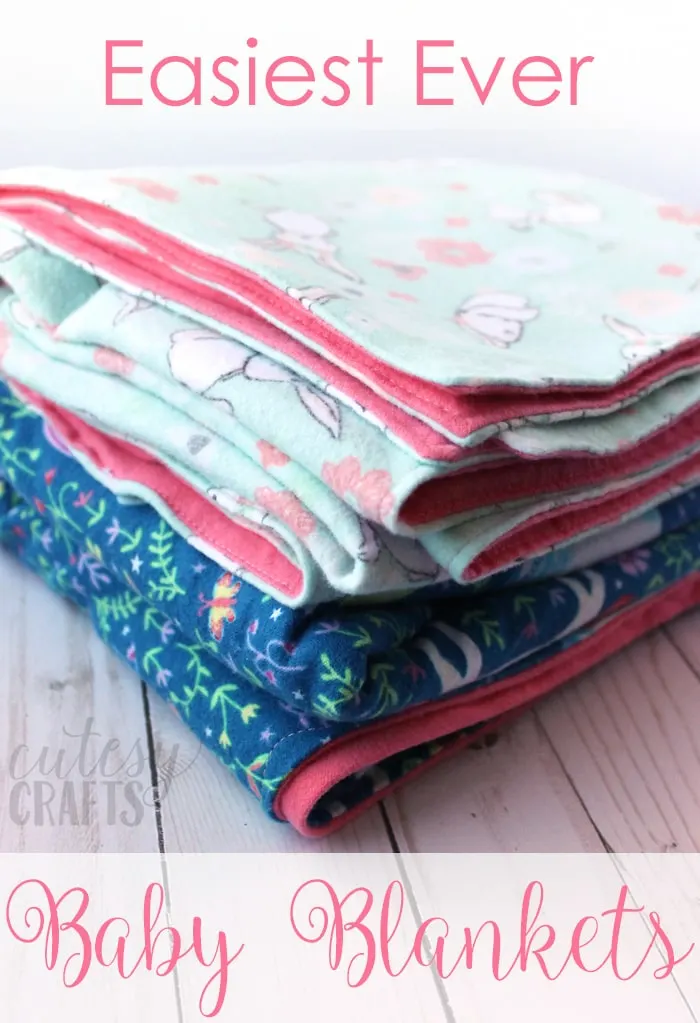 You might also enjoy these other projects from Cutesy Crafts: