This is sponsored post for DMC.  All opinions are my own.
I just finished another hand embroidery design that I'm sharing with you today.  I used the long and short stitch to make these pretty butterflies.  Not only did I get to try out a new stitch for this project, but I also got to try a new stitchable mesh fabric from DMC.  Make sure you keep reading because, I've got a blog hop and a giveaway today too!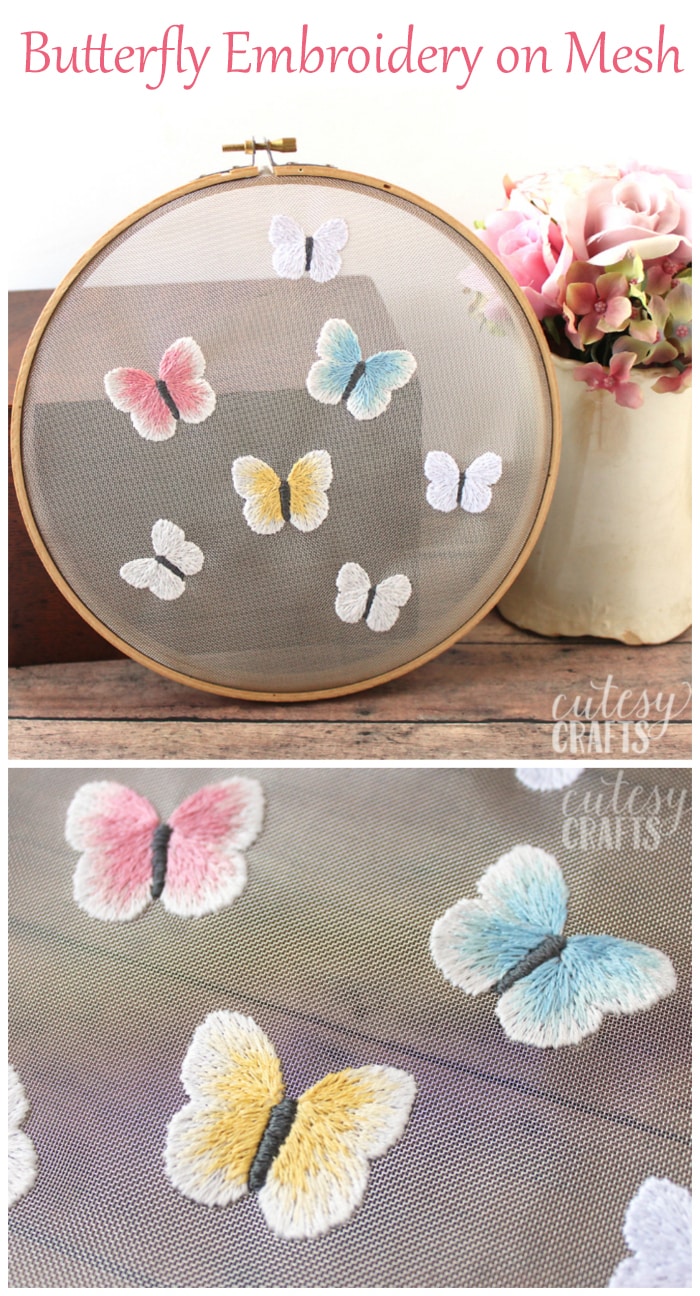 I love how the see through mesh makes it look like the butterflies are fluttering around.  I plan on hanging this hoop in my girls' bedroom, which will go perfectly with their decor.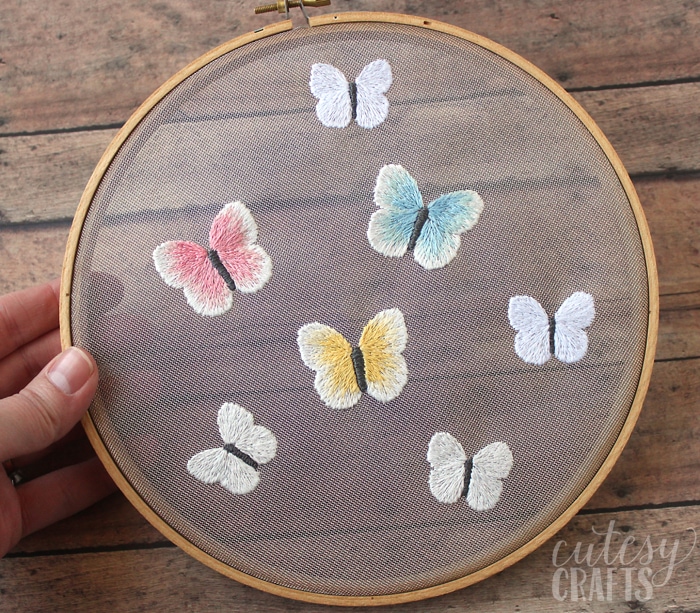 To make this butterfly embroidery hoop, you'll need:
thin permament marker
8 inch embroidery hoop
DMC Embroidery Floss : BLANC, 535, 3325, 828, 774, 3823, 776 and 3713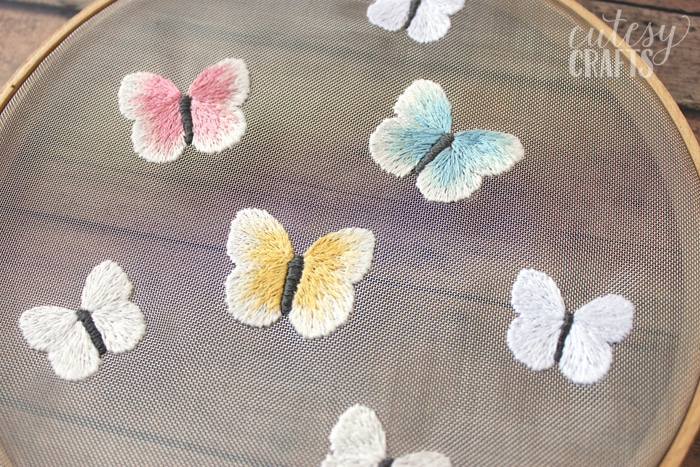 To transfer the design, I used a very thin permanent marker.  Just put the mesh over your pattern, and trace.  The dotted lines in the middle of the wings are guidelines for your long and short stitch.  Start by outlining the entire shape with a split stitch and then do a long and short stitch to fill it in.  For the colorful butterflies, do a single row of white, a single row of the lighter color, and then fill the rest of the wing in with the darker color.  Stitch over your split stitch to hide it.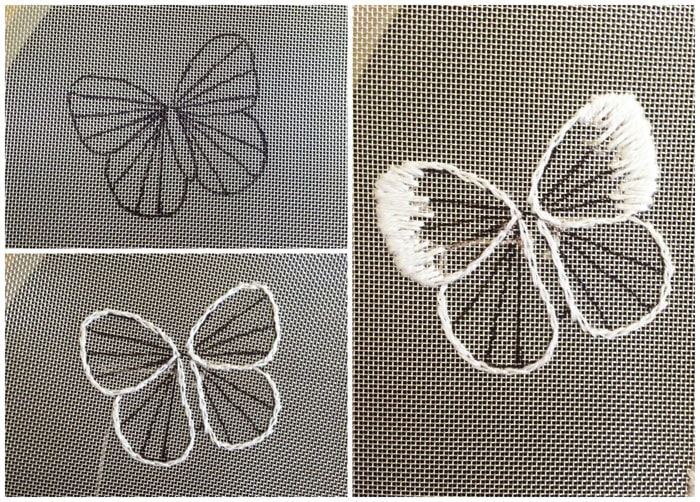 The center of each butterfly is a satin stitch that I also outlined in a split stitch before filling it in.  You can't be very precise with your stitches since there is sort of a larger weave, but the butterflies still turned out beautiful!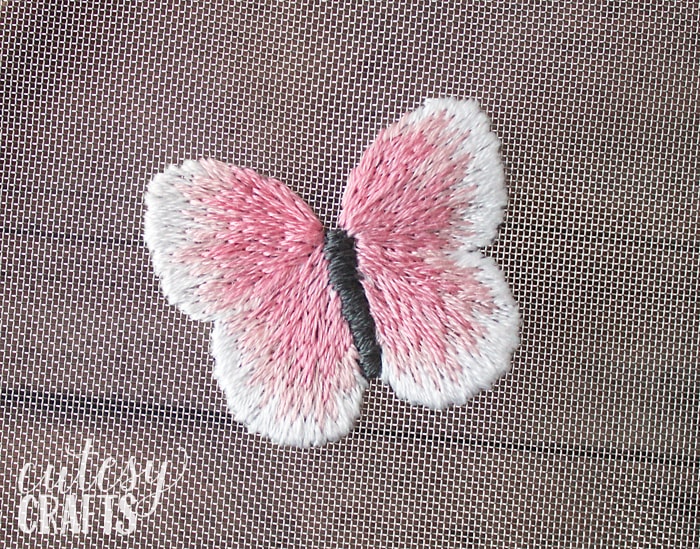 I'm excited to try out more things with the mesh fabric!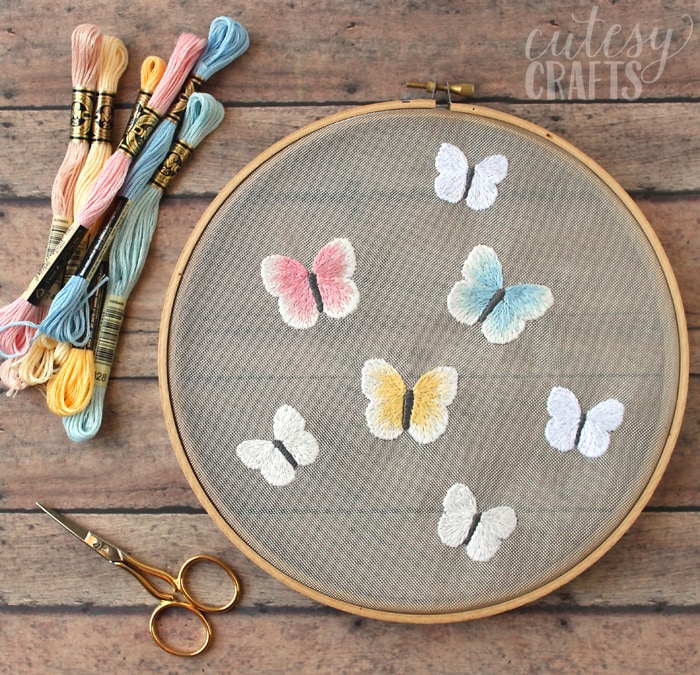 If you love embroidery as much as I do, make sure to check out all of these blogs for new patterns and ideas.  Everyone will be sharing projects using DMC's new cork, mesh and cuff products.  Each blogger is also having their own giveaway, so make sure to stop by all of them!
Monday July 24:
Tuesday July 25:
Wednesday July 26:
Thursday July 27:
For more tips and information about working with DMC's stitchable mesh fabric, be sure to watch this video:
And finally, I've got a fabulous GIVEAWAY for you today! DMC is giving away a $50 Prize Pack which includes cork, mesh, cuffs, floss and accessories.  To enter, please use the Rafflecopter widget below.  Must be 18 years or older to enter.  Contest ends 8/4/17.