I wanted to try hand embroidery on some dark blue fabric, so I went out and got some blue linen to experiment with. The result was this pretty little floral embroidery pattern with woven wheel flowers (my favorite). I also wanted to test out using color variations floss for the flowers, and I am so happy with the outcome! This is a pretty easy one to stitch up, and it gave me lots of practice with my fishbone stitch. Anyone else have trouble with that one? I'll get it down one of these days. Still looks good though, so I guess it doesn't matter. If you need help with any of the stitches, I have video guides on my embroidery stitches guide page.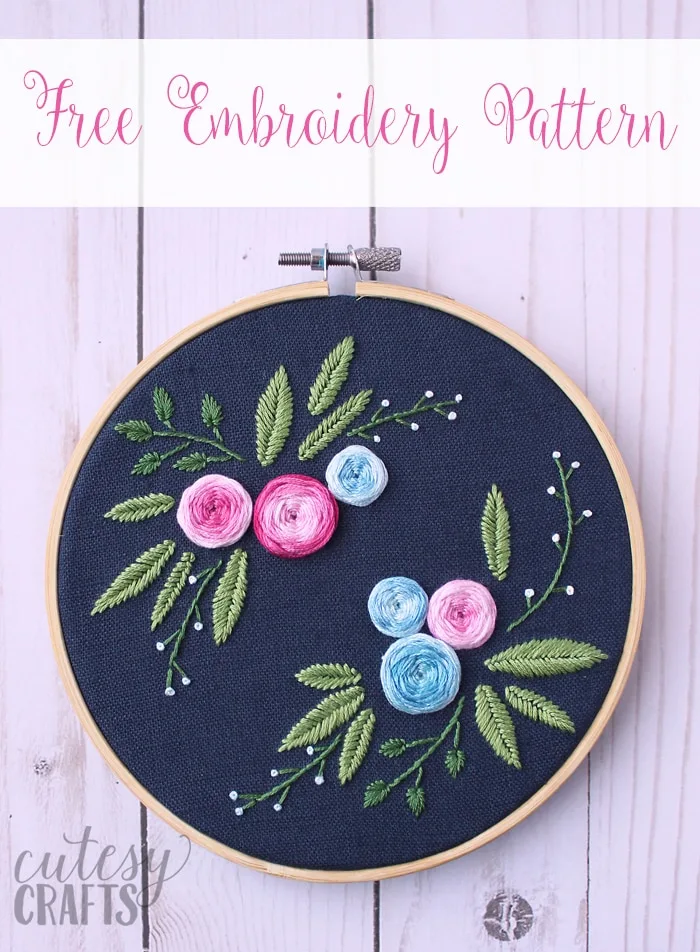 (This post may contain affiliate links, which means I may receive a commission, at no extra cost to you, if you click a link and purchase something that I have recommended.)
To stitch this floral embroidery pattern, you'll need:
Free floral embroidery pattern. (Fill out the form at the end of this post to get it.)
6-inch embroidery hoop
dark blue 100% linen fabric
Embroidery Floss – DMC 48, 67, 989, and 987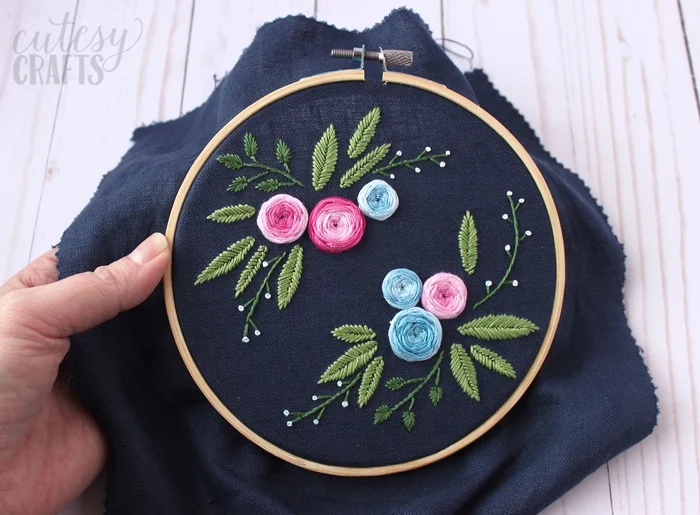 When transferring onto dark fabrics, you'll need to use white carbon paper. All you do is place the carbon paper over the fabric, place the pattern on top of that, and trace the pattern firmly with a pencil. The design will transfer onto your fabric.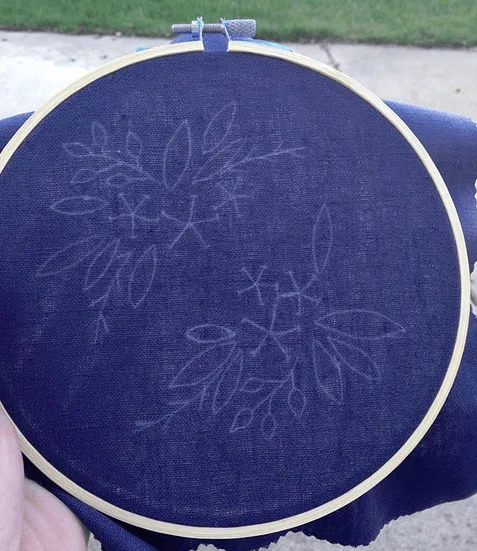 This entire hoop is made with only four colors. I absolutely love how using different parts of the color variations thread produced different styles of flowers. I think my favorite is the pink one that started light in the middle and faded to darker pink.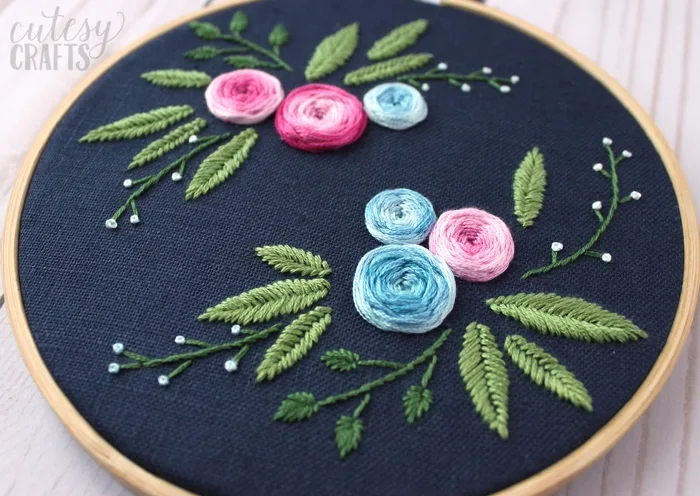 I labeled the small leaves as a satin stitch, but they are somewhere between a satin stitch and a fishbone stitch. I wasn't really sure what to call them. You start out just like you are doing a fishbone stitch, but the first stitch from the top is really long. It should come down almost to the base of the leaf. You come in from each side, like a fishbone stitch, but you bring the needle down in the same hole a few times at the base. If that doesn't make sense, watch this video on my YouTube channel.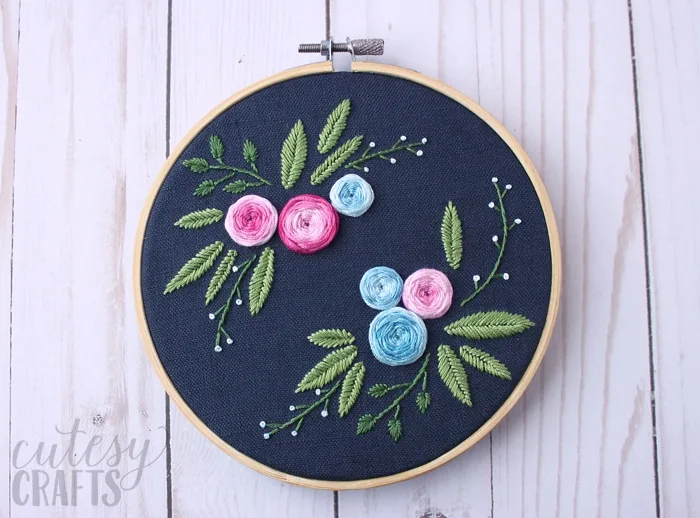 I'm planning on displaying all of my hoops on a wall in my craft room, and this one will make a really cute addition.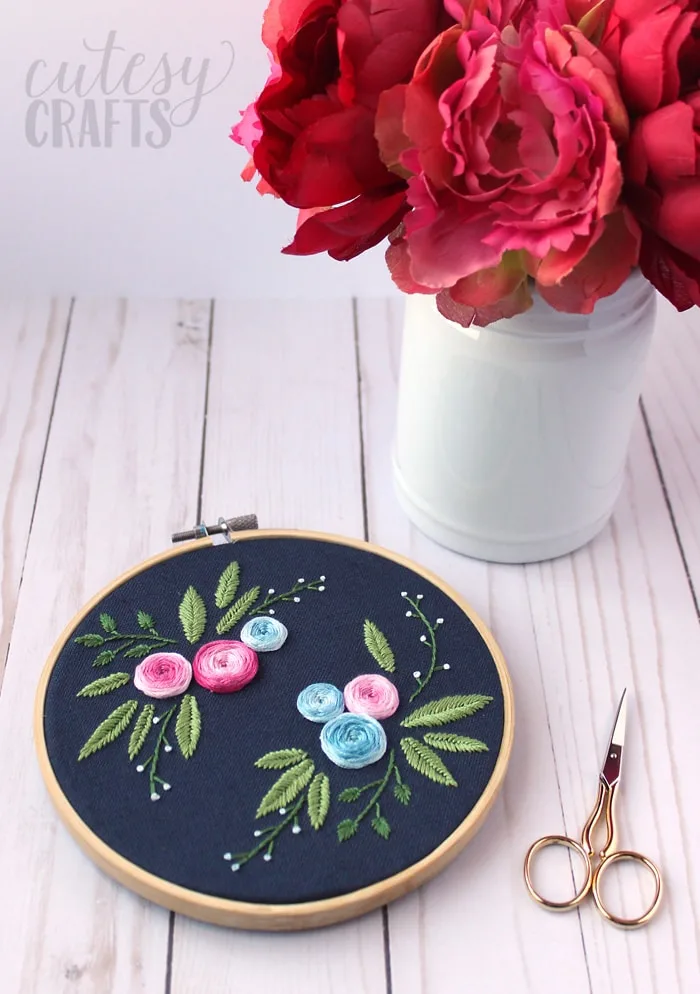 Get the free blue floral pattern!
To get the password, enter your information in the form below to sign up for my free email newsletter.
You will get an email with the password. Already subscribed but forgot the password? No need to subscribe again! Every email newsletter I send has the password in it, so check the latest one.
Take a look at my other hand embroidery designs for more inspiration, and find out how to back an embroidery hoop with felt. I've got lots of free embroidery patterns!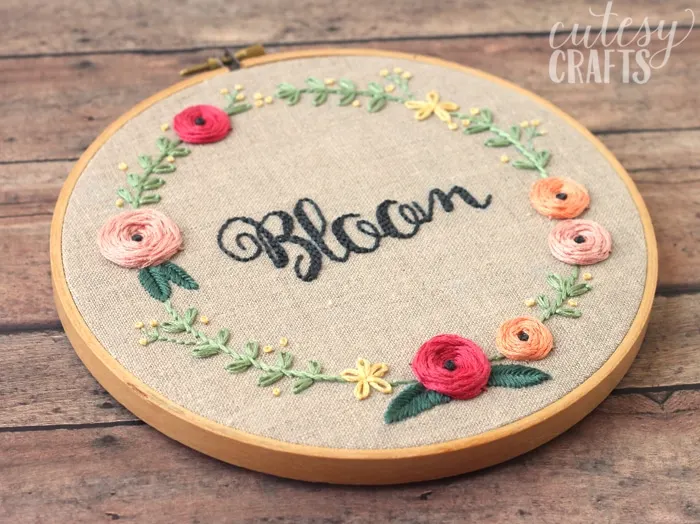 DIY Magnets with Flower Embroidery Patterns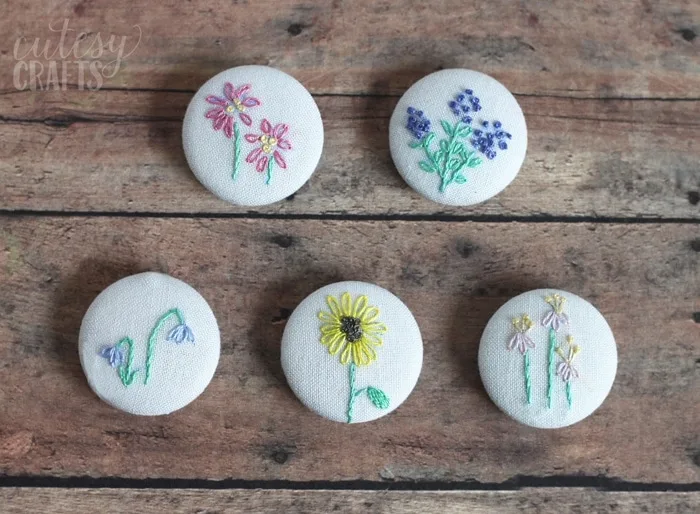 Floral Unicorn Embroidery Pattern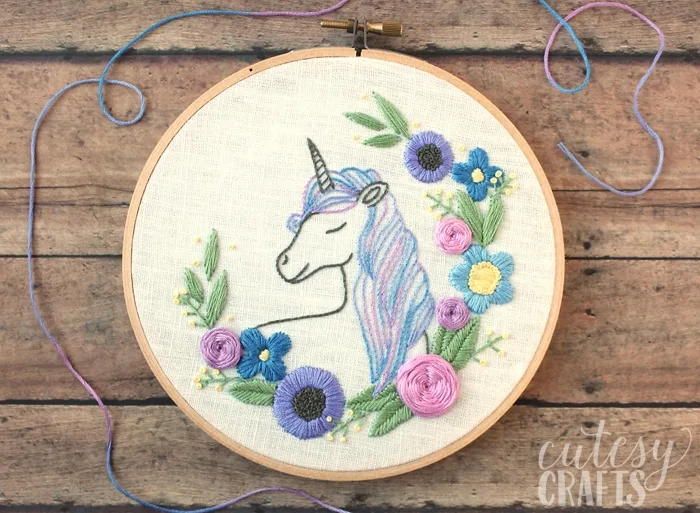 Cutesy Crafts is a participant in the Amazon Services LLC Associates Program, an affiliate advertising program designed to provide a means for sites to earn advertising fees by advertising and linking to amazon.com. This post contains affiliate links.