Today I have another free hand embroidery pattern to share with you. Funny thing, this tree is one of the first things I drew in my embroidery sketchbook. Eventually I added the swing, but I still didn't use it for anything for a while. Well, COVID hit, and one day I ran across this quote, "We didn't know we were making memories. We just thought we were having fun." It's from Winnie the Pooh, and it seemed to fit the image perfectly. And as hard as COVID is/has been for everyone, I saw my kids get to enjoy having extra time to just have fun. They had half days at school, and they spent so much time just playing and making memories. It has been so special, and I wish we could have more of that part of COVID. So I started this tree embroidery pattern at the beginning of this pandemic, and I finally finished it a couple weeks ago. Hope you enjoy, and I hope your kids have had the chance to make lots of great memories.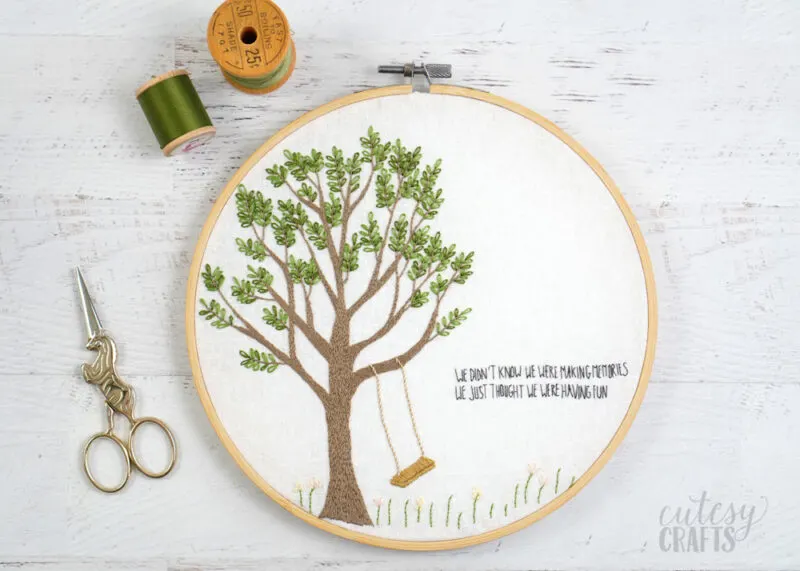 (This post may contain affiliate links, which means I may receive a commission, at no extra cost to you, if you click a link and purchase something that I have recommended. As an Amazon Associate I earn from qualifying purchases.)
To make this free tree embroidery pattern, you'll need:
free tree embroidery pattern (instructions to download are at the bottom of this post)
8 inch embroidery hoop
embroidery floss (Colors listed on the pattern.)
transfer materials (I used FriXion pens. Take a look at some other methods on my How to Transfer and Embroidery Pattern post.)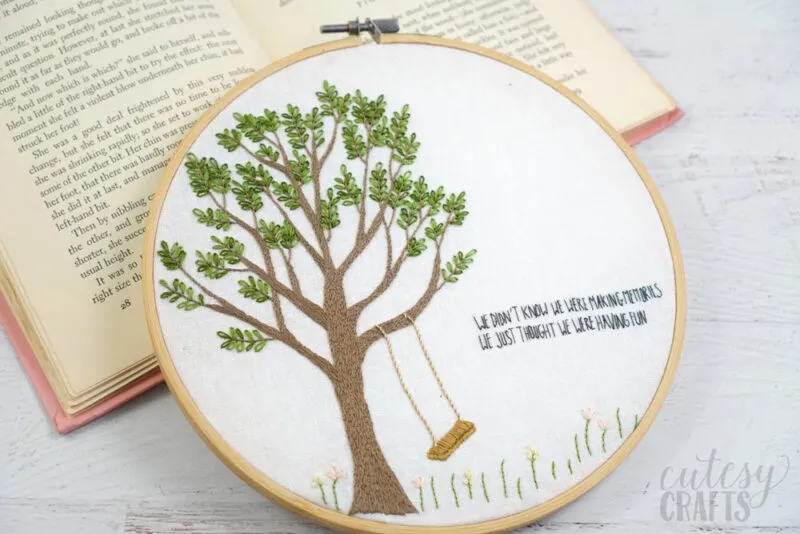 The letters were the hardest part to stitch, and I actually had to redo them because they were difficult to read. I ended up only using one strand of floss, and while that made it a little harder to do, the result was much more legible.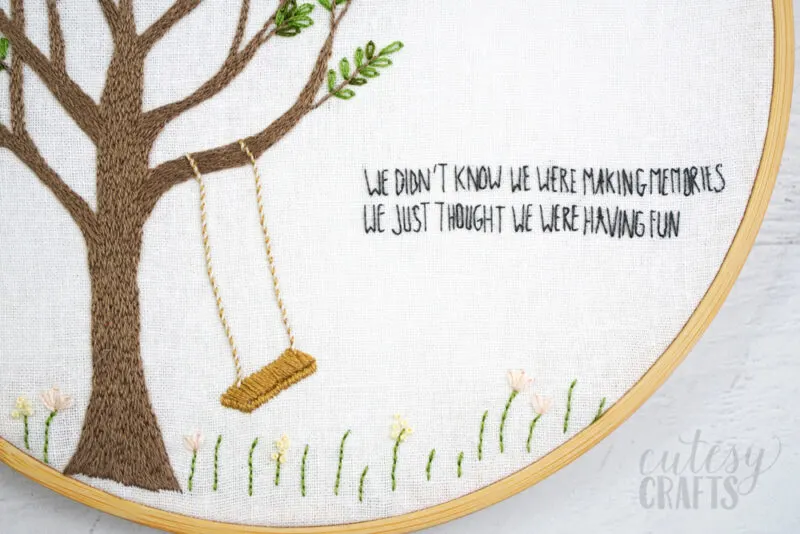 The tree itself wasn't hard, but it did take a long time. I love the texture that the long and short stitch gave the wood, and the lazy daisy leaves with two colors turned out so nice. I didn't list on the pattern which leaf I did which color because that would have taken forever. I just did more light than dark and tried to make it as random as possible.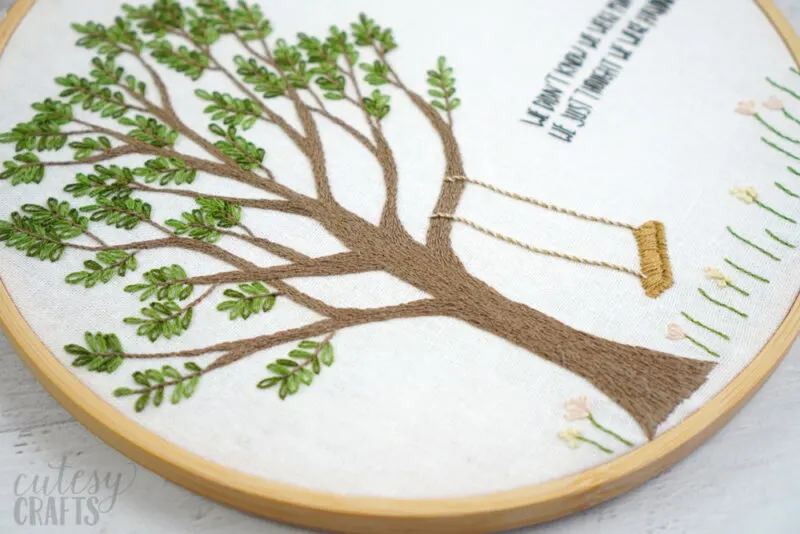 Ooh, and this is the first time I ever got to use a whipped back stitch in an actual pattern. It was perfect for the rope on the swing! Hope you love this pattern as much as I do!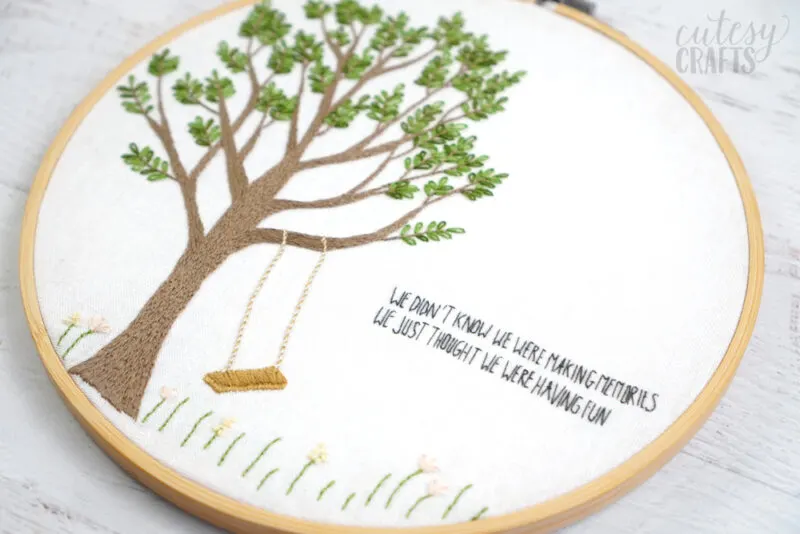 Download the free embroidery pattern!
To get the password, enter your information in the form below to sign up for my free email newsletter. You will get an email with the password. Already subscribed but forgot the password? No need to subscribe again! Every email newsletter I send has the password in it, so check the latest one.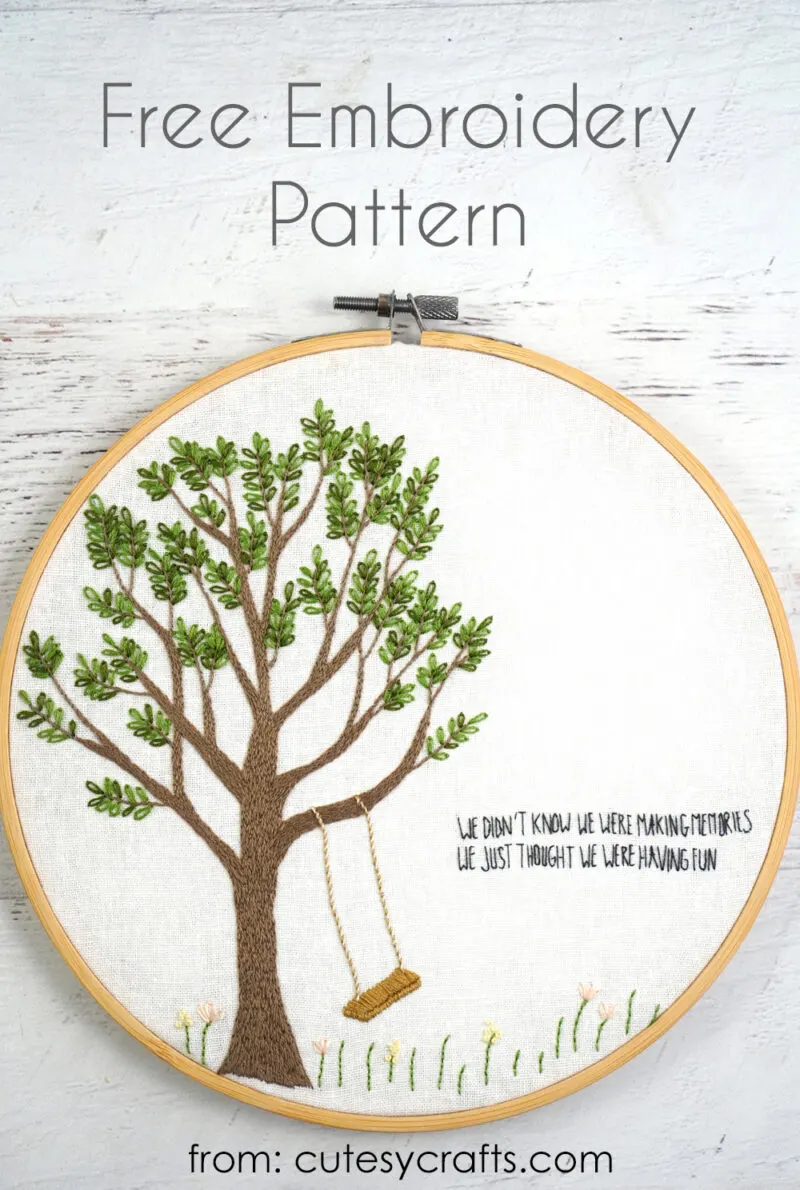 If you like this pattern, make sure to check out all of my hand embroidery designs and read my post on flower embroidery patterns.