Apparently I'm easily distracted by shiny things because when I saw some satin embroidery floss at the craft store, I decided I needed to make something with it. I have to admit, the satin floss wasn't the easiest to work with, but I pushed through. At least it wasn't metallic. That stuff is the worst! Anyway, I ended up making this pretty mermaid tail embroidery hoop. If you are a beginner, I recommend using just regular old floss, but if you've got some experience under your belt, go for the satin! So shiny!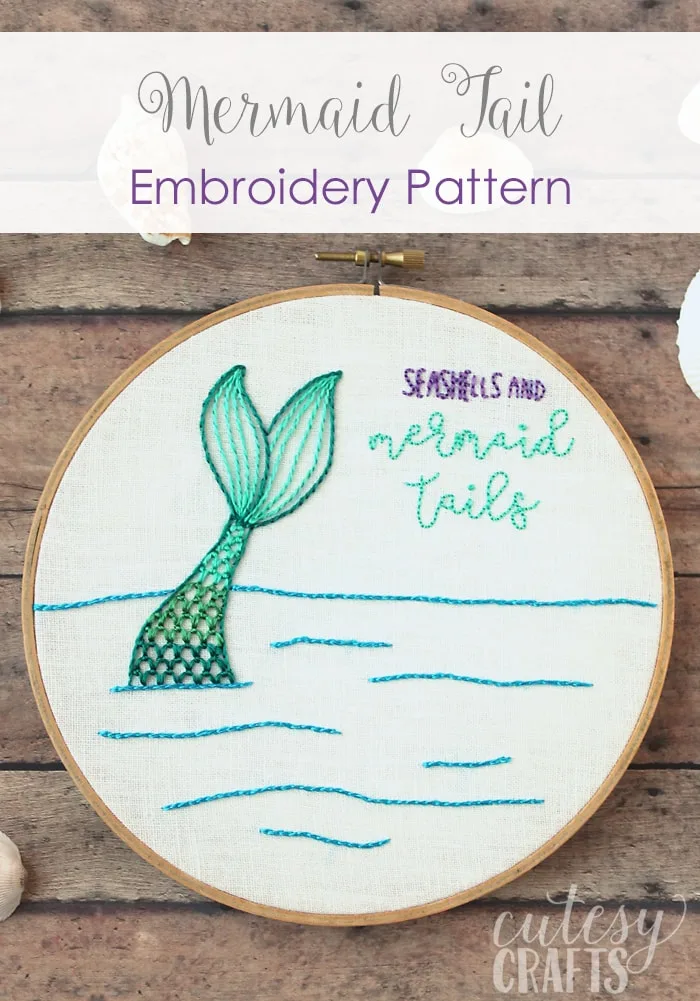 To make this mermaid embroidery hoop, you'll need:
mermaid embroidery pattern – instructions to download are at the bottom of this post
7 inch embroidery hoop
white linen fabric
embroidery floss – DMC S943, S702, S959, S552, and S995
felt to back the hoop (optional)
dressmaker's carbon paper to transfer the design (optional)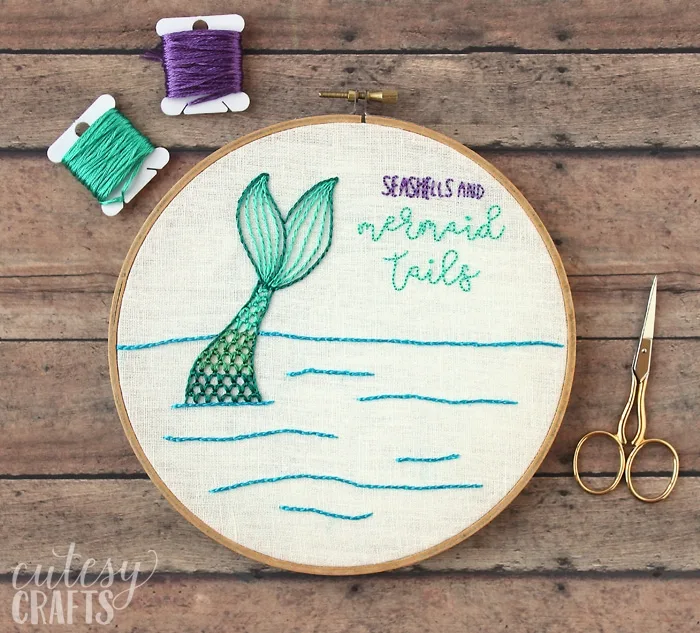 I created a full video stitch along that will show you how to create this hoop. You can check that out on my YouTube channel. The first video is below.
I was really excited to stitch the mermaid tail, although I wasn't quite sure how to make the scales. I ended up doing a loose, fly stitch with no "tail." It gets a little tricky when you get to the edges and have to do kind of a half fly stitch. For those, I just brought my needle down, close to the bottom of the "U" and did my best to make it work. I was thinking that some color changing floss would look really pretty here too, so that's an option for you.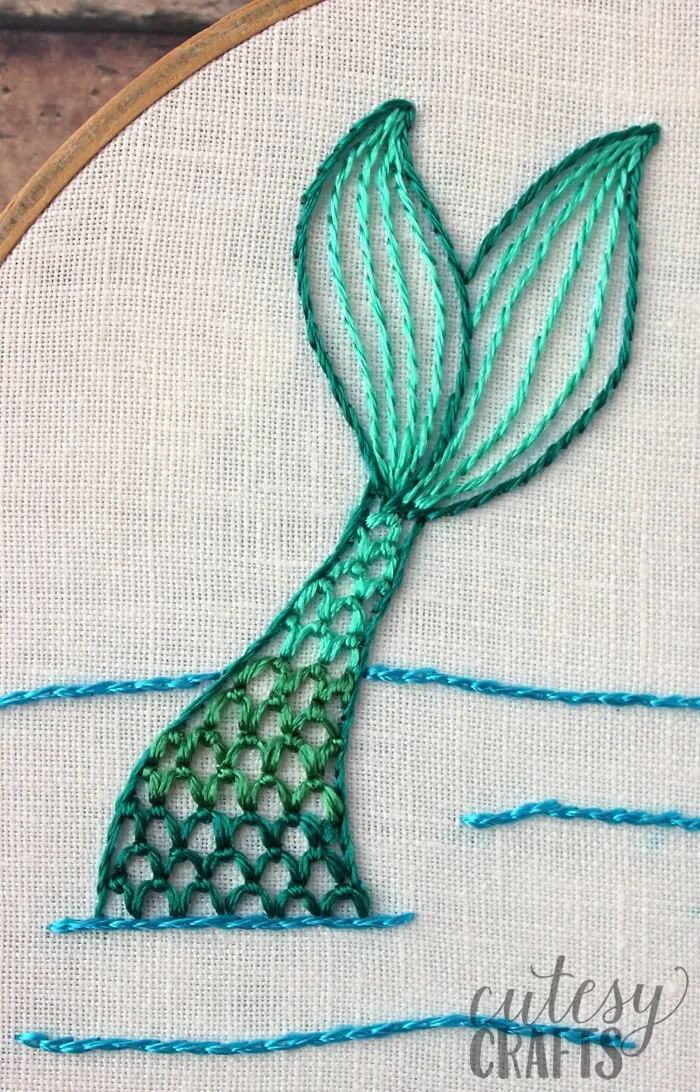 I did a few rows of each color. You could get really creative and try to alternate colors between scales.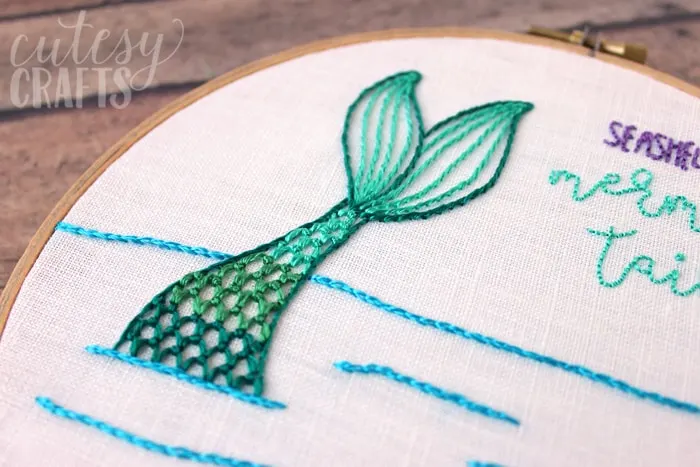 I played around with lots of different ideas for the words, but finally settled on, "Seashells and Mermaid Tails." The letters are pretty small, so I just used two strands of floss and a really small back stitch.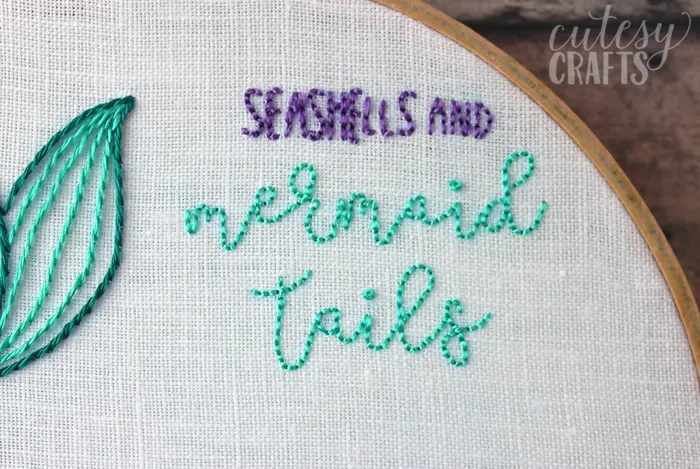 Isn't it fun?! It's bringing back some great memories of playing mermaids with my sisters when we were little. My girls love it!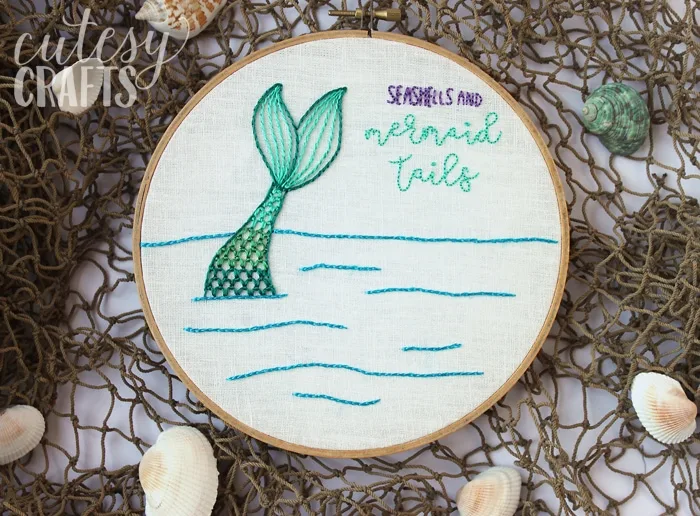 For more hand embroidery designs click here. Make sure you also check out these 40+ adorable mermaid crafts!
Get the free mermaid pattern!
To get the password, enter your information in the form below to sign up for my free email newsletter.
You will get an email with the password. Already subscribed but forgot the password? No need to subscribe again! Every email newsletter I send has the password in it, so check the latest one.