This is a sponsored post for Provenza Floors about vinyl plank flooring. All opinions are my own.
If you've been reading my blog for a while, you know that I'm a huge fan of luxury vinyl plank flooring. Since I share a lot about it, I've had plenty of questions come my way. Rightly so, since LVP still seems like a fairly new trend in flooring. I thought I'd put some of the most frequently asked LVP questions in one place for easy reference. If you're looking for new flooring (or even just some great home decor ideas), definitely keep reading because I've got information on a SURFACES Expo you can attend too.
We used Provenza MaxCore Waterproof LVP in the color Finally Mine in our home, and I love it so much! You can read more about it in my posts about How to Choose the Best Vinyl Plank Flooring and my Provenza Vinyl Flooring Review.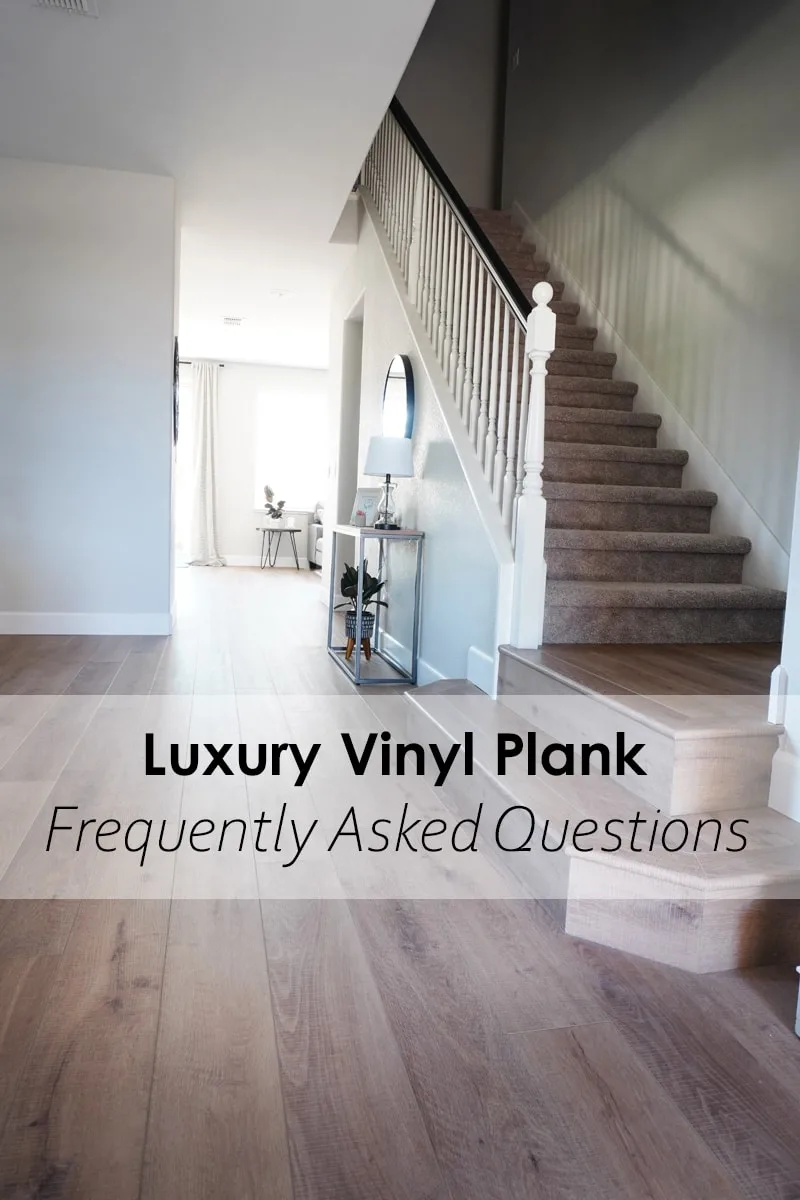 Luxury Vinyl Plank FAQ
What is luxury vinyl plank (LVP)? Luxury vinyl plank is a vinyl flooring that looks like wood. It is waterproof, which makes it ideal for installing in kitchens and bathrooms.
Is vinyl plank better than laminate? There are pros and cons for each, but, in my opinion, the pros of vinyl plank make it better than laminate. Laminate may look ever so slightly more realistic, but vinyl plank's waterproof attributes and scratch resistant wear layer make it a better option for me.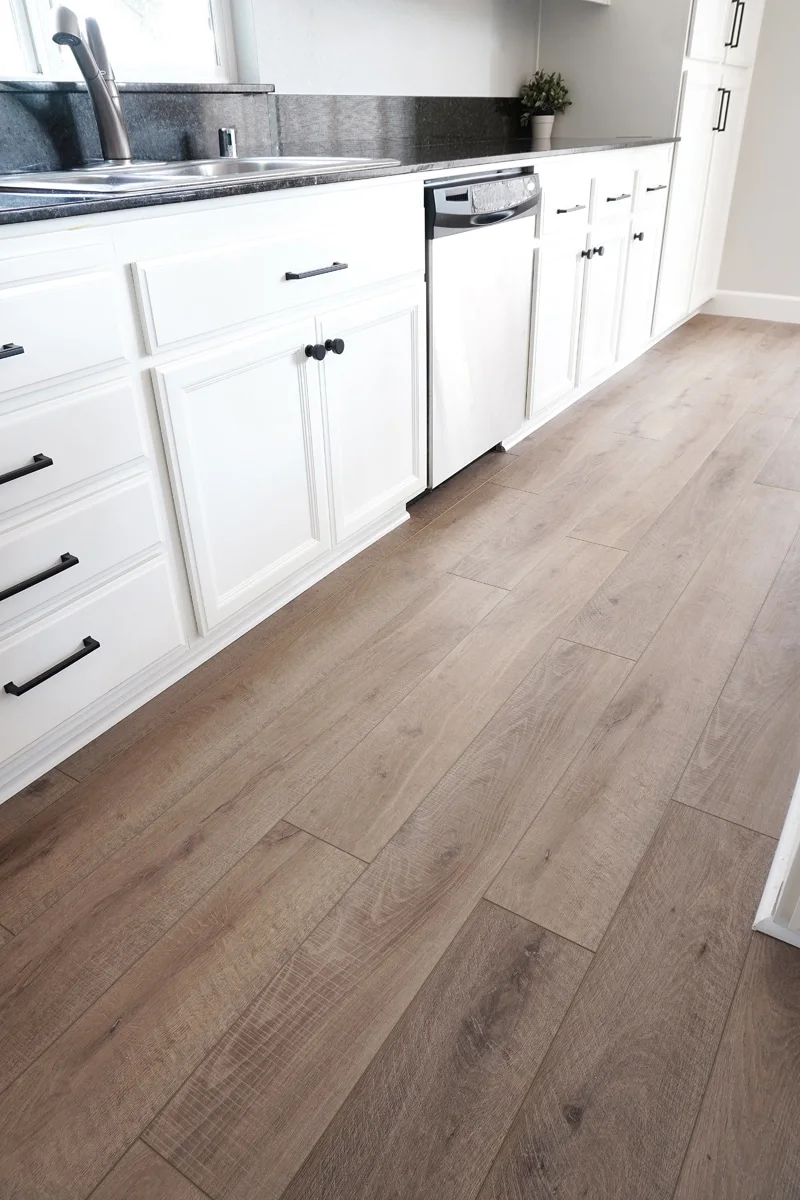 How much does it cost to install vinyl plank flooring? How much vinyl plank flooring installation costs will depend how it's installed and where you are located. The most common type of LVP clicks together like laminate. If you doing a floating installation (vs glue down), expect to pay around $1-$3 a square foot for install. We live in California, and got it installed for $2.00/sf. That was the best price we found.
Can you install vinyl plank flooring on stairs? Yes, vinyl plank flooring can be installed on stairs. You'll need to choose a brand that sells stair nose that coordinates with your flooring choice. (Stair nose is the part that goes on the edge of each step.) All of the Provenza Maxcore Waterproof LVP collections have options for various trims (including stair nose).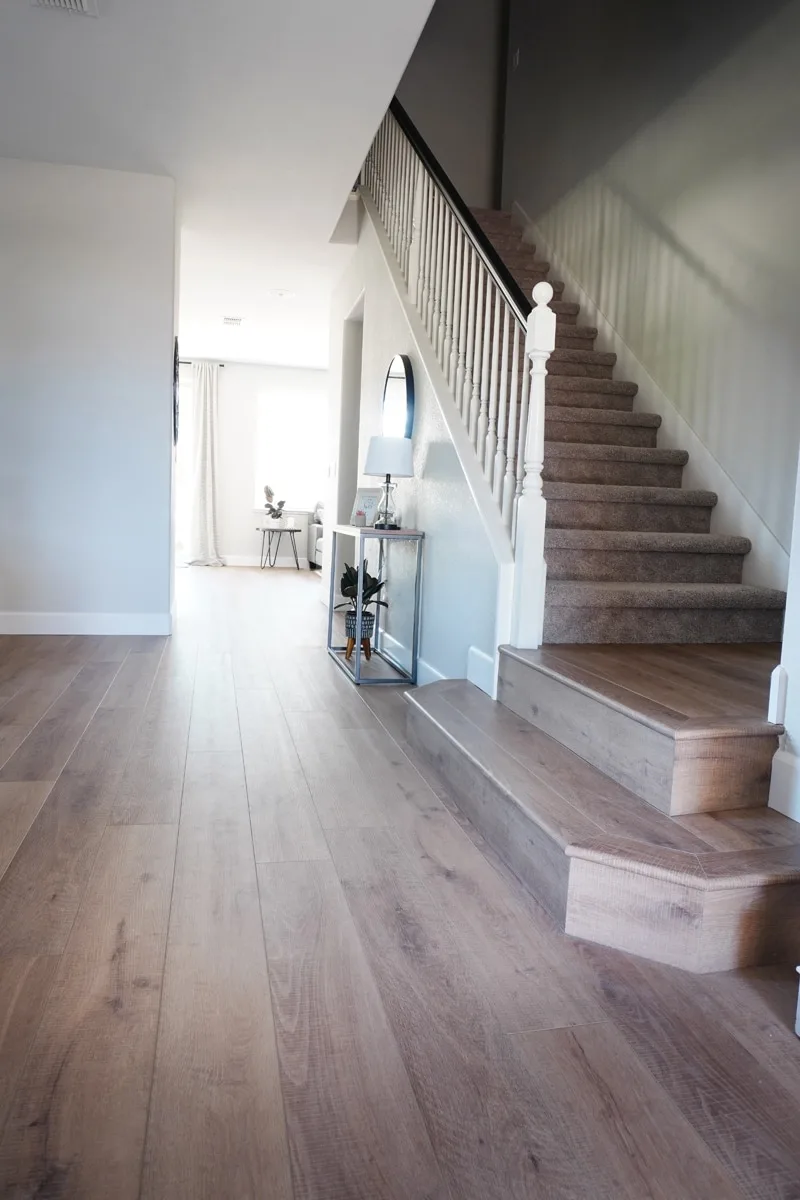 Can you install vinyl plank flooring in the bathroom? Yes! One of the best things about vinyl plank flooring is that it's waterproof! You can install it in the bathroom and kitchen without having to worry about it getting a little wet. Make sure to clean up spills and accidents quickly (I have little kids), and don't use any harsh chemicals on the floor.
Can you put heavy furniture on vinyl plank flooring? Yes, you can put heavy furniture on vinyl plank flooring. You do, however, need to take measures to protect your flooring from damage. Use felt pads under furniture legs, especially under chairs. If you have a piano, or anything heavy on casters (wheels), you'll want to use caster cups to distribute the weight.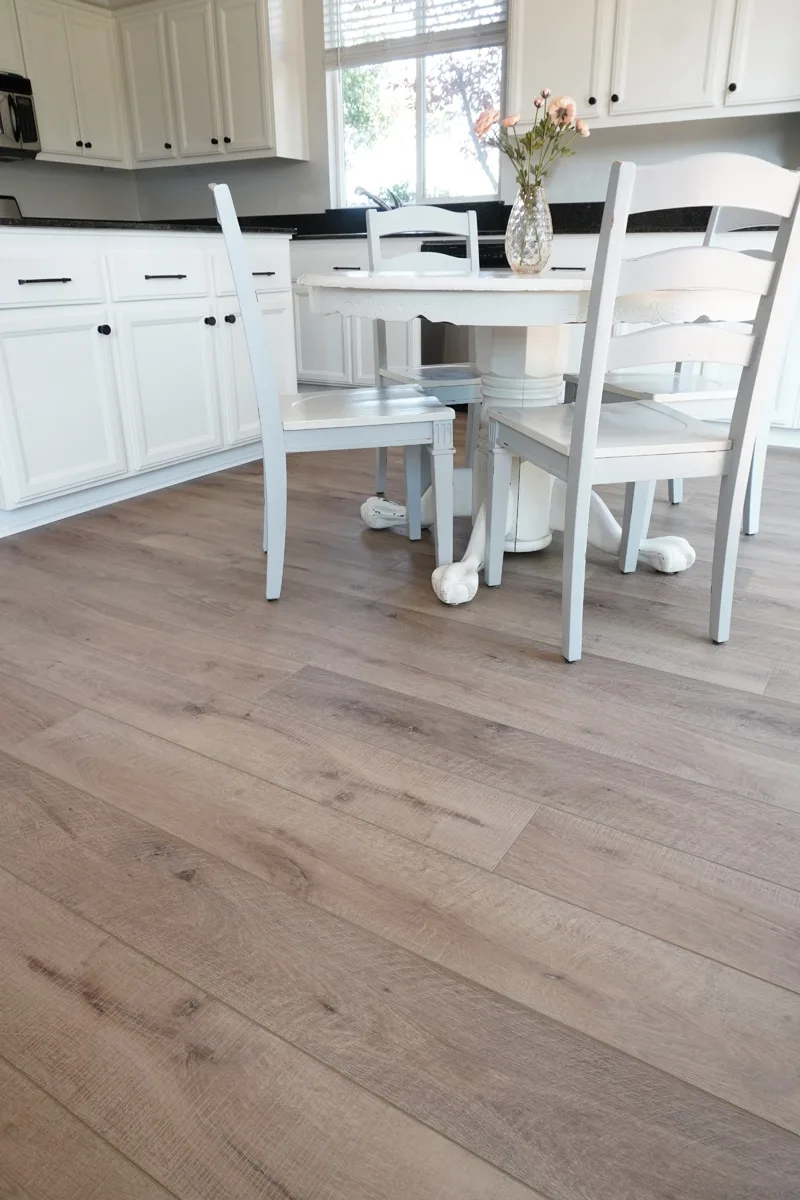 Does vinyl plank flooring scratch easily? This is, again, going to depend on the type of vinyl plank flooring that you get. Scratch resistance will likely be determined by the wear layer on the flooring. If you are worried about scratching, I'd get something with a 20mil wear layer.
Can you put rugs on vinyl plank flooring? Yes, you can put rugs on vinyl plank flooring, but you need to make sure it's the right kind. You don't want anything that has a rubber backing unless it specifically says it's safe for vinyl flooring. The same goes for rug pads. The chemicals can react with the vinyl flooring and turn it yellow. Use non-staining mats only.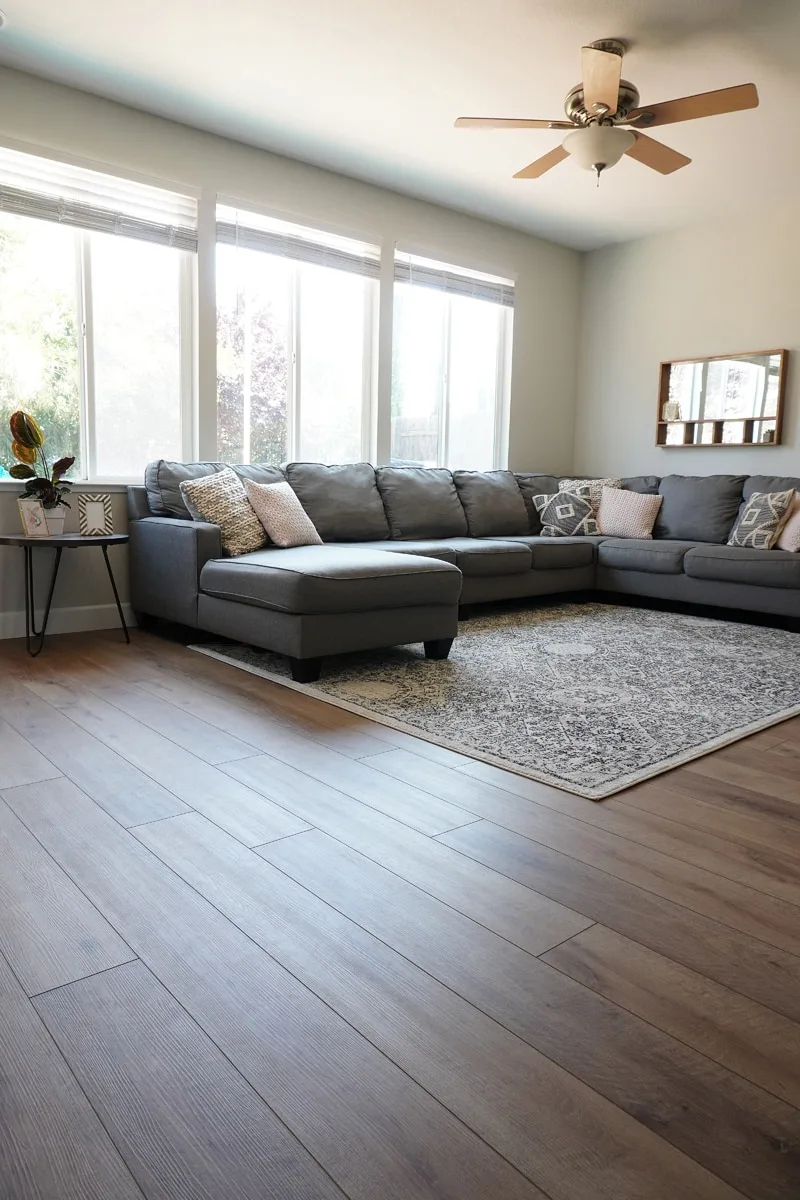 Does luxury vinyl plank decrease home value? This is a tough question because home value (at least here in California) is determined by an appraiser, that might have their own opinions about what things are worth. I can tell you that when we sold our previous home, we didn't get any positive or negative value on the appraisal for having LVP when compared to other homes. If you are very concerned about this, I recommend talking to a local appraiser. They would be able to give you the most timely and accurate answer.
Do vinyl floors look cheap? If you're talking about sheet vinyl that has to be cut in sections and glued down, then yes, I'd say that is probably a cheaper-looking floor. Luxury vinyl plank is definitely a far cry from sheet vinyl though. With realistic textures and patterns, I don't think you'll be able to tell the difference between a good LVP and laminate flooring. Get some samples and test it out for yourself! I think you'll be pleasantly surprised.
Can you use a steam mop on vinyl plank flooring? No, you should not use a steam mop on vinyl plank flooring. The heat can cause damage to the planks and is not recommended. Check out my post on How to Clean Vinyl Plank Flooring for more on that.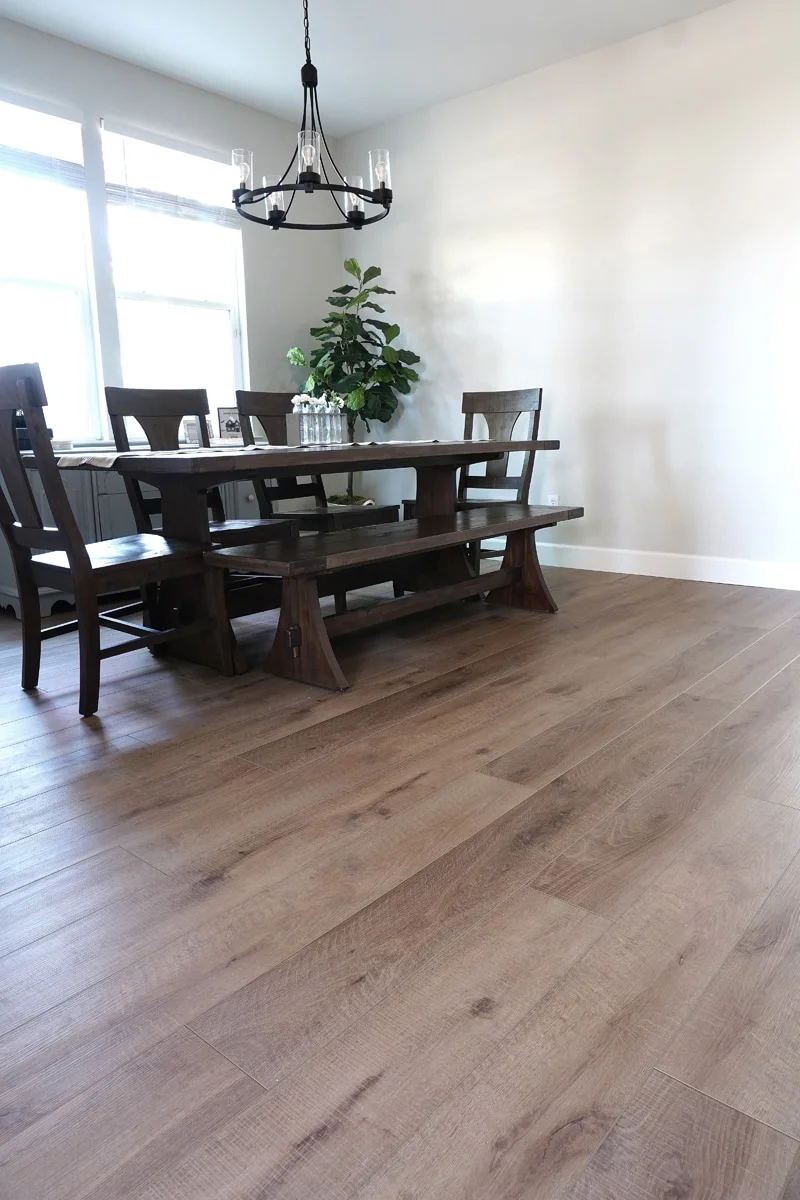 The International Surfaces Event 2020
Now, for some exciting news! If you can make it to the Las Vegas area, there is a big floor covering, stone and tile event going on from January 27th – January 30th. Head over to get design inspiration and see all of the latest products. Click here to get a complimentary exhibits pass, courtesy of Provenza Floors!
Provenza Floors will have a booth set up to showcase their Maxcore LVP and new QR code feature. I think the QR code feature is so neat! Before this came out, and we were shopping for floors, I found myself doing internet searches for floor after floor trying to get more information and photos. With the new QR codes on each sample, now you can just use your phone's camera to scan the code and get immediate information and videos of what the floors look like installed.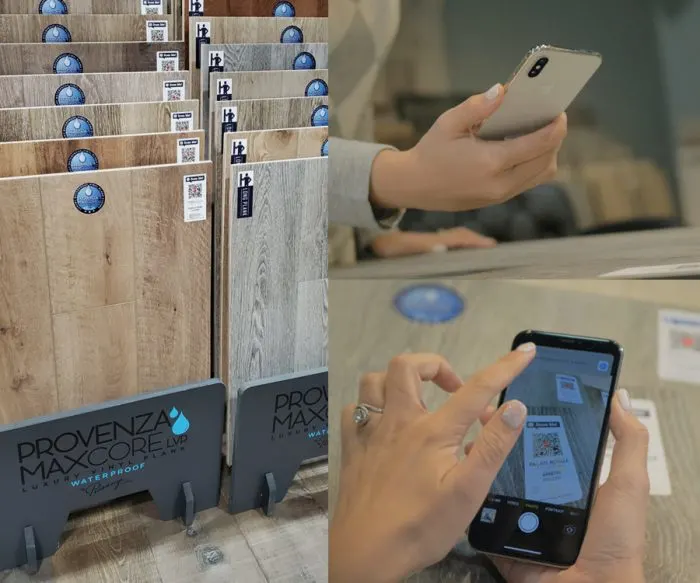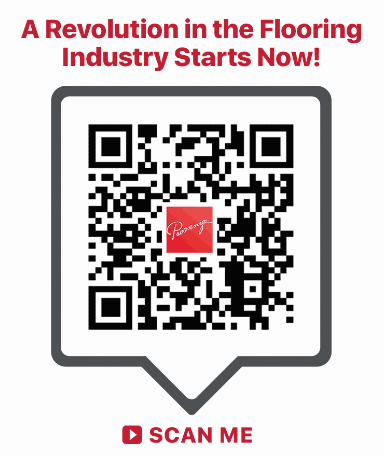 It's so convenient! Take a look at this article from Floor Covering News to read more about it and make sure to check out Provenza Floors when shopping for new flooring.