My little felt deer ornament and felt penguin ornaments needed one more friend, and I thought a felt polar bear Christmas ornament would be perfect. Just like my other felt animal ornaments, he can be customized with a different color scarf to make him more feminine. You could even add a little hat if you wanted to. Make sure to also check out the other felt animal Christmas ornaments that I made for the tree this year.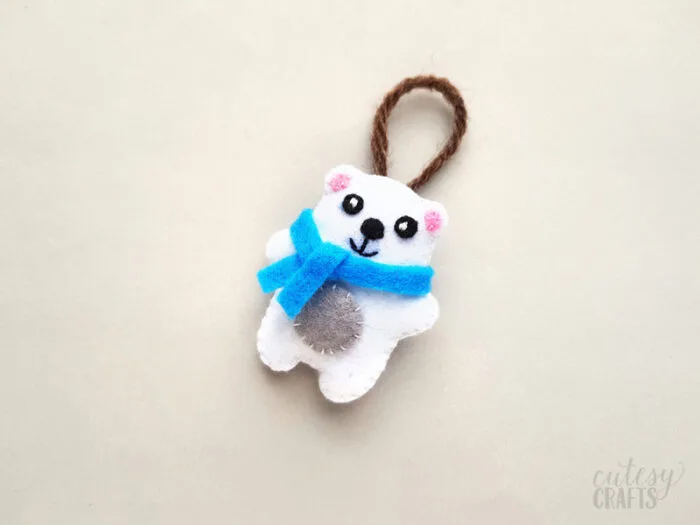 (This post may contain affiliate links, which means I may receive a commission, at no extra cost to you, if you click a link and purchase something that I have recommended. As an Amazon Associate I earn from qualifying purchases.)
To make this felt polar bear Christmas ornament, you'll need:
free pattern (instructions to download at the bottom of this post)
felt: white, blue, gray, black, and pink
embroidery floss or thread: white, black, pink, and blue
needle
pencil or fabric marker
scissors
ribbon or yarn for hanging
hot glue (optional)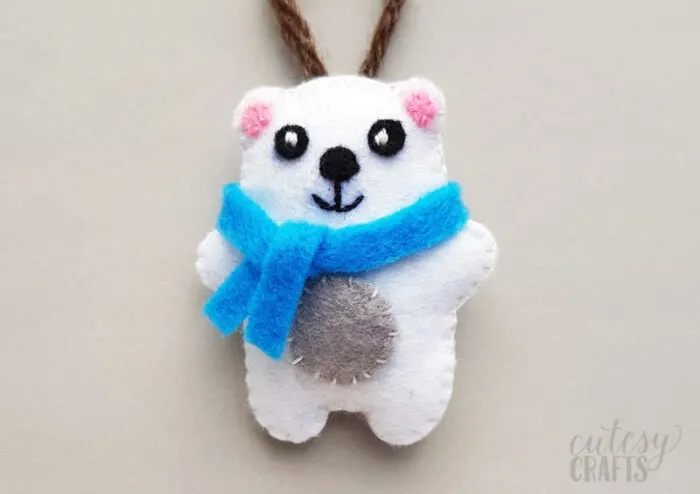 First, cut all of the pattern pieces out of felt.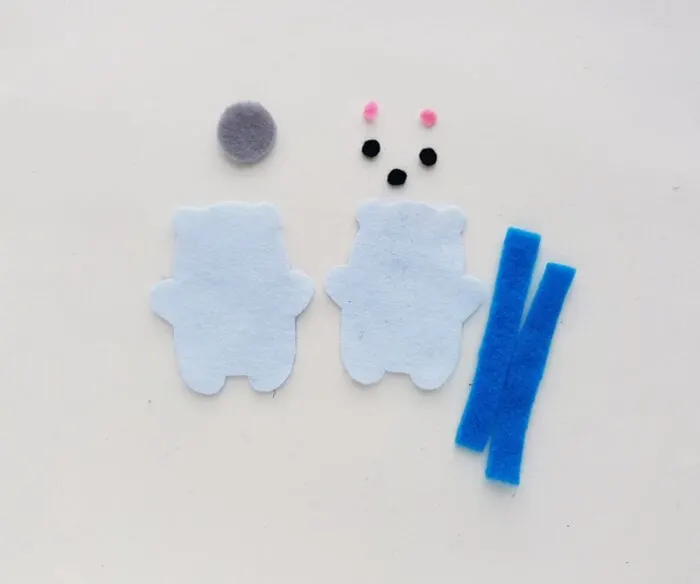 Take one of the body cutouts and use a pen to draw the mouth on the bear. Draw spots on the places for the eyes and nose. Stitch the nose (oval shaped piece) in place, right above the mouth.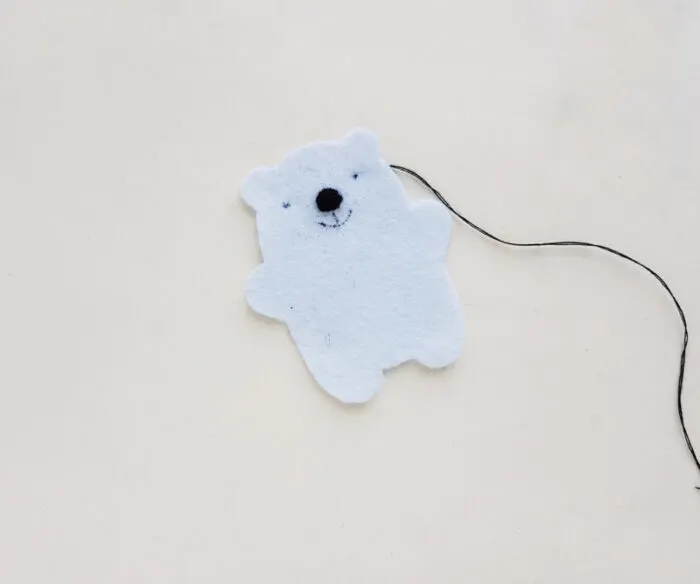 Stitch the eyes on above the nose. Use white thread to stitch small dots on the eyes. Stitch the pink half-circle pieces on the middle of the ears. Stitch the gray round piece in the middle of the body.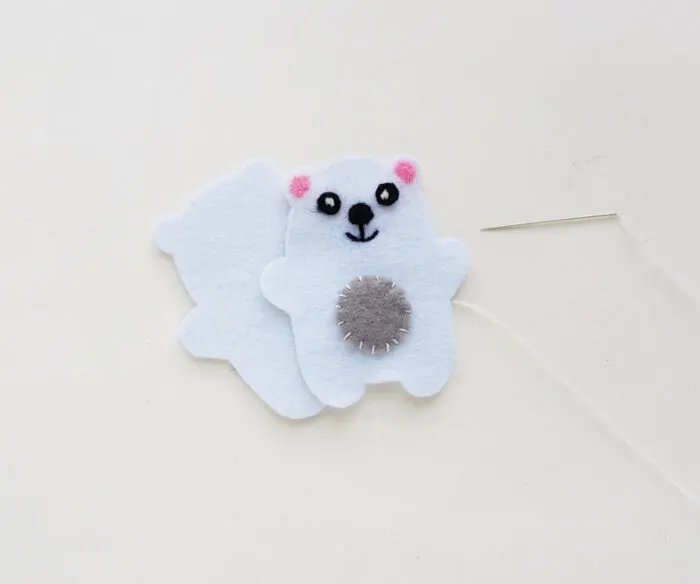 Grab the other body piece (the plain one) and place it under the stitched one. Whip stitch the 2 body pieces together around the outside. Leave a small opening to stuff the felt polar bear with fiberfill. I forgot to do it at this step, but now is when you will also want to add a loop of yarn or ribbon for hanging. Just sandwich the ends of it in between the two head pieces and stitch through it.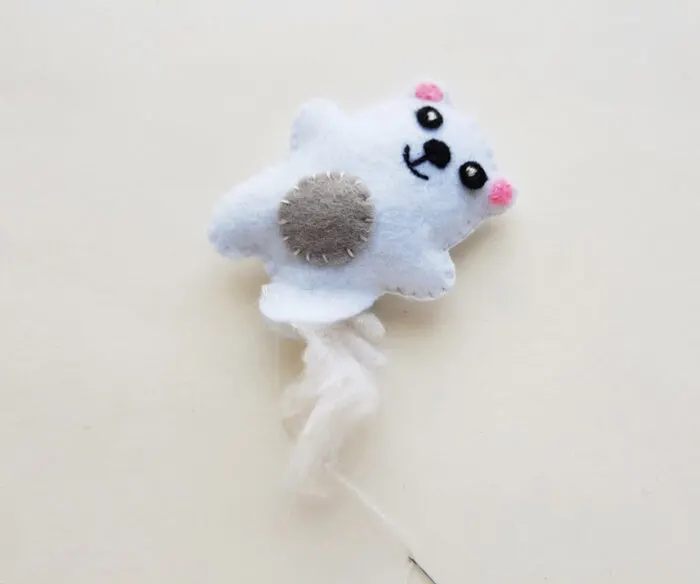 Once you're done stuffing, stitch the open end closed. Tie a knot with the thread and push the needle randomly inside the polar bear and back out. Cut off extra thread.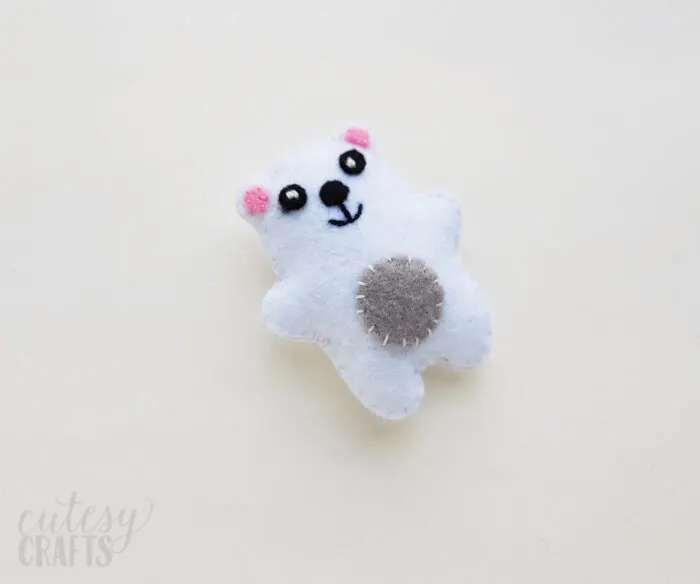 Stitch or glue the scarf around the neck of the polar bear, and he's done! You could even cut a little fringe on the bottom of his scarf if you wanted. So fun!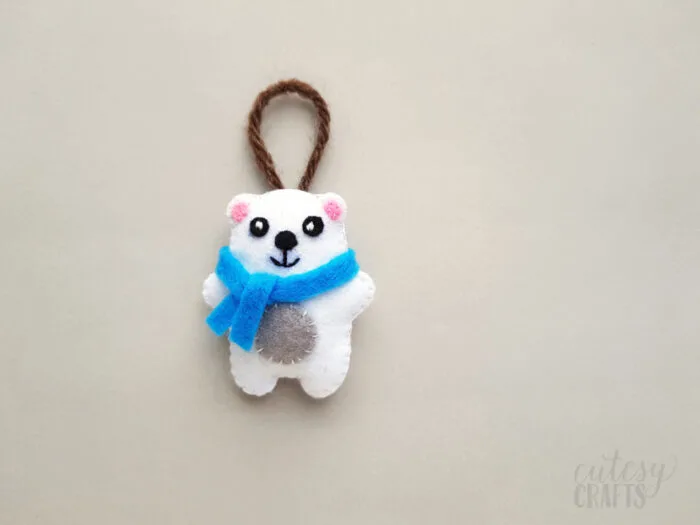 Get the free felt polar bear Christmas ornament pattern!
To get the password, enter your information in the form below to sign up for my free email newsletter.
You will get an email with the password. Already subscribed but forgot the password? No need to subscribe again! Every email newsletter I send has the password in it, so check the latest one.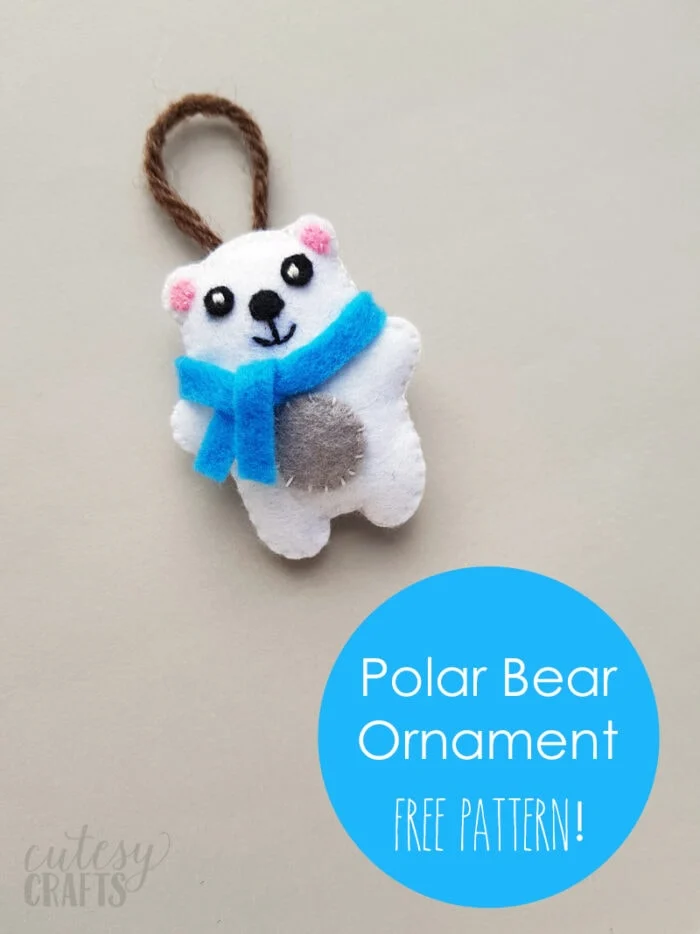 Also make sure to take a look at all of my other homemade Christmas ornament tutorials and free felt Christmas ornament patterns.