Happy Saturday everyone! We're on day seven of my 12 Days of Handmade Christmas Ornaments series, and I've got the cutest little deer and fox felt Christmas ornaments to show you. I don't know if you've noticed, but the fox seems to be quickly replacing the owl. Maybe it has something to do with the whole What Does the Fox Say song? …maybe not. Either way, I couldn't get that song out of my head the whole time I was making these, and I don't even like it! Ugh… now it's playing in my head again!!! Anyway, merry Christmas to you because this pattern is free! You can download it by following the instructions on the bottom of this page. Also make sure to take a look at all of my other homemade Christmas ornament tutorials and free felt Christmas ornament patterns.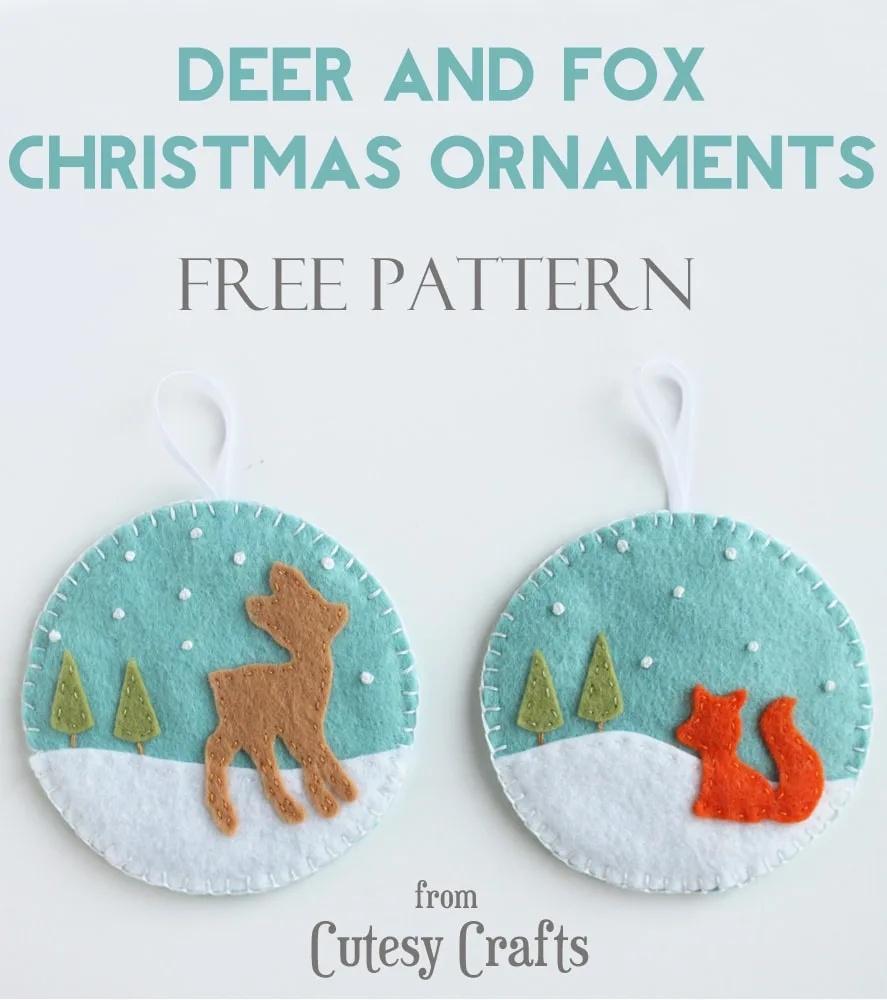 If you've been reading my blog for a while (or even just seen my homepage), you know that I love felt. I've done a lot of felt projects, and tried out lots of different kinds of felt. I even wrote this post comparing the different kinds to find my favorite. I've been using National Nonwovens felt exclusively since I wrote that post, and I contacted them recently to see if I could join their pattern partners program. Guess what??? They said YES! So legally I am supposed to tell you that they sent me some free felt, but you already know that my opinions aren't influenced in any way because I wrote that other post a year ago.

To make these cute felt Christmas ornaments, you will need:
free ornament pattern – Instructions to download are at the bottom of this post.
felt (I used National Nonwovens WoolFelt in Baby Blue, White, Beige, Pea Soup, and Hallow's Eve)
ribbon
coordinating embroidery floss
Cut out all of your pieces and applique them onto the front circle of each ornament. I stitched everything on using a running stitch and one strand of embroidery floss. No need to sew the bottom part of the snow, since you will sew that when you put the whole ornament together. The falling snowflakes are french knots and the tree trunks are just single straight stitches. I used three strands of embroidery floss for both of those.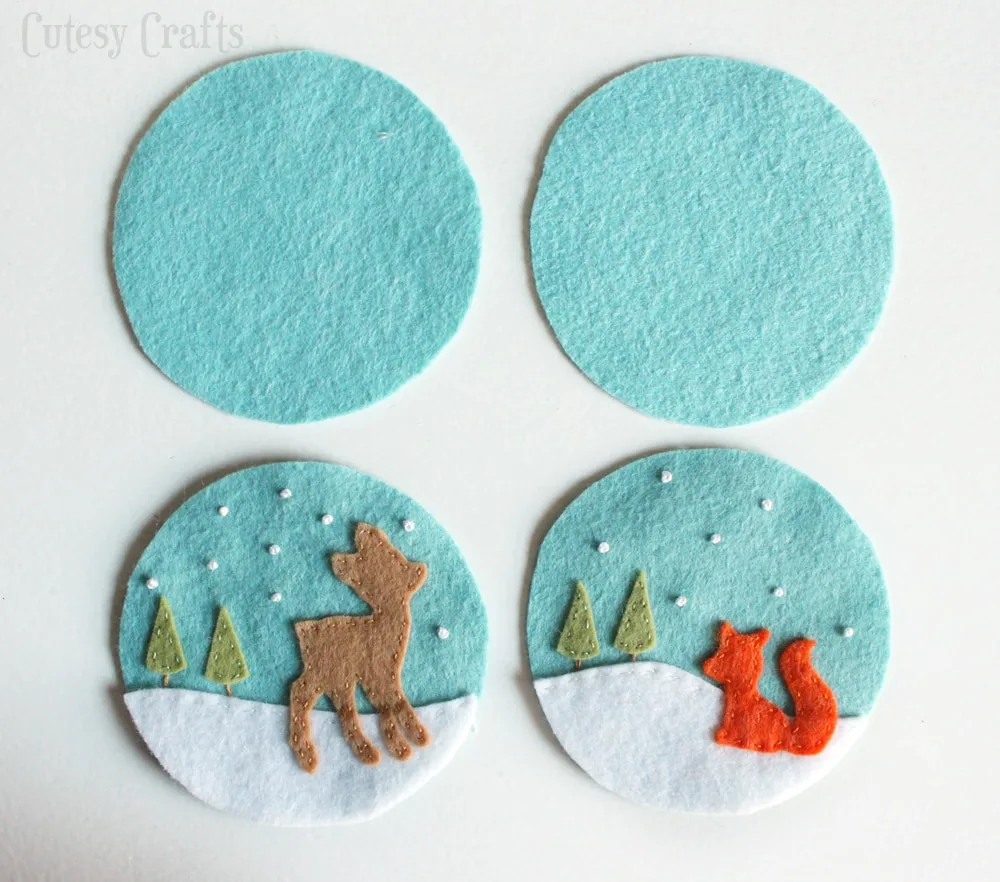 Fold your ribbon in half to form a loop for hanging. Sew it onto the inside of the second circle for each ornament. I used my sewing machine for this to make sure it was secure.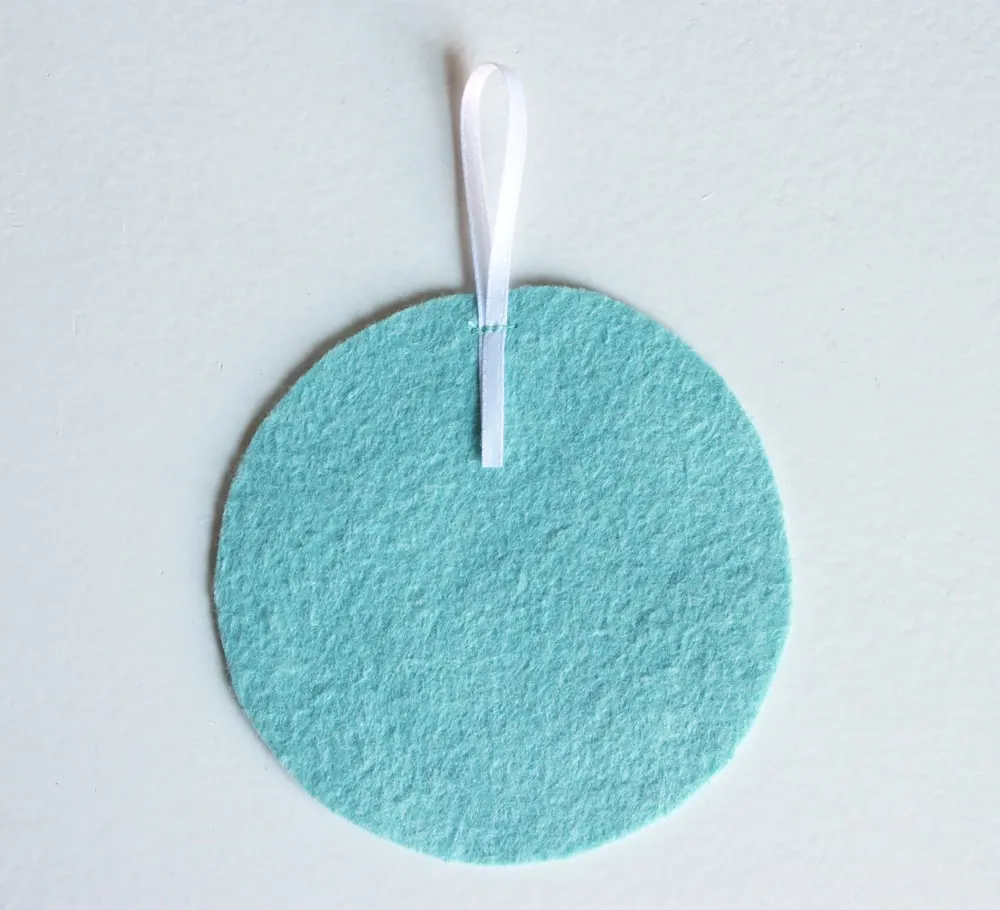 Put the front of your ornament on top, and do a blanket stitch all the way around. You can add a little stuffing before you close it off, but I decided that I liked them flat better.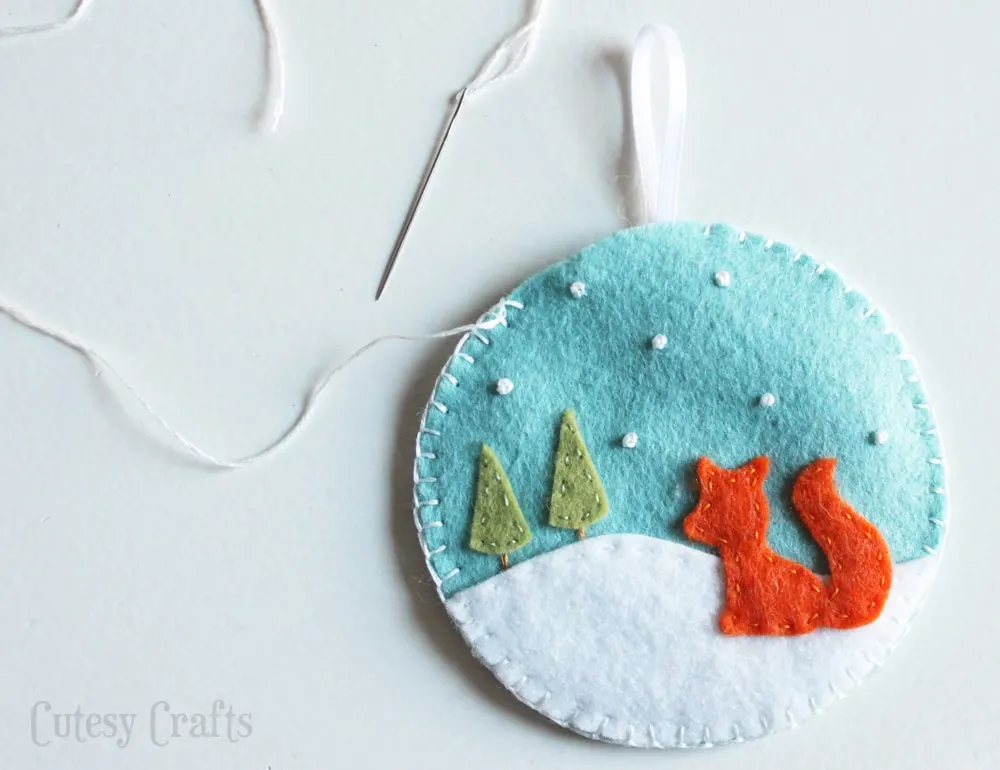 One last thing I wanted to mention was that, since the deer legs are so thin, they bent a little when I appliqued them over the snow. To fix that, you might want to cut out a second deer to go under the first that stops at the snow line. Not 100% necessary, just an idea.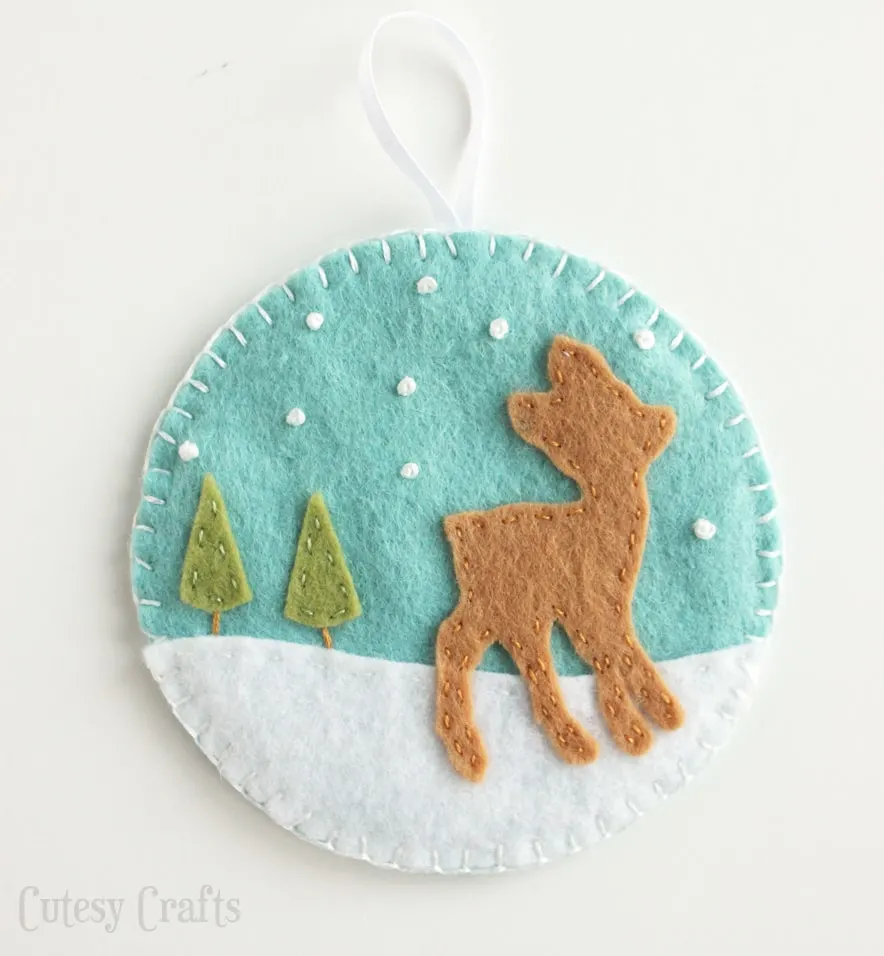 Didn't really have the same issue with the fox. Cute little foxy woxy…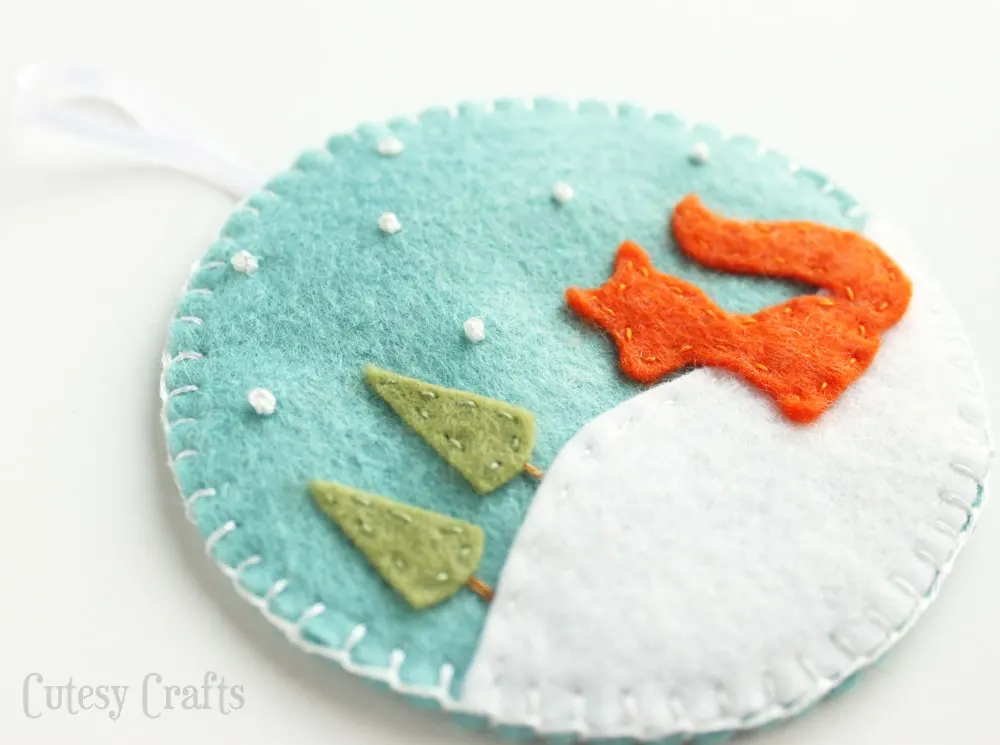 What do you think? Do you love the little deer and fox as much as I do? Are you cursing me for getting What Does the Fox Say stuck in your head?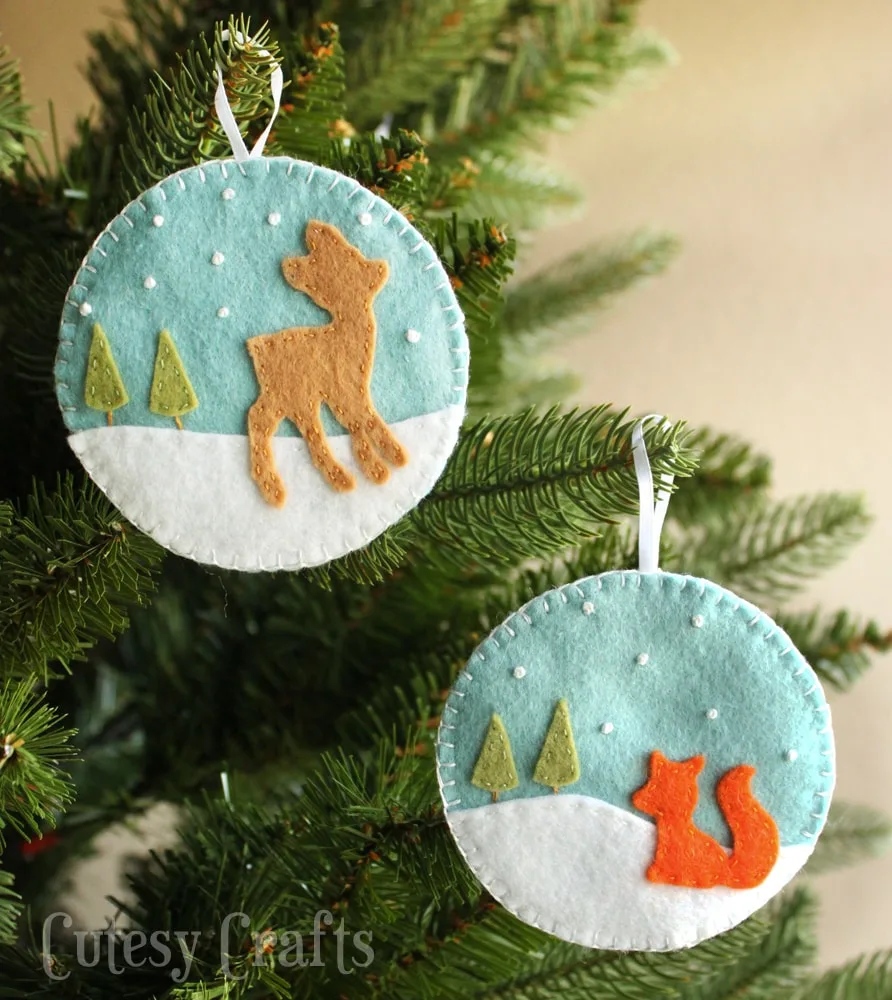 Hope you enjoyed these felt Christmas ornaments!
<<click here to go to day eight of this series>>
So glad you are here for my 12 Days of Handmade Christmas Ornaments series. The giveaway is still going on, so make sure to go to the first post here and enter! We're gonna have three lucky winners at the end!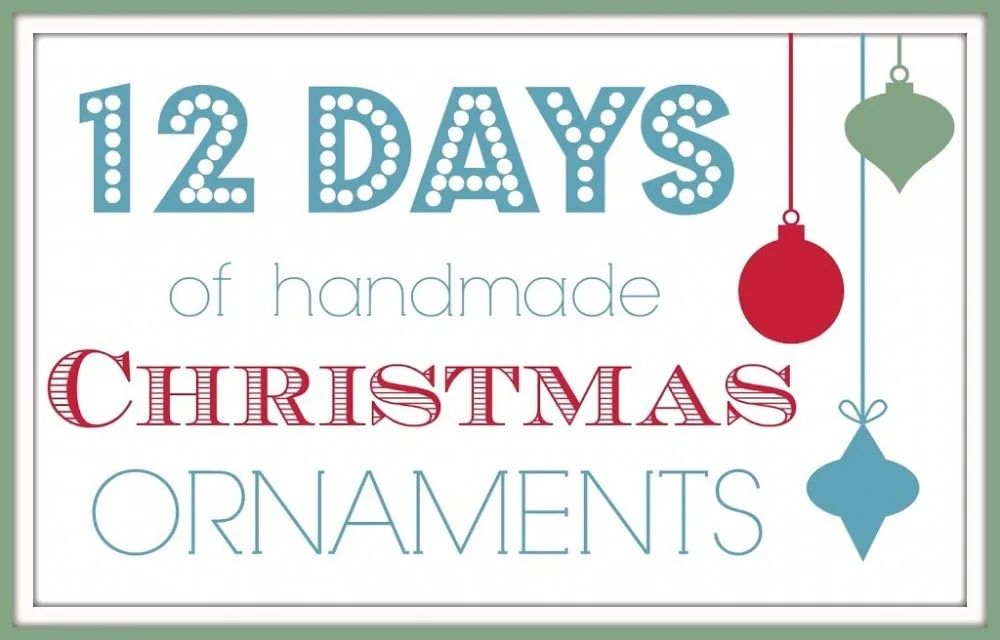 You'll also like these Button and Christmas Ornaments!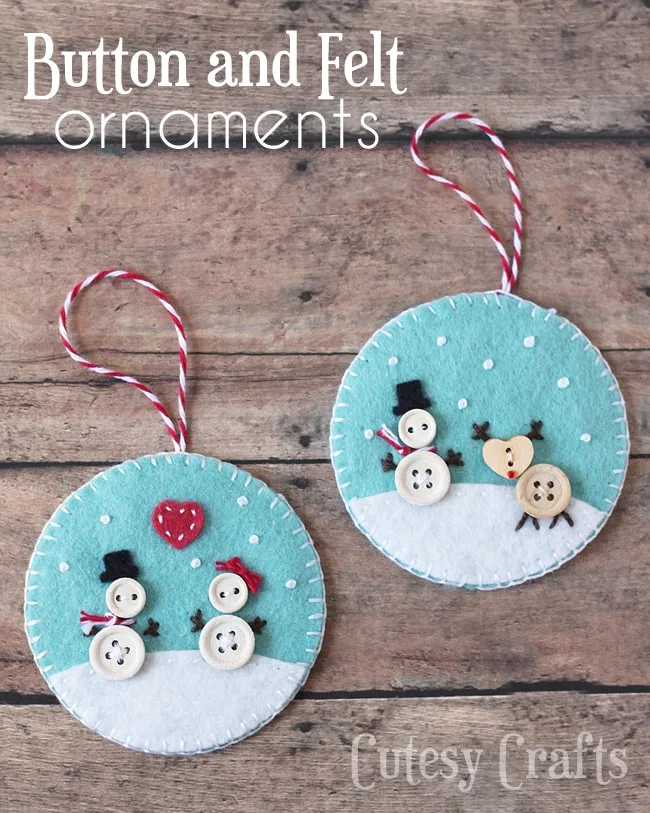 Get the free deer and fox ornament pattern!
To get the password, enter your information in the form below to sign up for my free email newsletter.
You will get an email with the password. Already subscribed but forgot the password? No need to subscribe again! Every email newsletter I send has the password in it, so check the latest one.