Today I'm showing off something a little different than what I normally post. We're going to talk about how to divide a room with and IKEA KALLAX shelf. It started when my girls came to me with a double sided list of reasons why they shouldn't have to share a room. One of them was even found sleeping in the hallway a couple times just to get away. Hilarious!
Of course, I can't magically create another bedroom in the house, but I figured I could get creative with dividing the space that they have. And here is the final result of my scheming. (Please ignore the fact that I didn't de-clutter their room at all for these photos. Just keeping it real. They have way too much stuff.)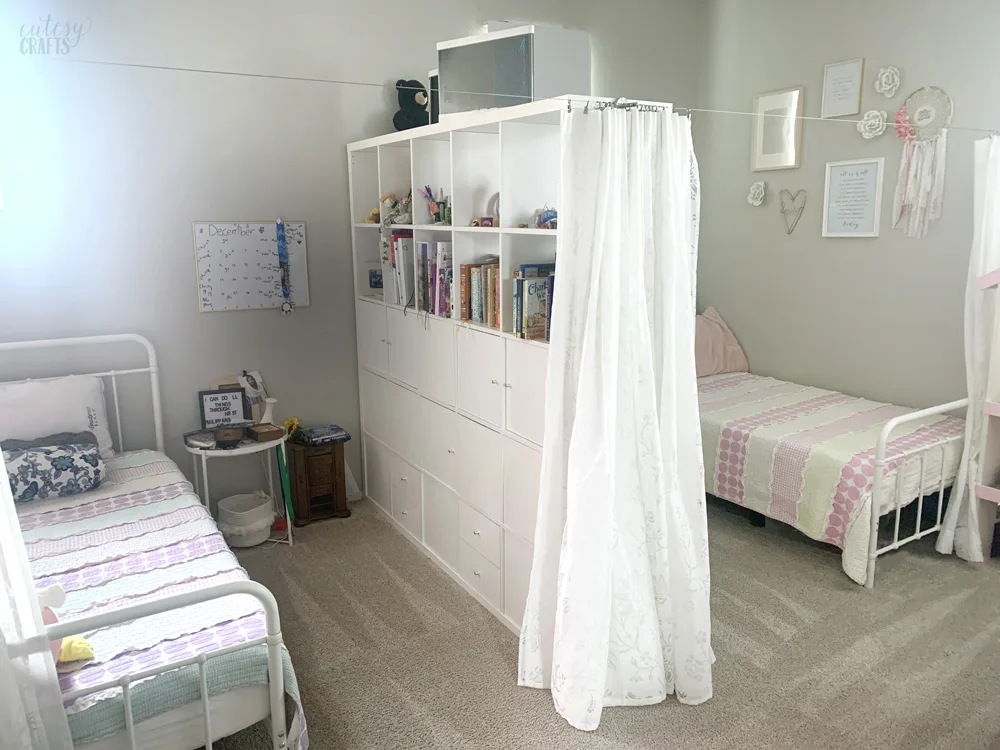 (This post may contain affiliate links, which means I may receive a commission, at no extra cost to you, if you click a link and purchase something that I have recommended. As an Amazon Associate I earn from qualifying purchases.)
As you can see, their bedroom is a fairly good size, so I was able to split it in half with the largest KALLAX shelf, and then what you can't see is they still have some common space leftover that has small dresser on each size, a hanging swing chair, and their closet.
The shelf is bolted to the wall, with included hardware, to keep it from tipping over. I used the IKEA KALLAX drawer and cupboard inserts on the bottom three rows to give them more privacy and hide some of their clutter. I divided which side got the front and back of each insert. They get to use the ones on their side for tons of extra storage. Perfect for my little hoarders.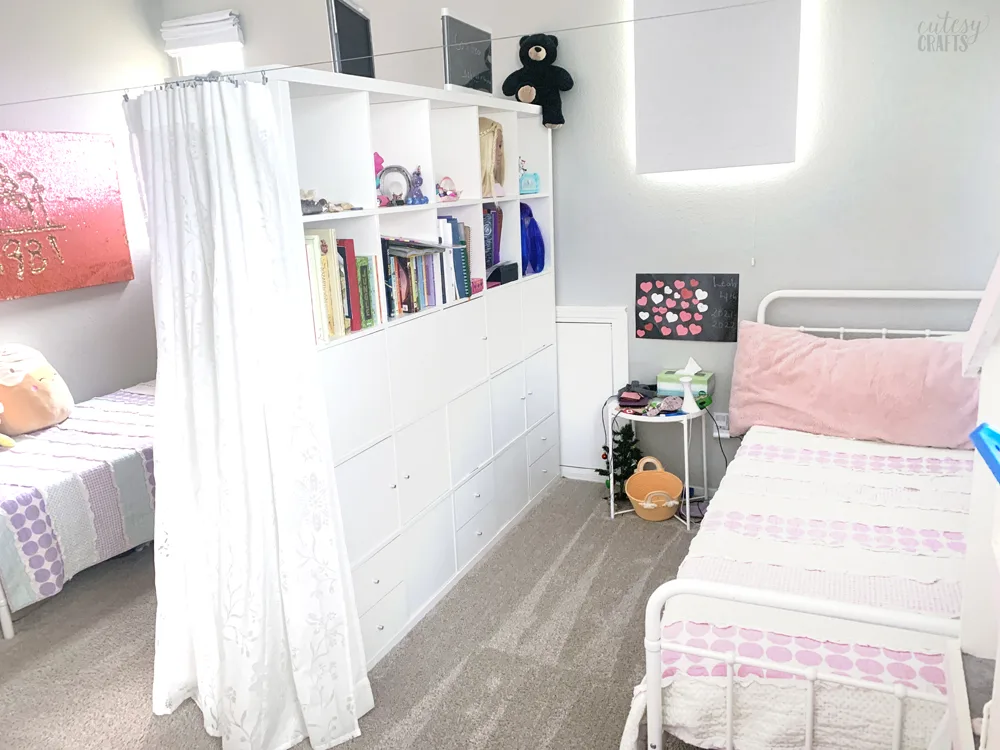 After I put up the shelf, they still weren't super happy with the privacy, so I went and got IKEA's DIGNITET wire curtain rod and a middle support/corner fixture. It's strung across the room near the end of each bed, and the middle support is on the end of the bookshelf.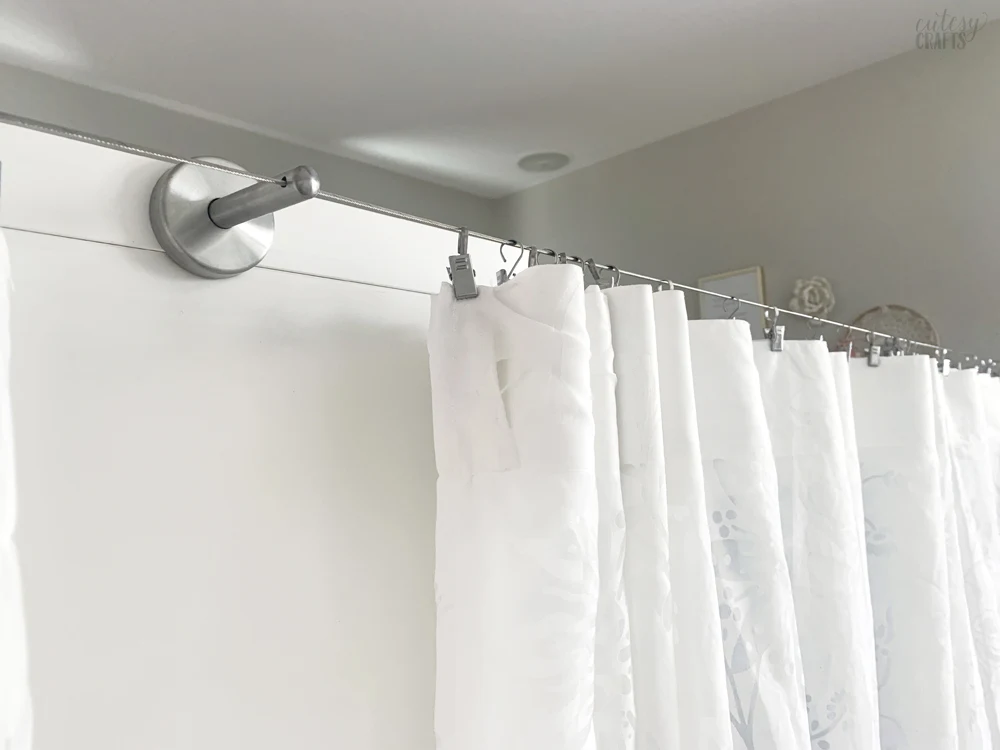 We used their RIKTIG curtain clips (I think I got 2 or 3 packs) and 4 packs of IKEA curtains. I can't remember which ones we used. I got some cheap white ones, but they were see-through, so I doubled the lace ones on top to make it more private. They were out of a lot of curtains the day I went, so I made do. Ideally it would have been better to not double up on the curtains so the clips would hold better, and then you would only need 2 packs (2 curtains on each side). It's still working though. Oh, and, yes, I had to hem all of them. Here's a tutorial on how to hem curtains without sewing. Here's one for how to sew by hand. That's how I did it, which wasn't too hard, just time consuming.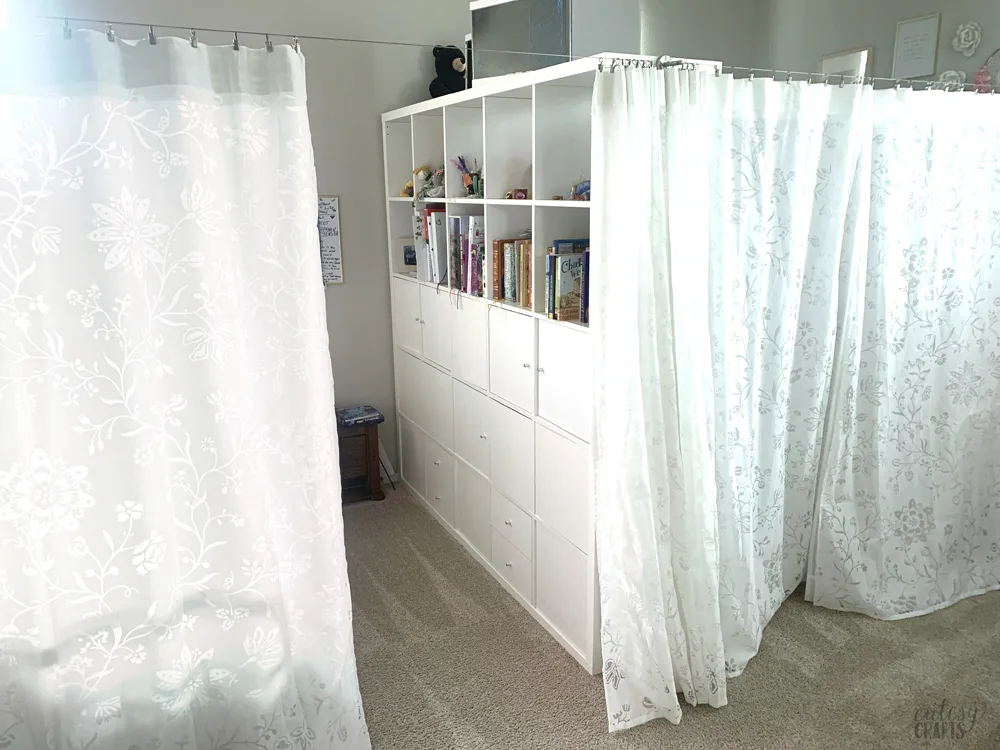 It looks a little strange walking in when the curtains are closed, but they are so happy to have their own space and privacy that I don't care.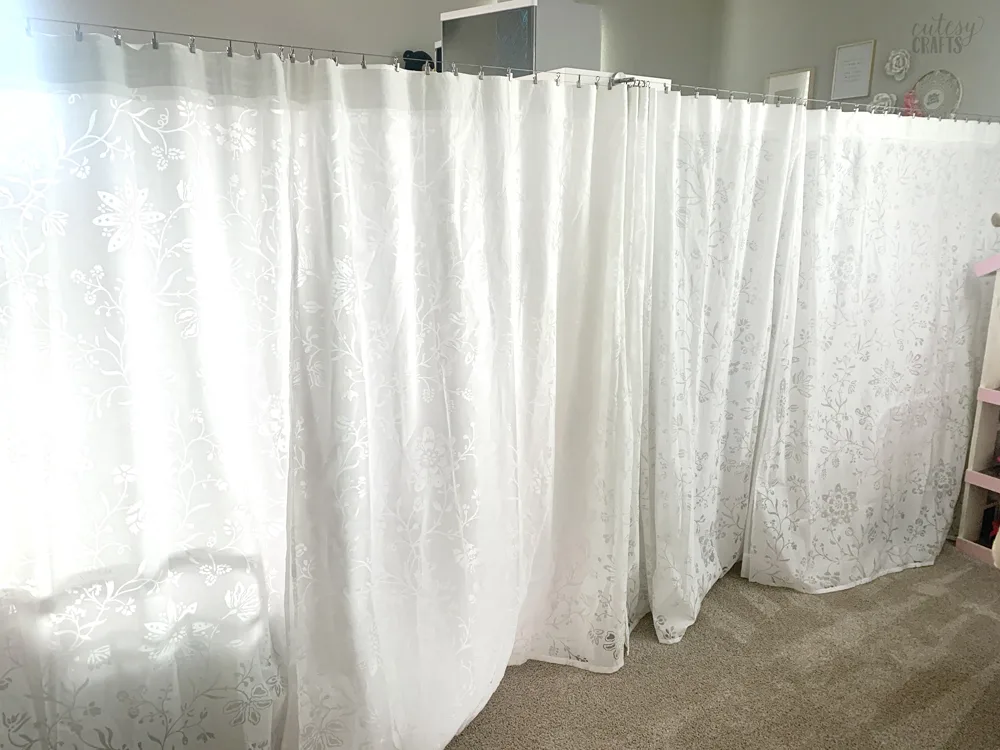 Overall this has been a great strategy to divide a room for us. The added storage is a huge bonus, and I love that it's only temporary with minimal holes drilled into the walls. Oh, and here's a link to their cute beds if you're interested. Very affordable and super sturdy. I love them!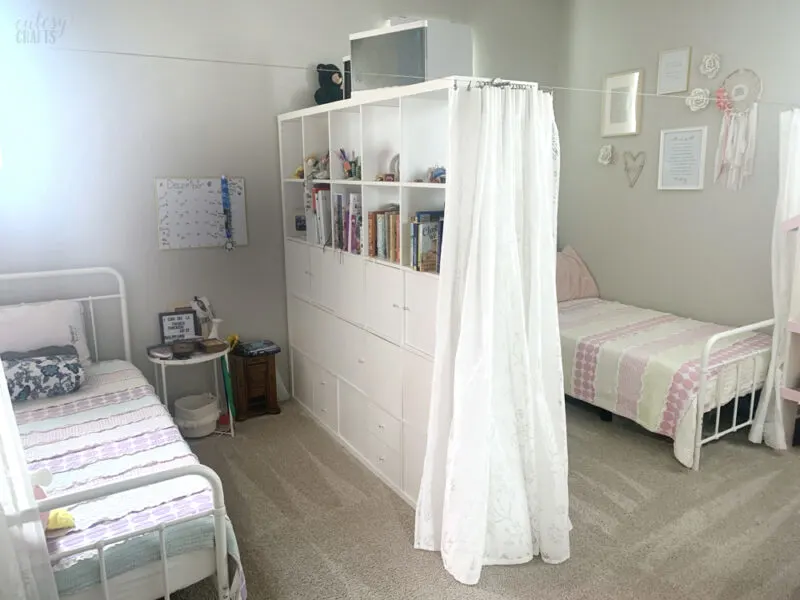 What solutions have you found to help children deal with sharing a room? They still fight over cleaning the common area, so I'm all ears!