Today, I thought I'd share a little tutorial on how to hem curtains without sewing. Even though I know how to sew, the thought of putting curtains up and then having to take them back down again to sew seemed annoying. I'm all about shortcuts, so I decided I'd figure out how to use hem tape instead. It's super easy, just cut and iron it on!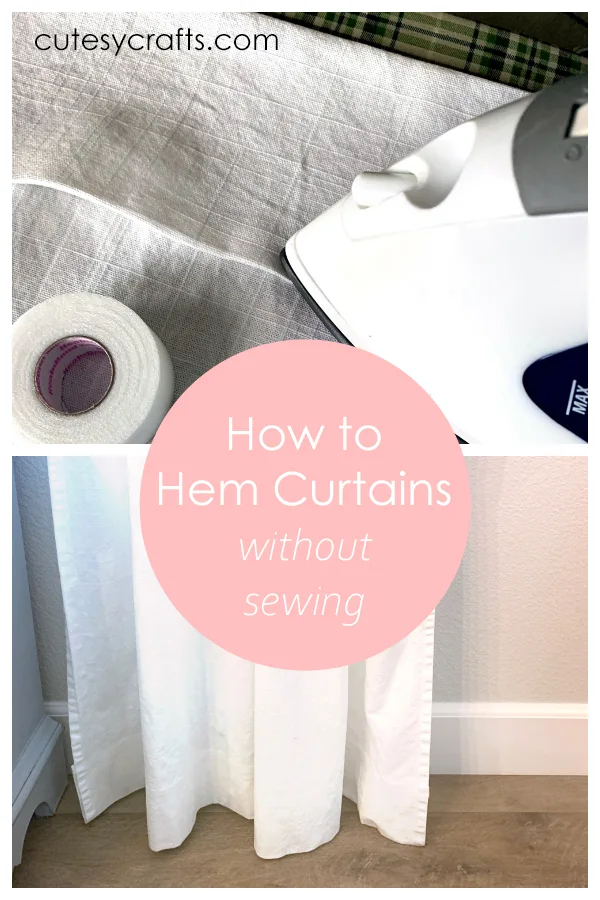 Supplies needed:
fabric scissors
ruler
iron
ironing board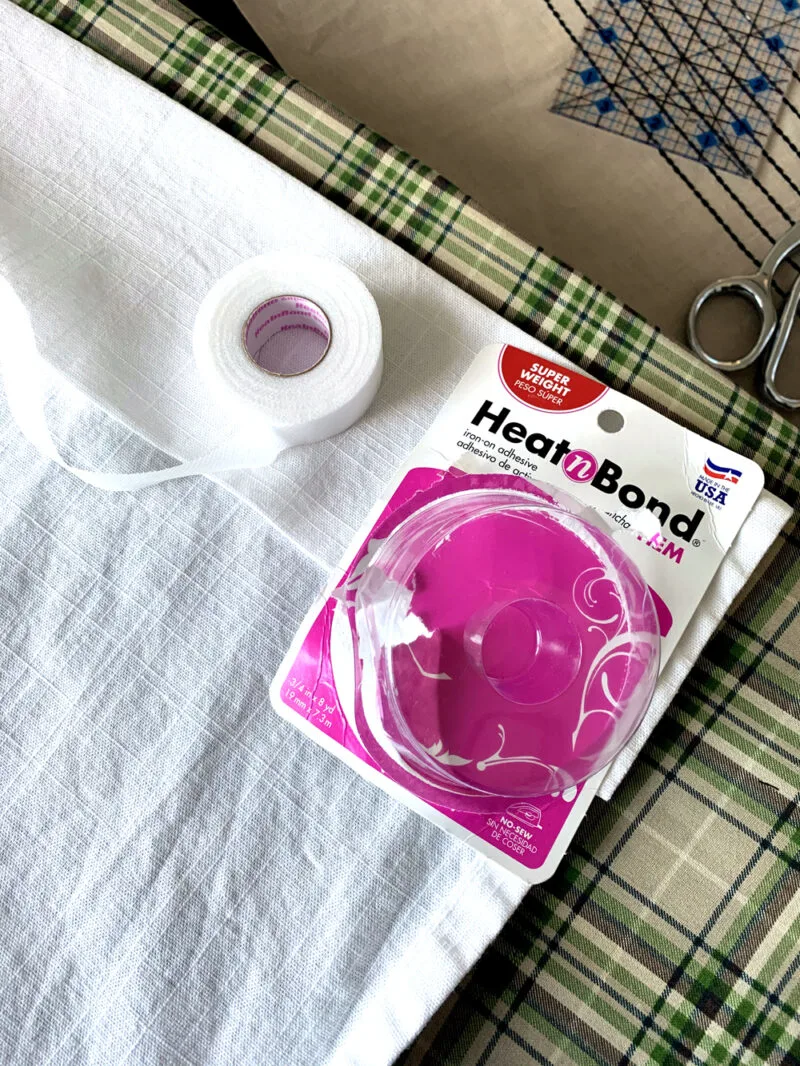 How to Hem Curtains without Sewing
**Important note: If you plan on washing your curtains ever, do that BEFORE you hem them so they don't shrink after. Also, this method may not work on very thick curtains. Read the instructions on the hem tape you use to see what fabrics it can be used on.**
Step 1: Measure how far up your curtains need to be hemmed. As you can see, my curtains are way too long, bunching on the floor. As a general rule, you want curtains just barely touching the floor. Sometimes it can look luxurious to have them bunched like this, but it wasn't the look I was going for.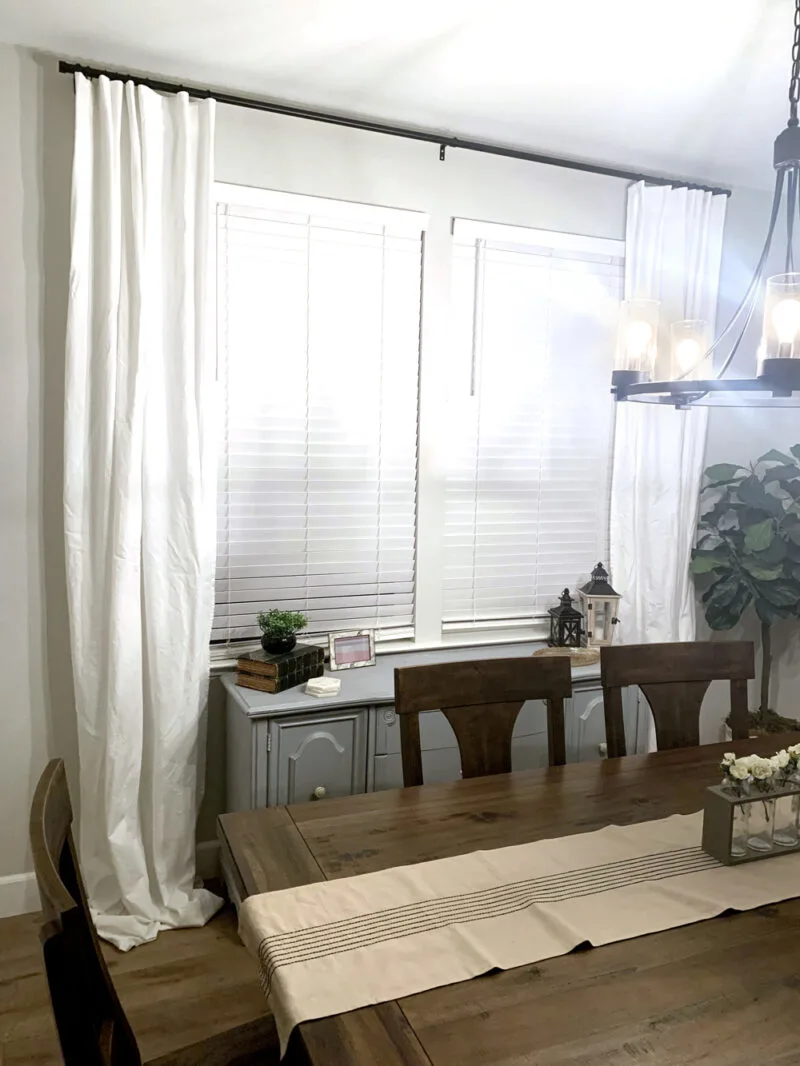 Step 2: Determine how large you want your hem to be. Choose a hem size that fits the look you want and add 1/2 an inch to that number. I wanted a large hem on these curtains, and I chose 4 inches, so my number would be 4.5 inches. I feel like that helps weigh down the bottom and look nicer hanging.
Step 3: Calculate the excess amount of fabric. Take the measurement from step 1 and subtract the amount from step 2. So if my curtains were 10 inches too long, I would do 10 – 4.5 = 5.5. This is the amount that needs to be cut off the bottom of my curtains.
Step 4: Cut off the excess fabric. Cut off the amount of fabric calculated in step 3. Use a ruler to mark a line across the entire bottom of the curtain so you know how much to cut off.
Step 5: Iron the hem. Iron the cut edge up toward the back of the curtains 1/2 an inch and then iron it again the size of your hem (4 inches for me).
Step 6: Place hem tape on the part that you would normally sew. Roll out some hem tape and place it under the top of your hem, where the 1/2 inch fold is. It should look like the photo below.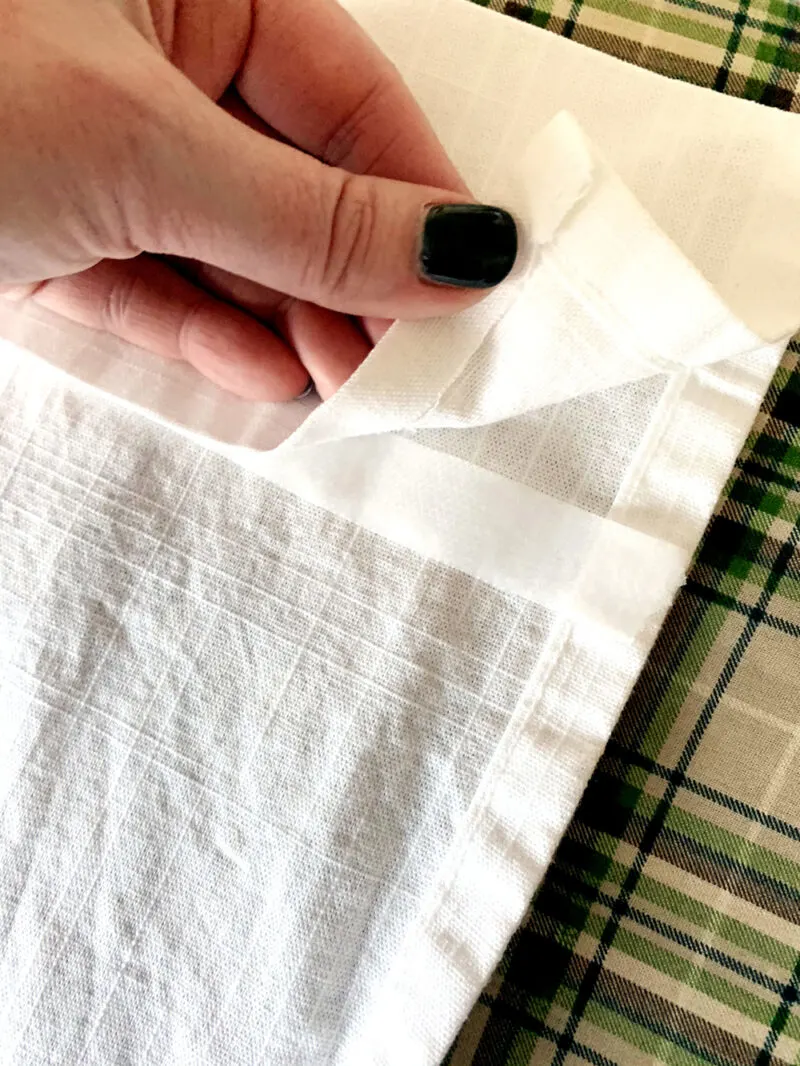 Step 6: Iron the hem down over the seam tape. Follow the instructions on the hem tape you're using to iron the hem down. Do NOT touch the iron directly to the hem tape, and make sure you don't iron it to your ironing board. The tape must be sandwiched completely between two layers of fabric from your curtains.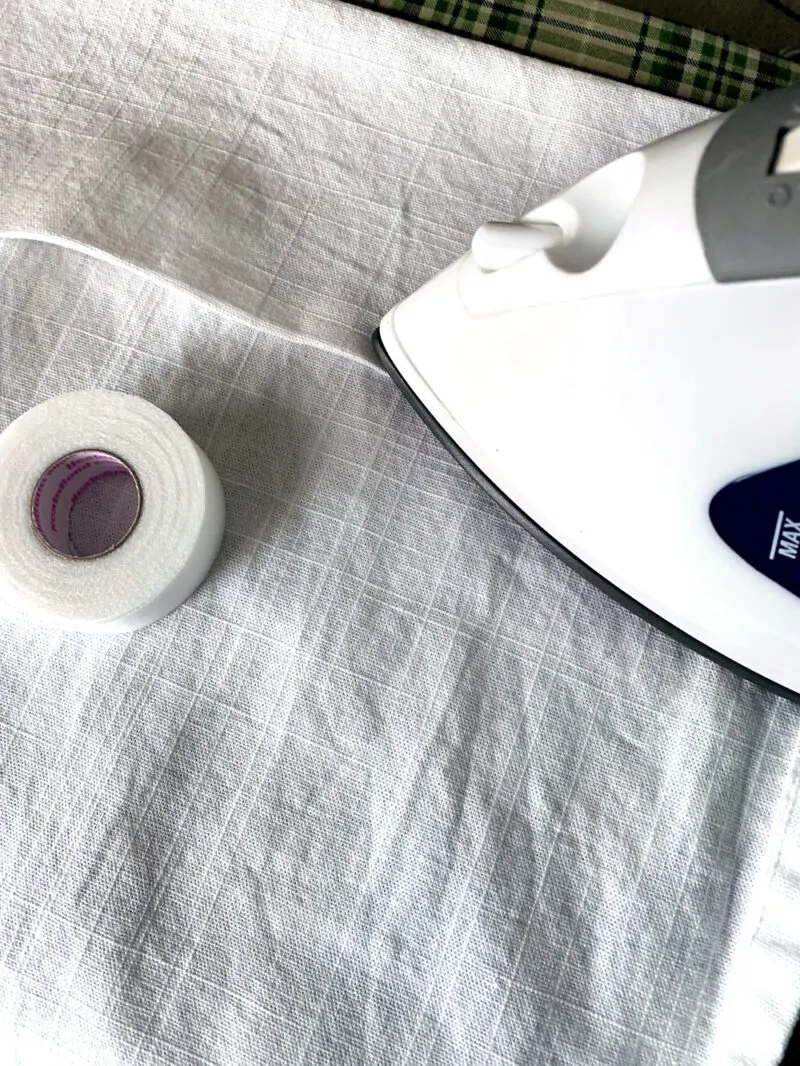 And then you're done! Hemmed curtains without ever having to break out a sewing machine or needle and thread.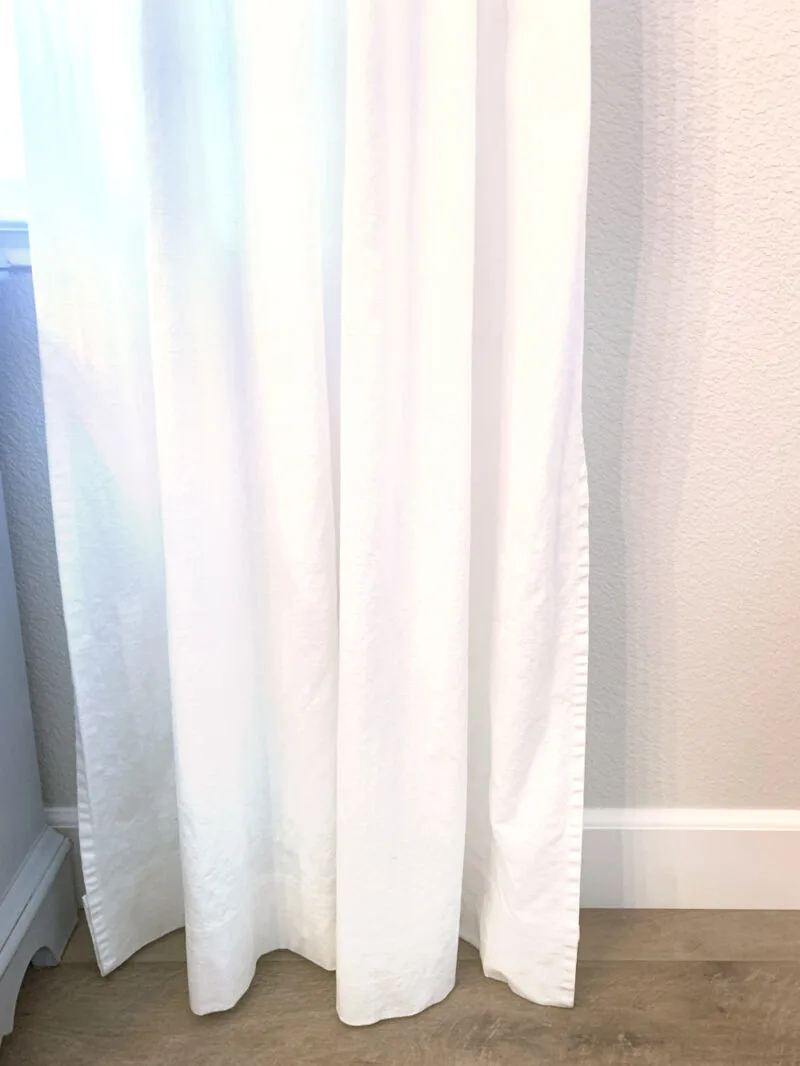 They look so much more modern and tidy like this!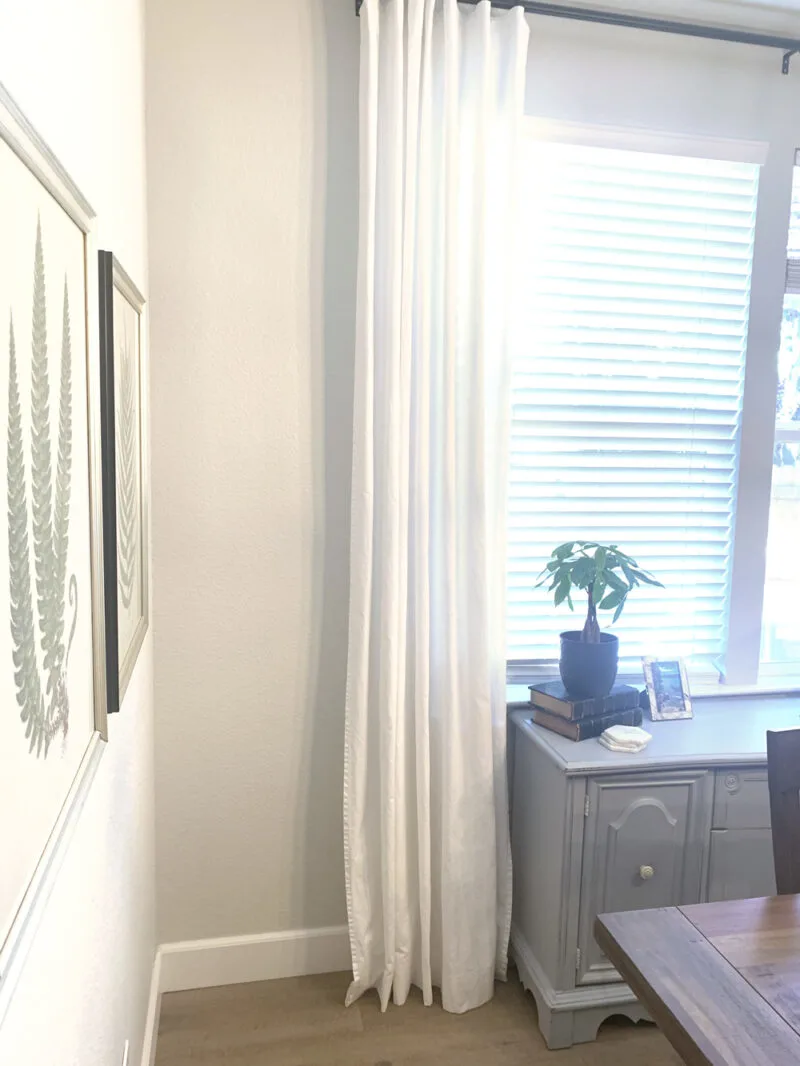 Oh and one last tip before you go. My favorite thing to remove wrinkles from curtains (and any clothes for that matter) is a handheld steamer. Click this link to see the one I use and love.