Only a couple months to go and I'm in full baby prepping mode. All I want to do is get baby stuff and clean my house! Oh and I realized I never announced here that we're having a BOY! I'm super excited because that will give us two boys and two girls. So perfect, right? Unfortunately, that means that little baby boy has nothing to wear. On a day that I had decided I was no longer having any more kids, I got rid of all of the baby boy stuff… ALL of it! 🙁 Gotta do some shopping, I guess.
Since my little Leah was born, 3 years ago, they've already come out with cool new stuff for babies. Everyone is using big muslin swaddling blankets for their babies now. I love swaddling my babies, so I need some, of course! I also have really big babies (like there's a very good chance this one could be 12 lbs big), so the idea of having big swaddling blankets is really appealing. After doing some searching on the internet, I found out that these blankets are actually made of a fabric called "gauze" that you can get at JoAnn's. YES! Time to get my DIY on! Here's what I came up with. (edit: Since writing this post, I found out that some gauze is softer than others. Some people recommend getting a soft "bubble gauze" which would be better than what I found at JoAnn's. I recommend researching some other options for purchasing your fabric.)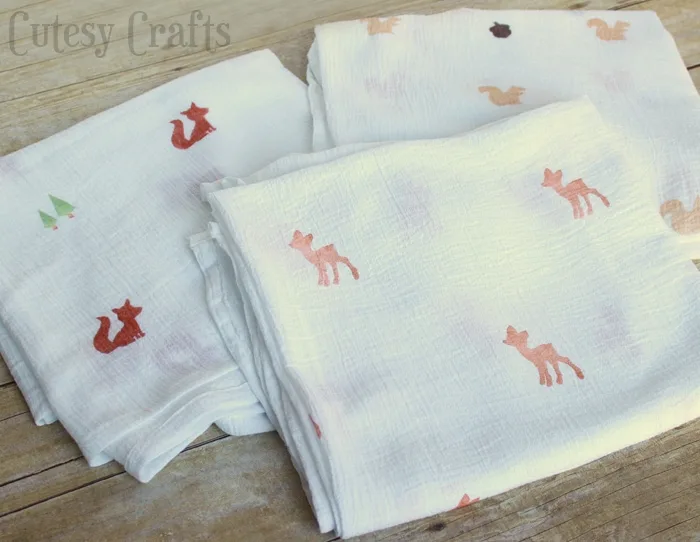 I stamped the blankets with some woodland-themed stamps that I made myself! Yep, that's right, I made them!!! Stay tuned for a tutorial on that (edit: click here for the stamp tutorial). It's really easy to do. Oh, and do the shapes look familiar? They're the same animals I used for my felt deer and fox ornaments and fabric lacing cards.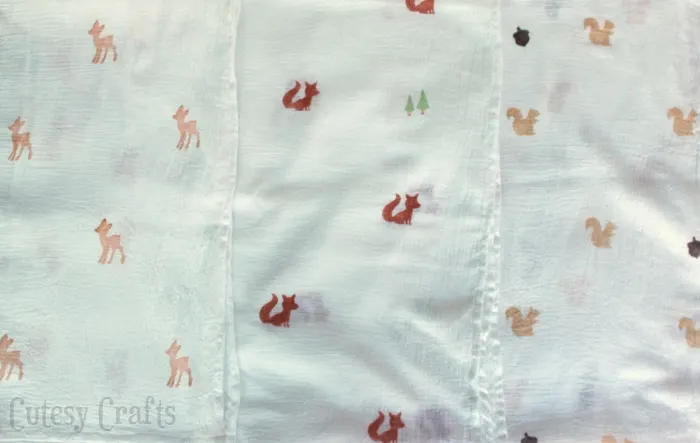 I can't decide if I like the foxes with the trees…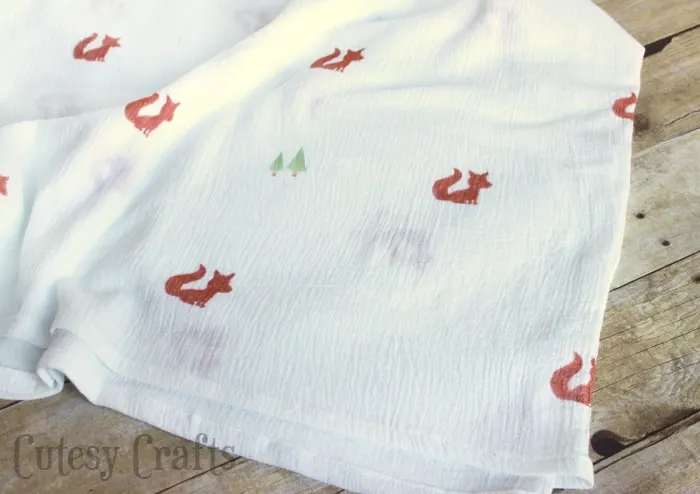 …or the squirrels with the acorns better.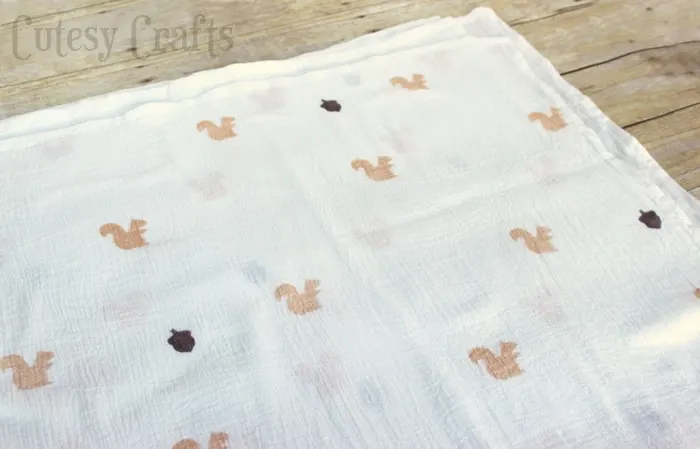 To make your own stamped muslin swaddling blankets you'll need:
gauze fabric (36 – 45 inches for each one)
thread
fabric ink or paint
stamps (click here for a tutorial to make your own)
I found the gauze fabric in the same section as the linen in JoAnn's. They had a cream color and the white color that I chose. Make sure to bring a coupon to use if it's not already on sale! First thing to do is wash your fabric. It will get really wrinkled and bunch up, so iron it a little before cutting. I cut each blanket about 45 inches square. Honestly, I probably could have done just a yard (36 inches) for each one, and it would have been just fine. I was just going off of what the store-bought blanket dimensions are.
All I did to make the blankets was cut out a square, and hem all of the sides. Don't worry about ironing to get the hems perfect. Just roll about 1/2 inch and roll again 1/2 inch as you are feeding it through your sewing machine. If you have a serger, you could even just serge all of the edges. Super easy.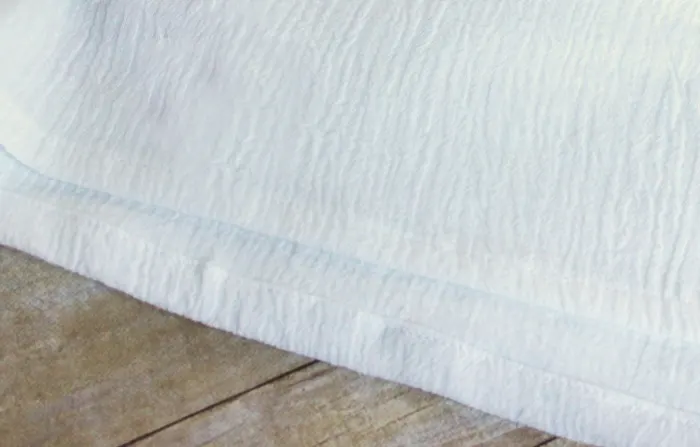 You'll want to use ink or paint that is labeled for use on fabric. Fabric paint will give you a more vibrant look. I wanted something really soft though, and sometimes fabric paint can feel a little scratchy. I've used these inks to stamp fabric before, so I know they work well. Any brand that says you can use it for fabric should do the trick, just make sure to read the back. Even this brand makes some ink that isn't for fabric. This ink does fade a little after multiple washings, but that's ok with me.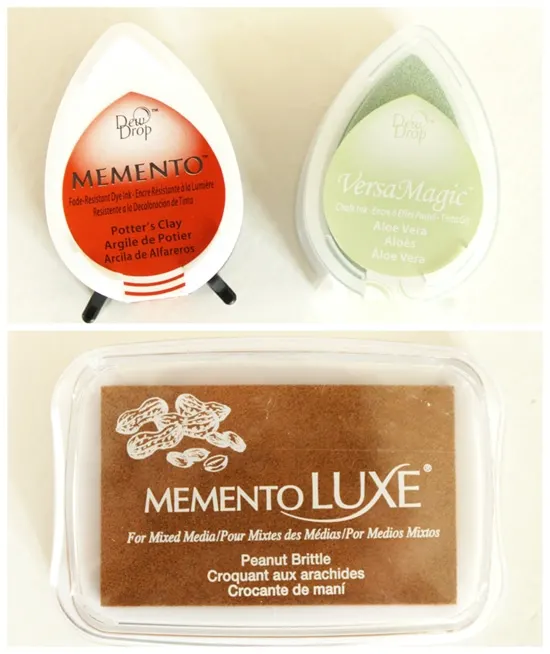 You can pretty much use any kind of stamp. I would suggest something that isn't super detailed so you don't loose the design in the wrinkles of the fabric. Again, I'll get back on here soon with a tutorial to make your own stamps. Put something under your blanket to protect the table, and stamp away! I tried to make a bit of a pattern, but you could also just stamp randomly. I put my plastic cutting board under the blanket to help me line everything up because I am slightly OCD. Make sure to practice on some fabric scraps first to get the amount of ink and pressure right. Oh, and don't be a dummy like me and drop the entire ink pad on the blanket. 🙁 I'm still hoping if I don't heat set that part that it will wash out.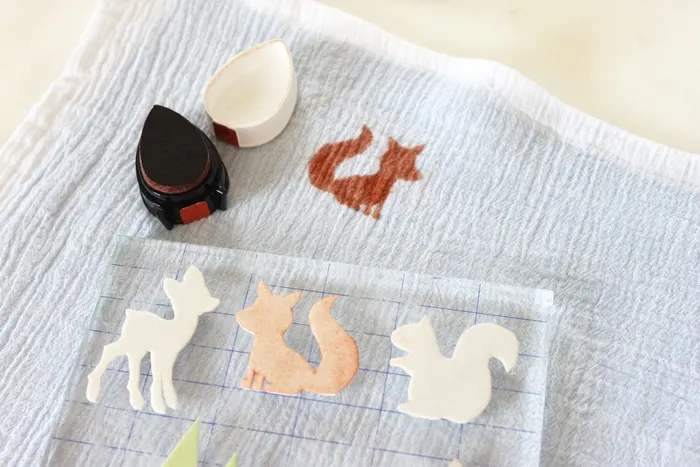 And finally, iron over the ink to heat set it. This will help keep the ink from fading when you wash it. Do the same thing if you used paint.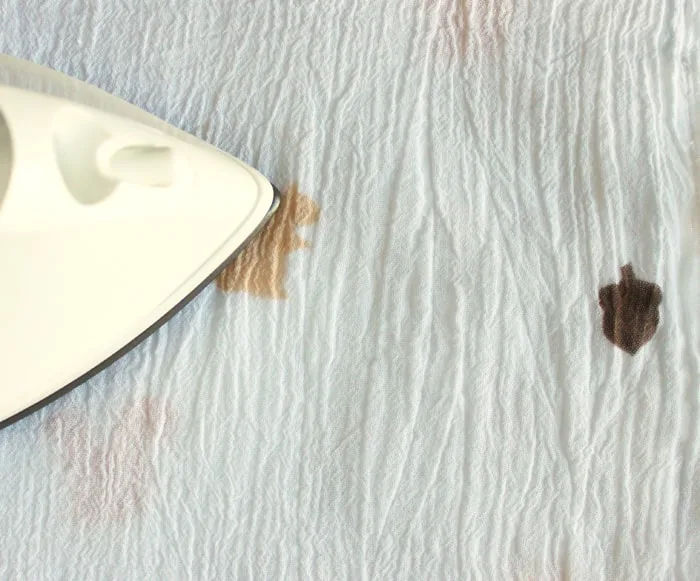 I was hoping to save a little mulah by making these myself. Turns out good old Walmart sells the blankets now, so I didn't really save anything by DIYing them, but I bet the ones from Walmart aren't made with love!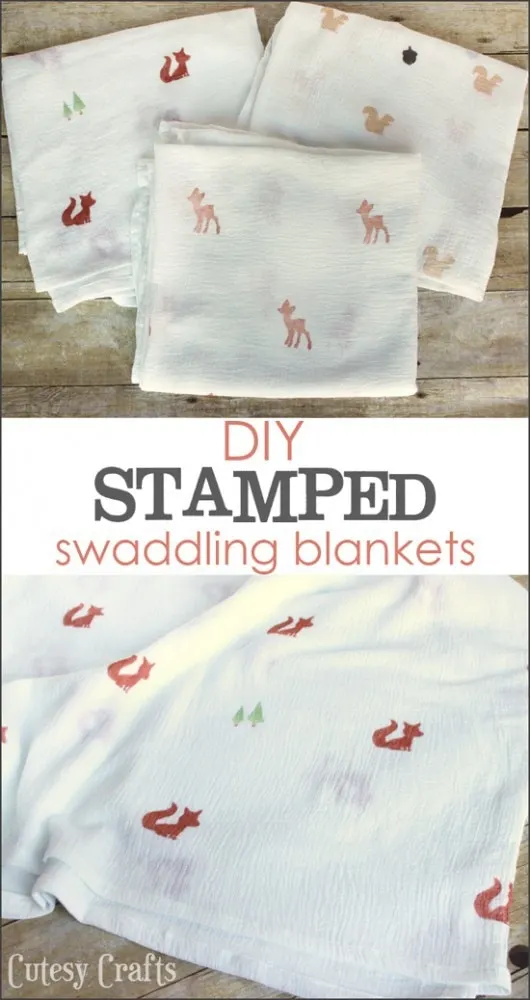 I can't wait for our little boy to come so I can use these (and because I'm WAY over being pregnant). I've still got some more fabric, so I think I'll whip up some more. Ooh, maybe I'll try dying some different colors. So many possibilities! Also take a look at these easy homemade blanket tutorials.