It's October, and that means it's time for all things HALLOWEEN! I've teamed up with a ton of other bloggers to bring you some great Halloween ideas. Scroll down to see posts from everyone that is participating today. The blog hop is being organized by Design Dazzle, so also head over there to see all of the amazing posts from the rest of the bloggers.
Today, I'm sharing this eraser-stamped trick-or-treat bag. I'm loving making eraser-stamped shirts for all of the holidays. Since Halloween isn't a huge shirt-wearing holiday, I decided I'd try eraser-stamping on something else too. What better thing to decorate than a trick-or-treat bag? Let the kids go at it with the paint and they can proudly tote around the bag they decorated on Halloween!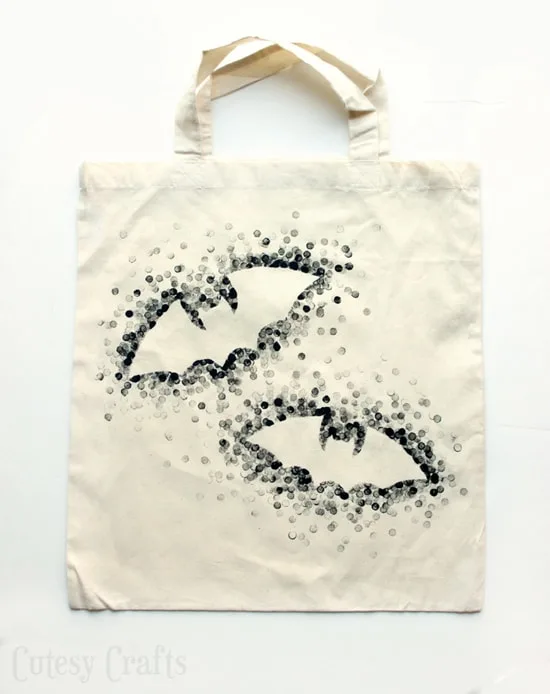 Supplies needed:
bag (this is a cotton one that I got at Hobby Lobby for $1.00)
freezer paper
pencil with unused eraser
black fabric paint
bat pattern found here
Trace the bat shapes onto the non-shiny side of some freezer paper.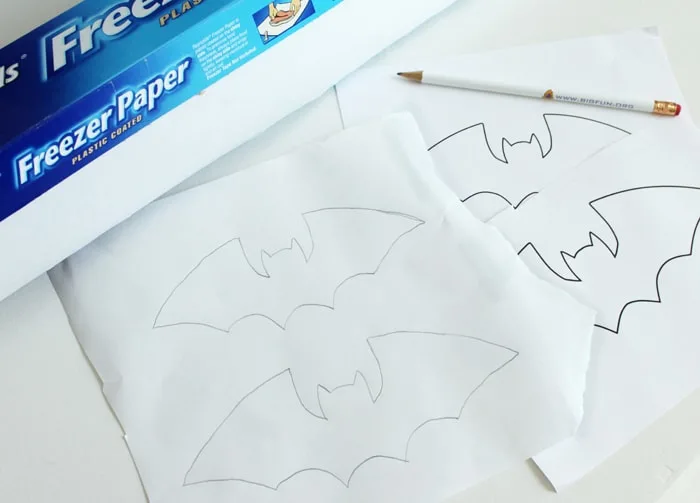 Cut the shapes out.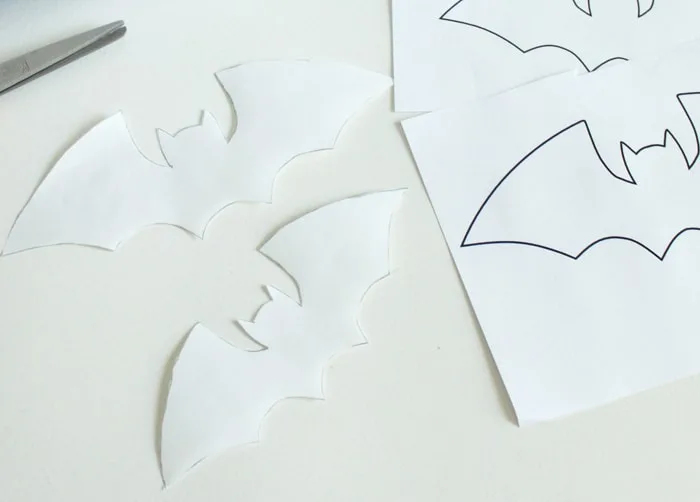 Place the bats, shiny side down, onto the bag and iron.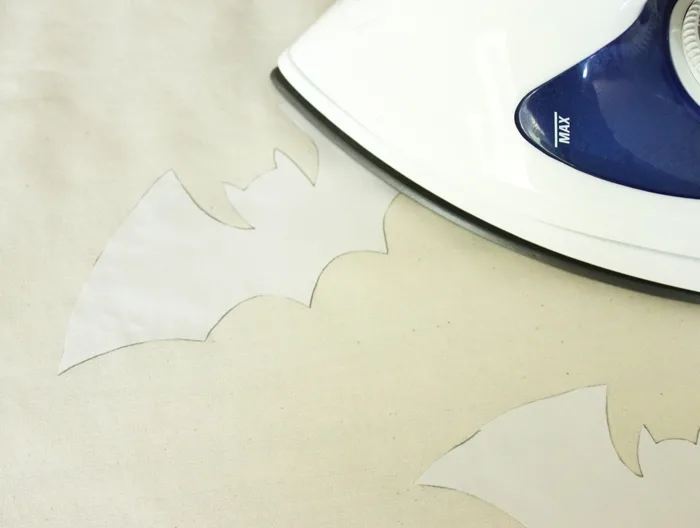 Dip an eraser into black fabric paint and stamp all around the bats.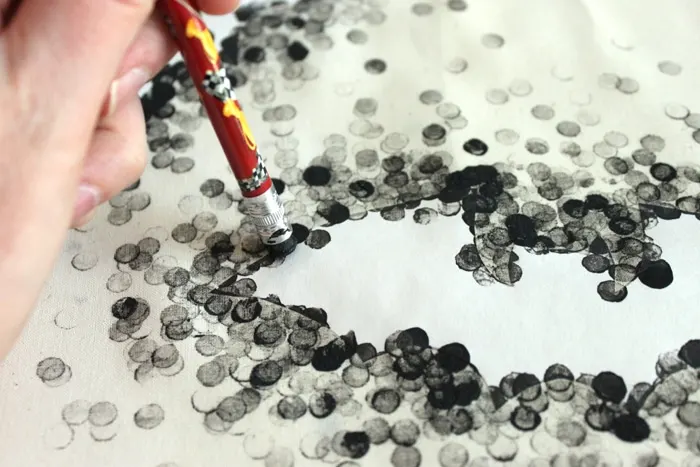 Let the paint dry.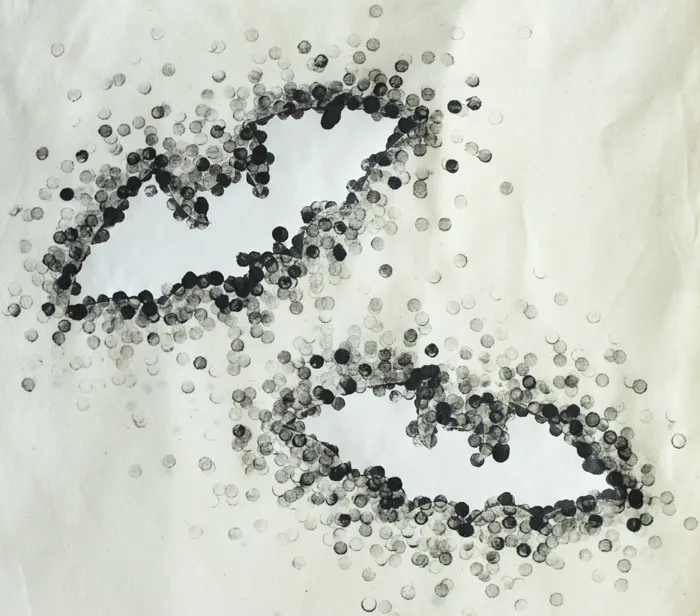 Peel off the freezer paper, and you're done! So easy!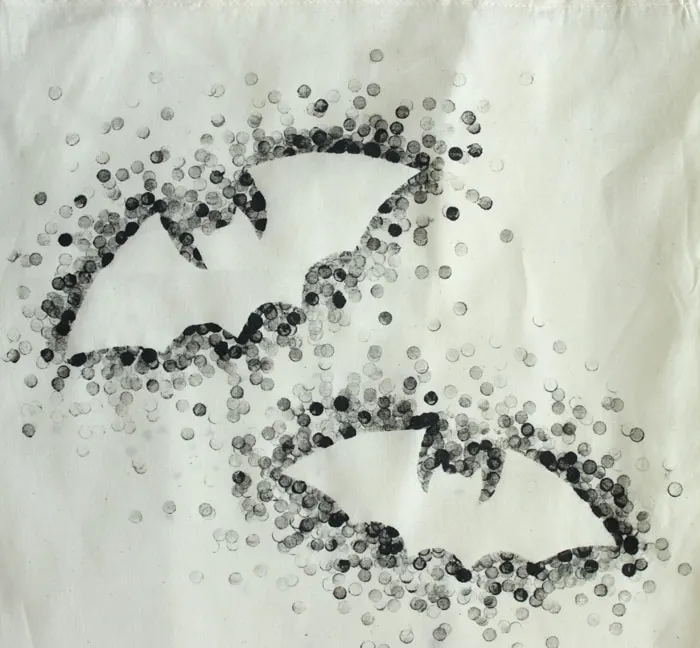 Are you ready for lots more creative Halloween ideas and projects??
Come participate in our blog hop! Simply click on each of the links below, for the Halloween projects you'd like to see in more detail and it'll take you right to that post with additional information and photos on how to create it. Have fun and pin away!
1. Halloween Witch Crashing Decoration
2. Quoth the Raven, "Nevermore" Wreath
3. DIY Sharpie Pumpkin
4. Flying Bat Silhouettes
5. Halloween Cupcake Wrappers & Toppers
6. Easy Geometric Wooden Pumpkins
7. DIY and DYE Autumn Burlap Jar Candles
8. Easy DIY Halloween Tray
9. CreepyCritter Halloween Wreath
10. Blood Shot Paleo Deviled Eggs Eyeballs
11. Free Halloween Subway Art Printable
12. S'more Treats
13. Candy Corn Halloween Sign
14. Thumb Tack Pumpkin
15. Halloween Fun Decorating Sugar Cookies
16. Eraser-Stamped Trick-or-Treat Bag
17. Free Printable – Halloween Gift Tags
18. DIY Halloween Trick or Treat Door Mat
19. Pumpkin Mason Jar Luminary
20. Dia De Los Muertos Flower Vase
Follow our Fabulous Halloween Ideas Pinterest board for even more inspiration!
Follow Design Dazzle's board Fabulous Halloween Ideas on Pinterest.