My Audrey is turning five in a couple weeks and has requested a My Little Pony party. One of my favorite things to do is send the kids home from the party with some kind of handmade favors. I'm working on some other things as well, but I thought it would be really cute to make some temporary My Little Pony tattoos.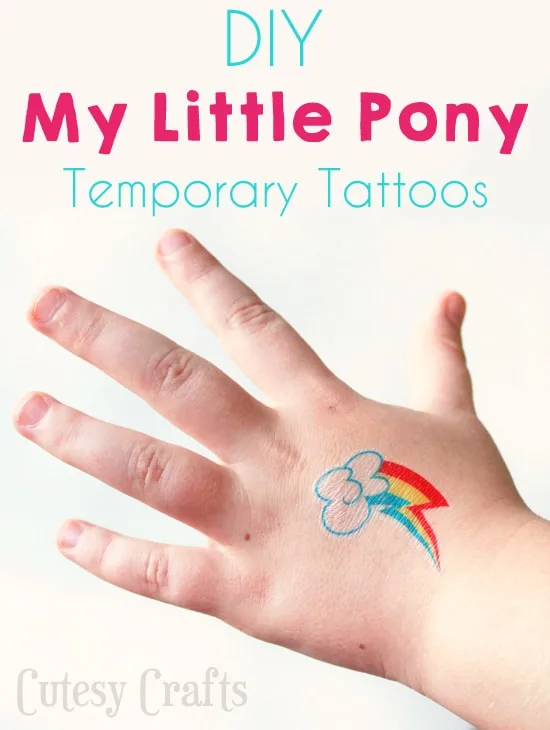 The tattoos are of the ponies' cutie marks. The plan is to have the girls a game (probably pin the tail on the pony or something) to earn their cutie marks. Fitting because in the show, the ponies start out in life without cutie marks and eventually get them.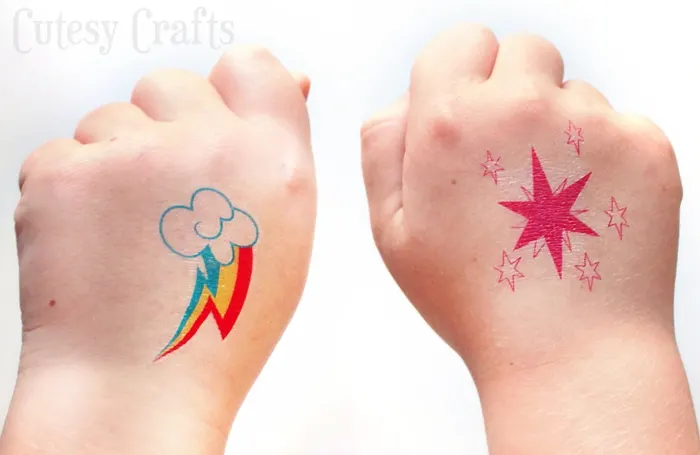 (This post may contain affiliate links, which means I may receive a commission, at no extra cost to you, if you click a link and purchase something that I have recommended.)
You don't need to have a Silhouette to make your own temporary tattoos or any special machine besides a regular old printer. The Silhouette cuts them out for you, but it can definitely be done with a pair of scissors. If you have a Silhouette, go ahead and grab my free cut file for the My Little Pony tattoos here. If you don't have one, grab the pdf here. I got the cutie mark images here.
You'll also need some printable tattoo paper, which I admit isn't cheap. I plan on using the other sheet in the package to make tattoos with my phone number on them for the kids to wear at theme parks and stuff. Head on over to this great tutorial from Lauren at The Thinking Closet for detailed instructions on how to make the tattoos.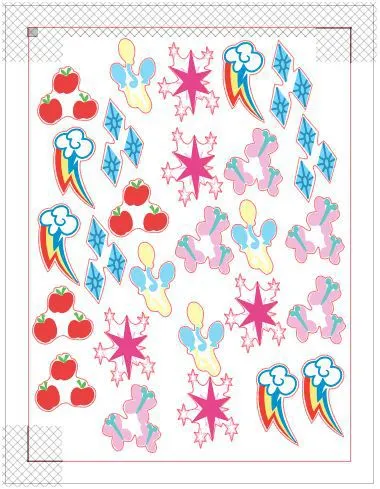 My Silhouette Challenge buddies and I are all sharing projects on our blogs today, so check out the projects below for a wealth of Silhouette inspiration! Click on the images or the links below to be taken to each project.
1. Just a Girl and Her Blog // 2. The Frill of Life // 3. A Time For Seasons // 4. The Thinking Closet // 5. Ginger Snap Crafts // 6. Grey Luster Girl // 7. Simply Kelly Designs // 8. Home At Eight // 9. Please Excuse My Craftermath… // 10. My Paper Craze // 11. Mama Sonshine // 12. Practically Functional // 13. Adventures in All Things Food // 14. Two Purple Couches // 15. Dragonfly & Lily Pads // 16. Sowdering About // 17. Cutesy Crafts // 18. My Mom Made That // 19. Pitter and Glink // 20. Pineapples And Pinecones // 21. Dream a Little Bigger // 22. McCall Manor // 23. TitiCrafty // 24. unOriginal Mom // 25. Persia Lou // 26. Lil Mrs Tori // 27. Home. Made. Interest. // 28. Sandpaper and Glue // 29. Silhouette School // 30. Creative Ramblings // 31. My Favorite Finds
Cutesy Crafts is a participant in the Amazon Services LLC Associates Program, an affiliate advertising program designed to provide a means for sites to earn advertising fees by advertising and linking to amazon.com. This post contains affiliate links. If you click an affiliate link and make a purchase, I earn a small commission.