Since you all loved the eraser-stamped St. Patrick's Day shirt that I made for last month, I decided to whip up another version of it for Easter. I might just need to go a little crazy with this idea and make one for every holiday. They are so easy and cute! I even let Audrey help me with it a little. Really, if you don't care about perfection, it's one that the kids could easily make themselves.
Here's what you'll need to make this Easter shirt:
– bunny pattern
– white shirt
– Freezer Paper (I got mine at the grocery store)
– fabric paint – pink and green
– pencil with an unused eraser
– x-acto knife (optional)
I wanted to get a little more creative with this one, so I cut the eraser tip into a flower shape. You could just leave it as a circle, but I think this made it look a lot cuter! Just draw a flower shape onto the eraser and cut it with an x-acto knife. It doesn't need to be perfect… mine certainly wasn't. Test it out a little before you stamp on the shirt, so that you'll know if it's working right.
Trace the bunny silhouette pattern onto the non-shiny side of some freezer paper, and cut it out.
Iron the bunny, shiny side down, onto the shirt.
Dip your pencil eraser stamp into some paint and start stamping! Don't get too much paint on the eraser or you will end up with a blob instead of a flower. You're also gonna want to put some freezer paper on the inside of the shirt to keep the paint from leaking through.
Make sure the stamps are close together around the outline of the bunny so you can see the silhouette. Just like on my clover shirt, I faded the stamps out as they got further away.
Let the paint dry and peel off the freezer paper. Follow the instructions on your paint to heat set it (usually this involves ironing or throwing it in the dryer).
Ta da! (P.S. Isn't Audrey's new hair cut adorable?! I love when her hair is short!)
You'll probably also like these Sharpie Easter eggs!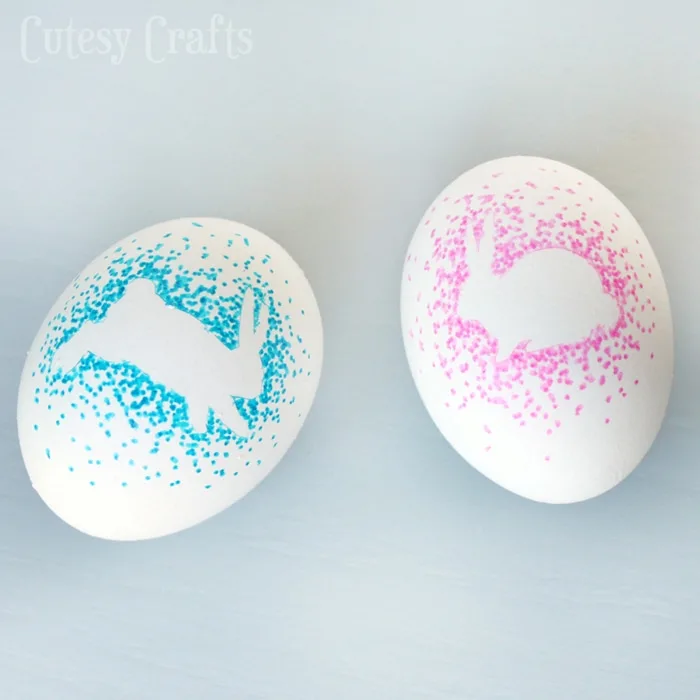 And make sure to check out the eraser-stamped St. Patrick's Day shirt too!