When I was a little girl, I remember my grandpa made us a flower press out of some boards and bolts. We had so much fun finding flowers to put in the press and waited impatiently for them to be finished. I knew it was a project that I wanted to do with my group of girls at church, so I set out to find out how to make a flower press the easiest way possible. This is what I came up with.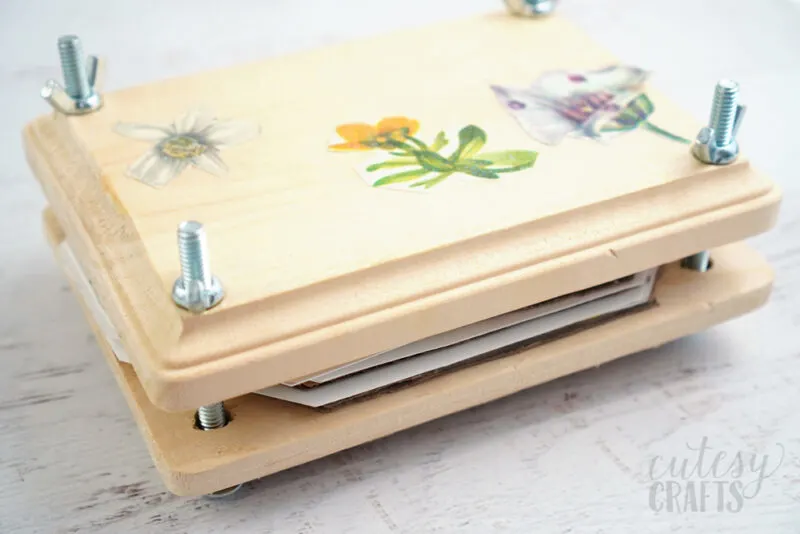 (This post may contain affiliate links, which means I may receive a commission, at no extra cost to you, if you click a link and purchase something that I have recommended. As an Amazon Associate I earn from qualifying purchases.)
For each DIY Flower Press, you'll need:
2 5×7-inch pieces of wood or wood plaques
4 1/4×3-inch bolts
4 1/4-inch wing nuts
power drill
sand paper
cardboard
Mod Podge (optional)
foam brush (optional)
floral prints (optional – I got mine out of this book)
Step 1: Drill 4 holes in each of the board's 4 corners. I marked the drill holes 1/2-inch in from each of the sides. Sorry, I don't remember what size drill bit we used, but you want the bolts to easily slide in and out.
I used these wooden plaques from Joann Fabric to make it easier on myself. The wood wasn't super high quality, so if you go that route, definitely buy extra. We had a couple of the plaques split while drilling. If you can cut the wood yourself, that will make a higher quality press.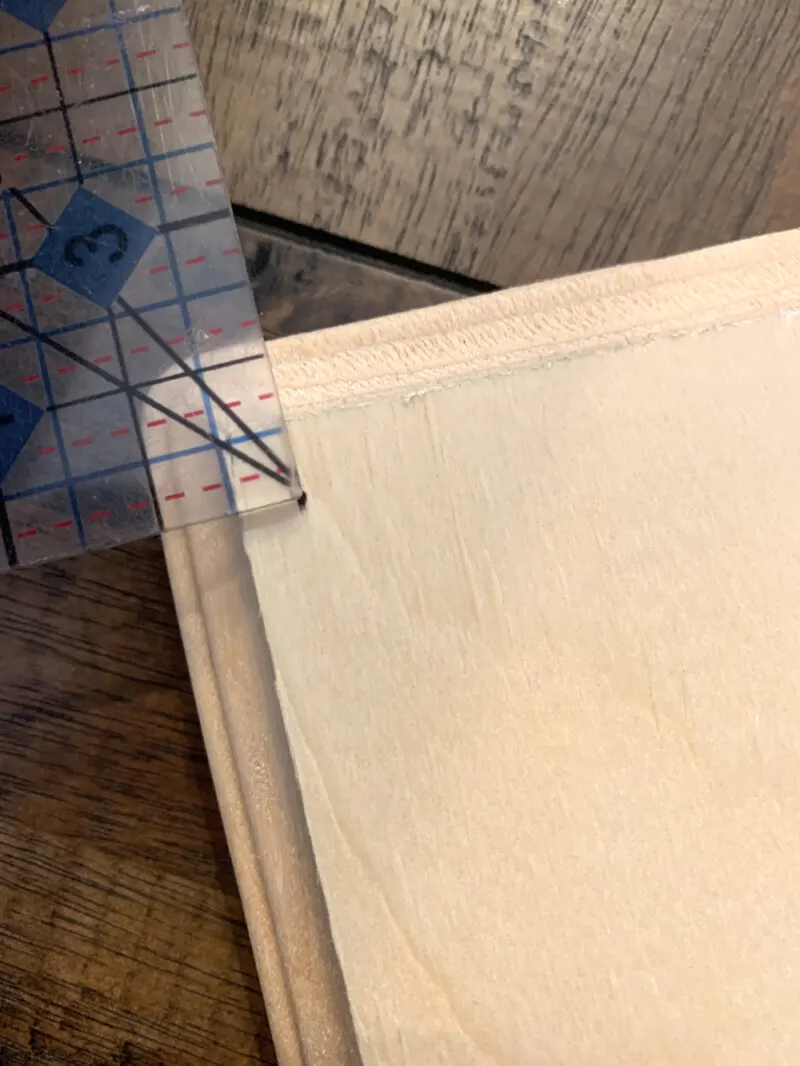 Step 2: Sand the boards. I let the girls do this at the activity.
Step 3: Mod Podge pretty flower printouts on the outside of the boards. This is optional, but the girls had a lot of fun doing it. I have this old book that I purchased solely for the artwork, so I let them pick illustrations out of it to cut up. Leah chose glitter Mod Podge, so that's why this one is so sparkly. You could also paint the boards.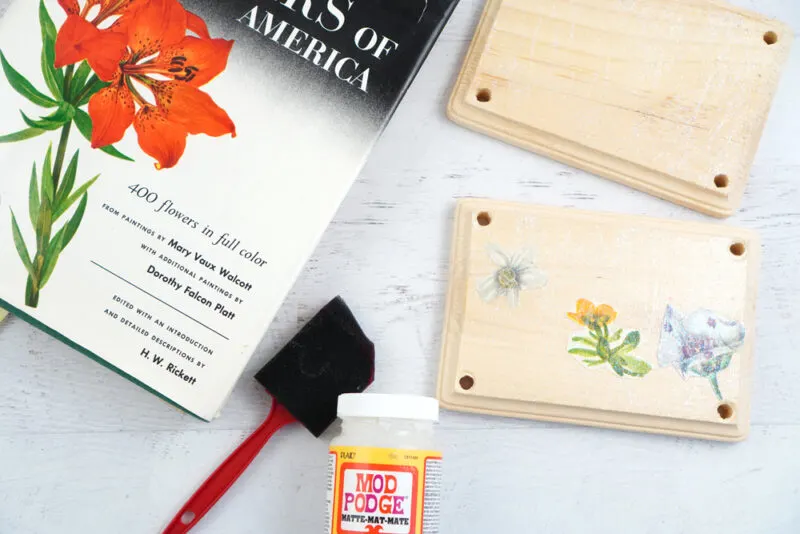 Step 4: Cut out pieces of watercolor paper and cardboard to stack inside the press. Use this free template to cut the pieces so the paper and cardboard don't get in the way of the bolts. You'll need 4 pieces of cardboard and 6 pieces of watercolor paper. Have an adult cut the cardboard. Put them in a stack that goes cardboard-paper-paper-cardboard-paper-paper-cardboard-paper-paper-cardboard.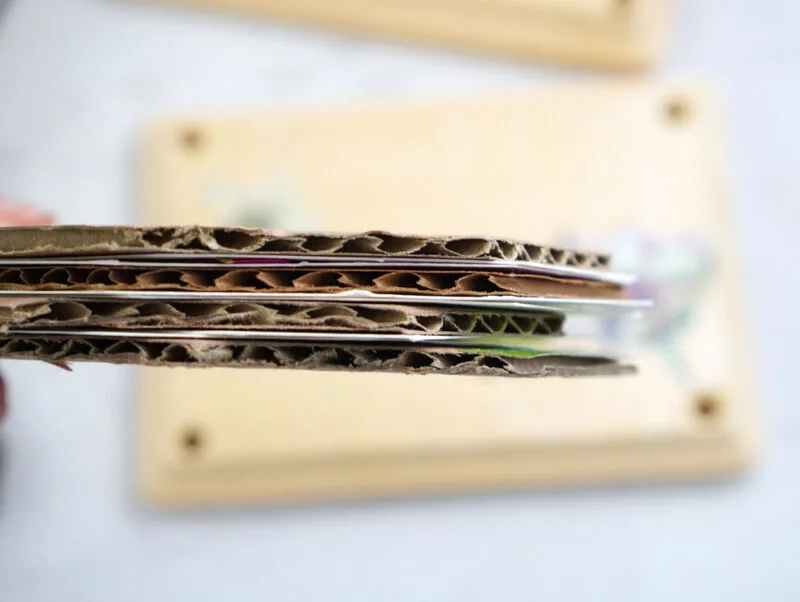 Step 5: Assemble your flower press. Place the stack of cardboard and paper in the middle of the press, put all the bolts through the holes, and screw on the wingnuts. Your flower press is done!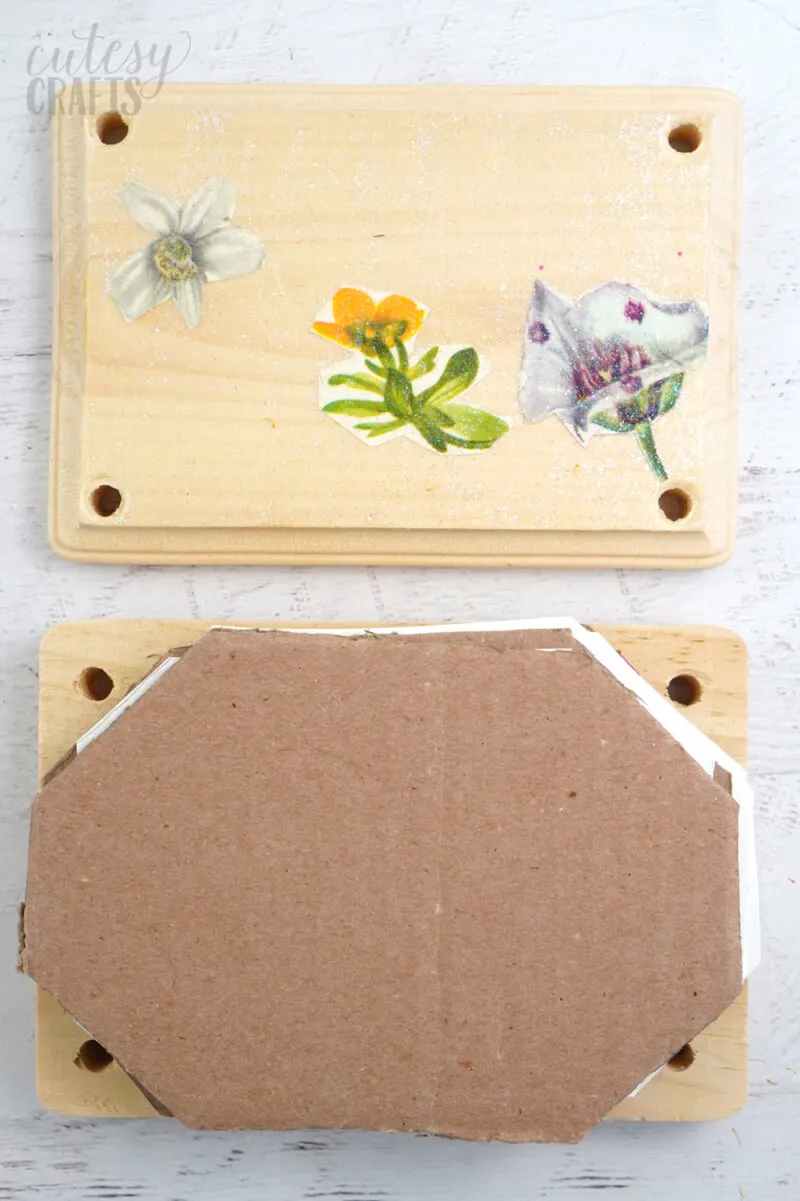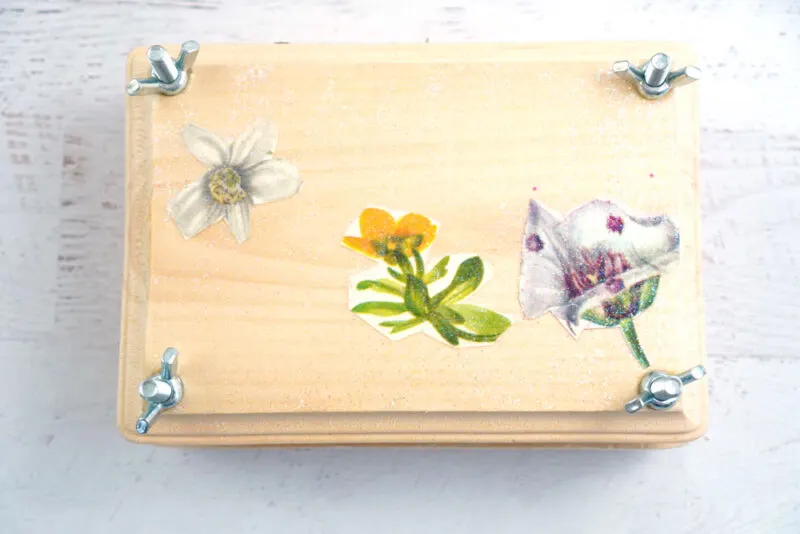 For our next activity, we went on a nature walk to gather flowers for our presses. The flowers go in between two pieces of watercolor paper, so you'll have three spots to put flowers.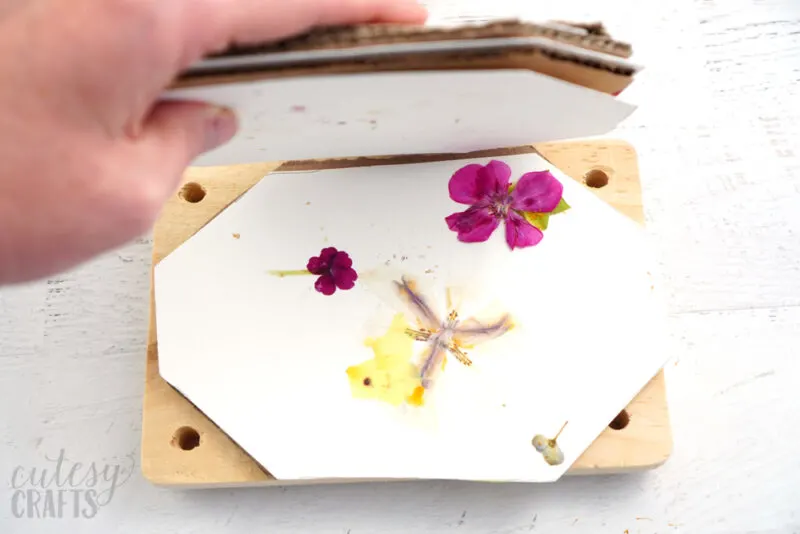 After 3-4 weeks, the flowers will be ready to carefully be removed and used for fun crafts. We made bookmarks and cards at another activity. The girls loved seeing their hard work come to fruition!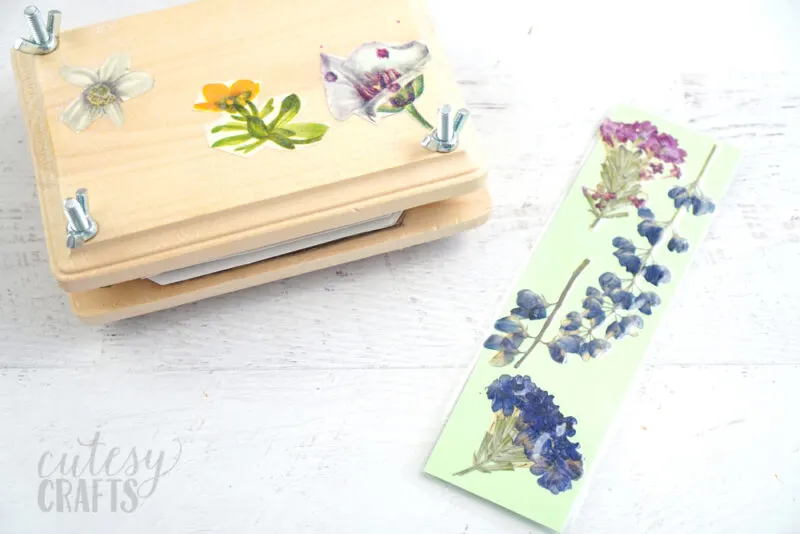 I hope you enjoyed learning how to make a flower press! Any ideas for other things to make with pressed flowers? We've got a ton now.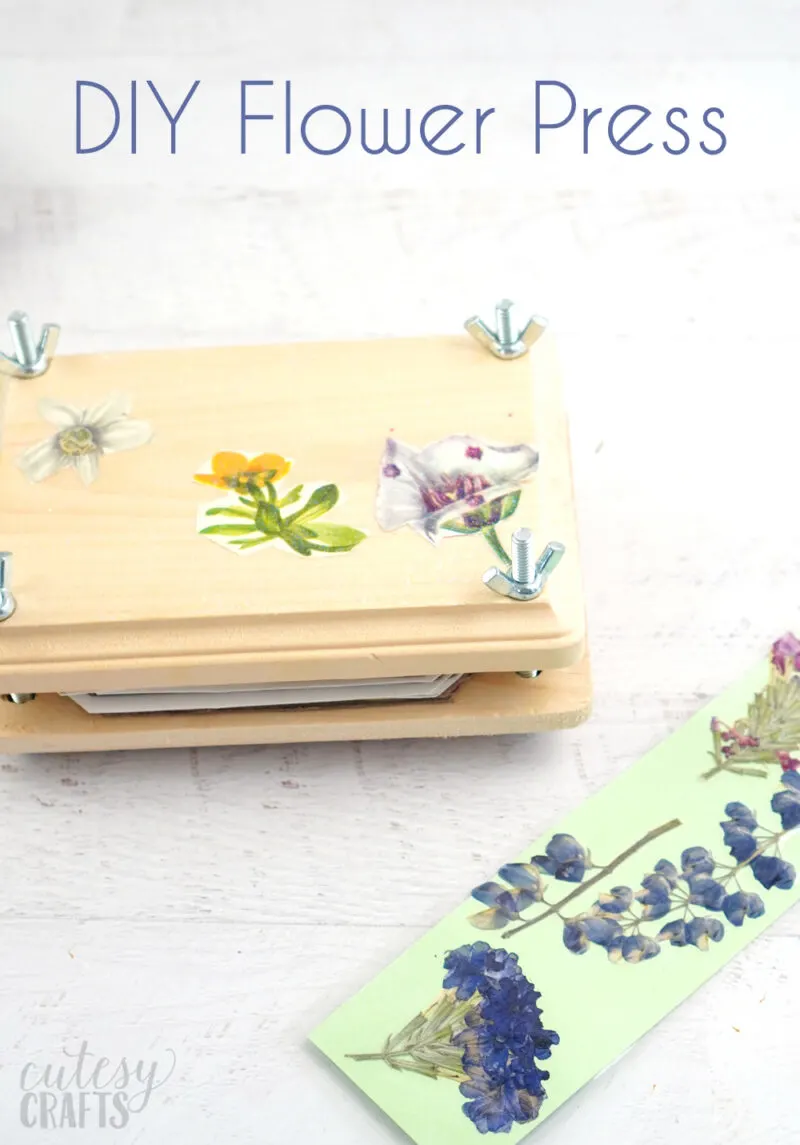 Click here for more fun kid craft ideas and go here for fun primary activity ideas for kids. Also take a look at these fun tween and teen craft ideas!