First impressions are a big deal, especially when it comes to home decor. My entryway is small – it's basically just a hallway – but I still felt like I needed something there to set it apart from the rest of that area. That's why I decided it was time to change things up and give my entryway a makeover. Come along for the ride as I share some of my best small entry table styling tips!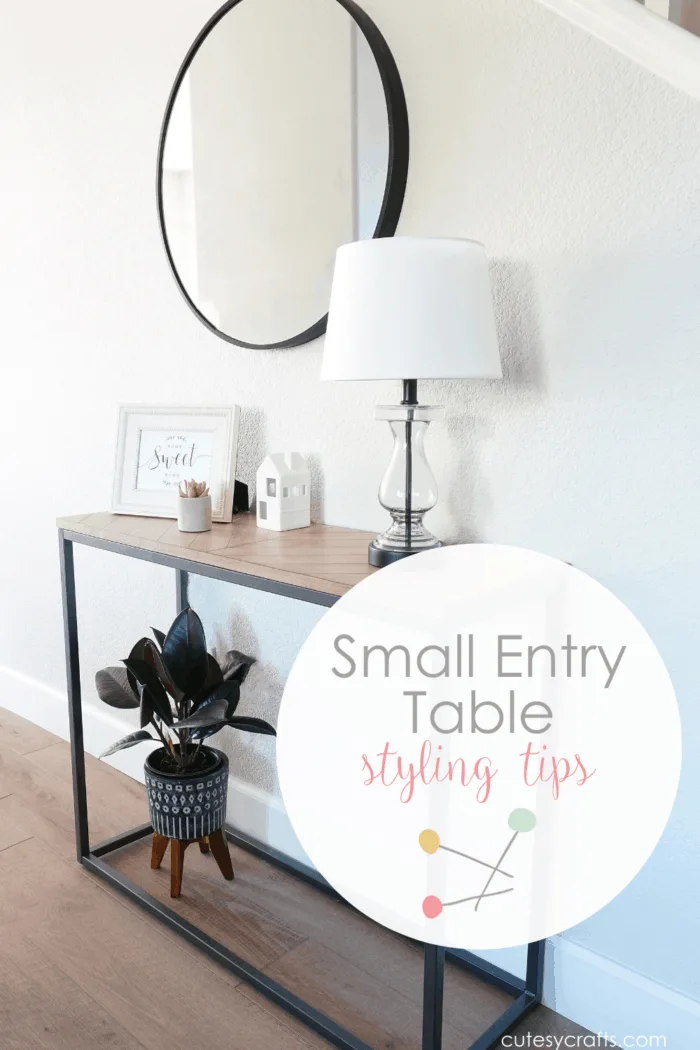 (This post may contain affiliate links, which means I may receive a commission, at no extra cost to you, if you click a link and purchase something that I have recommended. As an Amazon Associate I earn from qualifying purchases.)
Small Entry Table Styling
Since I was working with relatively limited space, I knew I would need to find a small entry table. Luckily, I came across a skinny console table from Target that fit the space perfectly. (My table is no longer available, but this one is nearly identical and has the same dimensions.) But a table on its own is no fun – I needed to style it in a way that was functional and beautiful at the same time.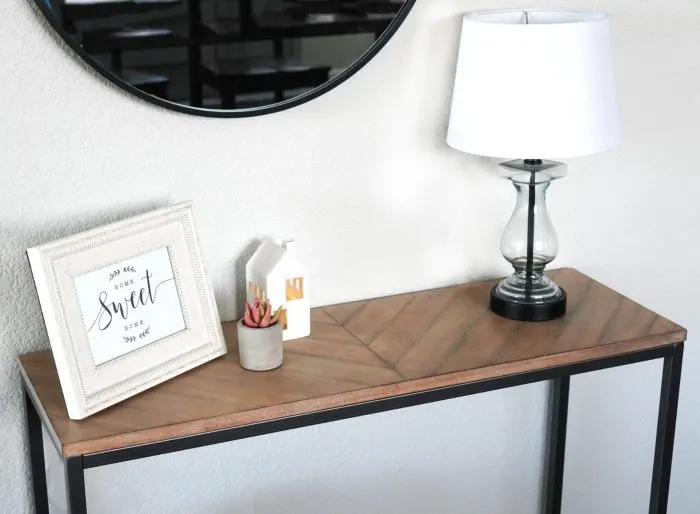 To start, I hung a minimalist, circle-shaped mirror above the entry table. I don't know about you, but I like having a mirror by the front door so I can do one last hair check before I leave. The circular shape adds interest, but the simple matte black rim keeps things visually cohesive throughout the whole room.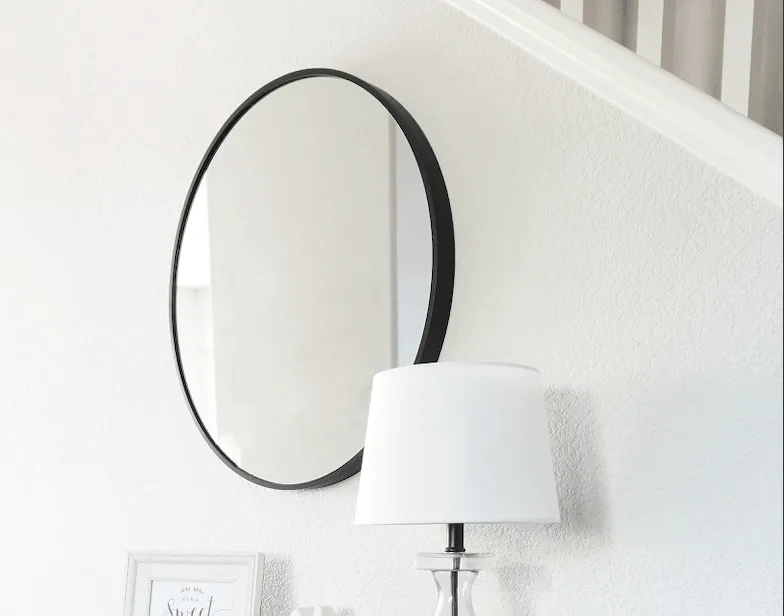 Next, I chose a table lamp with a clear base and a simple, white lampshade. Finding a lamp that was the perfect size for such a slim table was something I knew I should keep in mind, especially with the stair-sloped wall right behind it. I also really like how the lamp matches the mirror's black trim while being just neutral enough to pair with almost anything I may choose to display in the future.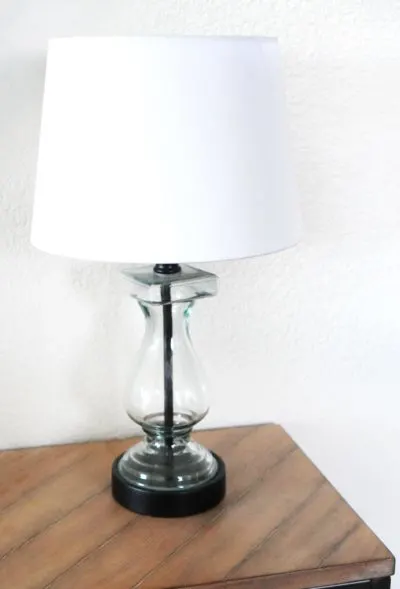 For those of you without a green thumb, the little plant on the entry table is part of a set of three succulents. They're so realistic looking!
And speaking of plants, the one I have in the adorable planter beneath the table is real and I'm trying to keep it alive! I'm pretty sure it's called a "rubber plant." My entryway area gets the right amount of bright, indirect sunlight for this species. Overall, it's a relatively easy plant to care for. It's supposed to grow tall and look pretty majestic, so I'm keeping my fingers crossed that I can keep it healthy!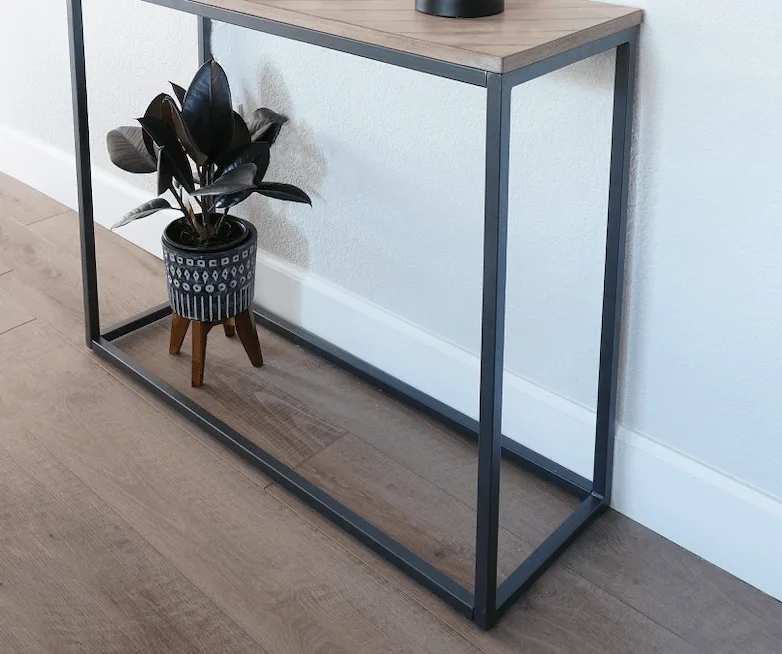 The Home Sweet Home sign is actually a printable I found on Etsy. I wanted something that would welcome us and our guests into our home. I just had to download it, print it onto card stock, and pop it into an 8″x10″ frame. The frame pictured above is from HomeGoods, but there are tons of whitewashed, farmhouse-style picture frames to be found elsewhere, too.

As for the little white ceramic house, I got that one from Target's Dollar Spot. It actually has a little light inside. You can typically find them there around the holidays. If you're itching to grab one now, this one is very similar.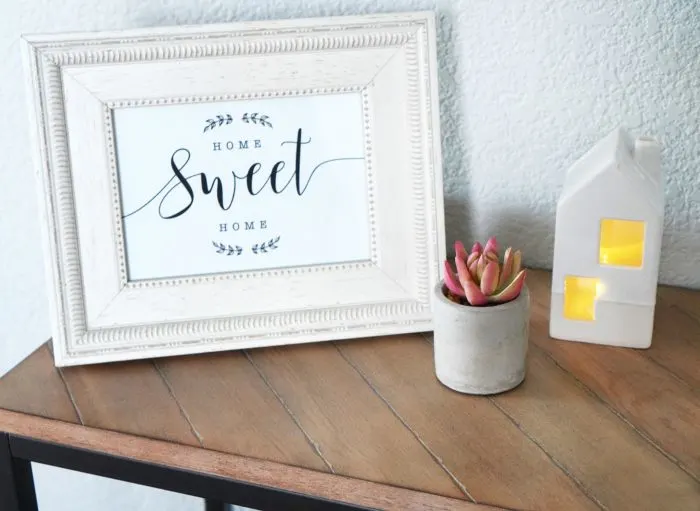 I considered several other entryway table styling ideas as well. You could add a decorative bowl to catch your keys, pens, wallet, etc. when you walk in the door. Another idea is a small letter tray for mail, coupons you don't want to forget, and kids' permission slips.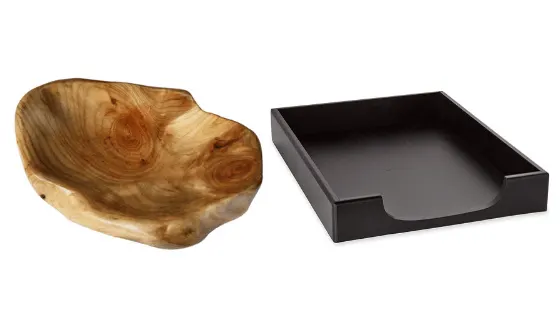 You could also add wall hooks or a large basket beside the table for your bags and anything else you don't want to leave behind as you're heading out the door. Balance is key when it comes to styling your entryway, so try not to go overboard with accessories and knick-knacks. Change it up by season or holiday, or just when you feel like something new.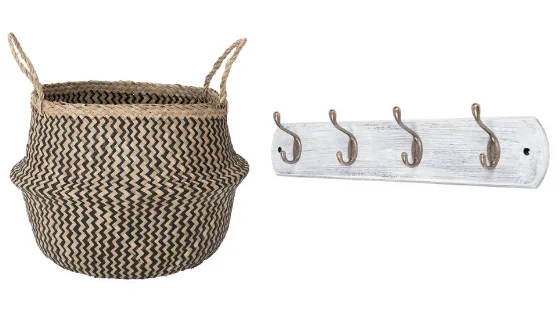 I hope you enjoyed these small entry table styling tips! Let your own sense of style and your family's lifestyle dictate how you style your entry table. The important thing is to create a functional, stylish space with a sense of welcome. Once it's done, you'll be shocked that you didn't do it sooner!