Every once in a while, I like to give myself a little bit of a sanity break from all of the blogging and social media. Rather than leave you hanging, I decided to call on a few of my blogging friends to guest post this month. First up is my friend, Alli. Just one glance at her blog will leave you drooling! She's an amazing cook! And I've met her in real life, and she's the sweetest person. Take it away, Alli!
I am thrilled to be sharing a recipe with you here at Cutesy Crafts today! I'm Alli and I'm the blogger behind Cupcake Diaries. I'm a mom of young boys, which automatically means dinner has to be family friendly. And that's what you'll find on my blog! I love baking, cooking, throwing parties, and sharing all the details. At Cupcake Diaries you'll find recipes from cupcakes to crock pots and everything in between!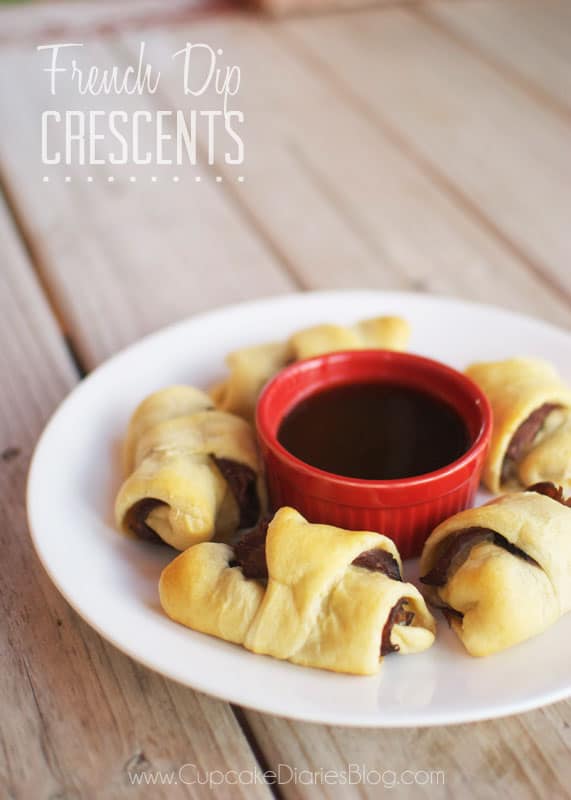 Dinner is oftentimes a battle. Just when I think I'm making something my kids will love, I'm totally wrong! These French Dip Crescents were a winner and then some when I made them for my kids. They already love french dip sandwiches, so the idea of having one of their favorite meals rolled up into a crescent roll was pretty much the craziest and coolest idea they'd ever heard of. This is a perfect back-to-school meal on those busy nights!
French Dip Crescents
makes 16 crescents
2 tubes of crescent rolls, 8 count
1 lb deli roast beef, sliced thin
16 slices Swiss cheese (The easiest thing to do is to buy a package of Swiss cheese and cut each slice in half.)
Au Jus, for dipping
Unroll 8 of the crescents on a standard cookie sheet. You'll want to flatten them out a little bit so they're not so thick and bake easier/better.
Cover each crescent with a slice of roast beef. Then place a piece of cheese over the roast beef.
Roll the crescents starting from the wide end and ending at the narrow end, pressing down on the narrow end so the roll stays together.
Bake at 375 degrees for 11 – 13 minutes, or until the crescents are a golden color. Repeat with the other 8 crescent rolls or save them for another meal. Serve with hot Au Jus.
These are so easy and a family favorite! This recipe is no fail and super kid friendly.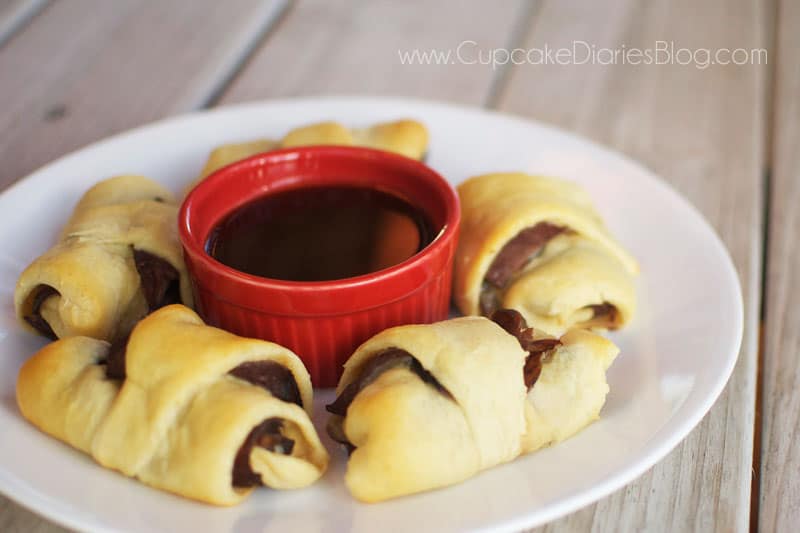 Looking for more kid-friendly dinners? Here are a few of our favorites!