In a few weeks, we're going on our first big family road trip for a family reunion in Utah. That's gonna be over ten hours in the car with my husband and three kids. You guys… I'm going to DIE! You don't understand! I can barely make it two hours in the car before I'm driven insane with the whining and meltdowns. TEN HOURS!!! I still don't know why I agreed to this, and I'm sure I'm going to want to turn around and drive home three hours into it, but it's happening now. I'm trying to prepare ahead of time for the trip, so I made some busy binders that are full of fun road trip games and other things to keep the kids busy.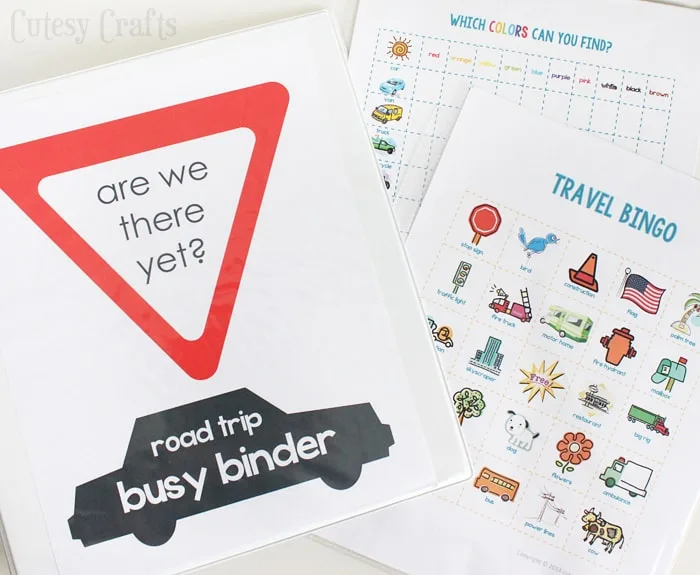 The binder opens up to an i-spy bag made from a pencil pouch. You know, one of those ones with the clear front. Just fill it with poly-pellets and throw in some cute buttons and random things around the house. This genius idea came from A Girl and a Glue Gun, so be sure to check hers out. She made hers using beads instead of poly-pellets. The pellets I bought were in the clearance section at JoAnn's, so I don't know how easy they are to come by.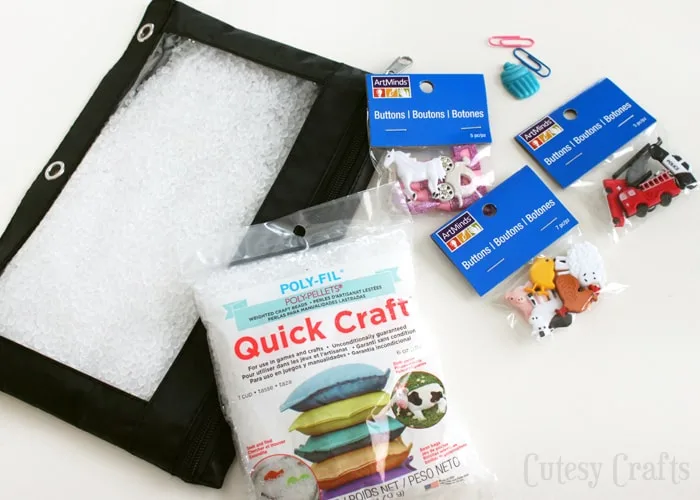 Make a little tag with clip art that shows what's inside. The kids will stay busy trying to find everything on the tag. I'll probably sew or glue the opening shut because I don't trust my kids to keep the zipper closed. Wouldn't that be fun to clean up in the car?!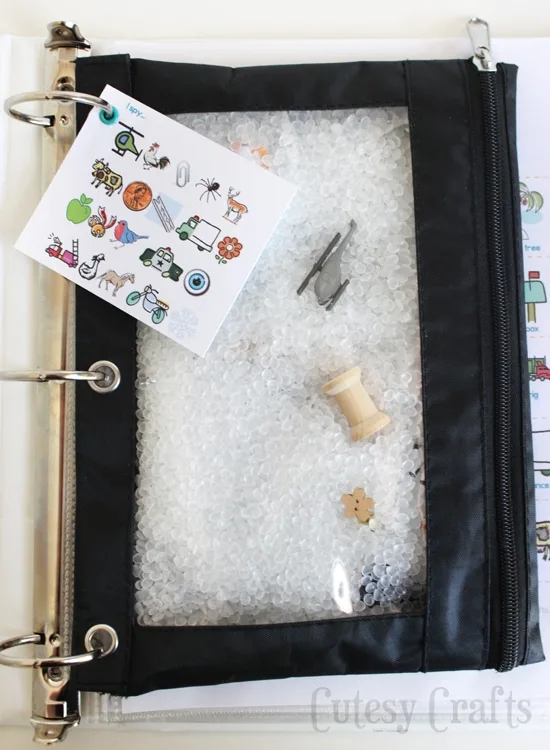 I also created some fun printable road trip games. We've got the standard, travel bingo and the alphabet game.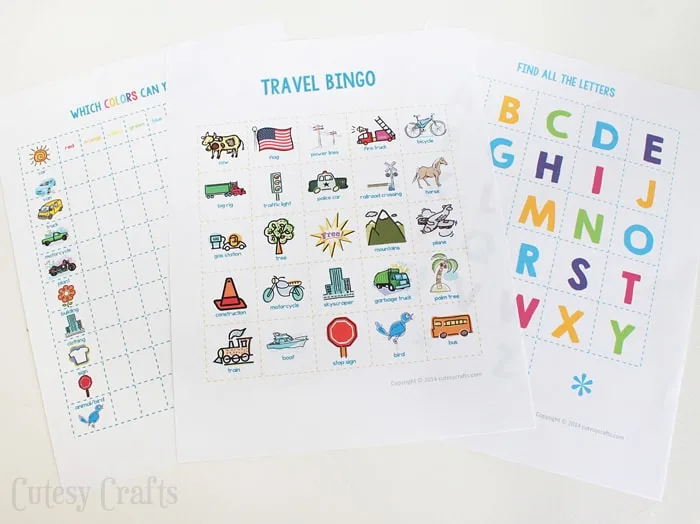 And I also made up a new one where you keep track of all the different-colored things you can find during the entire trip. Put all of the papers into plastic sheet protectors and use a dry-erase marker to make them reusable!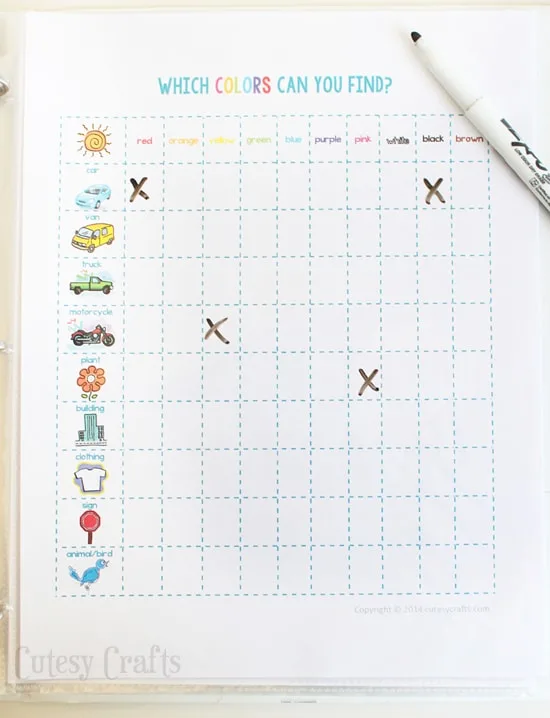 I also printed off some mazes from krazydad.com and slipped those into sheet covers. (By the way… holy mazes! That site has a TON!)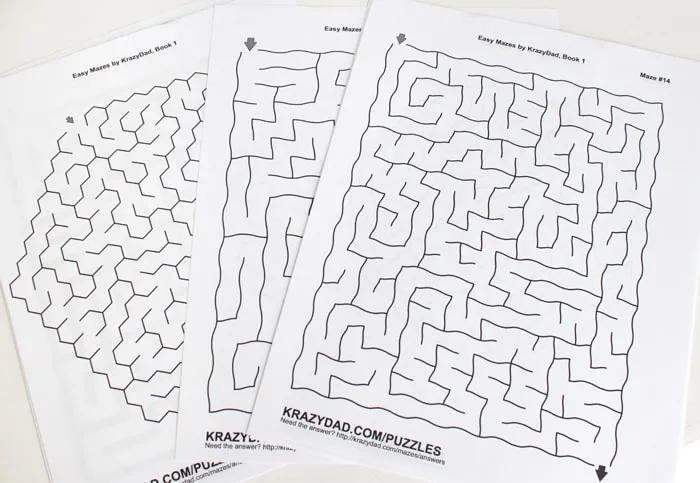 You can get all of the road trip game printables that I created here. There are six different bingo cards in case one of you has six kids. If you have more than that, I'm sorry… in more than one way. I'm joking! Sort of… 😉 I printed out two for each binder just to mix things up when the kids are playing.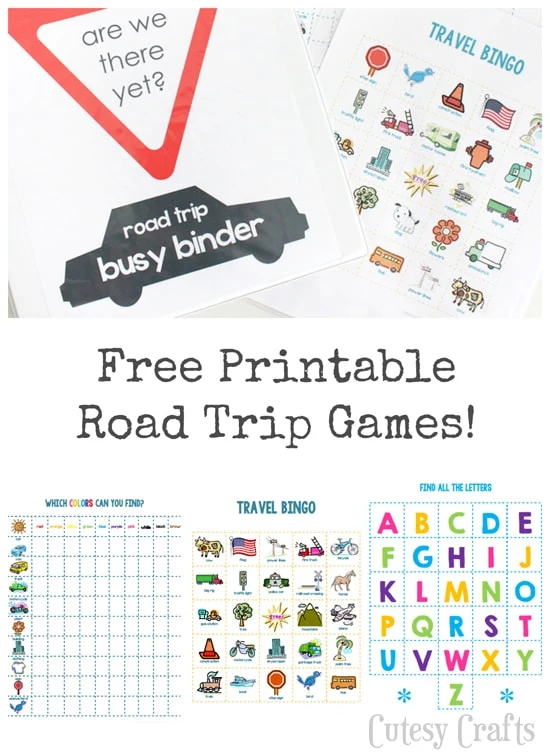 Wish me luck! I'm really going to need it. If I go missing from my blog, it's because I went crazy and ran away. Do you have any other ideas for traveling with kids? I'd love to hear them! We will also be relying heavily on the portable dvd player that my sister bought for us a couple years ago (best.gift.ever.), but I'd feel like a little bit of a bad mom if they watched movies for ten hours straight. I don't know if we even have that many moves…
I'm posting this as a part of Nap-Time Creations' Summer Fun series. Check out these other summer ideas from some fabulous bloggers!
The DIY Dippin' Dot tutorial by Nap-Time Creations
Decorated Shoe Laces by A Girl and a Glue Gun on Nap-Time Creations
Chocolate Salted Caramel and Peanut Snickers Cupcakes with the Crafting Foodie
Busy Binder with Printable Road Trip Games by Cutesy Crafts
Pressed Flower Artwork by Lulu and Celeste
Beach Wreath by Just Us Four
Mini Sail Boats by Made to be Momma
Park and Beach Bin by The Joi Project