One of the best parts about summer… WATERMELON! When we were little, we used to tease each other that if you swallowed a black watermelon seed, a watermelon would grow in your stomach. I may or may not have carried that tradition over to my own kids… shhhh. Anyway, in honor of summer, I made this cute watermelon skirt for Leah. And you'll never guess how I made it! It's a tea towel that I made into a skirt and they dip dyed!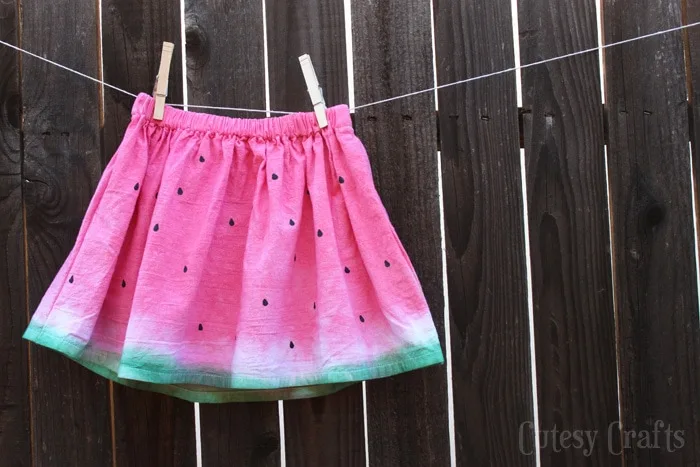 I've never dyed anything before because I always assumed it would be too difficult. It wasn't hard at all!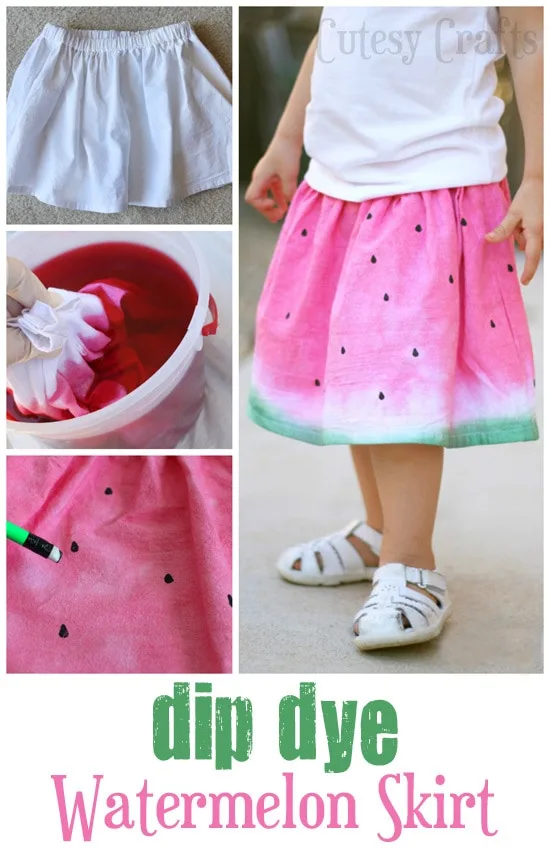 I love how it looks!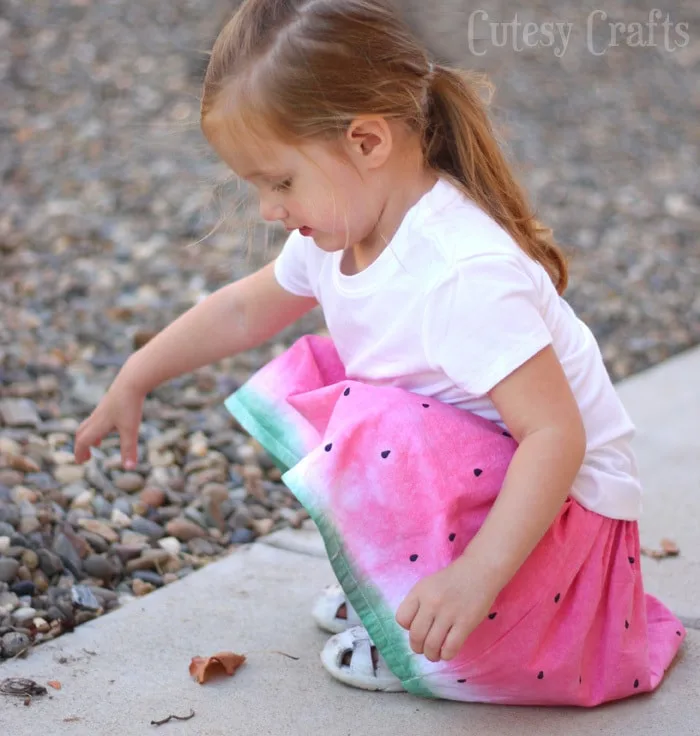 (This post may contain affiliate links, which means I may receive a commission, at no extra cost to you, if you click a link and purchase something that I have recommended.)
Like I said, I made it with a flour sack tea towel! I love making skirts like this because there is no hemming required! Plus, if we're ever out and about and need a mess cleaned up, we can just use Leah's skirt! 😉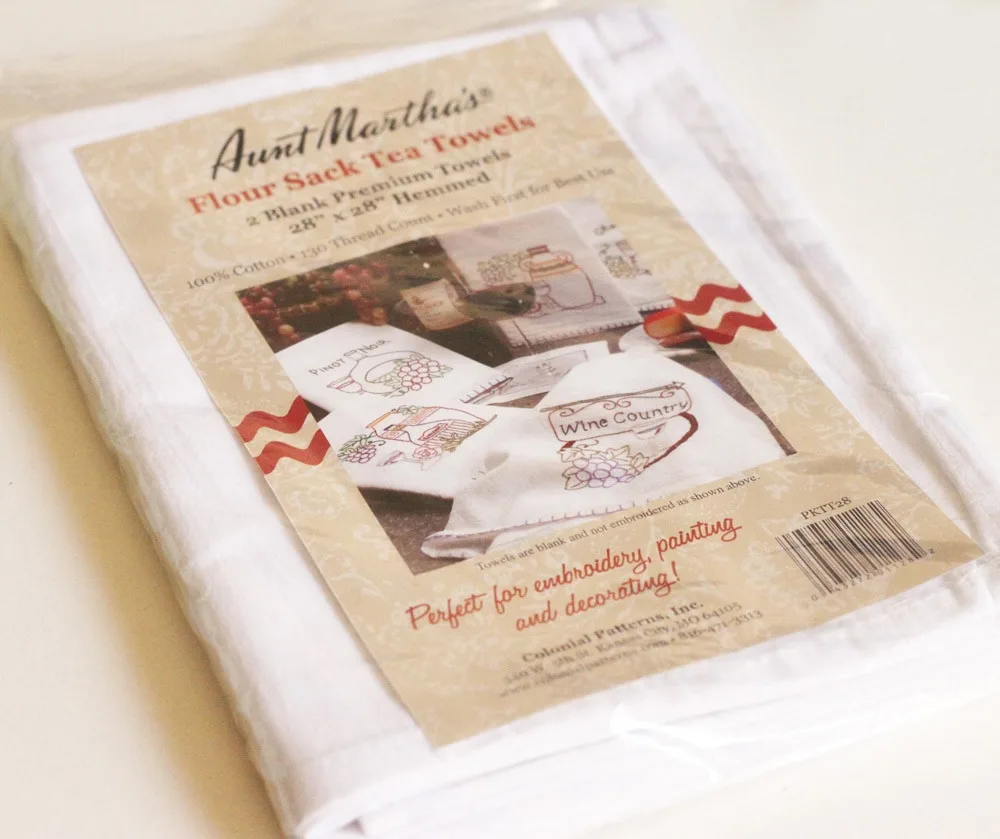 Head over to this tutorial for instructions on how to make the skirt. This method is best for up to age 3-4 -ish since you can't make it longer. It will depend on how tall your child is. I have tall kids.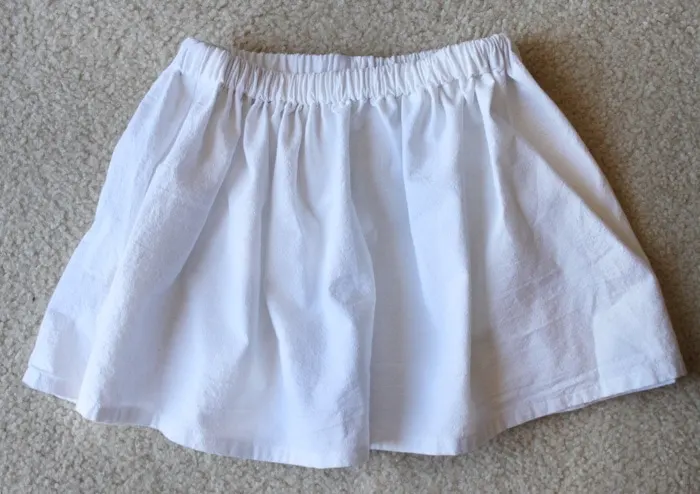 To make this dip dye skirt, you'll also need:
a bucket
Rit Dye in Petal Pink and Kelly Green
salt
spoon that you don't mind throwing away
gloves
pencil with a new eraser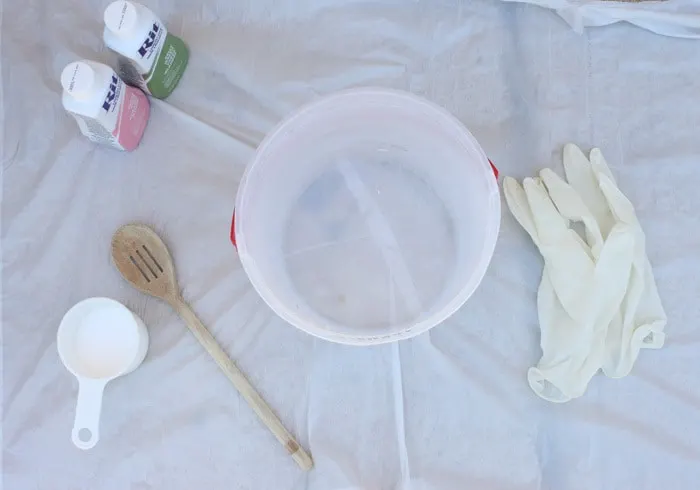 Follow the instructions on the bottle to mix a dye bath. I boiled water on my stove to make it extra hot and added salt to the bath to help the color take. You can buy smaller bottles than the ones I got, especially if you are only making one skirt.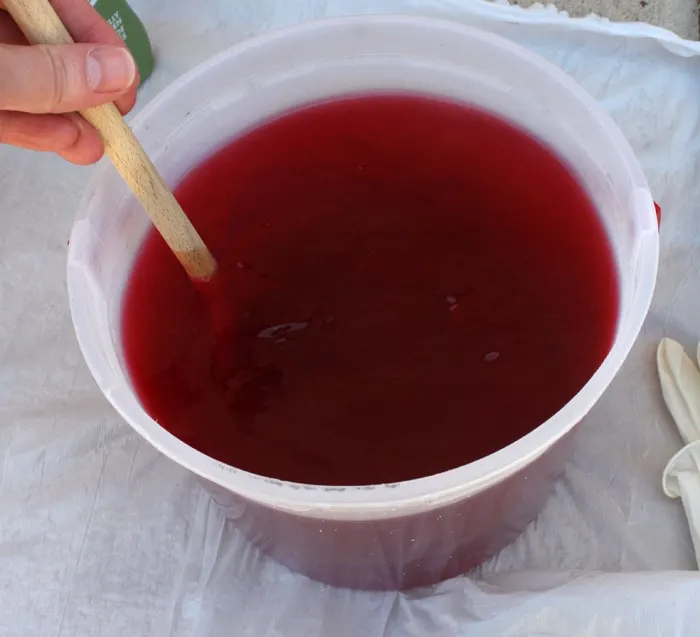 Gather the bottom of the skirt and dip the top of the skirt in the dye bath leaving a few inches out. Hold it there for about 10 minutes. Keep in mind that it will be lighter after it's washed and dried.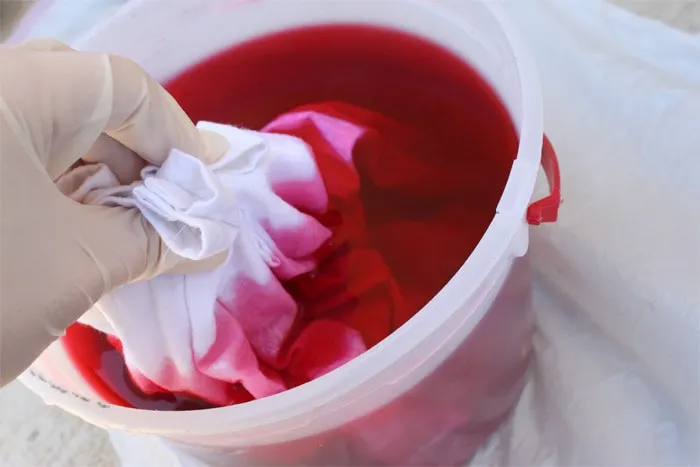 Make sure you grabbed those bottom skirt folds really well or you'll end up with this. OOPS! I was able to fix it with a little bit of watered down bleach. Just sprayed it on the messed up parts and rinsed it well. Better to have done it right the first time though.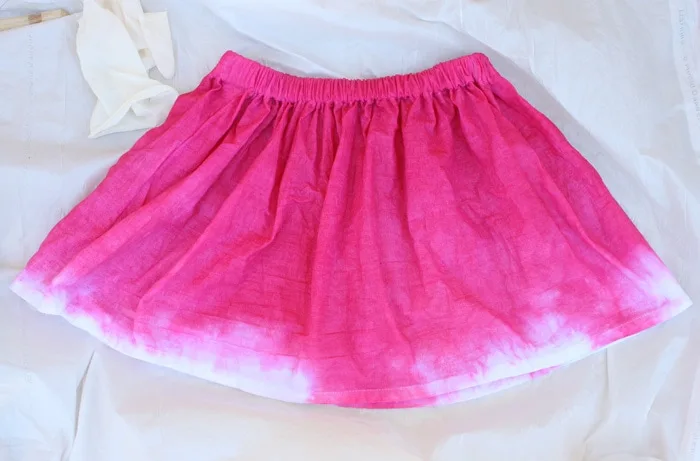 Rinse your bucket and repeat the process to make a bath with the green dye. Dip the very bottom of the skirt, leaving some white space between the green and the pink.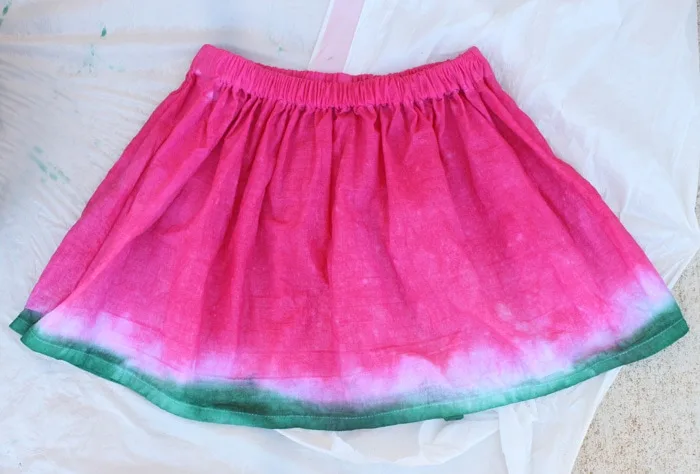 Rinse the the skirt until the water runs clear. Throw it in the wash by itself and dry in the dryer.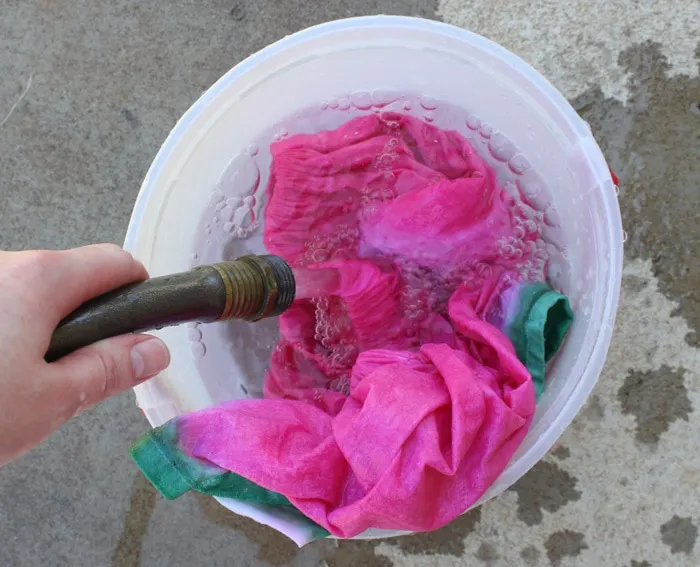 Use an x-acto knife to cut a teardrop shape into the top of a pencil eraser. This will be your watermelon seed stamp.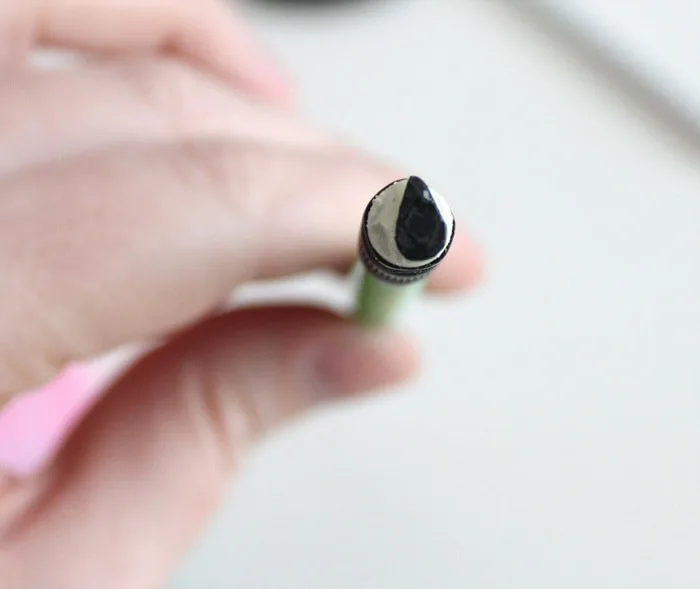 Put a piece of cardboard or wax paper in between the skirt to keep paint from bleeding through. Dip the stamp in black fabric paint and stamp seeds all over the skirt.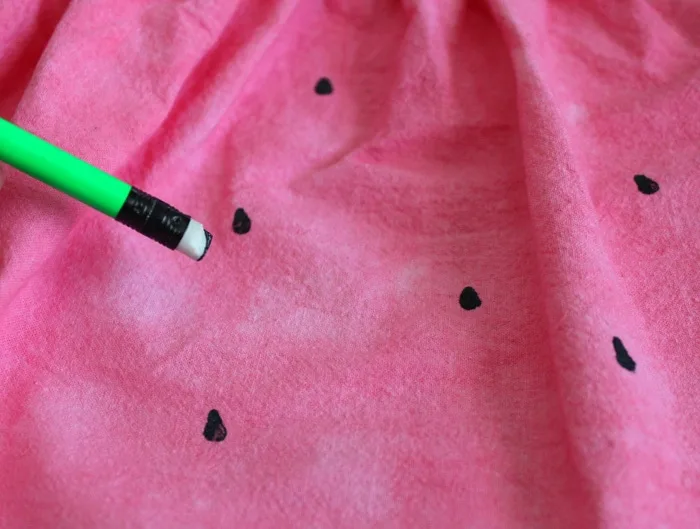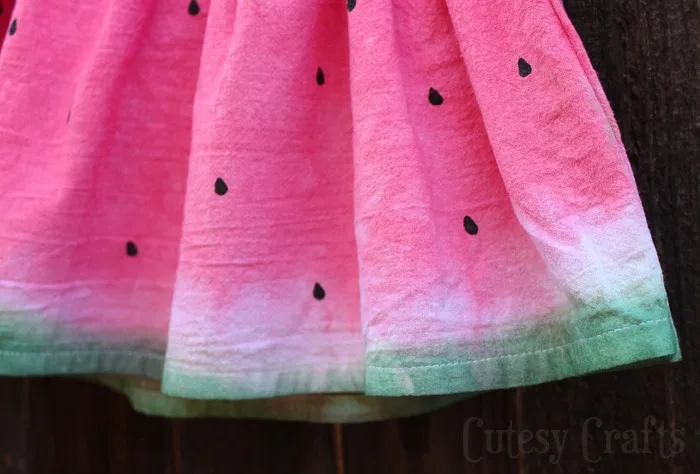 Leah LOVES watermelon, so you can bet she is loving her new skirt!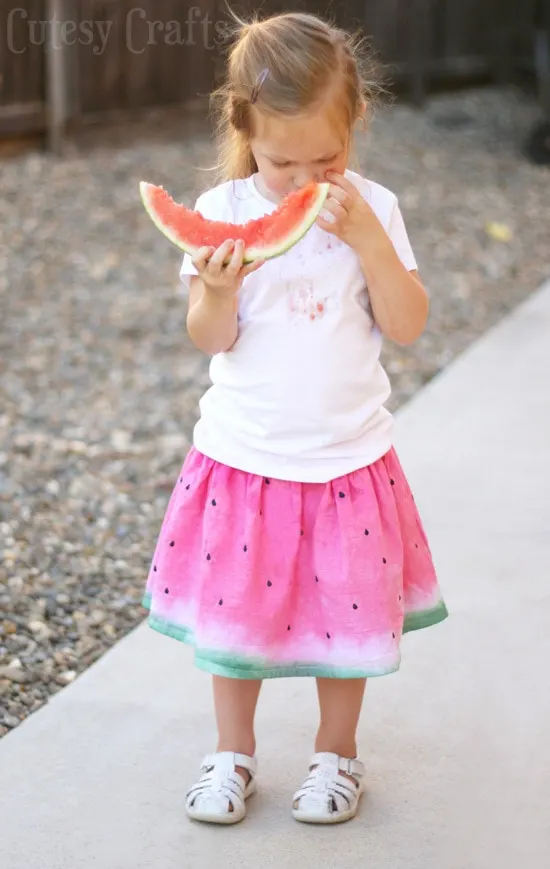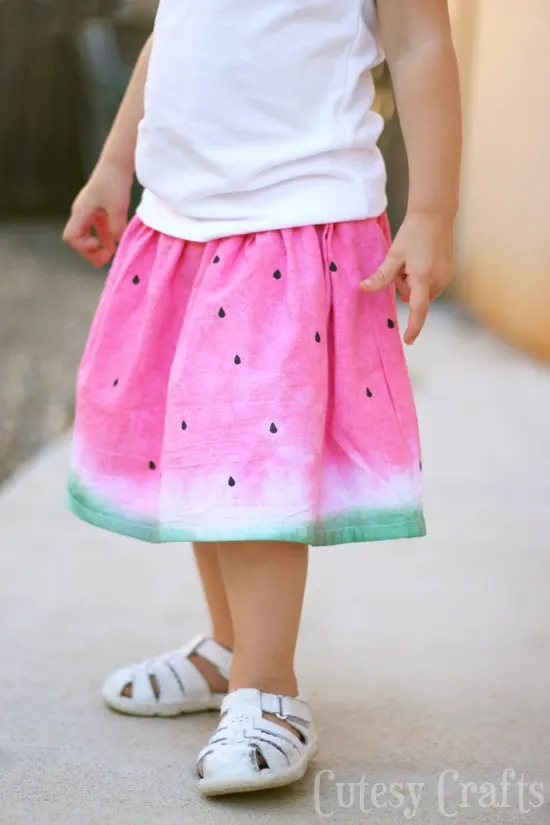 And here are more great ideas for summer from my blogging friends. Go check 'em out. You'll love their blogs!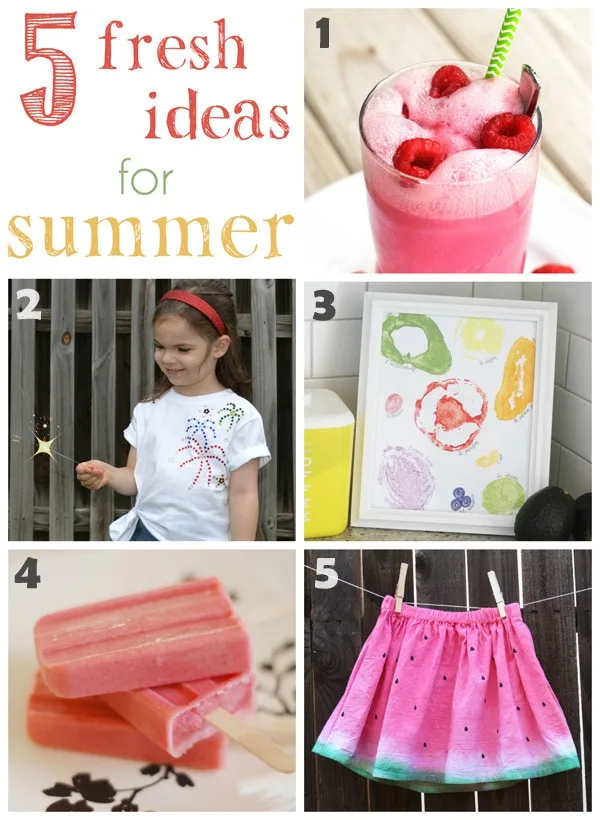 1) Raspberry Floats by Cupcake Diaries
2) Rhinestone Fireworks Shirt by Sugar Tart Crafts
3) Fruit and Veggie Stamps by Homemade Ginger
4) Strawberry-Orange Popsicles by Whistle and Ivy
5) Dip Dye Watermelon Skirt by Cutesy Crafts
Also check out the painted flour sack towel skirt that I made last year!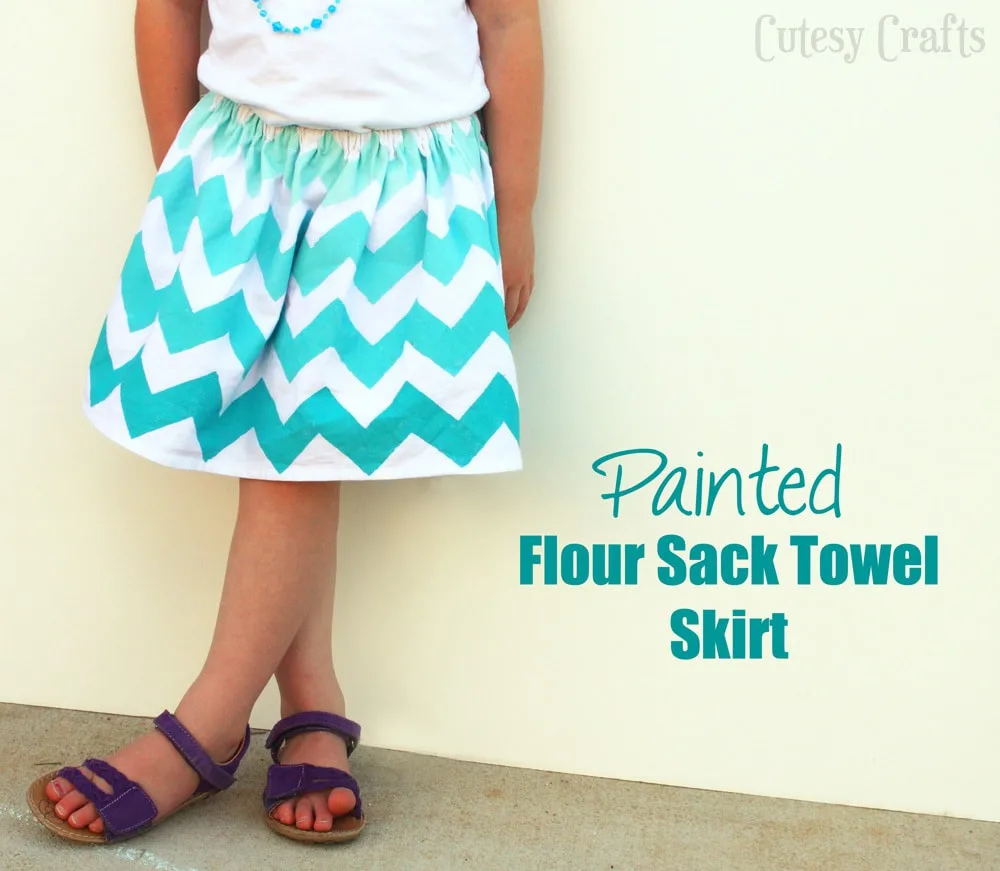 And you'll love this Ruffle Sailboat Skirt too!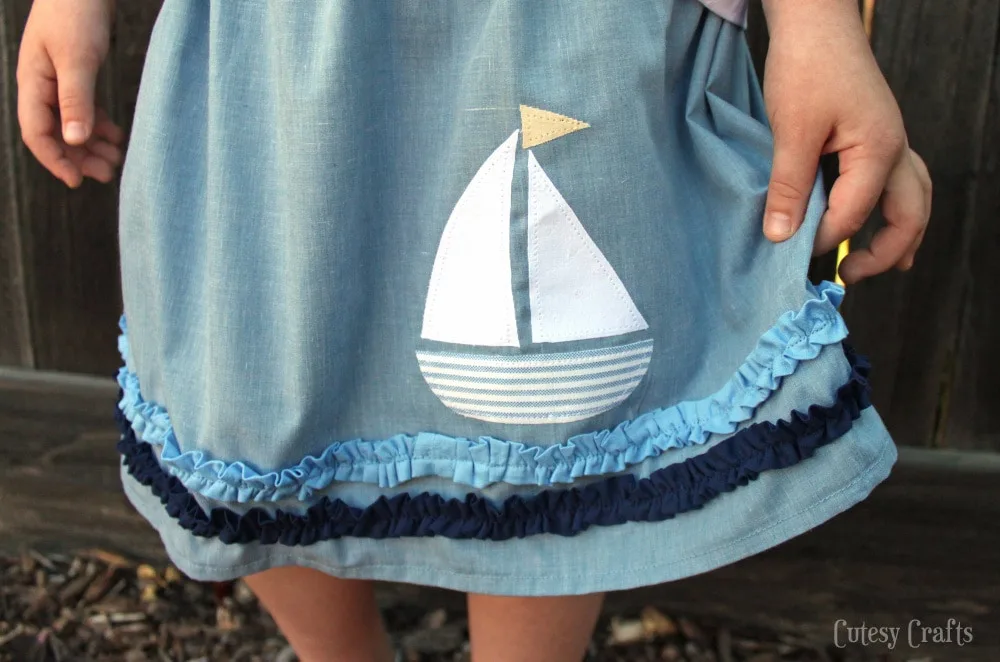 Cutesy Crafts is a participant in the Amazon Services LLC Associates Program, an affiliate advertising program designed to provide a means for sites to earn advertising fees by advertising and linking to amazon.com. This post contains affiliate links.