Hi everyone! I'm so excited to share this Thanksgiving craft with you today! When we were making our pony bead pumpkins a couple months ago, there was a point where the beads looked like an ear of corn. I knew that we would be making some pony bead Indian corn for Thanksgiving.
To make an ear of Indian corn, you just need four tan pipe cleaners and pony beads in yellow, orange, white, and maroon.
My kids are still pretty young, so I did all of the pipe cleaner parts and they had fun with the beads. Take two of your pipe cleaners and make an "X". Twist them around each other in the middle.
Take two more pipe cleaners and wrap them around the middle the same way.
Now let the kids go at it with the beads! Funny, it was so hard for my son to NOT make a pattern. He's very mathematically minded.
Leave a couple inches at the end of each pipe cleaner.
Bring all of the ends together.
Take one of the pipe ends and wrap it around the others.
Wrap another piece of pipe cleaner around the stem if it's not secure enough, and you are done!
They look so cute with the pony bead pumpkins!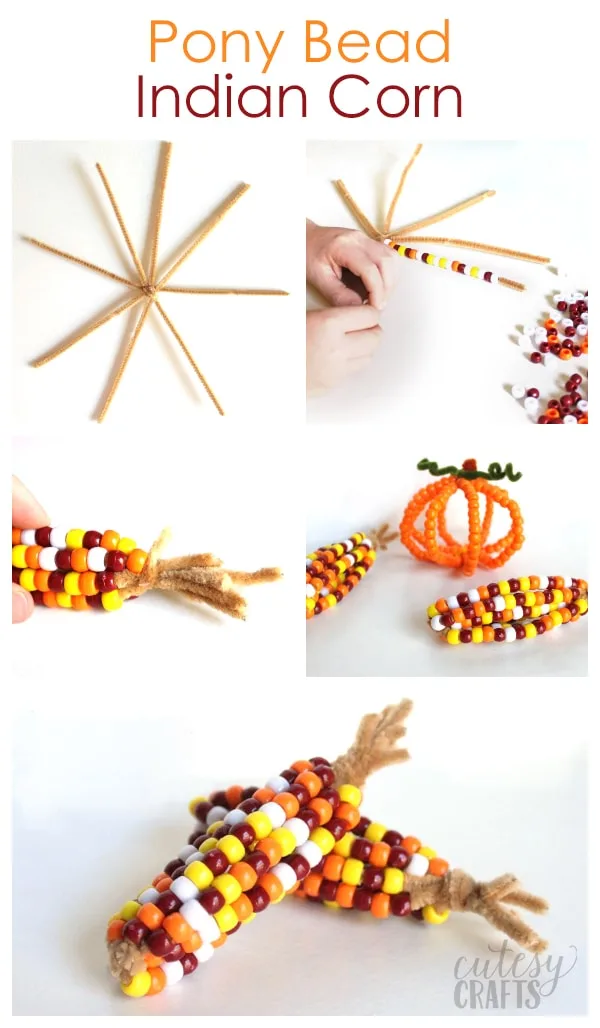 For some more awesome Thanksgiving crafts, go check out these posts from some of my blog buddies. I know you will love their blogs!