I do a lot of crafting FOR my kids. In an effort to spend more time crafting WITH my kids, I'm starting a little segment that I'll call Kiddie Crafts. Today we're gonna get started with a butterfly craft for the kids. I love this craft so much! When you are done, the kids are left with a little caterpillar that goes into its chrysalis and magically transforms into a butterfly. (Really, there's a secret pocket that it goes into.) The kids loved it and thought it was magic at first!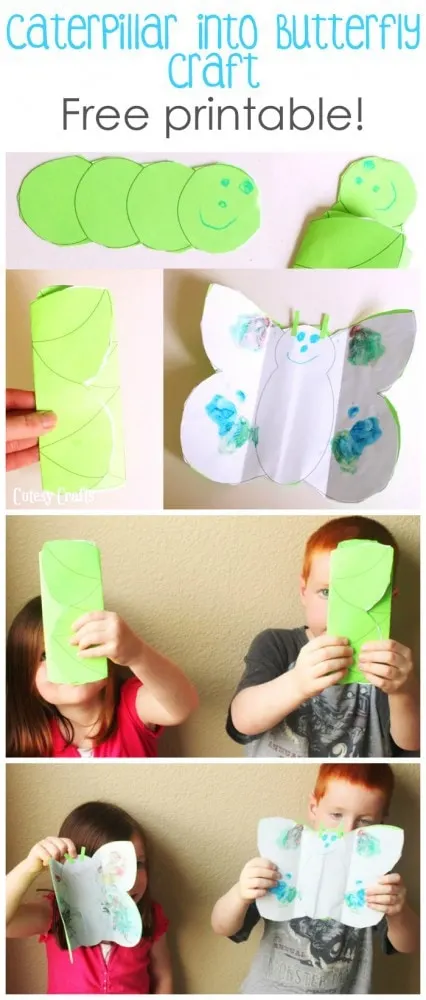 When I saw that this Butterfly Garden from Insect Lore was on sale on Amazon a couple weeks ago, I couldn't pass it up! We did the ladybug one last year, and the kids LOVED it!!! So much fun, and definitely worth the money!

These little critters showed up in the mail yesterday… so gross… but oh so cool! Once they form their chrysalises, you move them to the netted cage and wait for them to emerge. The kids are so excited!
The kids learned more about how these gross little caterpillars will turn into beautiful butterflies by doing our butterfly craft. You can find free printables here. You can print it out on colored paper and then let the kids decorate it as they please. Instructions for assembly are listed on the printable.
They had a lot of fun playing with their butterflies/caterpillars, and I think it really helped them understand what is going to happen with their little bugs.
Seriously… this is what my kids do when I try to take a picture!
I have one more pretty cool butterfly craft in mind. We'll save that for when these guys decide to change. We can't wait! **edit: You can now find that craft here.**
Cutesy Crafts is a participant in the Amazon Services LLC Associates Program, an affiliate advertising program designed to provide a means for sites to earn advertising fees by advertising and linking to amazon.com.