Not much of a tutorial today, but I've been wanting to share this Nativity Christmas Decoration with you since I made it last year. I was in charge of a Christmas craft day for the ladies at my church, and I found this while browsing around on Pinterest. There are lots of different versions of it, so maybe you've seen it before? If not, I wanted to show you. It's a really easy and inexpensive craft. We charged each person $5.00 to cover the supplies, and I made them as gifts for all of my family members.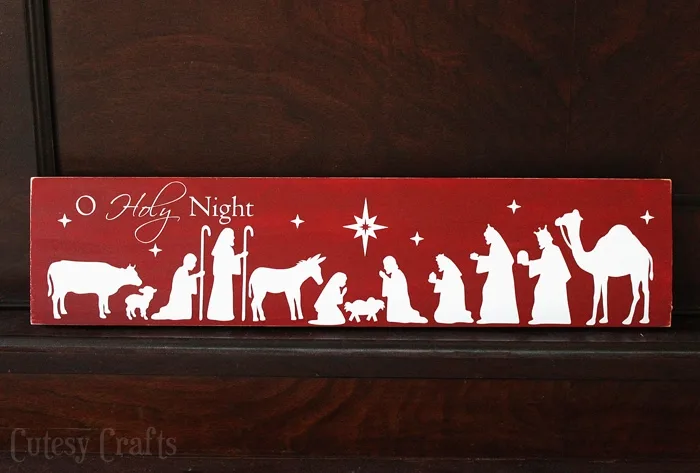 I bought some 5 1/2 inch wide boards at Lowe's, and had them cut down into 2 ft sections. They sell several different lengths, so you can buy longer or shorter ones depending on how many you are making. They did all of the cutting for me at the store. Yay! Then, just paint the board with acrylic paint (we did red or blue), let it dry, and apply the vinyl. I also distressed the edges a little with a sanding block. Easy!
The design is from the Silhouette online store. I changed the camel and the words up a little. Here's a free cut file for the words if you want to use it. The word "Holy" is a really thin font, so if you have trouble with it, I suggest cutting that part separately using a cutting mat at a slow speed.
It looks so great sitting on my piano, and my family loved receiving them as gifts!