I mentioned earlier this week that we have been hard at work on our new vegetable garden. It's my first time growing a garden, and I'm really excited. Part of the fun of having a garden is making it cute right? I have seen a few examples of DIY garden markers painted on rocks, and I thought they would look really good done in vinyl. Here is what I came up with.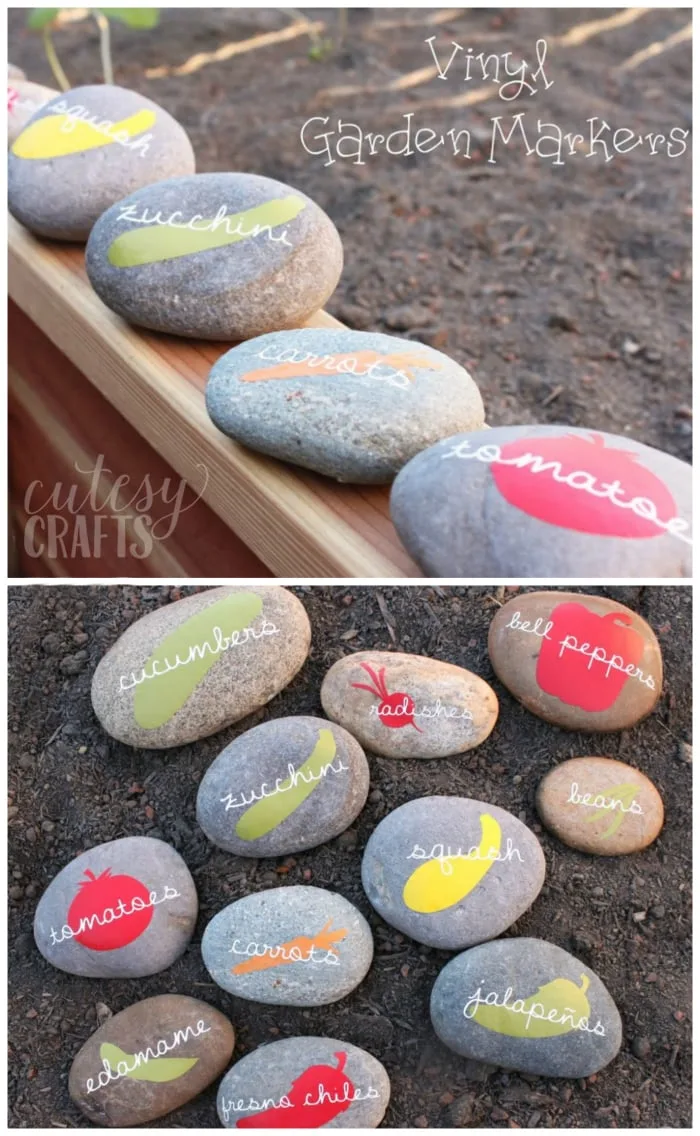 Huge thank you to my step-dad for helping us build the raised bed! Doesn't it look great?!
We had some April showers this week, and they still look great! I might still put some kind of clear coat on them to make sure they last. (update: I never put any kind of coating on them, and they lasted 2-3 years in the yard. They might last longer if you use permanent vinyl.)
For each rock, I used my Silhouette CAMEO to cut the shapes and names of the vegetables in vinyl. You want your rocks to be as flat and smooth as possible so the vinyl will go on nicely. I made my own free vegetable Silhouette cut files that you can get here for personal use. I also made them available in svg and pdf formats. You will need to size them according to the rocks that you have.
And… have you seen the rain gutter garden ideas going around? My friend gave me some leftover gutter, so we hung it on the fence to try and grow herbs and strawberries in. Maybe we will add a few more rows next year. The gutter got some cute little vinyl labels in a pretty turquoise.
Now just crossing my fingers that I don't kill everything! Grow garden grow!
Have you made your own DIY garden markers? I'd love to hear about them!