Since a lot of people have been asking, I thought I would share a post about the house problems we had that led to choosing luxury vinyl plank flooring. I can only tell you what our experience has been, and I am not an expert on this subject. We have a concrete slab foundation in California without a crawl space or basement of any kind, and our house is about 15 years old. I am not responsible for any choices you make for your house, and I recommend contacting a qualified flooring professional.
Here is our story.
After we purchased our house, we noticed that there were dark spots on the bamboo flooring, around the perimeter of the rooms. The furniture had been covering most of them at the time of inspection, so it went unnoticed by the inspector. When we did our final walk through, we didn't think anything of it, since we knew we would be replacing the floor anyway. The day we closed escrow, we had the rooms measured for flooring, and the contractor said his moisture meter was reading high on the spots. I had no idea what that could mean.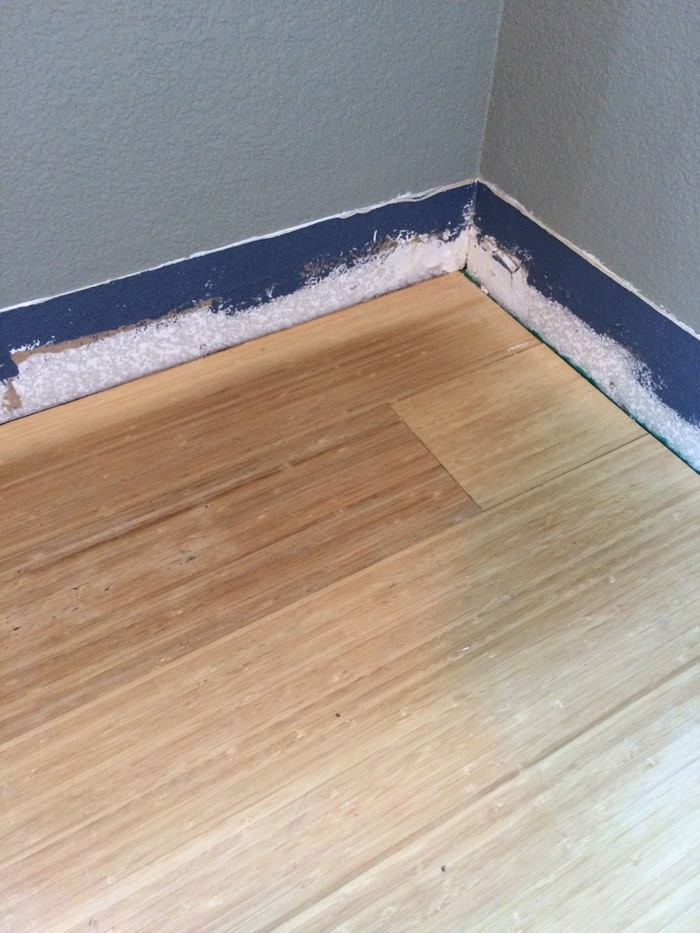 I began tearing up the flooring that night, and found something that no homeowner ever wants to see… mold. It was in the downstairs bedroom at the corner of the house. One thing that was baffling was that the mold was under the flooring only. The walls and baseboards were fine. In fact, the under side of most of the floor boards looked fine too. Most of the mold seemed to be growing between the underlayment and the foundation.
In a panic, I called a couple mold remediation companies that came out to assess the situation. The quotes I received for mold remediation were outrageous. We're talking tens of thousands of dollars! I don't know how you can take advantage of someone when they are standing in front of you in tears, but the mold remediation companies we called proved to be pretty crooked.
I'm not one to just give in, so I went online and began to research mold remediation. Turns out, you can do a lot of mold remediation yourself if the problem isn't that bad. The EPA says that you can take care of the cleanup yourself if the moldy area is less than 10 square feet. Here is a link to where you can download a great cleanup guide if you are interested. So, we got to work! We wore masks and gloves, taped up plastic in the room that had mold, and removed all of the flooring. Then we mopped and scrubbed the concrete with a mixture of bleach and water. When that didn't take care of the smell, we mopped again with vinegar and water. We set up box fans in the window to help blow any spores in the room out the window while we were working. Then we rented a big air scrubber for a week for about $400 to filter out any spores after the cleanup. Of course, if your mold problem is bigger than what the CDC recommends, you'll need to call in the experts. We did not pay for any testing of air quality as this would have been a waste of money in our situation. We just cleaned it up and filtered the air.
Once the filters had done their job, we moved in. The people that bought our old house let us extend our rent back, but it was time to move out. We lived with horrible concrete floor for two months, trying to figure out what caused the moisture problem. I spent every day trying to figure out what we could do to fix the situation. Problem is, I couldn't fix it if I didn't know what was causing it in the first place. I spent my days painting and keeping my one year old away from moisture tests with chair barricades. I lovingly referred to those as "chairricades."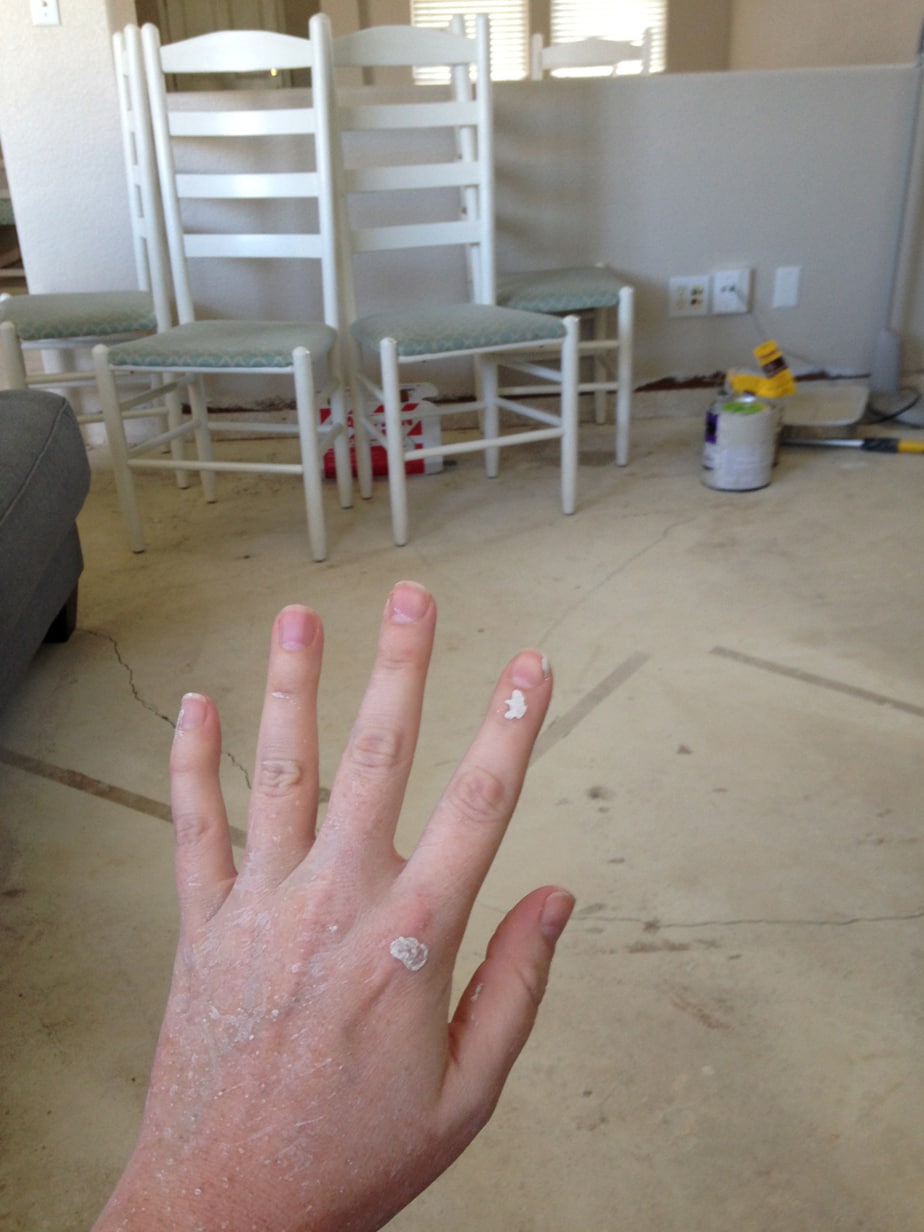 What I learned.
Don't panic. Just like with the mold remediation, there were plenty of contractors that were willing to take advantage of my situation. Always take time to calm down, do some research, and make an informed decision.
Test your moisture levels first. At first, I didn't think this was necessary. We already knew we had a problem, so why did we need to test? Well, you need to know how bad of a problem you have. I went to a local flooring supply store (Tom Duffy) to purchase a few calcium chloride tests. Once the tests were done, I could take them back to the store to weigh them for free. If you don't know where to find a flooring supply store near you, call a flooring contractor and ask where you can purchase the tests. This was much easier than trying to mail tests out and wait for results to come back. Our tests came back anywhere from 5-7 lbs per 1,000 square feet. A regular laminate floor can usually only handle about 3 or 4 lbs.
Talk to a flooring expert (make that THREE flooring experts). When I first started researching this problem, I was calling mold remediation and moisture mitigation experts. They were all about worst case scenario and wanted to do whatever it was that would get them the most money. When I finally talked to some flooring experts (not ones from a big box store like Lowe's or Home Depot), I got some real advice. The man working at the flooring supply store knew plenty of reputable contractors that he was happy to give me contact information for. Why do I say talk to three flooring experts? As a rule, I always get at least three quotes/opinions. I feel that gives you the best idea of who is being honest with you, and who is trying to rip you off.
In the end, it boiled down to four options for us.
Seal the foundation. There are several different ways to seal a concrete slab foundation. I don't know if any of them really work, but I can tell you what options we were given to us. One company wanted to grind down the top layer of the foundation and then apply an epoxy coating to seal the foundation. This would have cost about 5 grand for 1200 sf downstairs. Since our moisture levels weren't that high, a couple contractors also recommended painting on a sealer that would have been less expensive. In theory, we would then be able to get whatever flooring we wanted. This scared me though, as I found conflicting information online as to if this would really stop moisture mitigation. Without knowing what the problem was, how could we be sure this would work?
Get carpet. This wasn't really an option for us since part of the floor would be in our kitchen. Carpet breathes, however, so this can be a good choice for some.
Get tile. This was an option that we seriously considered. However, with installation prices so high, we did not go this route.

Get luxury vinyl plank. This was what we ultimately went with, and you can read more about the pros and cons here. Since our moisture levels weren't that high, this was an option for us. If your moisture levels are too high, this still might not be a good choice for you. Whatever flooring option you choose, be sure to read the manufacturer's installation instructions to find out how much moisture the flooring can tolerate. We found these easily online. This flooring might be waterproof, but that doesn't mean that you won't have a mold problem. We still used a really nice underlayment with an extra moisture barrier just in case.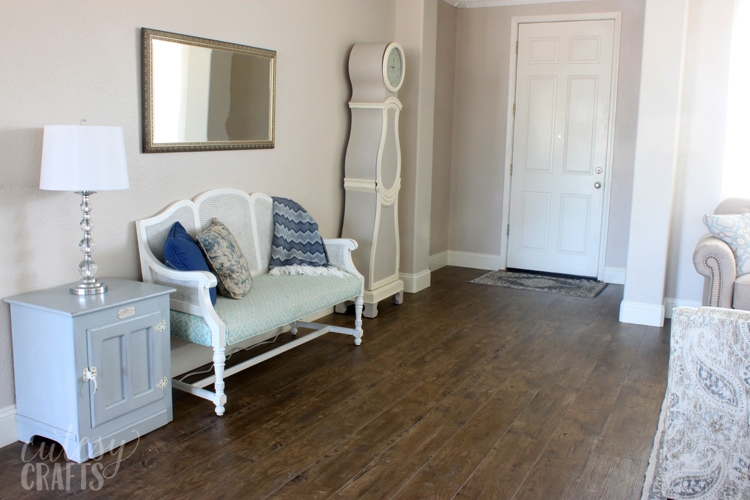 So did we ever figure out what was causing the moisture problem?
Once the rain started, we found that grading and drainage around the house were done improperly. Water was pooling around the foundation and was the worst in the very same corner of the house where we had the worst mold. Concrete is like a sponge and will soak up water in the environment. The moisture then gets trapped at your flooring, builds up, and then grows on any organic material it can find. A moisture barrier that you put down under your flooring can only take so much. That's why you should always direct water away from the foundation of your house. We installed several new drains around the house to help with the pooling water, and I'm crossing my fingers that they will eliminate the problem when rainy season starts again. If you have a similar problem, you might even consider getting french drains installed all around the foundation.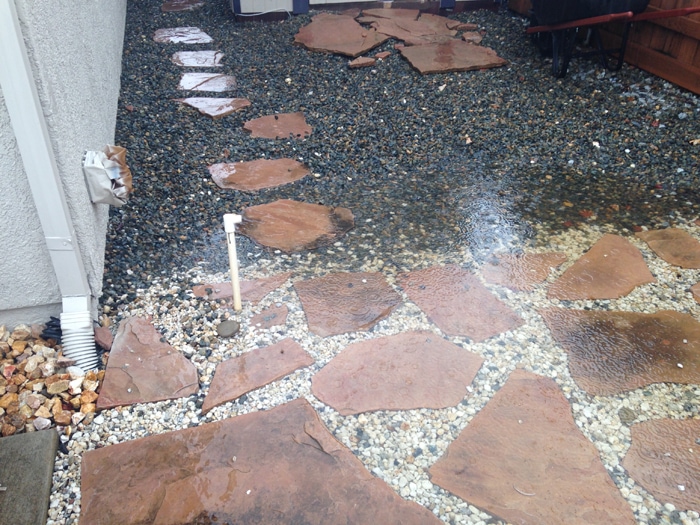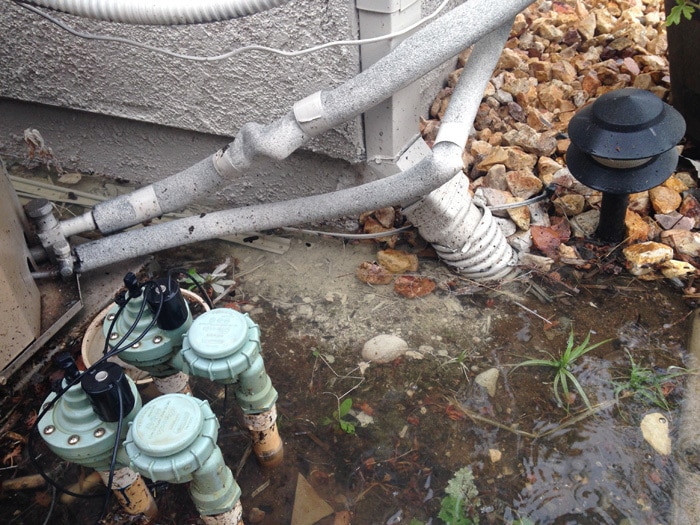 Luckily ours was a relatively simple solution, but I know there are lots of things that can cause high moisture levels in foundations. Again, I can only talk about our situation. Best of luck to those that are battling with some other moisture problem. I know what a nightmare it can be! Feel free to leave a comment with what you decide to have done to fix your problem. It might just help someone else out there that is dealing with it too.